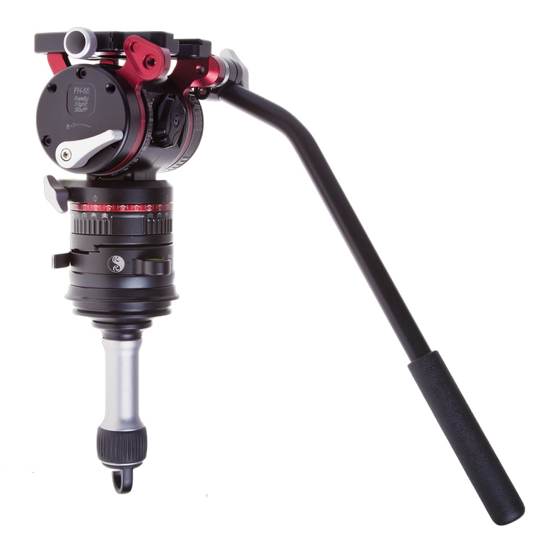 I've been using Really Right Stuff quick release systems and ball heads for over 15 years, and I'm still using the first QR system I bought 0ver 15 years ago. They make long lasting high quality products, so when I saw they where going to be at NAB I had to swing by and see what I knew as a stills camera support company would be doing at NAB.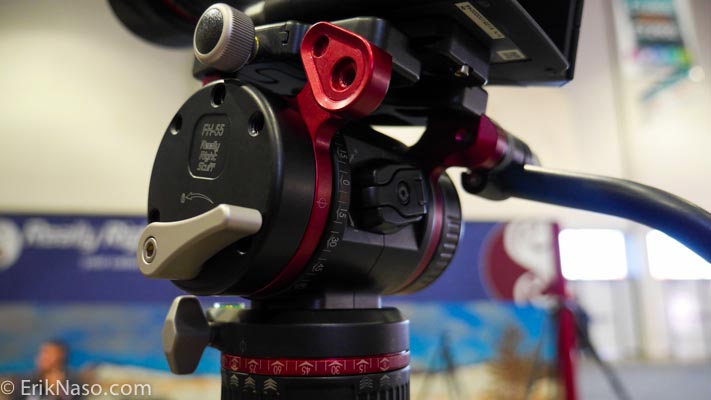 Well! Really Right Stuff has decided to cross over and make a new fluid video head for the stills/video cameras like the Canon 5D MKIII and the Canon C100/C300 cameras. The FH-55 uses a true Sinusoidal Counter Balance Mechanism that is used in heads costing over $6K.  The head alone only weighs 4 pounds but can hold up to 8-10 pounds. The head has a really nice feel to it. One of the features of the head that I like a lot is how it integrates with other RRS products. You can swap out a gimbal head to the video head in seconds since both have a QR adapter that attaches to a base plate or leveling base plate. Watch the video to see this in action. Very cool!
The FH-55 will be available in June or July and will be priced around  $1500 to $2000.
In the quest to go lighter but keep solid this head and tripod system is really filling in the divide between stills and video. I use a Gitzo GT0540 6X Carbon Fiber with a 75mm ball adapter in it and swap it out for a RRS ball head for stills. With this head and a leveling plate I can swap out so fast without using any tools. Literally seconds. I probably wouldn't need to use the ball head that often for stills. Cant wait to try out the final release in june/July.
I used my Gitzo GT0540 6X Carbon Fiber and RRS ball mount with a slider in Utah at Bryce Canyon If I had this head then it would have made life so much easier.
Really Right Stuff also showed a new slider and a tripod at NAB.The VS-88 Video Slider.
The VS-88 Video Slider provides straight, smooth travel with a precision ground wheel raceway and ball bearing wheels which are fully enclosed and shielded from the elements. The design allows for quiet, skip-free travel by using a high pitch drive gear and Kevlar infused urethane drive belt. The type 3 hard-coat anodized rail has dual dovetails for multi-purpose use and mounting directly with any RRS tripod support system.
The TVXC tripod. is a carbon fiber tube design, precision machined aircraft grade 6061-T6 aluminum parts and machined entirely in the USA, RRS developed a new leg-locking system which allows virtually infinite lockable, splay-positioning of the legs from -2° to 85°. This gives the flexibility of a spreader without the added weight.
Really Right Stuff has entered the video market with some very nice products. To learn more visit Really Right Stuff blog on new releases from NAB 2013.
Thanks for coming by! Please help support my site by using the links on this page or bookmark these from my favorite retailers, B&H, Adorama, Zacuto & Amazon.com . Using the links cost you nothing extra, but helps offset the cost of running my blog. Thanks again for coming by eriknaso.com!
Filed in: Featured Post • NAB • Support and Grip
Tagged with: Adaptor • baseplate • quick release • Really Right Stuff • Tripod Plate
I'm a broadcast DP In San Diego. I enjoy sharing what I'm working on and testing new equipment. This blog is also part of giving back. I've learned so much from so many people.