That's right. This Fancier 270A cost only $149 and gets a 4.1 out of 5 stars on Amazon.com. I bought this mainly for the head. I want to put it on a slider since the 75mm ball can be removed leaving a flat base. perfect!  I found this deal combing the web for an alternative fluid head for my slider. I was going to get a Manfrotto 701 or 501 or even the new 502. Then when I saw the FC-270A price, and the reviews I had to get one and try it out. To be honest I'm not expecting it to be as good as my Miller or Sachtler systems but you never know. People really like this tripod!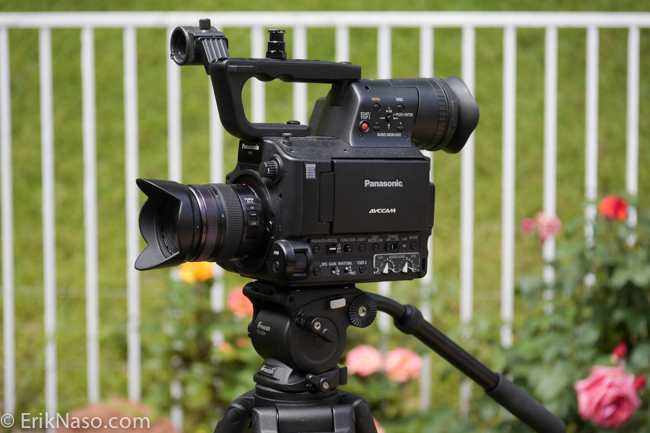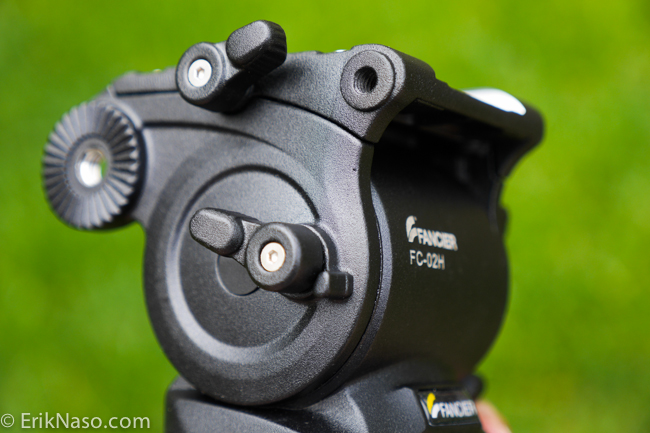 The Good. The Bad And The Very Good Deal.
I want to say right off the bat that this tripod didn't work for me. Mainly since I was originally looking for a head only and the head had a few issues that was a deal breaker for me but for many the fluid head happens to to be the best part of the system. However my needs and yours wont be same and this system could very well be the perfect fit for you. So why did I decided to do this review? Because I found the tripod to be pretty darn good for the price, and if you dont have the funds to buy a professional tripod that costs well over $1000 I think this tripod will serve you well until you decide you need something more. I pointed out a lot of features in the video that I didn't like as well as ones I did, and I didn't find this information on the internet until I actually had it and tried the tripod out, so please understand that I dont dislike it. Heck how could you. It only cost $149.
The best thing about this tripod is the price. You would be hard pressed to find a better one for the same amount. The head is very fluid but the drag in the pan was to tight for my taste. The tilt had about half the drag so they didn't match and I found that to be hard to deal with. When you perform a tilt or pan the head performs very well. In fact I was surprised how little kickback if any you get when you stop the move. Impressive, but since you cant adjust the amount of drag on either tilt or pan I found that to be a problem. While panning the leg actually lifted off the ground a little. This could be avoided by hold the leg. The maximum weight capacity is 13 pounds and it held my AF-100 just fine, so any DSLR will work as well. The tripod has a metal mid-spreader and attaches to the legs with a long screw that is fastened with a nut that looks like it has some Loctite blue in it to keep it from coming loose.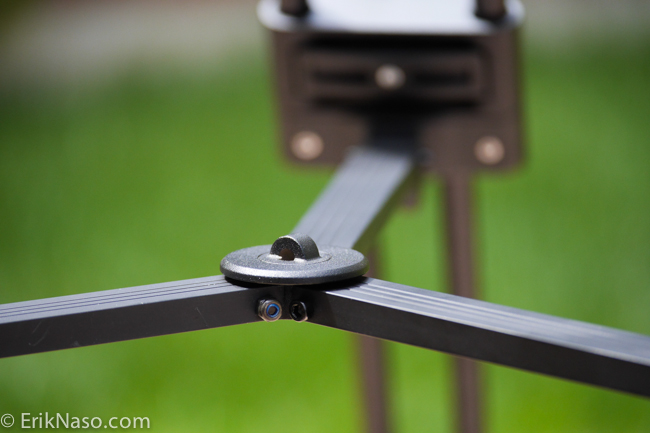 A feature this Fancier FC-270A has that the big boys do as well is a counter balance and it works pretty well!
The overall build of the tripod is solid. Its all metal construction feels good and the legs slide out very easy and smooth. The legs lock secure and nice and tight. They are also very sturdy. The footprint isn't really that wide but it's plenty stable for it's size. I'm impressed with the overall look of the tripod. It has a very pro look to it and that's important to look like a pro around clients. I know that sounds sully but it's true.
I did find some blemishes on the finish on the legs and the stickers on the locking knobs were already peeling off.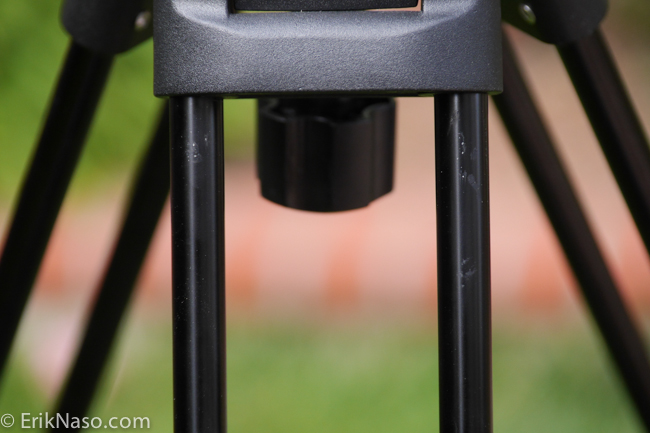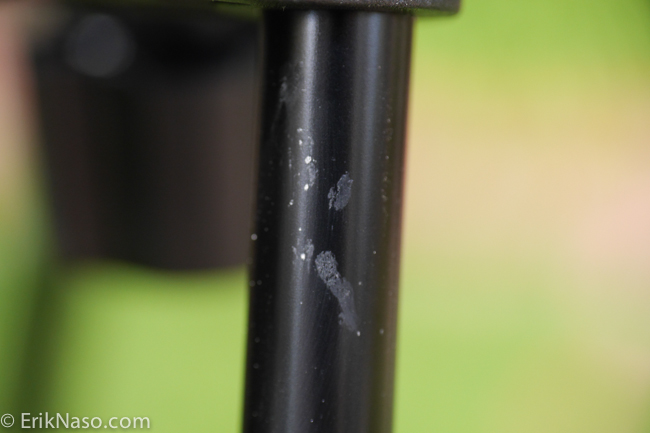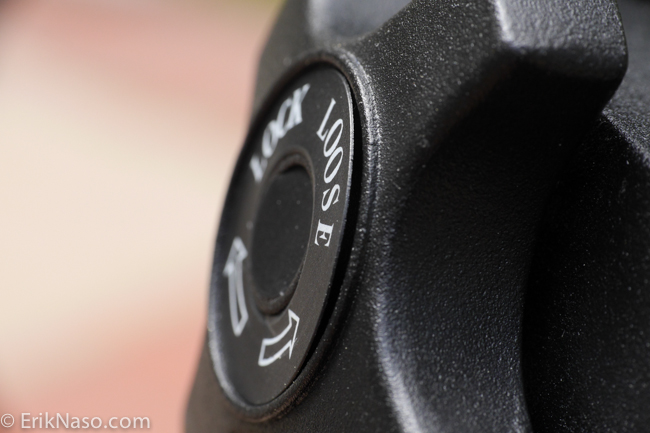 If your using the tripod for standing interviews you might be disappointed with the height. Fully extended it's only 53 inches or 4 feet five inches. That's not very tall and could be an issue.
The included arm telescopes pretty far and fastens to the head nice and tight.
I liked the quick release system. It's pretty much the same as a Manfrotto but smaller. I dont think a Manfrotto camera plate would work with it since it's much smaller. It has the same safety pin as the Manfrotto's do and works very well to keep your camera from accidentally sliding off the head.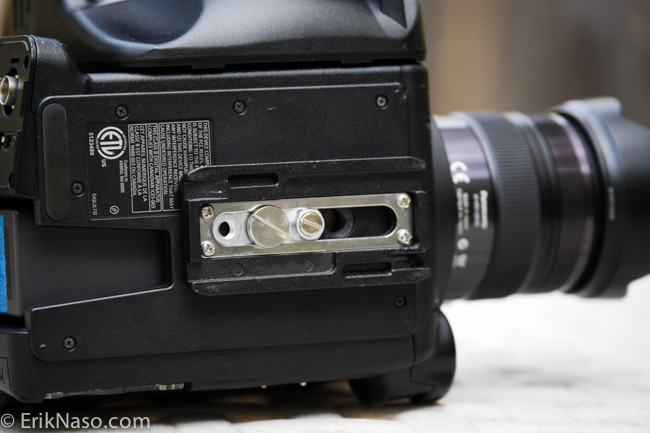 The FC-270A comes with a pretty nice padded bag that has hard inserts on the ends to protect the head and a zippered pocket inside to store the handle. It also has two nylon straps with buckles to secure the tripod inside the bag.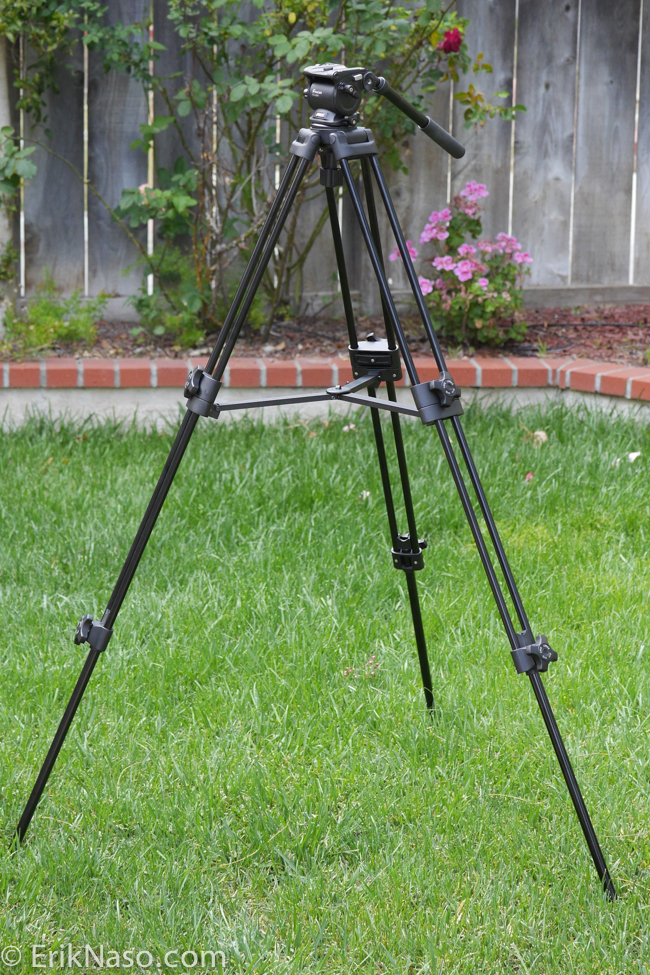 DESCRIPTION FROM AMAZON
Max Operating Height: 53 inch
Min operating height 28 inch
Folded height 29.9 inch
Handle Length: 14.6 inch
Bowl Size: 2.95in/2.95″
Max load capacity: 13.2 lbs
Weight: 9.7 lbs
Versatile -65°to +90°tilt range, 360°pan range
Fluid damping head system for smooth rotate and tilt for recording
14.6 inch long handle can be installed on the right or left of head for inching adjusting
A Built-in bubble level for horizontal position
Dual-Lock for quick-release plate and the second safety locking pin prevents equipment from unexpected drop.
Large quick release plate for better bearing of DV or cameras.
The legs utilize large ergonomic lock adjustment knobs design for fast tripod height adjustment with strong locking.
The metal mid-spreader makes the tripod more stable.
Three tripod height choices satisfy the different photography requirement.
As you can see in the picture the Fancier FC-02H is a very small head. It fits right in the palm of my hand.
All in all the Fancier FC-270A is a really good deal and if your a budget filmmaker that needs a good tripod but isn't ready to spend the big buck I think you would do just fine with this one. Just know the limitations and you will be good to go!
UPDATE.
I ordered the Fancier Professional Video Camera Fluid Drag Tripod Head EI717 and found the drag is also very tight and has no drag control options. The ball head on the 717 isn't 75mm. I think it's like 65mm. Not sure since I dont have a tripod it will fit. The 717 doesn't have counter balance adjustments either.
Pan Range 360° and Tilt controls
 Built-in bubble horizontal leveling
Ideal for digital camcorder weighing up to 6kgs or 13lbs
A quick release system with a safety lock
Fitting: 3/8″ for tripod. 1/4″ & 3/8″ for video camera
I got this one from ebay for only $60. I'm going to keep it. Could come in handy when I need a second light head for a jib or dolly.
I went ahead and ordered the 717 head and found the drag is also very tight and has not drag control options. The ball head on the 717 isnt 75mm. I think it's like 65mm. Not sure since I dont have a tripod it will fit. The 717 doesn't have counter balance adjustments either.
Thanks for coming by! Please help support my site by using the links on this page or bookmark these from my favorite retailers, B&H, Adorama, Zacuto & Amazon.com . Using the links cost you nothing extra, but helps offset the cost of running my blog. Thanks again for coming by eriknaso.com!
 GH3 Z-Finder Pro Kit
Filed in: Equipment Reviews • Support and Grip
Tagged with: CowboyStudio FC-270A • Fancier 270A • FC-270A • Fluid Head • Tripod
I'm a broadcast DP In San Diego. I enjoy sharing what I'm working on and testing new equipment. This blog is also part of giving back. I've learned so much from so many people.