Your Lenses are a very important part of your kit yet so many people go cheap when it's time to buy them. I understand that not everybody can afford the best, but in order to get the best out of the camera that we just spent several thousands of dollars on we have to have at least decent lenses on it. This article isn't going into all factors of buying a lens. I'll save that for another article, but I want to focus on the color that the lens resolves. This is a big deal if you're mixing brands.
All lenses fall into three color categories. Warm or cool and contrast. Contrast can give a lens more saturation so it will intensify the warmth or coolness of the lens.
Canon L lenses are on the warmer side and I like that. I don't like cool lenses, so when I look at adding lenses from different  manufacturers I want them to match best with what I already own. Makes sense right? So how do we test them if we don't have color charts and test equipment. Simple. Get a real person in front of your lens and shoot them. Skin tone is the best and most important aspect of color to me. We all want to look natural and the skin tone is the first thing I notice when I see an image. If you can have the person wear a colorful shirt thats even better. Shoot them with every lens you have and make note of which lenses you used. Try to frame them up the same as best you can. Makes it easier to compare.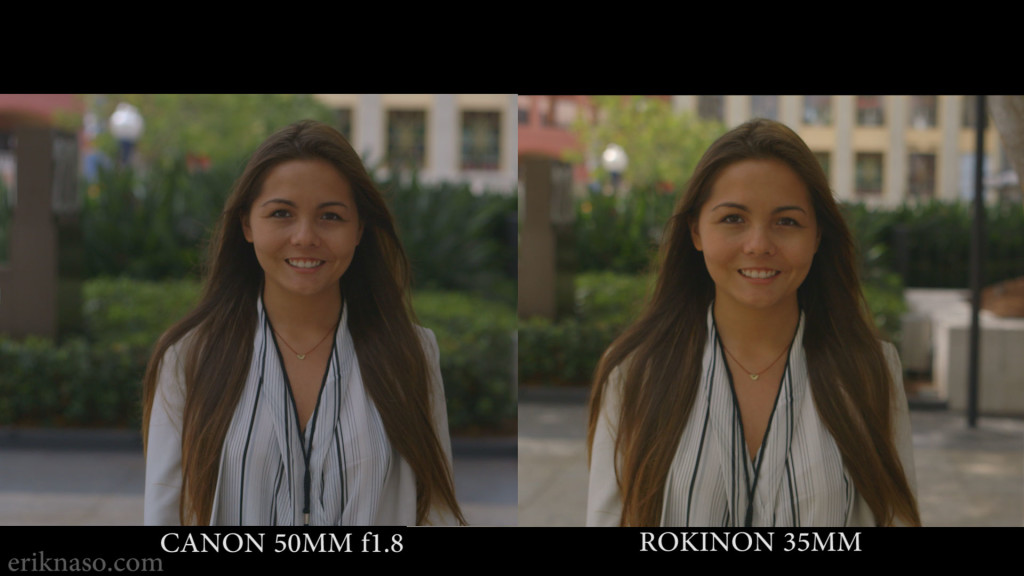 Check out the sample above. Click on it to make it bigger.
This shows how different brands and models compare to each other. I adjusted the size a little to get them closer as not to make them distracting. I also added an equal amount of saturation to better show the color. My camera was set to C Log so sorry about that. As you can see the Canon EF 50mm f/1.8 II is cooler than the Rokinon Cine CV35-C 35mm T1.5. Look at her blouse and the skin tones.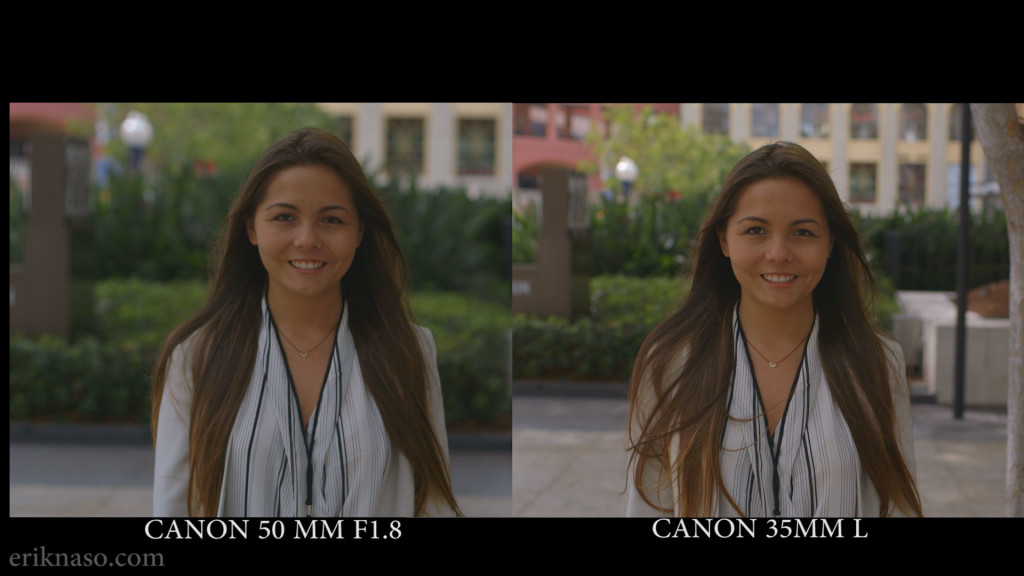 Even different Canon models have different color to them. The above sample shows two Canon 50mm primes side by said. The Canon 50mm L is warmer than the Canon 35mm f1.5L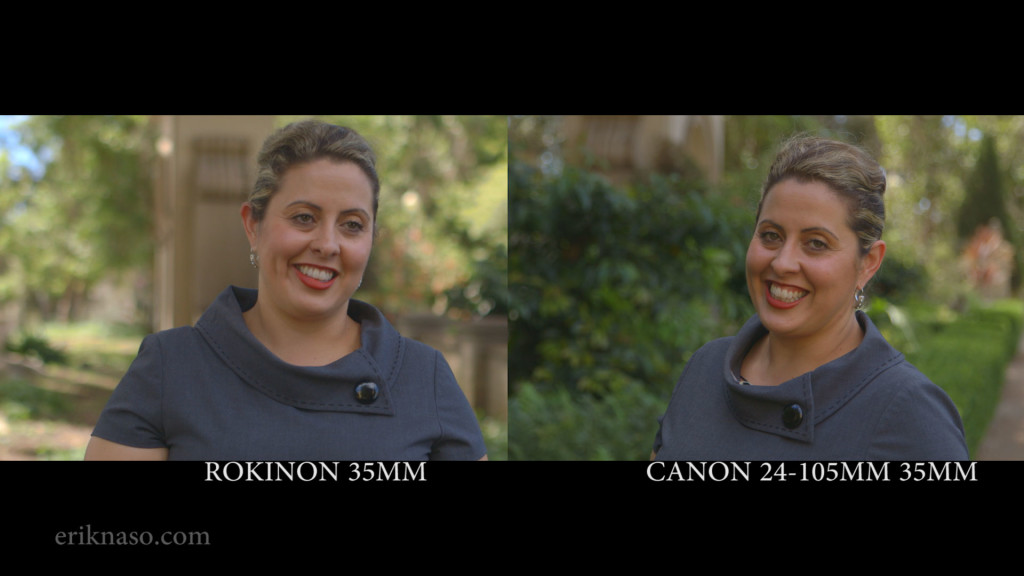 The Rokinon 35mm matches pretty well with the Canon 24-105 L. It's still a tad cooler but I think this combo will work just fine.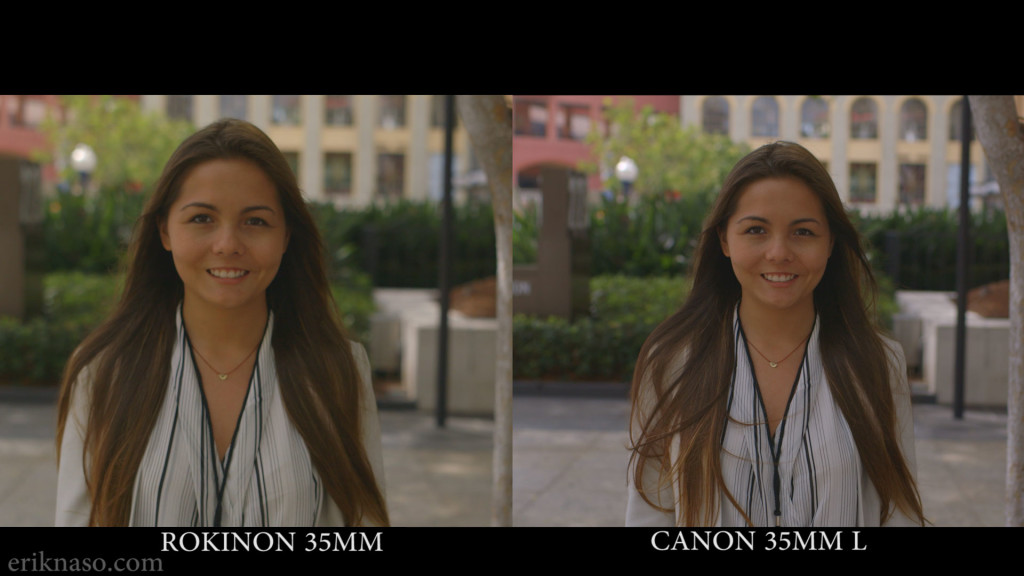 The Rokinon and Canon 35mm side by side. Interesting how in this sample the Rokinon looks warmer than the Canon. Obviously you wouldn't have both of these but for the sake of comparing it shows how different lenses render color. This isn't a perfect test but I just wanted to illustrate that differences. If you stick with all Canon L lenses your going to get the best possible matching kit. If you're going to mix and match just mack sure the will work well together or at least know how they will look so you can make a better decision on lens choices during your shoot to make editing/grading easier. Check out my list of lenses I like here.
Thanks for coming by! Please help support my site by using the links on this page or bookmark these from my favorite retailers, B&H, Adorama, Zacuto, Amazon.com & Think Tank Photo. Using the links cost you nothing extra, but it helps offset the cost of running my blog. Thanks again for coming by eriknaso.com!
Filed in: 35mm Lens • Canon • Lens Talk • Lenses • Micro Four Third Lenses • Panasonic • PL Lens • Sigma
Tagged with: Canon • Cinema Lens • Lumix • Nikon • NOKTON • Rokinon • Sigma • Tokina • Zeiss • Zeiss CP2
I'm a broadcast DP In San Diego. I enjoy sharing what I'm working on and testing new equipment. This blog is also part of giving back. I've learned so much from so many people.