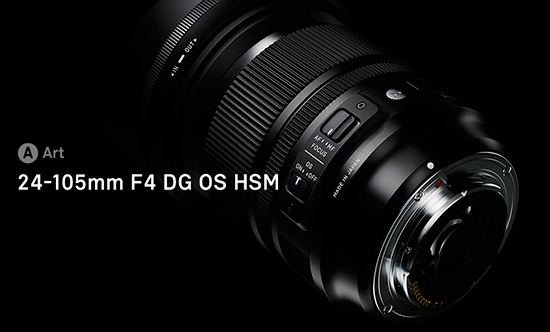 The lens has been rumored then on October 15th. Sigma officially released the lens on their website for about five hours then the link went down and it's still down. Not sure why it went down but the lens does exist and I did see it and gathered this info.
I have, and like very much the Canon version in this exact focal length. It's a work horse lens for handheld, and I shoot a lot of handheld with the C300. IS on a lens with this focal length is a must and Canon didn't have any competition on the 24-105 f4 L until now. So why would Sigma make the exact same lens as Canon? Hopefully it's a better performing lens and fixes some of the issue that the Canon version has like a drop in exposure at the longer end. I don't have an issue with this but others have expressed concern with that. It seems to me that the drop is very slight and I don't even notice it. Another reason. Price. Sigma's new ART line are very good lenses at a price point that makes them hard to beat. The 18-35 APS-C zoom for example is a fantastic lens. I'm using it more and more and really like the look and feel of the lens. Big pus for the Canon version is it's parfocul. If you zoom to 105 and focus you can pull out and the lens will keep in focus. I have done this on several shoots with perfect results. This will have to be tested on the new Sigma 24-105mm F4 DG OS HSM Lens.
The Sigma 24-105mm F4 DG OS HSM is a little bigger and heavier at 31.2oz. It has a 82mm front with 19 elements in 14 groups (Canon has 18 elements in 13 groups) and a 9 blade diaphragm (Canon has 9 blade diaphragm).
I didn't see a section on mounts available before the site went offline. I'm assuming it will be also available with a Nikon mount and that would make those Nikon shooters happy that are looking for an alternative to the AF-S NIKKOR 24-120mm f/4G ED VR Zoom Lens.
From Sigma Website
Access the full power of your camera's image sensor. This new zoom fulfills Sigma's uncompromising pursuit of high resolution.

Specs – Click for larger

The image sensors of digital SLR cameras continue to offer higher and higher resolution, and photographers are looking for high-performance lenses that leverage these sensors' full power. In the case of zoom lenses as well, which are a dependable go-to in a wide variety of photographic conditions, photographers want convenience combined with exceptional optical performance. The new SIGMA 24-105mm F4 DG OS HSM zoom lens more than fulfills these requirements, offering exceptionally stable high resolution from wide-angle to medium telephoto photography.

While featuring a large-aperture 82mm filter size, this lens minimizes optical aberrations and avoids reduced peripheral brightness, an issue that tends to affect lenses with similar specifications. Each lens is checked with Sigma's proprietary A1 MTF (modulation transfer function) measuring system to ensure it offers exceptional quality for the high-megapixel era. Try this new high-performance zoom for yourself, and experience Sigma's uncompromising pursuit of high resolution.

The full realization of the Art product concept for you to hold in your own hands and appreciate with your own eyes.

MTF – Click for Larger

Designed with a focus on sophisticated optical performance and tremendous expressive power, our new Art line of lenses delivers top-level image quality. With unsurpassed expressive performance, these lenses reach the high standards demanded by photographers with an artistic, creative inclination. Along with landscapes, portraits, still-life, close-up and casual snaps, they're perfect for the kind of photography that unleashes the inner artist. Ideal for studio photography, they offer just as much expressive scope when capturing architecture, starry skies, underwater shots and many other scenes. Hold it in your own hands and appreciate it with your own eyes.

This high-performance lens joins Sigma's Art lineup, fulfilling its stringent requirements. Zoom lenses with a high zoom ratio tend to suffer from astigmatism, field curvature, distortion, chromatic aberration, and other optical aberrations. To minimize these, Sigma's zoom lens features optimally arranged high-performance single- and double-sided aspheric elements produced by precision glass molding and incorporating FLD ("F" Low Dispersion) glass and SLD (Special Low Dispersion) glass. Minimizing axial chromatic aberration at telephoto distances, this lens offers exceptional image quality throughout the zoom range. In addition, it avoids the reduced peripheral brightness that is common with lenses in the same class. Thanks to its large-aperture 82mm filter size, this lens offers truly outstanding optical performance.

Launching Date: TBD
Accessories: Case and Petal Hood (LH876-02) supplied.
Corresponding AF Mounts: SIGMA, Sony, Nikon, Canon
Thanks for coming by! Please help support my site by using the links on this page or bookmark these from my favorite retailers, B&H, Adorama, Zacuto, Amazon.com & Think Tank Photo. Using the links cost you nothing extra, but it helps offset the cost of running my blog. Thanks again for coming by eriknaso.com!
Filed in: 35mm Lens • Lens Talk • Sigma
Tagged with: C100 • C300 • Canon • Canon 24-105 • Cinema Lens • Sigma • Sigma 24-105mm • Sigma 24-105mm F4 DG OS HSM
I'm a broadcast DP In San Diego. I enjoy sharing what I'm working on and testing new equipment. This blog is also part of giving back. I've learned so much from so many people.