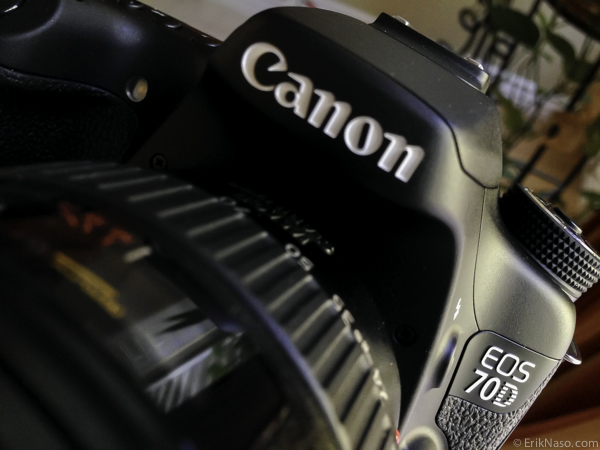 I decided to break this up into two parts. This first part will cover my thoughts on the camera and shooting stills primarily. I have a few tests on the video side done but haven't gone out to really shoot yet. Please come back  for the review that will cover the video side of the Canon 70D. I promise it will be worth it!
Why I bought the 70D
I broke down and bought it! The urge to get a Canon DSLR to go with my EOS EF lenses was far too great. LOL! Actually I've been eyeing a few models lately and the 70D is the best choose for me now. I'm not going to get into the nitty gritty technical stuff on the 70D in this article. There are lots of very informative and long reviews that cover the good and the bad of the Canon 70D so I'm going to focus on  the features that stand out to me and compare the 70D to the Panasonic GH3 a little as well since I own and use a GH3 too. I think these two cameras are good choices for users that care for very good IQ in both video and stills and are a pretty good value. In a nutshell you can't go wrong with either. However you might have to pick one since they can't share each others lenses. At least the GH3 could use EOS EF lenses with an electronic adapter but the 70D can't use Lumix lenses. The reason is they're too small and won't cover the larger APS-C sensor.
I'm a big fan of the GH3. I've used it for several projects as a video camera. It travels well and has been with me on several vacations too. In the image above you see both cameras with their 70-200 equivalent. The GH3 with the Lumix 35-100 f2.8 and the 70D with the Canon 70-200 f4. The Canon 70-200 f2.8L IS is even bigger and very heavy, but it's one of the best lenses available from Canon. I love how small and light the GH3 MFT system is. Sometimes the GH3 is a little too small. I tend to hit buttons on accident a lot.  When you use MFT lenses the system is very easy to carry around. My three favorite lenses are the LUMIX G X VARIO 12-35mm/F2.8 , Lumix 35-100mm and the Lumix 7-14. The GH3 is  a better video camera than stills camera. The pictures are in no way bad. In fact they are very good. A big improvement over the GH2 but I wanted a little more in the stills department and the 70D does just that. My first Micro Four Thirds camera was the Panasonic AF-100. I bought a lot of native lenses for it, but my two favorites didn't come out the same time the AF-100 did. Sadly I didn't get to use them as much. I decided to get a GH2 followed by the GH3 since I had many MFT lenses. It just made sense. I've moved on from the AF-100 after two years and sold off most of my MFT lens except for my three favorite Lumix zooms. The Lumix 7-14, 12-35 and 35-100. I now shoot with a C100 and have a C300 at work. Since moving on into the EOS world I also had to get some Canon EF lenses. It made perfect sense to invest in a Canon DSLR. My budget wasn't big enough for the full frame 5D MKIII or the new Canon 6D, so it had to be an APS-C camera. Recently Amazon.com had the Canon 70D on sale. A very good sale at 20% off retail for $949. As of writing this it's still selling at this price.
The Body And Menu
The 70D fits nice in my hand and the camera isn't heavy but has a solid feel to it. The 1,040K dots resolution articulating touch screen LCD is great. Sharp and bright. It uses gestures like an iPhone. When in playback mode pinch to zoom in and swipe to see the next shot. Love it! The camera functions can be changed using the touch screen as well making it very fast and easy to adjust.
I like the Q button on the back of the 70D just above the playback button. Press it and you have access to the main settings to check and change with the touch screen. Very cool feature.
One thing that bugs me is the 70D doesn't come with a operators manual. This is a bummer because I always like to carry one in the bag just in case I need to figure some settings out. It does come with a "Basic Settings " Booklet but it doesn't cover all the settings and I found it to be to basic.
I  like the menu system on Canon 70D a lot. Very easy to find and change the settings. No multi page hierarchy that makes you crazy when you can't find a setting because it's buried in the menu. Hate that! My Panasonic GH3 menu is a PITA to navigate. I still can't find what I need very fast. On the 70D each page in the menu is full. No scrolling past the last setting on each page. You see it all in one look and navigate to the next full page of settings. Thank you Canon! The "My Settings" Page is great. Lets you save up to six of your favorite settings in one place. I added Audio, White balance and ISO settings for quick access. As I get more comfortable with the 70D I'm sure I will change this up a bit.
Dual Pixel CMOS AF
The price of the Canon 70D got me interested and the Dual Pixel CMOS Auto Focus sealed the deal. When using the 70D In live view mode it's a very fast and smooth autofocus system. The real benefits are with video capture and I will cover that more in part two but here is my quick impressions. I saw a demo and was blown away on how good it is. Now. I know lots of people poo poo auto focus with video cameras and that's because AF with video cameras in the past was horrible and unusable. On the 70D it works amazingly well. I found a way to get great results by tapping on the touch screen and the camera will track that subject and it does a very good job. I only have EF lenses and opted to not get the EF-S 18-135mm F3.5-5.6 IS STM lens that comes with the 70D kit. It gets great reviews but I just don't like variable f-stop lenses.
Instead I bought the Canon EF 40mm f/2.8 STM Lens. It was on sale for $159 (Normally $199) with free overnight shipping from B&H. The 40mm 2.8 gets great reviews and has no distortion plus the fast STM AF feature, so I'm looking forward to testing it out. A little info on using full frame lenses. The 70D has a APS-c sensor so their is a crop factor of 1.6x. This means that when you use a 40mm full frame lens on it you you have the equivalent field of view of a 64mm lens. Confused? Don't worry it's simple. Basically your sensor does not cover the entire lens. It's shooting in the middle of it cropping the full frame image. Not magnifying it. Cropping out. Big diffrence. To get the same field of view you need to step back a little. So for the 40mm on my 70D is more like a 64mm's field of view.
40 X 1.6 = 64
The new Canon EF 40mm f/2.8 STM is a great lens. It doesn't have the distortion of a wide angle lense. I couldn't see any distortion at all so on a APS-C camera this little pancake is a nice portrait lens if need be. I love a 85mm for faces but this new 40mm will also work. Be careful with tight framing of faces on a 35mm. Not the most flattering look. A little on the funhouse side.
Here is the 40mm with a 82mm Tiffen variable ND filter. Very handy for shooting wide open outdoors in video and stills modes.
Okay back on track…
Face tracking is very good as well. Stays locked in and tracks anything that remotely looks like a face. Shooting this way really requires a monopod or tripod to get steady shots. If you like using a LCD loupe then you can't use the touch screen. The autofocus is pretty loud and gets recorded while its focusing and it is constantly focusing in very small and fast increments. Using a RODE Videomic Pro helps reduce the problem by about half but it's still very annoying if you're trying to capture natural sound. I paused the AF when I needed to get clean audio. More video testing coming soon in part two of this review.
Auto Focus For Stills
The Canon 70 Autofocus system works great with stills. It nails focus fast and is very accurate. I got a lot of keepers of the kids opening presents on Christmas day. Check out the video below by MichaelTheMentor to learn how the focus system works and how to set it up. Very helpful and is well worth 8 Minutes of your time.
See! I told you it was good.
ISO
This camera shoots clean pictures at ISO 100 to 1000. High ISO is very good as well. shooting past 4000 does make the grain appear a lot more but it's easy to clean up with Lightroom. I set the camera to auto ISO and shot in manual. varied the shutter around 125 so I can freeze movement better for sharper pictures, and stayed around f2.0 I let the camera choose the best ISO settings for the best exposure. For the most part this worked great and again I got a lot more keepers than I'm used to with my GH3. I didn't like ISO 6400 very much, but it is definitely usable. Little noise reduction and it's an instant keeper. I shoot RAW. I like the extra headroom of about two stops so if it's under or overexposed by two stops it can easily be adjusted. Highlights are also saved using RAW.  I highly recommend shooting in RAW. A cool setting in AUTO ISO is you can pick the range you want. I set my ISO to 6400 max. It would be nice to be able to set the max range to 5000 but you cant. it goes from 3200 – 6400- 12800. Basically in 2x steps.
Stills
I didn't use any special settings. I set the picture to auto which is basically -3 in sharpness and the rest of the settings at 0. The images look really good. Hands down beats the GH3 in the stills department. That was important to me. I like the size and portability of the GH3 but felt I wanted a little more. The 70D delivers that. Below are a few samples I shot with the Sigma 18-35, Canon 40mm and a Rokinon 35mm. All shot in raw and edited in Lightroom. I didn't use a flash on any of the samples. My favorite lens right now is the Sigma 18-35. It works so well on the APS-C sensor. The range is short at only 18-35 and it's kind of heavy but the speed is a constant f1.8 and super sharp wide open. Simply amazing. Check out this post on lenses I like for the C100 and C300 but will also work great on all Canon DSLR's
The last one was a test shot with the HDR setting. Pretty good right? I shot several hard to expose shots and this one came out nice. The camera takes three pictures and blends them together to create one image. The 70D doesn't save those three shots. Only the finished merged image is saved. It's a cool feature but I think you can get better results with photo editing software and bracketing your shots.
With fast sharp lenses the Canon 70D really shines. It feels really good in your hand and I never accidently hit function buttons like I do with the GH3. The viewfinder not being electronic is nice. Some like the mirrorless EVF but on the GH3 it's blurry in the corners so you end up repositioning the camera to find the sweet spot. Kind of annoying. Nice to get back to a real image with the viewfinder. I'm very impressed with the image quality of the Canon 70D. It easily beats the GH3 in shooting stills in pretty much every way.
That it's for the stills review.  Up next…. Video! In the meantime please check out this post I wrote on "Matching The 70D With The C100".
Video
I'm working on this part of my review now. I got a really bad cold that took me out for two weeks and just didn't have the energy to go out on my free time to shoot video. The good news is I'm much better now and hopefully going out this weekend to get some footage. I decided to go ahead and post the review as  part one covering my thoughts on the camera and part two will have the video aspects of the review. See you soon!
Thanks for coming by! Please help support my site by using the links on this page or bookmark these from my favorite retailers, B&H, Adorama,Zacuto, Amazon.com & Think Tank Photo. Using the links cost you nothing extra, but it helps offset the cost of running my blog. Thanks again for coming by eriknaso.com!
Filed in: 70D • Canon • DSLR • Equipment Reviews • GH2 • GH3 • Lenses • Panasonic • Sigma
Tagged with: 70D • APS-C • Canon • Canon 70D • Dual Pixel CMOS AF • EF Mount • EOS • GH2 • GH3 • Lumix • Lumix 12-35 • Lumix 35-100 • Lumix 7-14 • MFT • Micro 4/3
I'm a broadcast DP In San Diego. I enjoy sharing what I'm working on and testing new equipment. This blog is also part of giving back. I've learned so much from so many people.