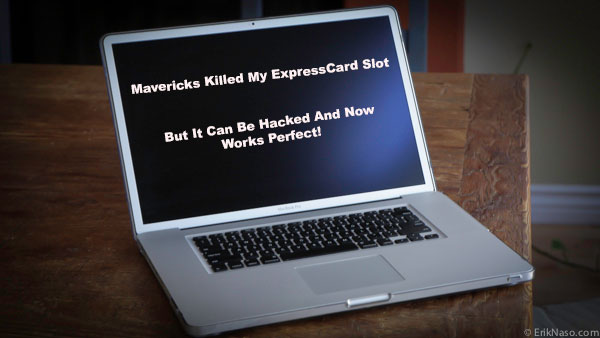 I updated my MacBook Pro mid 2010 with Mavericks and the updated OSX 10.9 disabled my express slot. I didn't see that coming, and no update to the problem was released by Apple, so I knew I would have to find a hack. I searched for a fix but didn't find one that I wanted to try the more complicated hacks. I stopped hacking computers years ago or I should say when I moved to Apple computers from Windows. This fix works and it doesn't require any extra software only one file needs to be replaced and Disk Permissions MUST be performed TWICE. I want to give credit to those that figured this out on Apple Support Forum. Check out the thread and you will see a very complicated fix then this one pops up. FirmTek is the real star here! They figured it out and made it easy. Lets get this fixed!
First thing you will need is the IOPCIFamily.kext This comes from Mountain Lion system files. Save this file because it's the actual file that fixes this mess! Next is from FirmTek. This is the directions for the fix. Please read it and understand the process thoroughly before you go for it.
A quick disclaimer: I'm not responsible for anything bad that happens to your system by using this hack. Use this advice at your own risk. Hey I'm just trying to help!.
The easy fix that worked for me was the one from FirmTek. Just follow the easy instructions and you are set. Below is from the FirmTek article for easy reference. Good luck!
Mac OS X 10.9 (13A603) Does Not Support 2010 17″ MacBook Pro ExpressCards
If you have a 2009 or a 2011 MacBook Pro with an ExpressCard slot, all FirmTek ExpressCards will work with Mac OS X Mavericks and the currently posted FirmTek drivers. However, if you have a 17″ 2010 MacBook Pro model MacBookPro6,1 with 10.9 installed, no drives mount with any manufactures eSATA card in our tests. This suggests the 10.9 installer may not fully support the 2010 MBP ExpressCard hardware.
SOLUTION: If you have a 17″ 2010 MacBook Pro and require ExpressCard slot functionality, please stay with 10.8.x or earlier until this issue is corrected.

Hack For Enabling MacBook Pro 2010 ExpressCard slot with 10.9 (13A603)
The Hack: Replace the IOPCIFamily.kext file found in 10.9 (13A603) Macintosh HD/System/Library/Extensions folder with the same file from a Mountain Lion 10.8.5 extensions folder and then repair disk permissions.


IMPORTANT: You MUST be booted from the 10.9 disk when making this change AND BEFORE restarting the computer you MUST open Disk Utility and push the "Repair Disk Permissions" button and wait while permissions are repaired. You may get a dialog box that states it cannot repair the IOPCIFamily.kext. Push OK and let the repair continue. Next, push the "Repair Disk Permissions" again and let it repair the disk a second time.

Now restart. The 2010 ExpressCard slot should now mount drives with Mac OS X 10.9.
NOTE: If you do not repair permissions before restarting you will have to reinstall Mavericks again as the disk will not be bootable. Re-installing 10.9 is a 45 minute task so Don't Forget to repair permissions first. Disclaimer: Make this change at your own Risk. Possible Negative Side Effects Are Unknown. No Guarantees can be made as to the safety of this hack.
Big thanks to cascag for making the IOPCIFamily.kext available for download and captainpeter. You gentleman are computer HERO'S! This fix is so easy but PLEASE make sure you repair permissions twice before you reboot your Mac Book Pro mid 2010. Did I mention this before?
The first time you will see it repair the file and correct how the computer needs to use it and the second time it doesnt show the file as an issue anymore. I just wanted to share how well this worked and I'm thrilled! My CalDigit eSata Express card is now working as it should with OSX 10.9.1 on my Mac Book Pro mid 2010. After replacing the OPCIFamily.kext file I did get a warning that the file wouldn't be installed but I just ignore it. I didnt click okay, but continued with repairing disk permissions TWICE.
I'm running 10.1 as of writing this and when OSX updates occur I'm hoping it wont break the hack so be aware that it could happen and keep this page bookmarked in case you need to go back and rehack. Also make sure to save that IOPCIFamily.kext file just in case. Thats it! I hope this fix gets your still very usable mid 2010 17″ MacBook Pro's ExpressCard slot working.
Thanks for coming by! Please help support my site by using the links on this page or bookmark these from my favorite retailers, B&H, Adorama, Zacuto, Amazon.com & Think Tank Photo. Using the links cost you nothing extra, but it helps offset the cost of running my blog. Thanks again for coming by eriknaso.com!
Filed in: Post Production • Video Editing
Tagged with: ExpressCard Slot FIX • Fix ExpressCard Slot OSX 10.9 • MacBook Pro Mid 2010 • Mavericks Broke My ExpressCard Slot • OSX 10.9 Broke ExpressCard Slot
I'm a broadcast DP In San Diego. I enjoy sharing what I'm working on and testing new equipment. This blog is also part of giving back. I've learned so much from so many people.