I was thrilled!
The Fed Ex guy showed up and dropped of my Cinevate DUZI today! Only one problem. I had shoulder surgery and can't play with it for several weeks. Booo! Well it's amazing you can do with one arm so here are my first impressions of the DUZI by Cinevate and will follow up with a full review as soon as I can get back to shooting again. Believe me this shoulder thing is getting old real fast.
Why The DUZI?
A little background on why I bought the DUZI. I have two sliders, a IGUS home job and  a 3′ Kessler CineSlider. Both work well but they have a few issues. The Kessler is big and heavy. Not that there's anything wrong with that! I bought it because at the time I was using bigger cameras like the Panasonic 370. My gear has shrunk in weight and the best part of that is so does camera support. The IGUS slider was good, but now fluid enough. It has served me well. I was hanging out on DVXuser and came across a thread on sliders. 
The DUZI can hold a lot of weight. Say… like the RED One! The DUZI is also very light making it way easier to carry. Two of the biggies for me. Now I need to heal up and get out and shoot with it but for now my first impression are pretty good. The ball bearing wheels on the cart moves very smoothly on the inside of the carbon fiber rods. I cant wait to mount a head and camera on it!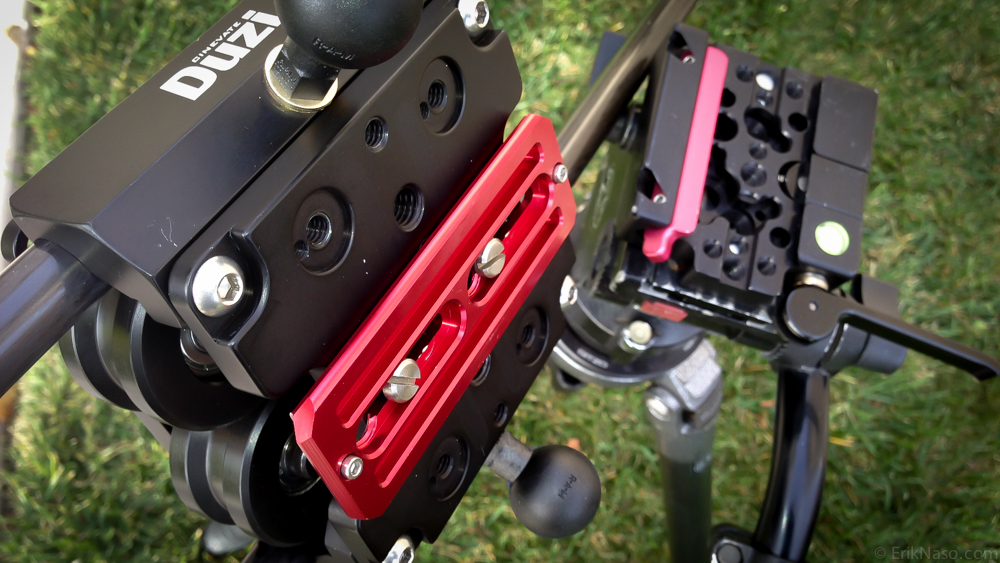 Size Matters
The length and weight make this slider easy to mount to your tripod without a dedicated tripod to use it. The goal for me was portability and to mount the DUZI I used a Zacuto Dove Tail and a Kessler Quick Release. Until I get a camera on this I won't really know how solid it will be but I think it will work very well.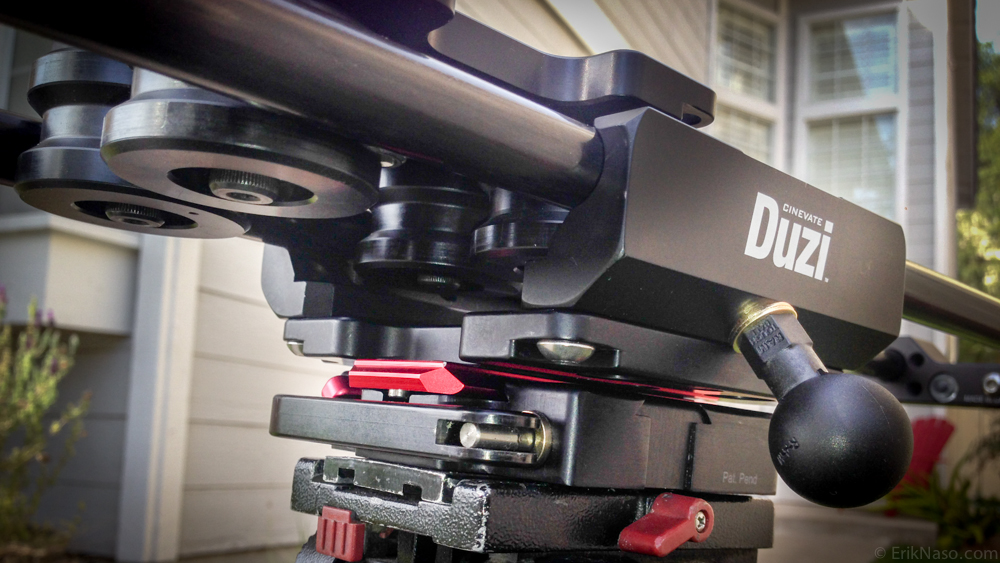 A full review is on tap just as soon as I can get back to shooting.
Thanks for coming by! Please help support my site by using the links on this page or bookmark these from my favorite retailers, B&H, Adorama, Zacuto, Amazon.com & Think Tank Photo. Using the links cost you nothing extra, but it helps offset the cost of running my blog. Thanks again for coming by eriknaso.com!
Filed in: Featured Post • New Release • Production • Support and Grip • Zacuto
Tagged with: CineSlider • Cinevate • Cinevate DUZI • DUZI • slider
I'm a broadcast DP In San Diego. I enjoy sharing what I'm working on and testing new equipment. This blog is also part of giving back. I've learned so much from so many people.