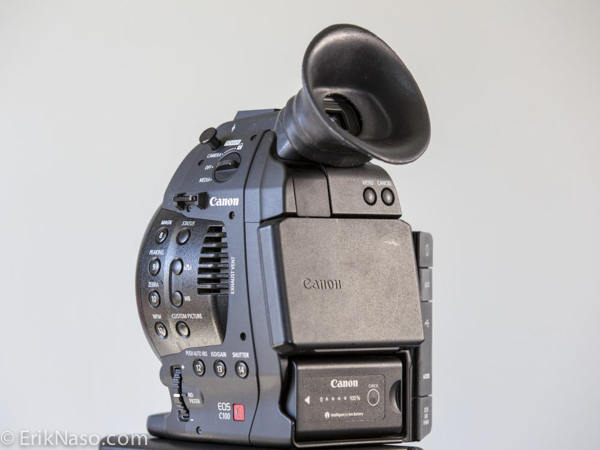 One big issue we all seem to have with the Canon C100 is the viewfinder. Clearly an oversight. Light gets in the viewfinder when shooting outdoors and the hard rubber feels terrible on your forehead. The good news is a new Kickstarter campaign has started to manufacture an eyecup that slips right over the viewfinder of the C100. I'm in!
The inventor of the C-Cup is Andrew Alden Miller. He contacted me and sent a prototype to try out and give some feedback. The first time I put my eye on it I was sold. It really works very well. Every C100 owner should get one.
The C-Cup stays in place and isn't styled to only work with your right eye. If you're a left eye shooter you will appreciate this design. It's easy to attach and stays on but it isn't permanent nor requires any fasteners. It just slips on and is held in place because it is form fitted around the viewfinder. When the LCD screen is opened the C-Cup has to be lifted a little but not a deal breaker and it won't knock the C-Cup off the viewfinder.
It provides a comfortable third point of contact
It connects securely to the camera
It blocks out peripheral light
It is inexpensive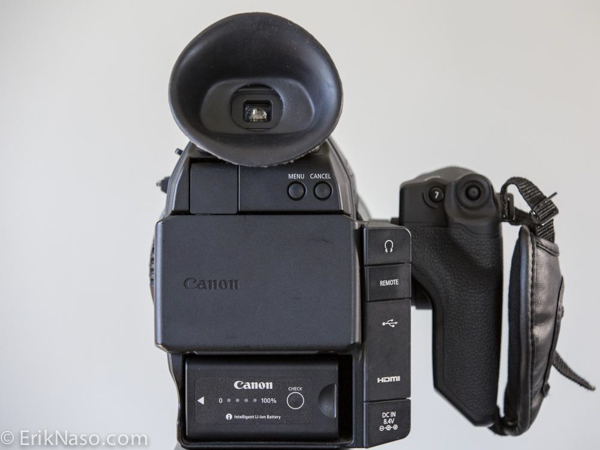 I think this is a great product and I hope it gets fully funded so we can put this viewfinder issue to bed.
Thanks for coming by! Please help support my site by using the links on this page or bookmark these from my favorite retailers, B&H, Adorama, Zacuto, Amazon.com & Think Tank Photo. Using the links cost you nothing extra, but it helps offset the cost of running my blog. Thanks again for coming by eriknaso.com!
Filed in: C100 • Canon Cinema EOS • Featured Post
Tagged with: C-Cup • EVF
I'm a broadcast DP In San Diego. I enjoy sharing what I'm working on and testing new equipment. This blog is also part of giving back. I've learned so much from so many people.