It's promo time again! With the Olympics on schedule we had to come out with a few new news image spots. Lots of eyes on the Olympics and San Diego viewers like the games a lot. It's a great opportunity to introduce a lot of new faces and of course our talented main players to a potentially new audience.
The Camera
When I first heard what we were shooting I have to admit I got a little nervous. Thankfully I didn't have to shoot any sound. This was going to be the perfect shoot for the Canon C300 and new Sigma 18-35. I picked up the 18-35 a month before. Lucky to have it since it's always back ordered. I really like the Sigma 18-35. It's very sharp and super fast at a continuous f1.8 aperture. This is the fastest zoom lens ever made. I only used the Sigma for the whole shoot and I believe it performed flawlessly. I set the camera up to shoot C Log and varied the ISO. Nothing to crazy camera wise. The crazy is yet to come…
This spot was simple as far as camera work goes, but the setups were a huge effort. We used everybody that was available from our creative services department and the agency's EP, editor and compositor was with us. Great team effort and we really worked well together.
We had five locations and three days to do it.
Salk Institute La Jolla
Pier at Pacific Beach
Parking Garage
UCSD Geisel Library
San Diego Convention Center
Rain or shine they had to get done before sundown. With The locations picked we did a quick scout. I have a great app called Sun Seeker on my iPhone. I knew the exact location of the sun at each location. Really handy app. We rented a UHaul to carry several pieces of furniture and a big whiteboard with chroma key paper taped on. I had the HMI's and grip. The van was packed!
I needed some big output lighting to get them to pop on camera and of course my budget was small. I initially wanted to hire a lighting director and a grip truck or someone who had both. The numbers didn't workout so I rented two Arrisun 12 Plus 1200 Watt HMI PAR and a grip package. I've never used these amazing lights before and I have to admit I was a little worried if they would be enough. They performed great. Each Arrisun 12 HMI had it's own gas generator solving power issues. I knew I wouldn't be able to mould the lighting so my goal was to give the talent a little fill. Using the 4X4 scrims softened and made the light broader.
The first one is always the hardest, but after we figured out how to set up and move the lights it went very smoothly. The News Breakers was the first location and the second largest group.
I like shooting in the winter because the sun is at an angle all day and never gets overhead like in the summer. Downside is less daylight to in a day. When I scouted the location at the Sulk Institute I picked a placement that would have all the talent in a shaded area. This will help keep harsh shadows to a minimum and fill with the Arrisun's. The sun took a little longer to get behind the building and when it did we knocked that shot out. It was nerve racking because we had everyone and everything ready to go but the sun was still hitting on the right. I pleaded to wait just a couple more minutes. Yes! The sun creeped behind a building and we started to roll.
This one was crazy! The wind kicked up at the beach so strong we had to change the shot. Same location but reversed it. Bummer. No ocean in the background. The wind was so strong it would have blown the hair right in the talents face. That wouldn't work. Ironically with the shot reversed it almost looks like we used glamore fans. Very funny, but it does look like a storm is rolling in.
For extra safety I set up the 4×4 scrims up against the pier. The Arrisuns worked really well in this shot. A little smaller group allowed me to get the lights in a more. This setup was hard.
What I used.
2 Arrisun's and 4 stands.
2 4×4 scrims
2 Honda gas generators
C300, Tripod and slider
Panasonic Field monitor and table
Several couch like chairs
Bigg ass whiteboard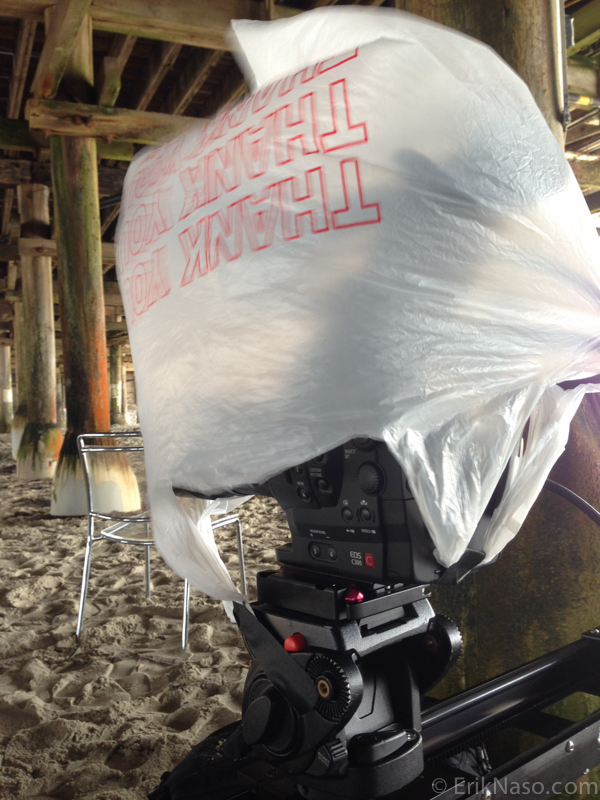 The wind so bad to protect the camera I used a grocery bag and gaffers tape. It worked!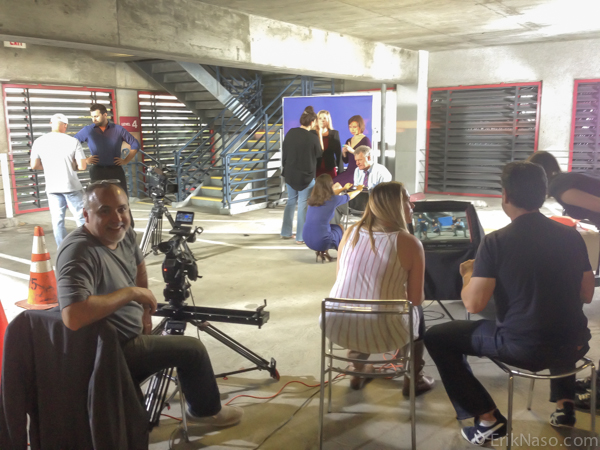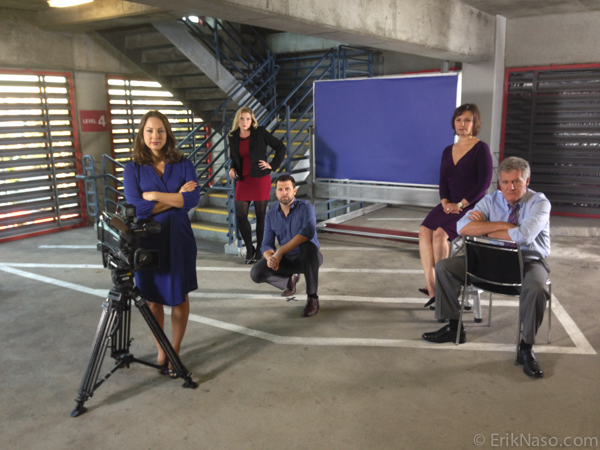 For the Investigators we set up on the fourth floor of a parking garage. I pushed that god forsaken white board up to the location because it wouldn't fit in the elevator. Funny how everybody disappeared…..
Lighting was a little more interesting since I had more output to play with but with only two lights I can only do so much.
All the scenes have just a little slider move and faster ones into the chroma key board. I used a Kessler CineSlider with a older Manfrotto 502 head with a Kessler Kiwk Clamp. These clamps are great. I'm addicting to them and need help. I will never use those Manfrotto ones again. No explanation needed. The 3′ CineSlider is pretty nice but I have a bump in it that I can't figure out how to fix. I Really need to figure this out because it's annoying.  A three foot slider was perfect for this shoot. I dont think my New Duzi would have been long enough. The Sigma 18-35 performed so well I didn't need to pull out another lens all day.
All the editing was done by an outside agency and they always do a great job. I'm impressed with how well the chroma key compositing and tracking worked.
It's always fun to play with new gear and have a few challenges that you can learn from. This shoot had all that but a big take away is team work. We were a motley crew but a darn good one!
Follow me on Twitter @eriknaso and check out my page on Facebook.
Thanks for coming by! Please help support my site by using the links on this page or bookmark these from my favorite retailers, B&H, Adorama, Zacuto, Amazon.com & Think Tank Photo. Using the links cost you nothing extra, but it helps offset the cost of running my blog. Thanks again for coming by eriknaso.com!
Filed in: C300 • Canon • Canon Cinema EOS • Featured Post • Lenses • Lighting • Post Production • Production • Sigma • Support and Grip
Tagged with: Arrisun • C300 • Canon • Canon C300 • Cinema EOS • CineSlider • Kessler CineSlider • Kessler Crane • Kessler Kwik Release • quick release • Sigma • Sigma 18-35mm f/1.8
I'm a broadcast DP In San Diego. I enjoy sharing what I'm working on and testing new equipment. This blog is also part of giving back. I've learned so much from so many people.