The first thing I noticed when I turned the Ninja Blade on was how much better it is than the on board LCD screen on the C100. In fact it really shows how off the LCD is. The C100's is much coole,r and well… off! Then I saw how sharp the image is. This is a real nice monitor and puts the Ninja 2 on ebay. Seriously if you need a monitor alone the Ninja Blade is that good and a very good value for a HD recorder and compact high IQ monitor. The one board tools are also very good. I setup my C100 LCD screen in magnification for focus and had the waveform on the Ninja Blade. What a great setup!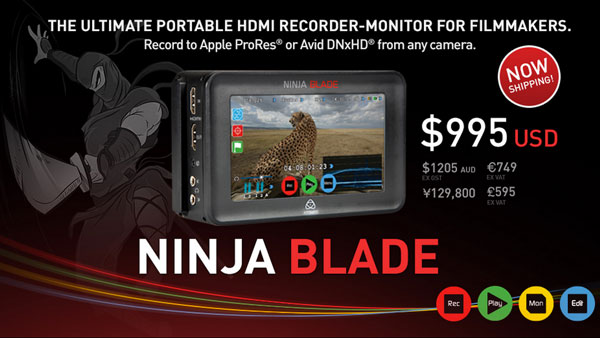 The Ninja 2 is a very popular external recorder but lacked a good monitor. In an effort to keep a rig compact and light having to also add a monitor didn't make sense. Now with the new Atomos Ninja Blade you get all the great features that the SDI version has but in a HDMI only version at a very competative price of $995. The screen alone is amazing . 1280 x 720 5" SuperAtom IPS touchscreen, at 325ppi 179-degree viewing, 400nit brightness and multi-frequency (48/50/60Hz) operation. Check out the user interface demo here. I decided to pick one up since I also need another small monitor. I'm very pleased so far.
The Ninja Blade can record 10 bit 4:2:2 so if you have an uncompressed 10 bit signal you can can record it. On thing to remember. If your camera doesn't output 10bit dont record 10bit. It won't give you a better quality image. just a bigger file. Great features like Waveform and vectorscope are welcome tools that we need and are lacking in many monitors. Check out the Ninja Blade specs below.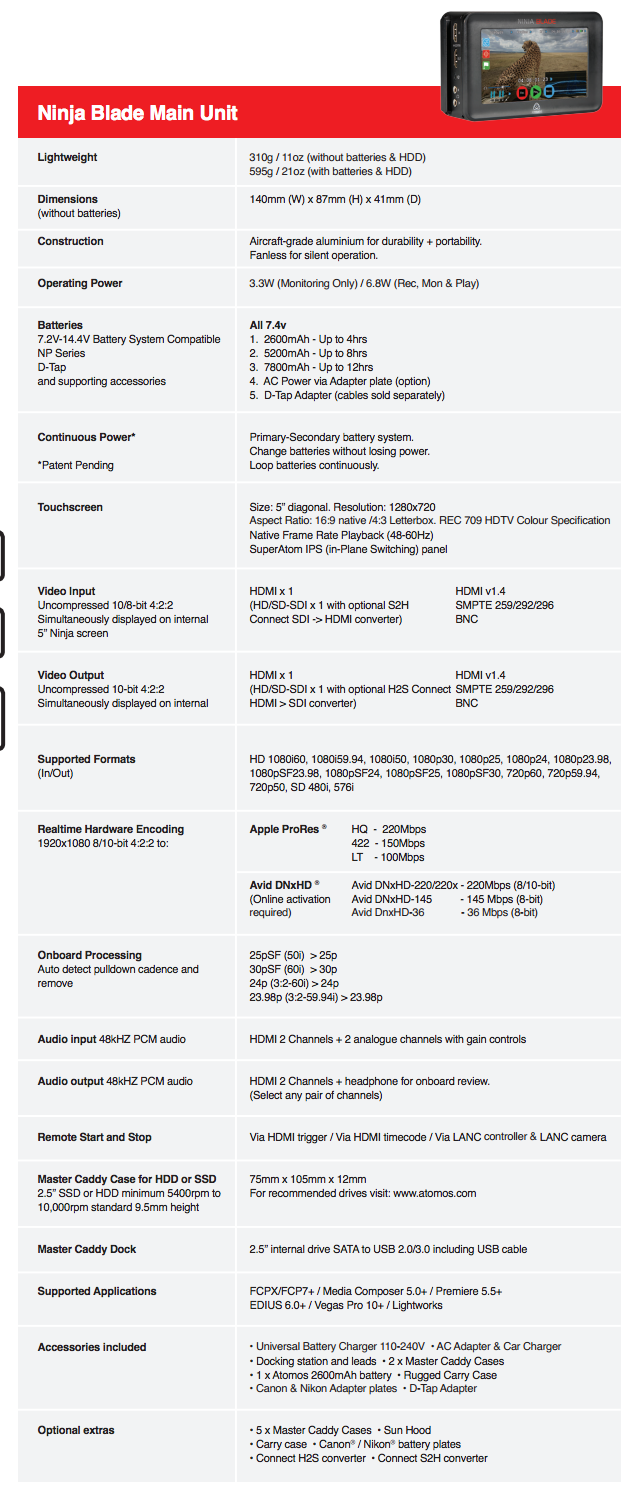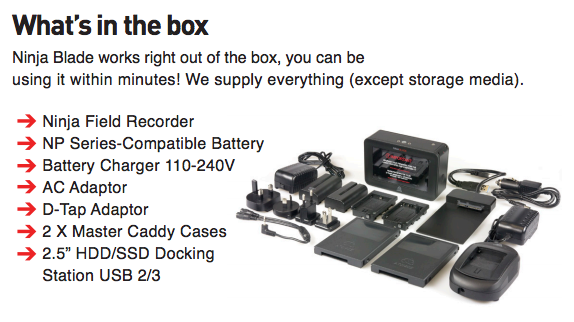 Update 3-28-2014
A few issues have arisen with the Ninja Blade. The first is a pixel shift problem that basically takes the whole image a couple of pixels to the left leaving a black line on the right frame.
The other issue is a strange line pattern that only appears on the right side of the frame as appears below.
Atomos is aware and says fixing this issue is a top priority and will have a firmware update next week. I used my Ninja Blade on a commercial shoot with a C300 to see if my copy has issues and it does. I have to say I'm a little disappointed that Ninja Blade was released with these problems but pleased to hear Atomos is on top of it. When the firmware does get released i'll instal and report back.
Here is a link to a pdf brochure. One big or should I say small advantage to the Ninja Blade is how compact it is and with the high IQ monitor you can roll without an extra one attached to the camera. Less weight and less batteries to worry about. I like the look of this new Ninja Blade. I upgraded.
Press Release.
Melbourne, Australia – February 25th, 2014: Atomos, the creator of the award-winning Ninja and Samurai camera-mounted recorders, and the pocket-sized Connect converters, will launch the new HDMI Ninja Blade at BVE Expo, 25-27th February 2014 at the Excel Exhibition Centre, London. The Ninja Blade brings new levels of professional monitoring to camera mounted recorders for DSLR's and any HDMI capable device.

"We are extremely proud to work with all the major camera companies, especially technology leaders from Japan, which gives us a unique advantage over our competitors." said Jeromy Young, CEO and Founder of Atomos. "And I am especially pleased to be able to announce a product that is also ready to ship, which is something of a rarity in this industry these days. With the Ninja Blade we are able to deliver fantastic, professional-grade monitoring functionality and recording codecs straight from the multitude of DSLR's, mirror-less and HDMI video cameras. And we can deliver it now, not in 6 or 12 months' time."

Atomos recorders have broken new ground in production by combining recording, monitoring and playback all in one easy to operate, portable device. Like the Samurai Blade, Ninja Blade allows the recording of pristine, 10-bit images straight from the camera sensor directly to inexpensive HDD or SSD drives, captured using Apple ProRes or Avid DNxHD codecs. Waveform, vectorscope and monitor assist tools such as tri-level focus peaking, zebra, false colour and blue-only offer a very comprehensive test and shot setup tool kit.

The Ninja Blade takes advantage of low-cost, modern technology by utilizing HDMI-capable pro-video and consumer camcorders, as well as DSLRs. Many features from Atomos are designed with real productions and real situations in mind, to create smarter workflows, keeping the highest quality but also keeping running costs low. The Ninja Blade was designed with a long battery life. Atomos' unique Continuous Power technology (patent pending) means that you never have to interrupt recording to swap batteries.

The new Ninja Blade features a stunning 1280 x 720 SuperAtom IPS touchscreen, at 325ppi 179-degree viewing, 400nit brightness and multi frequency (48/50/60Hz) operation depending on video input, giving super-smooth monitoring and playback. Every screen is calibrated to SMPTE Rec 709 colour space and a D65 white point with 100% gamut from factory. On-the-fly screen calibration is built into every Ninja Blade, so you are always accurate in any shooting environment.

You can see the Ninja Blade and the full range of Atomos products at BVE Expo on the Atomos stand (G32) together with distribution partner Global Distribution. For more about Atomos see www.atomos.com and Global Distribution.

Pricing and Availability

The Atomos Ninja Blade is now shipping for 749 EUR and 595 GBP (excluding tax and delivery) and will be available through the Global Distribution.
Atomos Ninja Blade Demo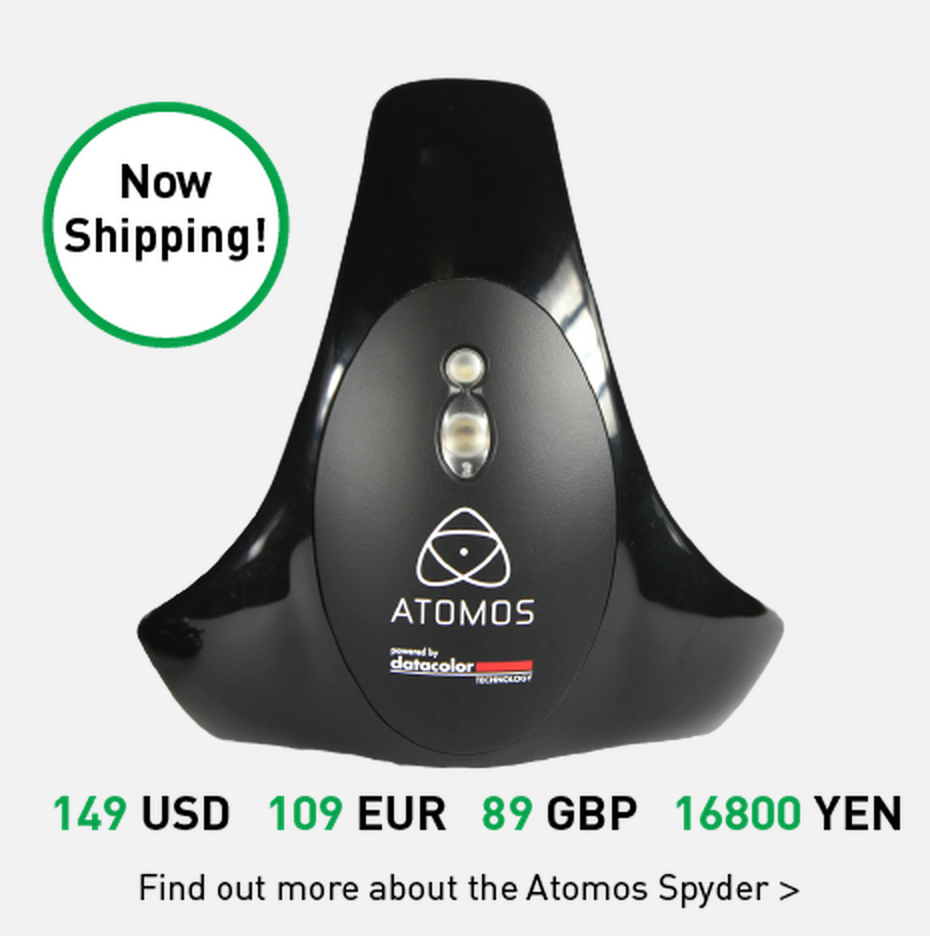 This is a great idea! Atomos has a Spyder calibration puck for the Ninja Blade.

Atomos is the worlds first to offer a portable calibration unit for the Ninja Blade – a Monitor, Recording Device and Deck. No other competing device offers this level of color precision. Developed in partnership with Datacolor the Atomos Spyder gives the Ninja Blade one button color calibration normally only found on high end monitors. With Spyder, the Ninja Blade gains the ability to accurately calibrate to the SMPTE Rec 709 color space with a D65 white point with 100% gamut.

Being able to trust the colors on a monitor while setting up the shot with RGB, Luma Parade and Vectorscope tools means perfect results every time. Professionals will spend far less time color correcting and finishing in post helping you save time and money.

In a time where every client now demands the color grading, you can trust the colors from your camera, to your Blade, to your edit station. We offer the only reliable workflow.

Never has it been so easy with one click color calibration anytime, anywhere while recording.




Follow me on Twitter @eriknaso and check out my page on Facebook.

Thanks for coming by! Please help support my site by using the links on this page or bookmark these from my favorite retailers, B&H, Adorama, Zacuto, Amazon.com & Think Tank Photo. Using the links cost you nothing extra, but it helps offset the cost of running my blog. Thanks again for coming by eriknaso.com!
Filed in: Featured Post
Tagged with: Atomos • HDMI Field Recorder • Ninja Blade
I'm a broadcast DP In San Diego. I enjoy sharing what I'm working on and testing new equipment. This blog is also part of giving back. I've learned so much from so many people.