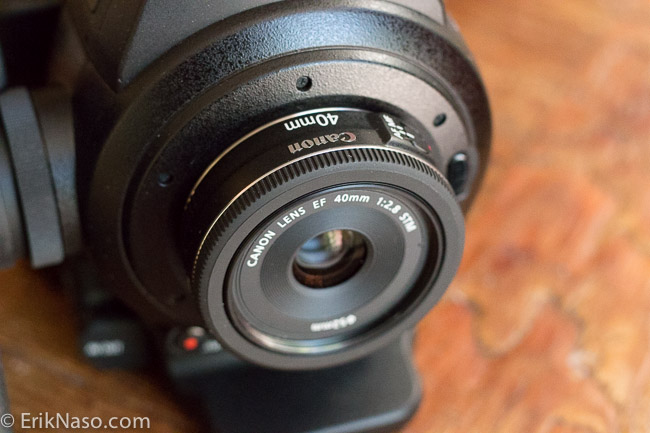 So what lens is it? The new Canon 40mm 2.8 STM. What? That pancake lens? Oh yes. Check out this spot I shot with it.
I can't believe how good it is. Sharp as you would want and virtually no distortion. This is a 40mm full frame lens. That means it's not considered a normal lens in fact it's so close to a 35mm that it shouldn't even be considered for shooting portrait style with it. I tested it out before I shot the promo and it looks great. Even close up for a head and shoulders the image was great. Even better on a APS-C camera since it crops the image. This pancake lens is also equipped with the new STM autofocus system. It works very well with Canon's Dual Pixel CMOS AF Technology (Man! I hate typing that) sensor found in the also newish 70D. What makes this lens even more interesting for filmmakers is using it with the C100 and C300 if you go for the upgraded auto focus. You now have a relatively inexpensive STM lens for very fast and accurate autofocus for video. I dont have the update yet on my C100 but I do have a 70D with the CMOS AF and it is very fast and quite.
Ultra-slim and lightweight design
Aspherical lens element delivers high image quality from the center to the periphery
Advanced optical design enables a bright f/2.8, compact optical system at 40mm
Optimized lens coatings ensure exceptional color balance while minimizing ghosting and flare
Built-in stepping motor provides smooth and quiet autofocus when shooting video with Canon EOS Dual Pixel Sensor cameras like the 70D C100 and C300.

Aperture Range: f/2.8-22

Aspherical Lens Element
Lightweight & Compact: 4.6 oz, 1″ Long
7-Blade Circular Diaphragm
Minimum Focus Distance: 11.81″
64mm Equivalent on APS-C Cameras
Sure it looks funny on the C100 but don't let looks fool you. This little pancake gets the job done. It's also a great walk around lens for my 70D since it's so light and fast at 2.8. I do wish it could be faster maybe 1.8 but I still love it! Check out my other blog post on What Lens Should I Buy for a whole bunch of my recommended lenses for the C100 and C300
On a side note I've been experimenting with a few different lighting techniques lately and used this one for this spot. Why always do thing the same way right? That gets boring, so mix it up a little and you never know you might find a better way or different look that will surprise you.
I've been using one Kino Flo Diva 4 bank key and a white bounce to fill. I like this look a lot. I also add a little back light or hair light depending on the person's hair or lack of. Below is a terrible iPhone pic but you get the idea. I will push the light in closer if needed or dim it down lots of options. The bounce board is usually just out of frame for maximum fill. Depending on the look you want just move them around until you're happy.
Follow me on Twitter @eriknaso and check out my page on Facebook.
Thanks for coming by! Please help support my site by using the links on this page or bookmark these from my favorite retailers, B&H, Adorama, Zacuto, Amazon.com & Think Tank Photo. Using the links cost you nothing extra, but it helps offset the cost of running my blog. Thanks again for coming by eriknaso.com!
Filed in: 35mm Lens • C100 • C300 • Canon • DSLR • Lens Talk • Lenses
Tagged with: C100 • Canon • Canon 70D • Canon C300 • Canon EF 40mm • Canon EF 40mm f/2.8 STM • Canon EF 40mm f/2.8 STM Lens • STM
I'm a broadcast DP In San Diego. I enjoy sharing what I'm working on and testing new equipment. This blog is also part of giving back. I've learned so much from so many people.