With NAB only a few days away Zacuto has some very interesting products in development. The Z-Finder pro is a great product that I use and like. Now Zacuto is developing a new OLED version called the Gratical EVF. 
Gratical EVF. 

Steve and Jens brought five different engineering companies together to bring their latest EVF design concept to life. The Gratical LT (full display 1024×768) and Gratical HD (full display 1280×1024) are the new generation Zacuto electronic viewfinders. The Gratical uses an extremely powerful FPGA dual core processor and the latest micro-OLED display, giving a hugely expanded contrast range. The high-quality, built in optics with multiple diopter options and anti-fog offer an incredibly sharp image. Key features include custom precision four lens optics for razor sharp detail, HDMI and HD-SDI in/out (HDMI cross convert to SDI), waveform, vectorscope and histogram.
The new Gratical EVF is packed with features that will help us see what we are shooting. So many cameras just have poor LCD's and viewfinders it's now essential to get a better EVF. Cant wait to see into this loaded EVF!
Control Grip with our new Z-Motor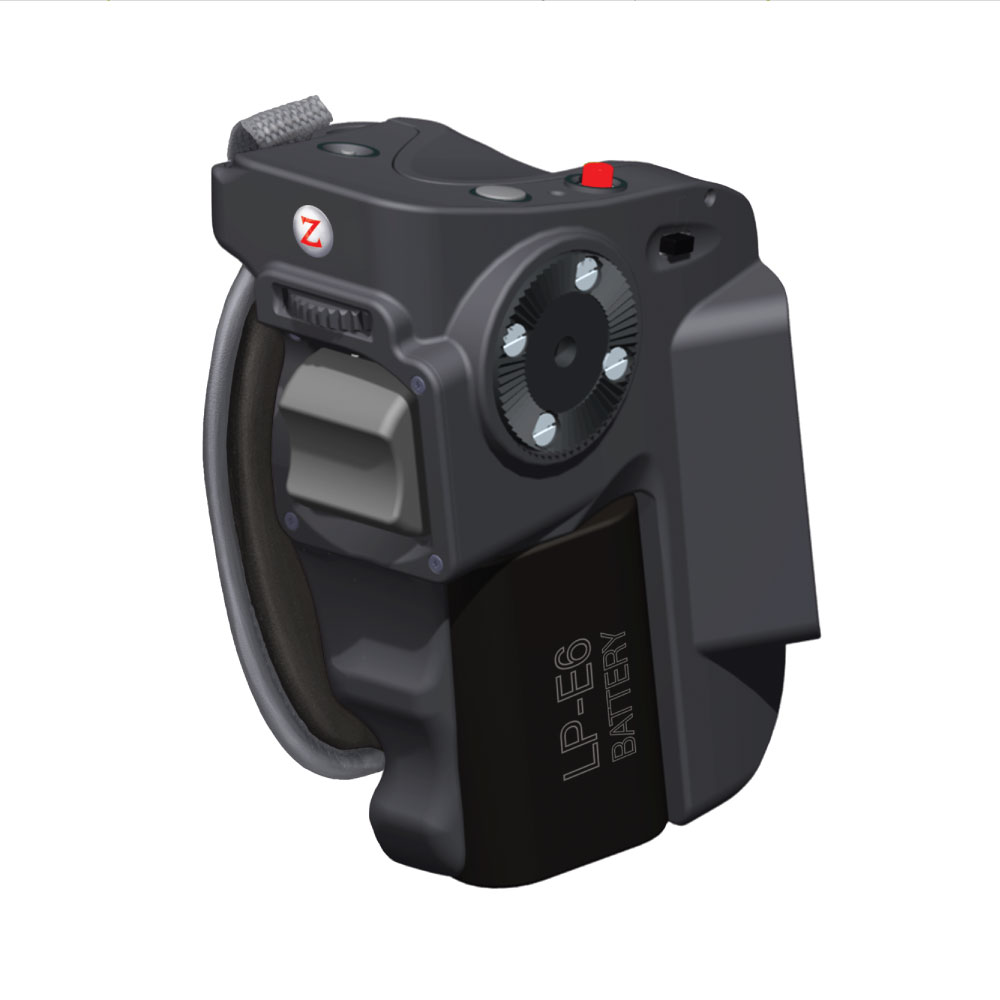 The Grip Relocator has solved the issue of getting the camera controls where you need them. Both Sony and Canon's new large sensor cameras have detachable grips. Zacuto looks to be taking this a few steps farther with a new Control Grip.
Your camera shouldn't control you—you should control your camera! Place our comfy, convenient camera Control Grip anywhere on your rig and camera control is at your fingertips. Cables will be available compatible with Canon, Nikon and Panasonic DSLRs, Sony F5/F55/F65, ARRI Amira/Alexa, RED Epic/Scarlet, and Canon C-Series. Combine the Control Grip with our new Z-Motor on your lens to create an updated version of the traditional rocker zoom controller. The Control Grip includes two 7-pin Lemo connectors for Zoom and Iris motors and  has a software upgradeable microprocessor.
A zoom rocker on a DSLR lens would be pretty sweet and still have the control of the cameras functions. So close to conventional ENG style cameras.
Last but not least a new baseplate.
VCT Baseplate

Zacuto is updating the VCT Baseplate for a whole new generation of cameras and filmmakers. Our new combination VCT Baseplate and shoulder pad echos traditional ENG cameras but with a modern twist. Our sliding dovetail offers balance for any camera set-up and the wide, gel shoulder pad will keep you comfortable all day long. Rods extend from the front of the plate and provide more open accessory rod space than any other VCT style baseplate. Rods are also attached to the back of the unit to hold articulating arms, batteries, counterbalance and more.
This is a preview of whats coming from Zacuto at NAB 2014. Pricing hasn't been announced yet. I'll be checking out all the fun new gear this year and of course I'm sure will have some very cool surprises to share.
Follow me on Twitter @eriknaso and check out my page on Facebook.
Thanks for coming by! Please help support my site by using the links on this page or bookmark these from my favorite retailers, B&H, Adorama, Zacuto, Amazon.com & Think Tank Photo. Using the links cost you nothing extra, but it helps offset the cost of running my blog. Thanks again for coming by eriknaso.com!
Filed in: NAB • New Release • Production • Support and Grip • Zacuto
Tagged with: Base Plate • baseplate • Control Grip • EVF • Gratical EVF • OLED • rails • shoulder rig • VCT Baseplate • Z-Finder Pro • Z-Motor • Zacuto
I'm a broadcast DP In San Diego. I enjoy sharing what I'm working on and testing new equipment. This blog is also part of giving back. I've learned so much from so many people.