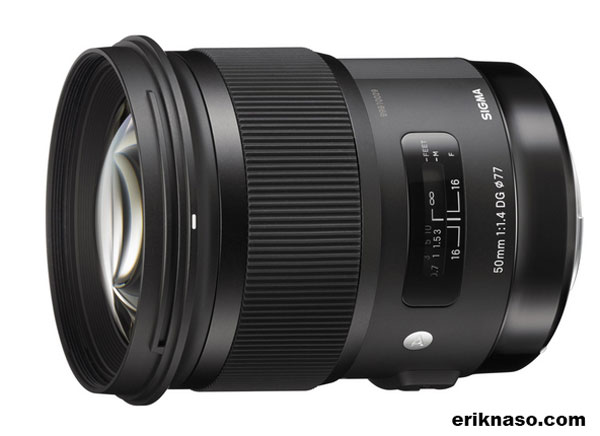 The new Sigma 50mm f/1.4 DG HSM is now available for preorder and the final price is $949. There has been a lot of talk about how awesome this lens is and Sigma themselves say it's as good as the $4K Zeiss OTUS. Thats a strong statement, so we will have to see when it gets out and is tested. I did preorder one today because I'm lacking a fast 50mm. I've been holding out and making due with other lenses to fill the gap but a 1.4 normal prime is a must in the lens kit and I'm hoping I got a "best of the breed" lens finally!  Another reason why I want this lens is because my experience with the Sigma 18-35 f1.8 ART. A fantastic lens when pared up with the C100 and C300 Cinema EOS. So sharp and fast at 1.8 constant aperture. It's really a variable prime. Check out the spot I shot with only the Sigma 18-35 and C300.
Super fast f1.4
ART line build. Solid
9 blade aperture for creamy bokeh
Sharp wide open
$949
The new Sigma 50mm 1.4 ART will pair well with the very popular Sigma 35mm f1.4 ART. One thing to keep in mind is that these are big and heavy lenses. The 35mm ART comes in at 23.46 oz (665 g) and the 50mm ART is 1.79 lb (815 g). The Canon 50mm f1.2L ($1619) comes in at 19.2 oz./545g. These are hefty lenses!  I don't like a bag full of really heavy lenses when traveling. At work I'm fine with it but walking around shooting travel shots can be tiring.
I'm really looking forward to getting my copy. It fills a gap I have in my Cinema EOS kit and will work very well with my 1st generation 5D and 70D cameras. I really need to get a 5D MKIII but instead I keep buying lenses!
Press release from SIGMA.
RONKONKOMA– April 11, 2014 – Sigma Corporation of America, a leading researcher, developer, manufacturer and service provider of some of the world's most impressive lines of lenses, cameras and flashes, is pleased to announce that the newest addition to its Global Vision Art camera lens lineup, the 50mm F1.4 DG HSM Art, will be available late April for the street price of $949.
The much anticipated 50mm F1.4 DG HSM Art is a pro-level performer for full-frame DSLRs and is ideal for many types of videography and photography, including portraits, landscapes, studio work and still-life. It has been redesigned and re-engineered with SLD glass and has been optimized for rich peripheral brightness, with improved large aperture performance by positioning wide elements into the front groups.
Other updates to this new lens include an optimized autofocus algorithm for smoother focusing and a floating focusing system to reduce lens movement while focusing. Under the Global Vision line, it features a new matte finish, an updated AF algorithm and every lens undergoes Sigma's proprietary modulation transfer function (MTF) "A1" testing before being shipped. It has 13 elements in eight groups, compared to the previous eight elements in six groups, and it also has improved close focusing at 15.7 inches and a maximum magnification ratio of 1:5.6.
"Our Art lenses, such as the 35mm F1.4, 24-105mm F4 and 18-35mm F1.8 have been incredibly well received to date, and we couldn't be more thrilled with the excitement around the news of this upgraded 50mm F1.4," said Mark Amir-Hamzeh, president of Sigma Corporation of America. "Clearly, the industry is hungry for reasonably priced, powerful, high-quality, multi-purpose lenses – and they've seen the image quality that's being produced by our new Global Vision lenses. There are no sacrifices with these products, and the new 50mm F1.4 is sure to be another star in our lineup."
The 50mm F1.4 was first announced at the Consumer Electronics Show this year. It incorporates Sigma's Hyper Sonic Motor (HSM) system to produce quiet, high-speed auto focus. In addition, it includes Super Multi-Layer Coating to reduce flare and ghosting, and to ensure the highest-quality images. The 50mm F1.4 DG HSM lens is also compatible with Sigma's USB dockand the company's Mount Conversion Service.
The Sigma 50mm F1.4 DG will be available in Sigma, Sony (D), Nikon (D), and Canon mounts.
SPECIFICATIONS
Lens Construction
13 Elements in 8 Groups
Angle of View
46.8º
Number of Diaphragm Blades
9
Mininum Aperture
f16
Minimum Focusing Distance
40 cm / 15.7 in
Filter Size (mm)
77mm
Maximum Magnifications
1: 5.6
Dimensions
(Diameter x Length)
85.4 x 99.9 mm/ 3.4 x 3.9 in
Weight
 815g/ 28.7 oz
Corresponding Mounts

Sigma
DG
HSM
Nikon
DG
HSM
Canon
DG
HSM
Sony
DG
HSM

* The appearance, specifications, and the like of the product are subject to change for improvement without notice.
LENS CONSTRUCTION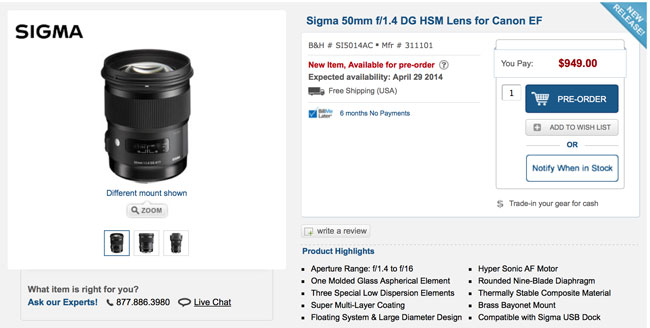 Follow me on Twitter @eriknaso and check out my page on Facebook.
Thanks for coming by! Please help support my site by using the links on this page or bookmark these from my favorite retailers, B&H, Adorama, Zacuto, Amazon.com & Think Tank Photo. Using the links cost you nothing extra, but it helps offset the cost of running my blog. Thanks again for coming by eriknaso.com!
Filed in: 35mm Lens • 70D • C100 • C300 • Canon • Lens Talk • Lenses • Sigma
Tagged with: 50mm • Sigma • Sigma 50mm f/1.4 DG HSM • Zeiss
I'm a broadcast DP In San Diego. I enjoy sharing what I'm working on and testing new equipment. This blog is also part of giving back. I've learned so much from so many people.