The new 4K Atomos Shogun is looking to be a very capable 4K recorder for both the Panasonic GH4 and the Sony A7s. In such a short amount of time these two cameras have changed the landscape for hybrid cameras. They both are for the most part video first and stills second. This type of camera is something Canon hasn't addressed yet if they ever do. But hey enough about that! If you have either of these cameras or are interested in 4K acquisition and want to get the absolute best from them the Atomos Shogun is the most affordable and feature rich available today. Well not just yet but today you can preorder it and get a free gift. The Spyder monitor calibration tool. I love mine and I think it's great to be able to know exactly what you're shooting actually looks like.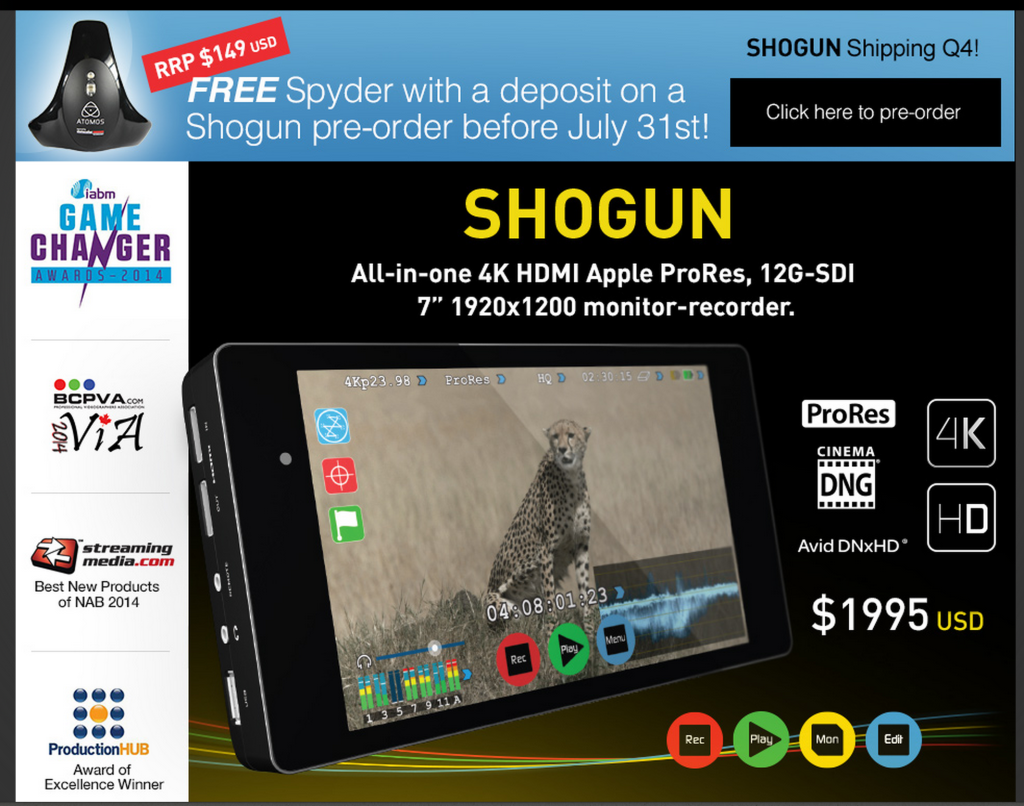 I for one really want to know how good both the A7s and the GH4 are in 4K. The GH4 internal 4K is very impressive but the Sony A7s is still yet to be seen outside of a couple Sony demos and the Shogun will make it easy to acquire.
I'm looking forward to getting one. I think the Ninja Blade is a great recorder/monitor and the Shogun takes it up a notch. We shall see. and see it in 4K!
Want to more about the Atomos Shogun? Here is a link to the full brochure. 
Follow me on Twitter @eriknaso and check out my page on Facebook.
Thanks for coming by! Please help support my site by using the links on this page or bookmark these from my favorite retailers, B&H, Adorama, Zacuto, Amazon.com & Think Tank Photo. Using the links cost you nothing extra, but it helps offset the cost of running my blog. Thanks again for coming by eriknaso.com!
I'm a broadcast DP In San Diego. I enjoy sharing what I'm working on and testing new equipment. This blog is also part of giving back. I've learned so much from so many people.