When the new EF to Micro Four Thirds Speed Booster came out I jumped on it. I've been waiting a long time for an electronic adapter that didn't require a battery so I could use my Canon EF lenses. The wait is finally over.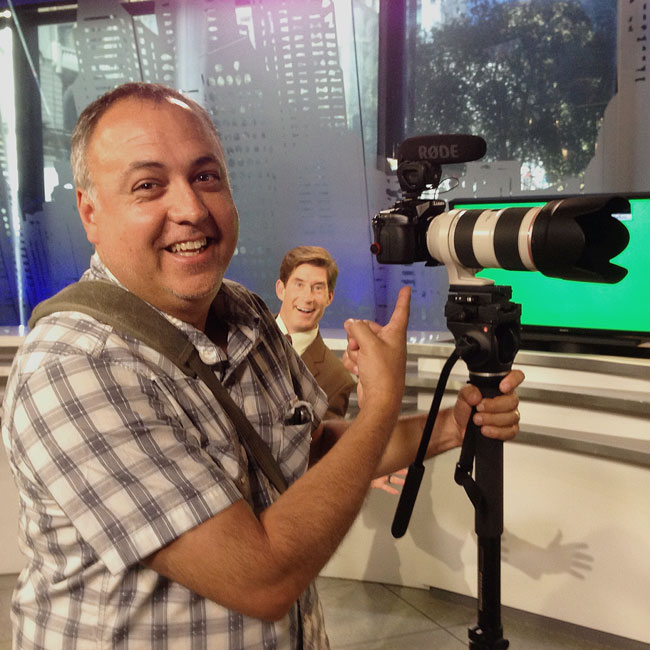 As you can see I'm happy and so is my reporter friend who photo bombed me. 😀
I have to say I love this adapter! With the added bonus of a Speed Booster it effectively turns the GH4 into a S35 camera with full frame EF mount lenses. But does it deliver as a Speed Booster? Yes it does. In real world shooting I found no visual issues with the Speed Booster. I'm sure some sharpness loss must be happening. It has to, but to the eye it just doesn't show and the benefits it brings is just so huge. I've had no lockups at all with the adapter.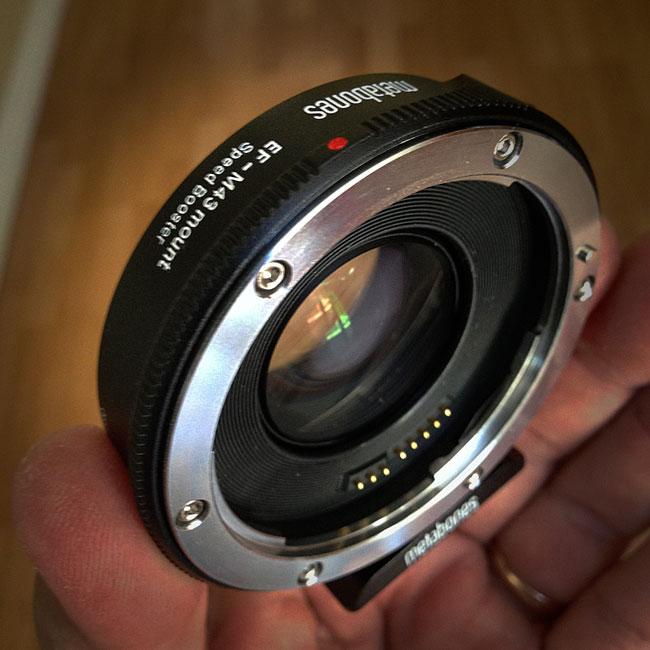 Only funny thing I found so far is the adapter makes the image stabilization jump when you scroll through the iris fast. Not a deal breaker but odd. It only did this with the 24-105. I didn't notice this with the Canon 70-200. Another strange side effect is the iris shows f2.0 not 2.8 on the 70-200 and f2.8 not f4 on the Canon 24-105. The speed Booster does give you 1 stop more light but I don't understand why the f-stop changes in the display. No big deal but it did surprise me. I actually got a good laugh seeing f2.8 with the Canon 24-105. That would be amazing on that lens!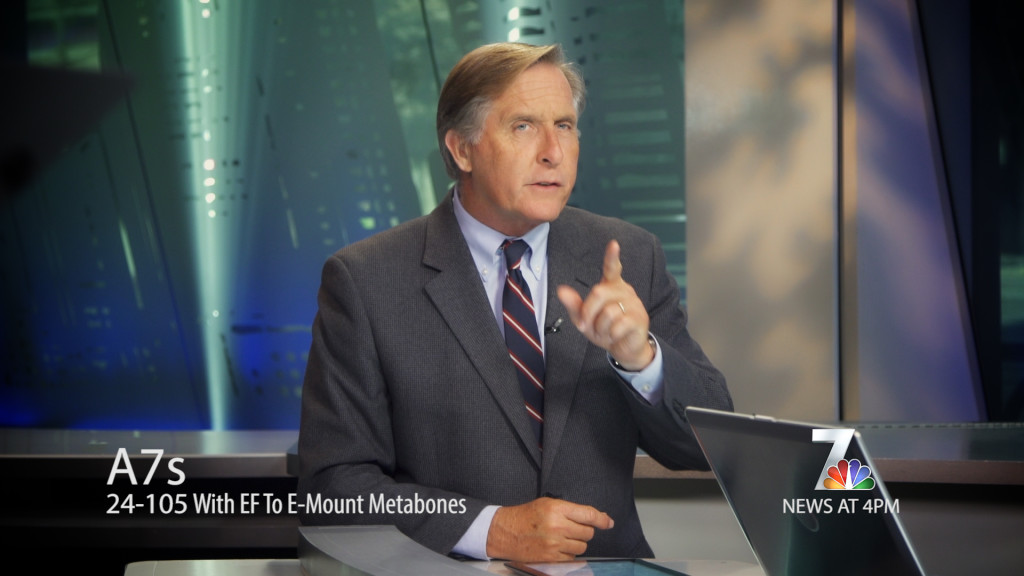 I needed some fresh BTS footage from the 4pm news cast for a promo that is going out to cable.  I shot one show with the Sony A7s and the Canon 24-105. The following week I had the new EF-MFT adapter so I decided to shoot with the GH4 in 4K with the awesome Canon 70-200 f2.8L II. Love that lens! I was pretty happy with the results from both cameras and in post they cut very well together. Only minor color correction was done.
Here are the camera settings I used.
GH4
CINELIKE D
Contrast o
Noise Reduction -5
Saturation -3
Hue +1
A7s
Gamma = CINE 2
Color Mode = PRO
Color Phase -2
Color Depth R +2
Yellow +2
Detail -3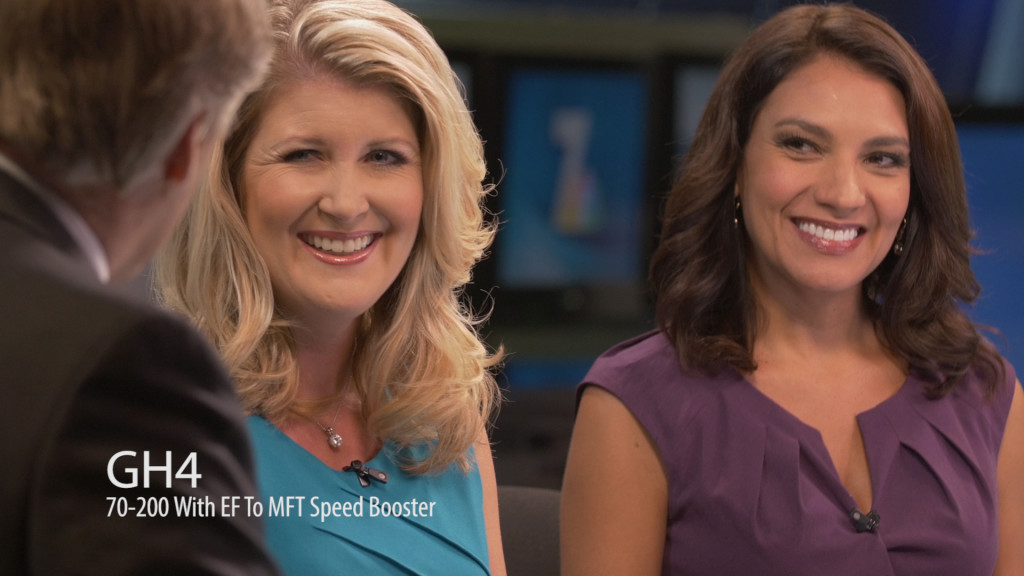 I feel really good about using these two cameras together. I only wish the A7s would record 4K internally. That would be so good. I'm feeling really comfortable shooting with both these cameras. In fact I'm enjoying it a lot. Having a good EVF is a big deal and mirrorless cameras are the way to go. I don't think I could shoot from the LCD of a DSLR anymore. This is just to good.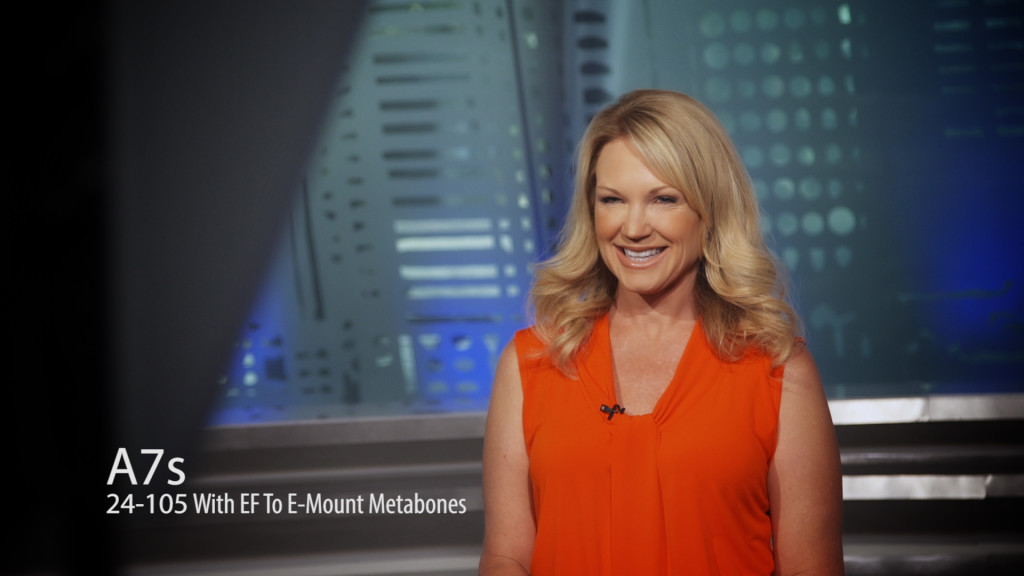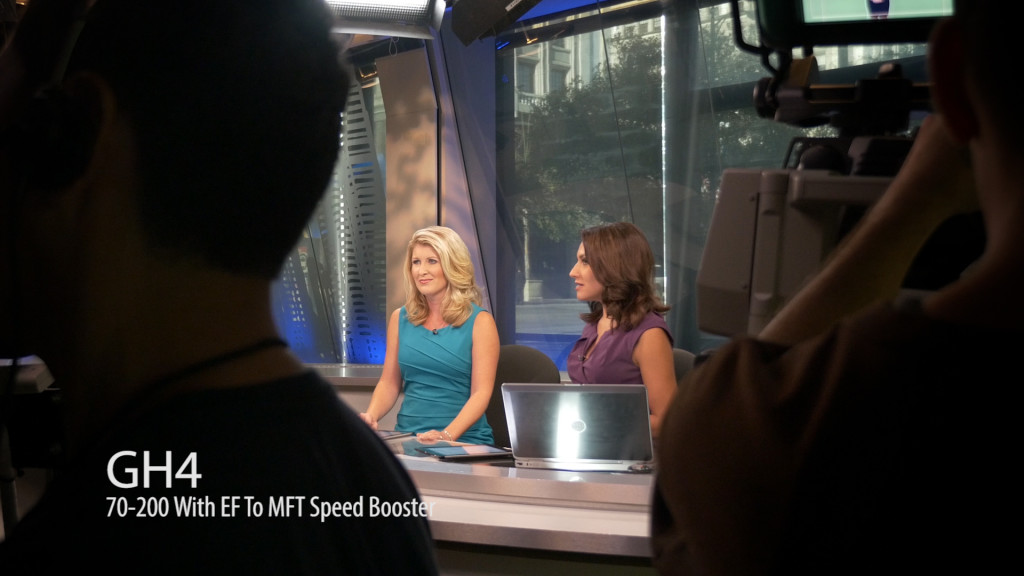 Next step is to get the Atomos Shogun up and running with the A7s and I need a couple cages too. Audio is pretty good internally with both cameras and I have to give the edge to the Sony A7s. It seems a little better. I might try out the XLR/Shotgun adapter Sony has but it's pricy. If I had to choose only one I probably would take the GH4. It's just a much better well rounded hybrid camera. Now I like the A7s a lot for video and I still need to see the 4K image from it but I stand my ground on a couple things I dont like. Lack of native lenses is an issue if you need auto focus you need fast native lenses. The A7s is really 90% video camera. If I need to shoot stills I'll grab the GH4 every time. For the cost concise consumer the GH4 is a huge win over the A7s. For me I need both because the GH4 doesn't perform very well in low light or settings over 1600 ISO. I'll use the A7s for those situations.
So I'm sure you are think. Erik dont you have a C100? Are you keeping it? Are you moving over to these other cameras? For now lets just say it's getting harder to justify keeping the C100. Audio is still an issue and I dont like duel system very much. I do feel I get every bit as good of an image from both these cameras as I get from the C100 with the exception of now having 4K for acquisition and thats a big deal on projects that might have a longer shelf life. We shall see but for now I'm having a blast playing with both these amazing cameras!
Follow me on Twitter @eriknaso and check out my page on Facebook.
Thanks for coming by! Please help support my site by using the links on this page or bookmark these from my favorite retailers, B&H, Adorama, Zacuto, Amazon.com & Think Tank Photo. Using the links cost you nothing extra, but it helps offset the cost of running my blog. Thanks again for coming by eriknaso.com!
Filed in: 4K • A7s • Featured Post • Lenses • Micro Four Third Lenses • Micro Four Thirds • Mirrorless • Panasonic • Sony • Speed Booster
Tagged with: 4K • A7s • Alpha7s • GH4 • Sony
I'm a broadcast DP In San Diego. I enjoy sharing what I'm working on and testing new equipment. This blog is also part of giving back. I've learned so much from so many people.