Playing with the DJI Ronin today for a shoot for the next two days. Thinking the A7s would be good but might be to light #videoproduction #filmmaking @ezdrone
I was excited to finally play/use the DJI Ronin handheld gimbal. I've demoed a few at NAB but never used one until last week. These devices create magical images and it really is fun to use in short burst. I say short because it's not easy to hold over 10 pounds in front of your body for long periods of time. For that reason I decided to put the A7s on it.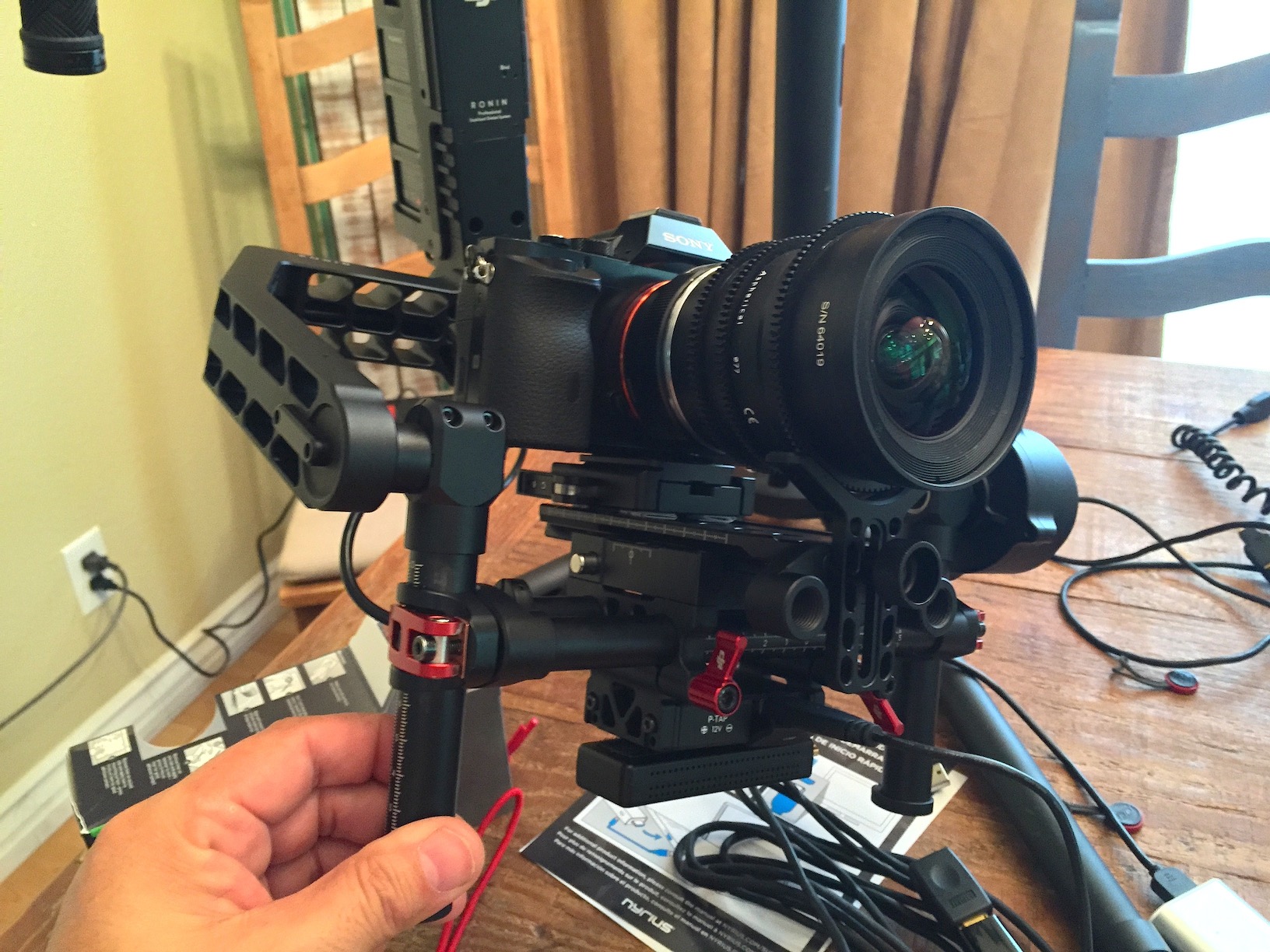 In this setup I had my Duclos 11-16 attached. I wanted to shoot in APS-C mode since the rolling shutter is greatly reduced. This is a fantastic lens! I also tried the Sigma 18-35 and went with it. One issue with the A7s and Sigma 18-35 is the camera is so small and the lens is really big and heavy. I don't have any native lenses for the A7s and I needed a wide angle. Outside of renting one this felt like a good choice. With the EF to E Mount Metabones adapter on the lens is bigger than the A7s is tall. When I tried to mount the camera to the Ronin plate I couldn't screw it direct because the 18-35 went passed the bottom of the camera. I had to attach another plate to the bottom of the A7s to make it taller. Now the lens wasn't in the way of the Ronin plate. I know this is confusing. In the picture below you can see how the camera is mounted to the Ronin.
Balancing this small but long camera had issues. I was able to get it balanced but I had to use the lens support. If I didn't attach it the Ronin would vibrate really hard. it's not a good thing. I really needed a shorter lens for the A7s. I'm working on that. $$$
I debated on using the GH4 but I needed to shoot at night and I really wanted a natural look with minimal light. The A7s was a better choice for this spot. It performs great at high ISO.
It really was a different shooting experience and I have to admit it was stressful using all this new gear with very little testing. Not recommended, but I'm a little crazy and I love this stuff! I highly recommend at least two solid days testing your camera setup and getting used to using a handheld gimbal. It's very different than shooting handheld. I've used a FigRig several times so I do know how to move the camera in this position, but having the ability to control the way the camera reacts to your movement is insanely cool and you need to fine tune this with the software/app to get the most from the Ronin in single op mode. We used the Ronin in both single and two person mode with a remote. Again. Practice is key. It's like a perfect dance. You have to be able to move together to get that special shot to come together. The app has lots of settings you can tweak. It's some what complicated but after you get your head around it it makes sense and changing the parameters that you need for the shot is a very powerful tool that can be done in seconds.
Here is the spot.

The first night out we did the stairs scene and I had some issue with getting the Ronin out of remote mode. I finally figured it out and got to shooting. My bad. This cost me because I didn't get a variety of shots that I wanted. Tight schedule.
The second night I shot the reporter with the live truck. I wanted to to do a full circle and the Ronin made it super easy. Love that shot. I tried a few other shots too but this one and the run up to inside the van made it.
At the Trolley station we did a handoff over a fence but the shot ended up being to long for the edit. Bummer! It was cool and we did a bunch of takes timing out the trains arriving and talent.
The male reporter doing an interview was pretty easy. Single op mode. In fact most of the shots ended up being single op mode. It really works very well. The App allows you to fine tune how the camera responds to pan and tilting making it very responsive to what you are trying to do.
The studio stuff was challenging since our space is very narrow. I wanted a to have the camera move to the set and reveal the anchors. My op John caught a good sweat after several takes.
I didn't do much operating since I wanted to direct and make sure we had clean shots. The wireless monitor was invaluable! Plus my shoulder isn't as strong as I wish it was yet from surgery early in the year. I'm doing great now but need to get stronger. The Ronin is a workout!
We used one LED 1×1 panel for the night scenes. I didnt want to over light it. The A7s high ISO levels made that possible. At times I was at 10,000 ISO to get a f8 and f5.6 iris for deeper focus. No focus pulling here. The Sigma 18-35 at 18mm – 20mm also helped with keeping the focus deeper. Great lens.
The edit came together pretty easily. The tough part is letting the movement breath. It's hard in a thirty second promo! Using a small camera like the Sony A&S worked great. I did have a lot of high ISO shots that needed to be cleaned up in post and some strange white balance issues too but I think it all worked out.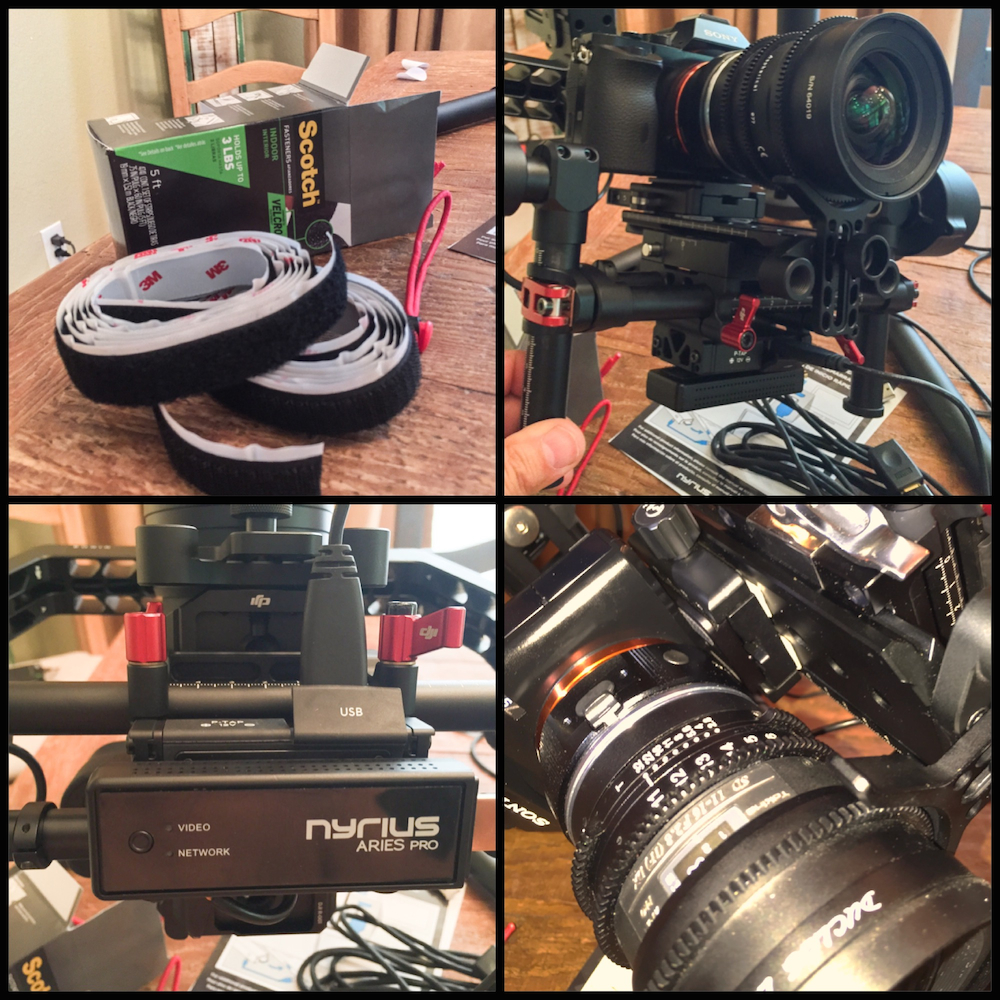 Another fun toy I added to the Ronin is the Nyrius Aries Pro HD wireless system. I looked into renting the pro versions available like Teradek and Paralinx but then found the Nyrius Aries Pro. It's very inexpensive at $279. I figured I'll just buy it. The system worked perfect. The range is fine for what I needed since I was going to be very close to the Ronin. I tested it and was able to get over 100 feet without issue and I think I could get even more since it's rated for 160 feet line of sight. Even with the movement the signal stayed clean and strong.
It does require lots of bits to work the way I needed it to since it's not designed for this type of application. It's meant to be used with home entertainment and computers.
Full review coming on the Nyrius Aries Pro and all the components I used to get it work. I promise! I'll share how I powered it because I know you're going to ask. 😀  The battery has to be rated for a minimum of 2 amps output for the receiver. Anything lower wont power it. I used a Jackery Bar Premium Battery Pack  It works great and mounted on the monitor perfectly. Now I have two extra iPhone chargers too! The transmitter was powered by the Ronin's USB output. Nice touch by DJI to have that on the bottom of the gimbal.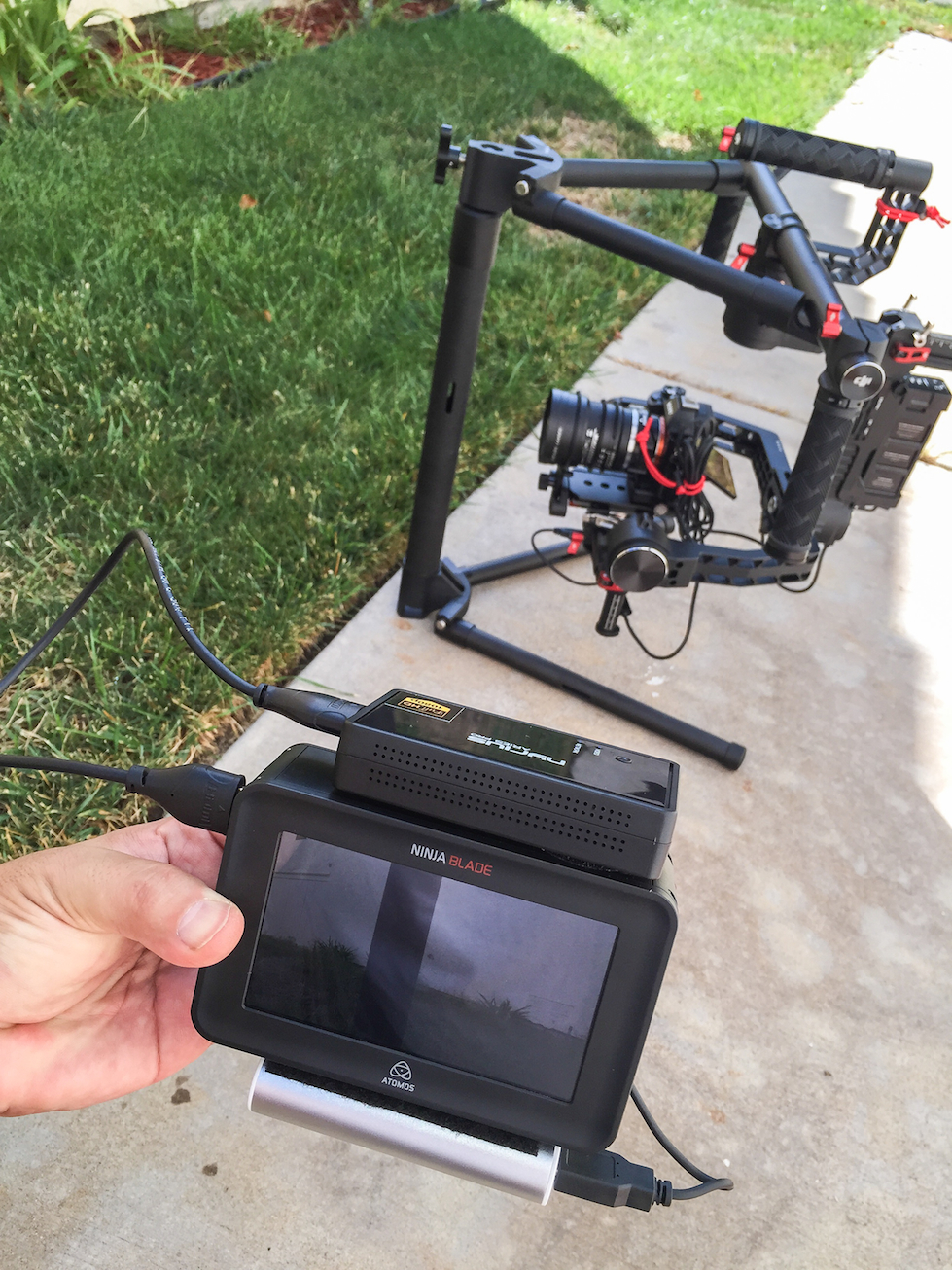 All I needed to do was to get the Nyrius attached to my monitor. With a little Velcro I had it! Oh wait. I need to attach the monitor to the controller. Ugh! Always something else. Good thing I have Amazon prime!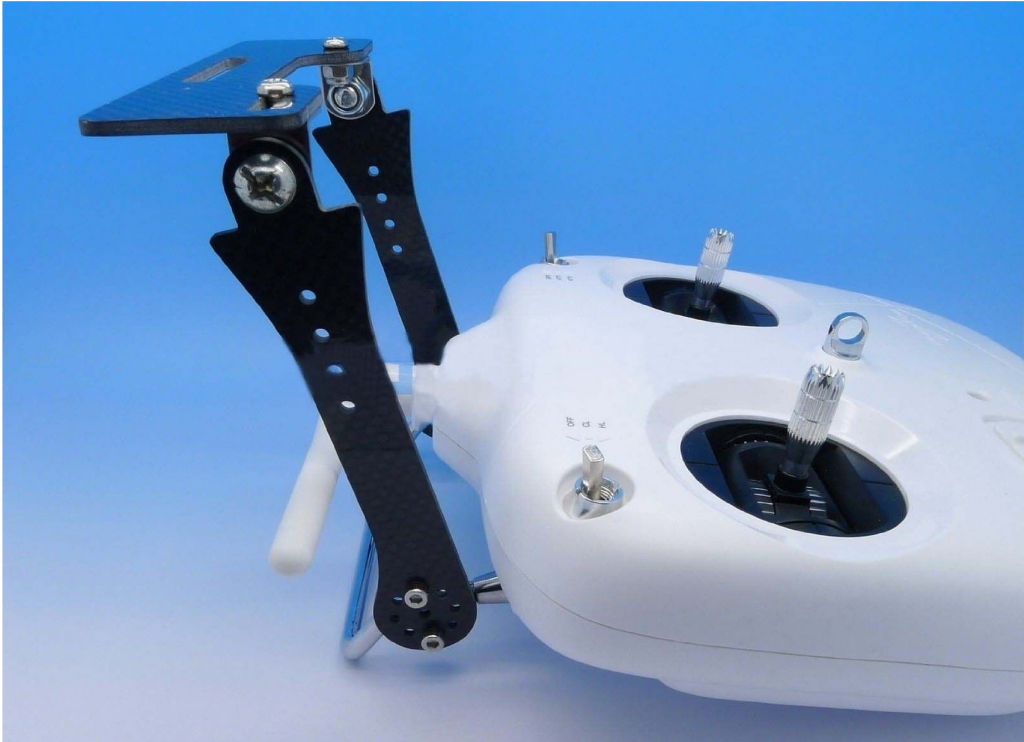 This little setup worked great! Very inexpensive but didn't come with any instructions. Lots of little parts. I found a bunch of images of it online so I could figure it out.
That's it for now. The Ronin and Nyrius Aries Pro worked really well. Yes I'm a little sore but the shots turned out great. I cant wait to share them with you! Here in San Diego the Ronin has landed at Video Gear. I'll have it one more night next week and then I'll be doing a full review with footage to share. Please check back!
Big thanks to EZdrone and HDProFilms for helping me with the Ronin. These are great local companies.
Also huge thank you to John Wilson for his great work operating the Ronin. We had a blast tag teaming it. I highly recommend having two operators. It's not easy going one on one with a handheld gimbal.
Follow me on Twitter @eriknaso and check out my page on Facebook.
Thanks for coming by! Please help support my site by using the links on this page or bookmark these from my favorite retailers, B&H, Adorama, Zacuto, Amazon.com & Think Tank Photo. Using the links cost you nothing extra, but it helps offset the cost of running my blog. Thanks again for coming by eriknaso.com!
Filed in: A7s • Equipment Reviews • Featured Post • Mirrorless • Production • Sigma • Sony
Tagged with: A7s • DJI • Handheld Gimbal • Ronin • Sigma • Sigma 18-35
I'm a broadcast DP In San Diego. I enjoy sharing what I'm working on and testing new equipment. This blog is also part of giving back. I've learned so much from so many people.