Update Dec 4th.
I'm still waiting for a demo unit. My demo unit arrived! Check out my hands on review. The problem is they keep getting sold out! Ha. I might have a better chance buying one at this point. Chdntech promised me they will send one but I have to wait.
I like this concept! This new version of the Nebula4000 lite Gyroscope Gimbal stabilizer looks very cool. The ability to use a camera up to 1KG (2.2 lbs) opens up the door to the A7s and GH4. Both would need to be used with lighter lenses.
One drawback is being able to actually shoot for more than a couple minutes without getting fatigued. Thats a problem with all 3 axis gimbals today. The actual weight of the Nebula4000 lite is 800g (1.76 lbs.). add an A7s or other camera at 1.5 lbs. (thats conservative) then that would be approximately 3.5 lbs in the palm of your hand. Not to bad but maybe time to steep up those biceps curls!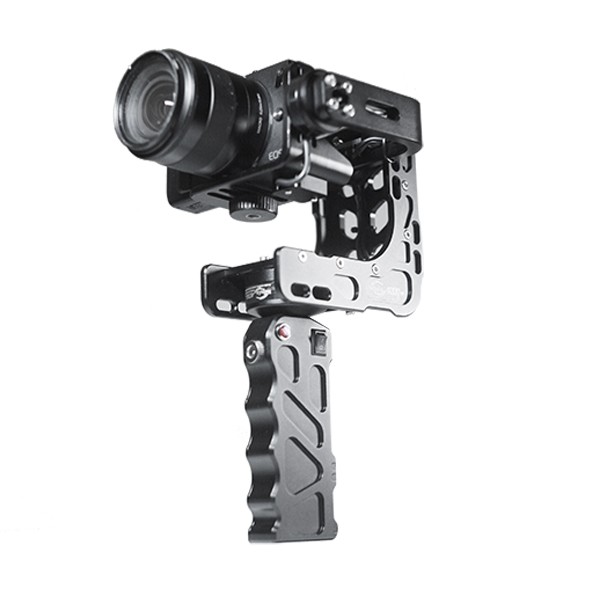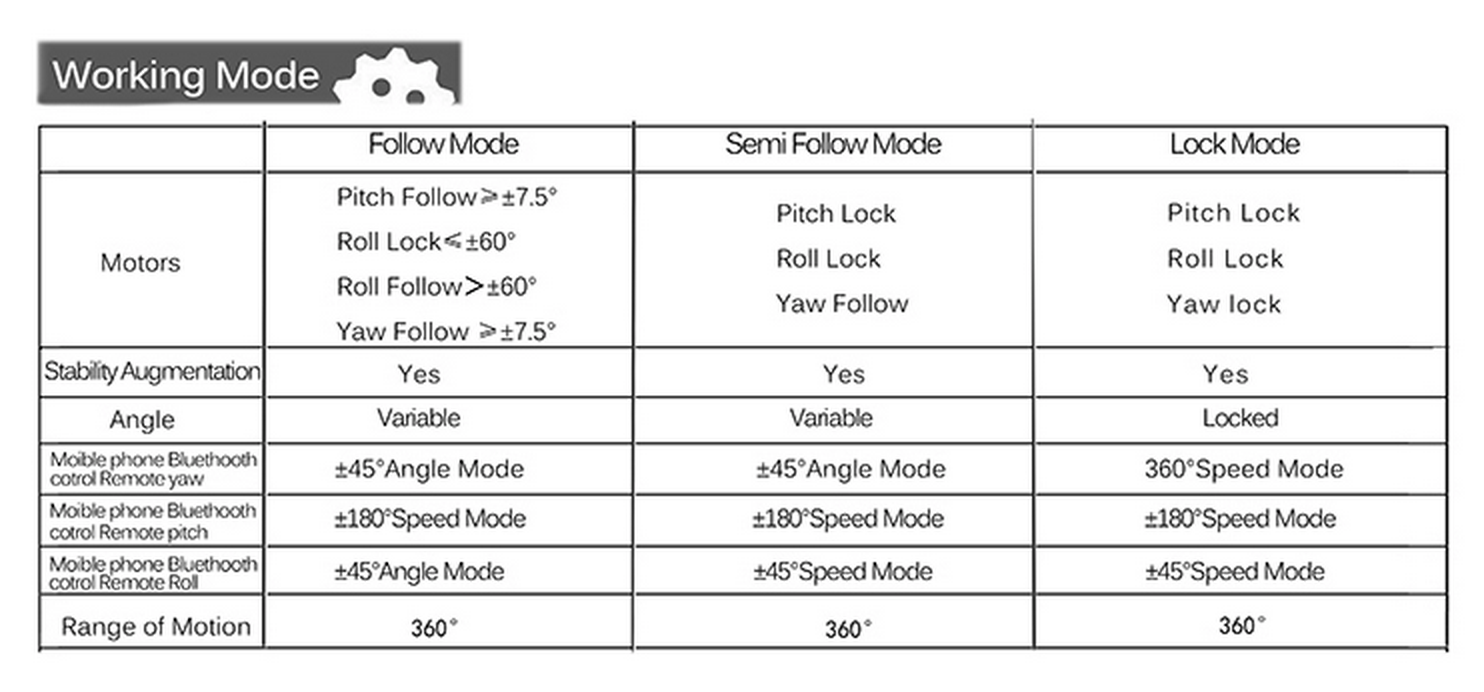 On the website they show an app available so programing the gimbal is possible. Battery life is 2 hours and it's built into the unit? The Nebula4000 can be tuned via Bluetooth I'm guessing from an Android phone but not an iPhone or iOS device. An Apple laptop or computer can be used with Bluetooth.
Looks like it has a few nice features too like Follow Mode, Semi Follow Mode and Lock Mode.
Not a lot of info on the Nebula4000 lite yet but I found the below info from a vender. They apparently had a iPhone version prior to this model but the model name didn't change. Yeah it's kind of confusing. I reached out to Chdntech for more info and I'll update this post when it's available.
UPDATE. I was able to contact Chdntech and a review unit will be sent out. No time frame yet but looking forward to trying this cool new gimbal out.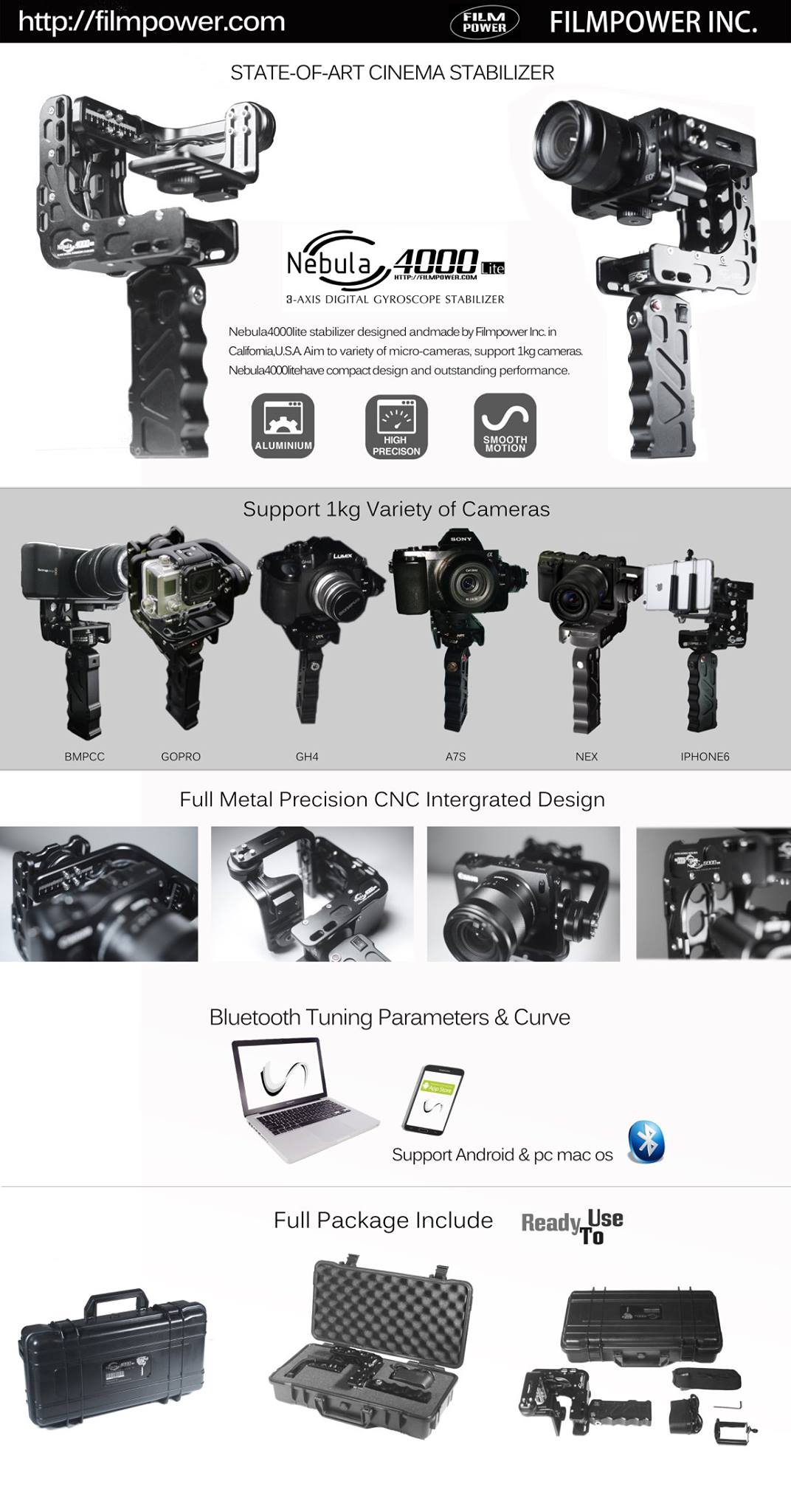 Features:
Nebula 4000 Lite Handheld micro Camera Gimbal,carefully crafted with fullgenus CNC , the product is suitable for NEXGH EOS-MMicro 4 / 3 of the series of micro-camera, backward compatible with models Gopro card, Android iPhone(weight under 1KG), etc.,simple usage, easy to carry, which is suitable for the photography enthusiasts widely.
Specifications:
Dimension: 353*196*78mm
Weight 800g (1.76 lbs)
Load 1kg (2.2 lbs.)
Total height: 230mm
Handle height/width: 121mm/50mm
Top height/width: 110/110mm
Built in Battery 11.1V mAh
Battery Duration: 2 Hours
Includes:
•1 * Nebula 4000 Lite Camera Gimbal
•1 * Battery
•1 * Charger
•1 * Protective case
Here is another sample. In this video at the very beginning you can see some nice smooth moves. But then for after :20 the next four minutes is all high frame rate or slowed down in post shots. I would have rather seen two minutes of straight footage of the girl walking around.
Nice shots in this video.
Looks to be a fun production tool and will make my iPhone videos will look amazing! Need more info and hopefully a demo unit to test soon.
Recently I used a DJI Ronin with an A7s and it worked very well. Here is my experiences and review.  Video below.
DJI Ronin With Sony A7S. News Image Promo from Erik Naso on Vimeo.
If I could get half those shots with the Nebula4000 lite Gyroscope Gimbal stabilizer I would be thrilled. It's tiny as you can see in the videos/pics and should be very easy to travel and set up fast. No mention of an iOS app. Might be only Android.
As usually i'll update the post with more info as it comes. Looking forward to getting one in for a review.
Follow me on Twitter @eriknaso and check out my page on Facebook.
Thanks for coming by! Please help support my site by using the links on this page or bookmark these from my favorite retailers, B&H, Adorama, Zacuto, Amazon.com & Think Tank Photo. Using the links cost you nothing extra, but it helps offset the cost of running my blog. Thanks again for coming by eriknaso.com!
Filed in: A7s • Camera News • Featured Post • GH4 • GoPro • Micro Four Third Lenses • Micro Four Thirds • Mirrorless • New Release • Support and Grip
I'm a broadcast DP In San Diego. I enjoy sharing what I'm working on and testing new equipment. This blog is also part of giving back. I've learned so much from so many people.