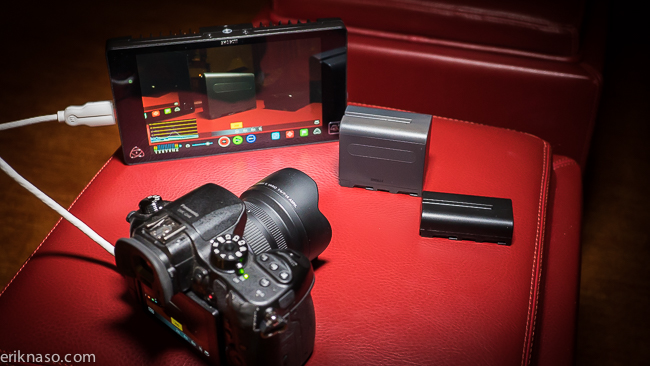 The new Atomos Shogun has a gorgeous screen and records 4K UHD video, but those two features also require a lot of juice. Atomos decided to only have one battery on the Shogun as opposed to two like the Ninja Blade. This design makes it difficult to get longer run times. The stock NP-F570 type 2600mAh battery that comes with the Atomos Shogun doesn't last very long either. At least that was what I've been hearing so I decided to do a basic continuous record run time test and this is what I found.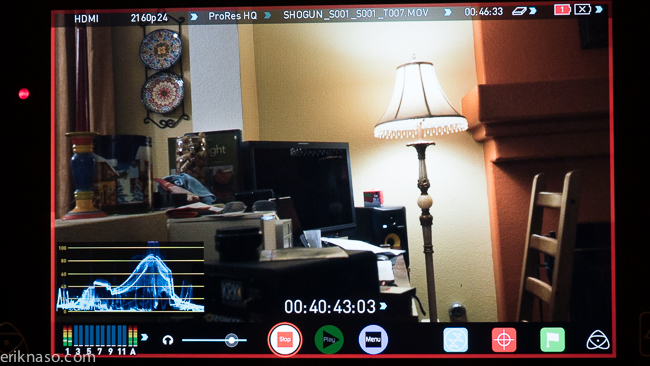 I used a Panasonic GH4 in 10 bit mode and recorded UHD ProRes 422 HQ continuously until the battery died. Pretty close to forty minutes into the recording the red flashing battery warning started. I have read that the Shogun dies very fast after the warning but that wasn't what I experienced in this test.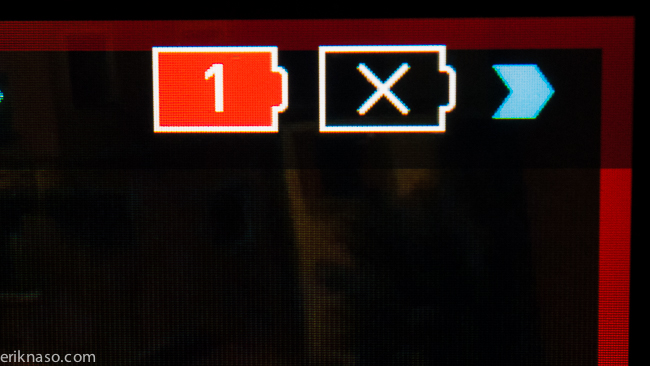 In fact I got another thirteen minutes of record time before the Shogun shutdown.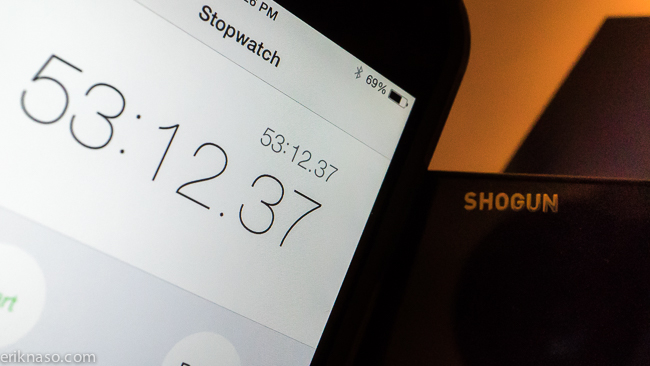 I got Exactly fifty three minutes and twelve seconds total continuous run time. This isn't great but it's not a deal breaker.
Since the Shogun just shut down during a recording I was able to test another feature. File recovery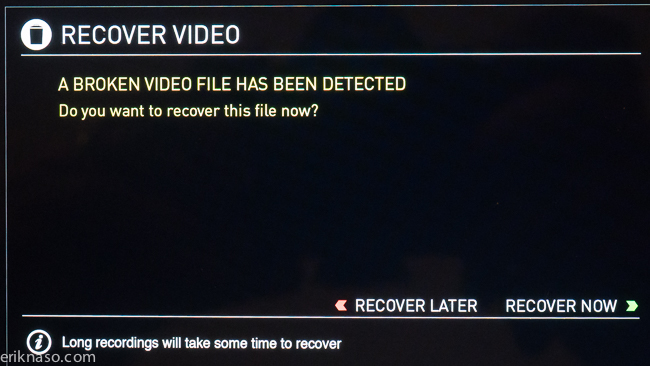 I got this dialog box and chose to RECOVER NOW. The file was saved and no data was lost. Thats good news.
After recording continuously for 53 minutes the Shogun was very hot and so was the drive. but the fan inside didn't ramp up and nothing seemed to be wrong at all. So what I learned is you should get more than 53 minutes use if you're not recording continuously. I would think that recording alone eats up a lot of battery life and maybe you could get over an hour before it dies if you are using it as a monitor as well while not recording.
It's nice that Atomos included a battery in the kit. In fact the kit is very well kitted out but unfortunately they picked the wrong battery and I have a solution that will get you more use from the Shogun without excessive battery swapping.
Atomos has a new product called the Power Station  and it's coming soon. It will pair well with the Shogun and even has a nice cutout ready for it in the kit's case, but it's expensive at $295 and adds more bulk to it and weighs 4.4 oz without the added batteries. Yes it does more than just add more power to the Shogun it can also recharge your iphone.
The Power station comes with two 2600 mAh batteries. That's actually less power than one Watson NP-F770 7800mAh battery.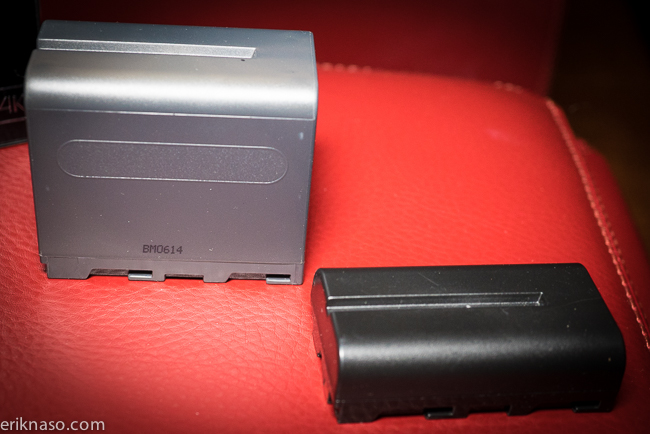 Luckily I have a few LED lights from Aputure that use these big 7.4V 7800mAh Sony NP-F975 type batteries and they last three times longer than the NP-F570 type. They aren't very heavy either at 10.3 oz and work perfect with the Atomos Shogun.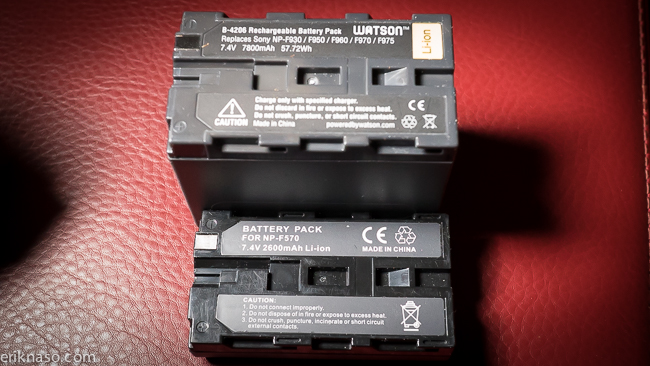 Want to go a little smaller? Then the Watson NP-F770 Lithium-Ion Battery Pack (7.4V, 4400mAh) is a good one. I just put an order in for a couple of these to test out.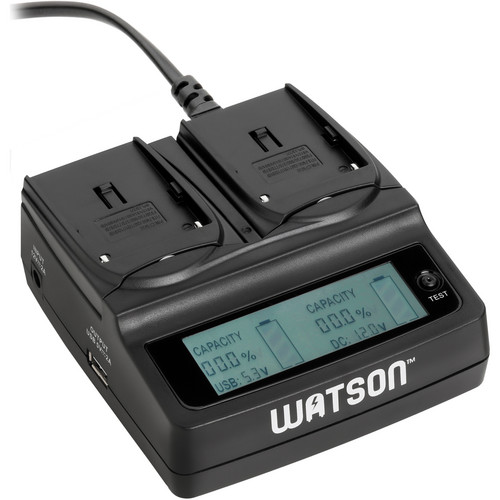 I also highly recommend the Watson Duo LCD Charger for L & M Series Batteries to go with them. This charger has swappable plates so you can charge pretty much any popular camera type battery. I have adapter plates for my GH4 , A7s, Canon 5D and these NP types. All charge perfectly. I actually have three of these chargers set up in my garage. I hate waiting!
As a big box office store says….. "That Was Easy!"
Look out for my full review of the Shogun as well as the Convergent Design Odyssey 7Q+ coming soon.
Follow me on Twitter @eriknaso and check out my page on Facebook.
Thanks for coming by! Please help support my site by using the links on this page or bookmark these from my favorite retailers, B&H, Adorama, Zacuto, Amazon.com & Think Tank Photo Using the links cost you nothing extra, but it helps offset the cost of running my blog. Thanks again for coming by eriknaso.com!
Interested in buying a new camera? Well I have a course on Lynda.com you should watch that will help you pick the right one for the job.

Filed in: Atomos • Featured Post • Production • Recorders • Tip Of The Day
Tagged with: 4K • 4K Recorder • A7s • Atomos • Battery • GH4 • GH4 4K • Shogun
I'm a broadcast DP In San Diego. I enjoy sharing what I'm working on and testing new equipment. This blog is also part of giving back. I've learned so much from so many people.