If you're like me and have issues with how the A7s names the .MP4 files then you will love this!
Like a lot of other cameras the Sony A7s will always start from the same file naming structure. It goes like this.
C0001.MP4
C0002.MP4
C0003.MP4
C0004.MP4
C0005.MP4
Now this can get messy if you don't shoot all the footage in one day. Every time you format the card it goes right back to C0001.MP4.
I always loathed this with AVCHD too.
The quick way to beat this issue is use Adobe Prelude. It's included in the Creative Cloud bundle. Below is a screenshot with my settings.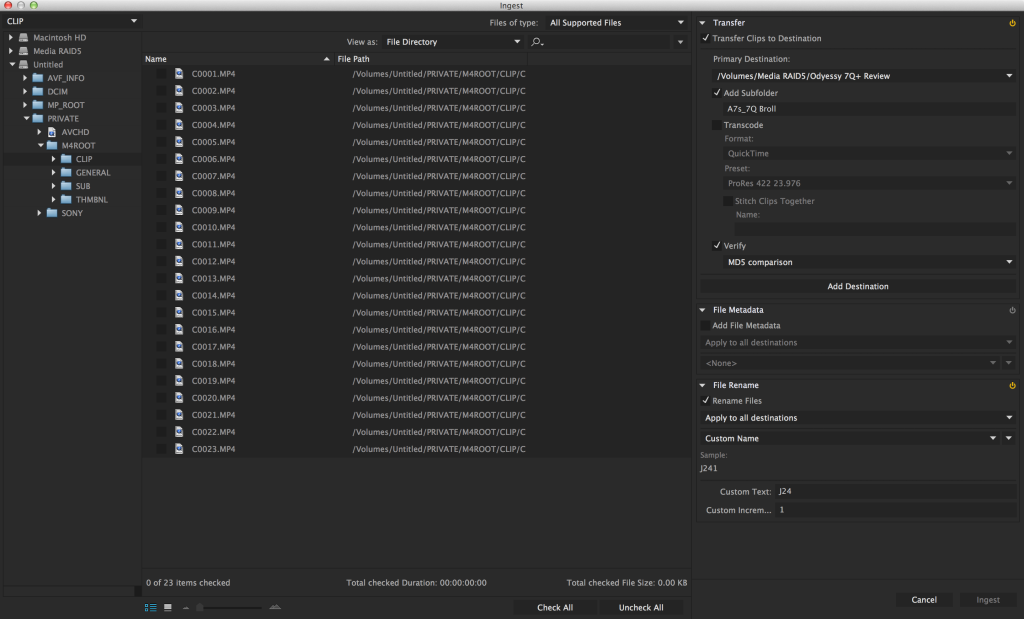 As you see in the picture I have A7s .MP4 files. Iopend Prelude and choose INGEST.
Prelude opens a new window with the options you see above.
On the left is the SD card so you navigate to the CLIP folder and Prelude loads the footage.
On the right is where the magic starts! Check Transfer Clips To Destination and add Subfolder. Name the folder.
DON'T CHECK TRANSCODE. Unless you want to. 😀
Open the FILE RENAME SECTION. Check RENAME FILES
I use Apply To All Destinations and Custom Name.
Here is where you can choose the naming structure that works for you. Just make sure it's unique.
Hit Ingest and the files with new naming goes to the folder. How easy is that! The best part is it's fast and non destructive to the original media.
You have to transfer the card over anyway so you might as well rename it first. When you go back and ingest another card it will remember those settings and the increment so it starts numbering from the last clip.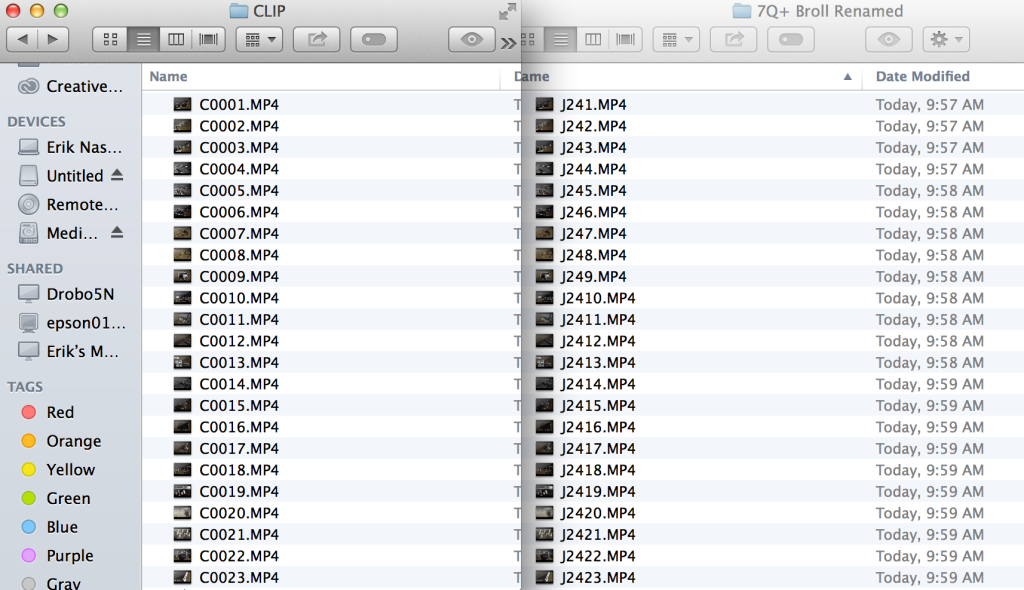 I hope this quick tip helps you beat the naming game.
Follow me on Twitter @eriknaso and check out my page on Facebook.
Thanks for coming by! Please help support my site by using the links on this page or bookmark these from my favorite retailers, B&H, Adorama, Zacuto, Amazon.com & Think Tank Photo. Using the links cost you nothing extra, but it helps offset the cost of running my blog. Thanks again for coming by eriknaso.com!
Filed in: Adobe • Featured Post • Mirrorless • Post Production • Tip Of The Day • Video Editing
Tagged with: A7s • Adobe • Adobe Prelude • Prelude
I'm a broadcast DP In San Diego. I enjoy sharing what I'm working on and testing new equipment. This blog is also part of giving back. I've learned so much from so many people.