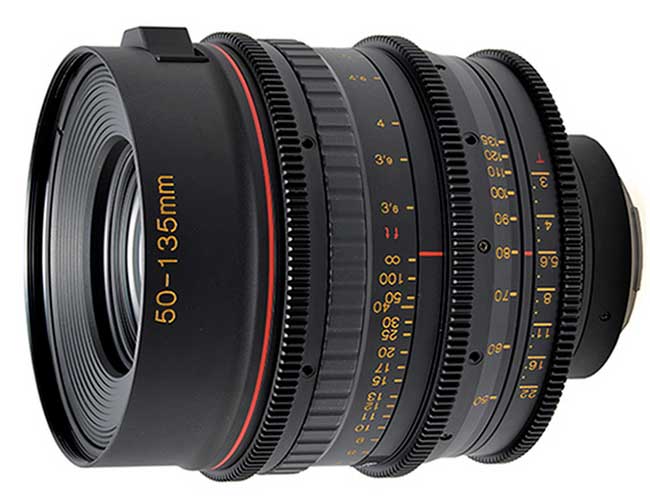 I saw this beauty at NAB and was wondering if it was ever going to ship. Now 10 months later it's available for pre-order with shipping some time in April for a whopping $4,499.00.
The Tokina Cinema 50-135 T3.0 as I remember was a fairly light lens with a good build. The one I held was a pre-production model so I don't know how much it has changed since NAB. The lens has the markings you would expect from a cinema lens too and yes it is parfocal and Tokina states the Cinema 50-135 T3.0 to have reduced breathing. This tells me that the lens is definitely not just a rehoused stills lens.
The format is stated as S35 however I believe it's really an APS-C lens since the original version was. The original stills version was APS-C so not sure if they changed the optics or not. This makes it a 75-202mm equivalent in full frame 35mm. Yes it's a long lens.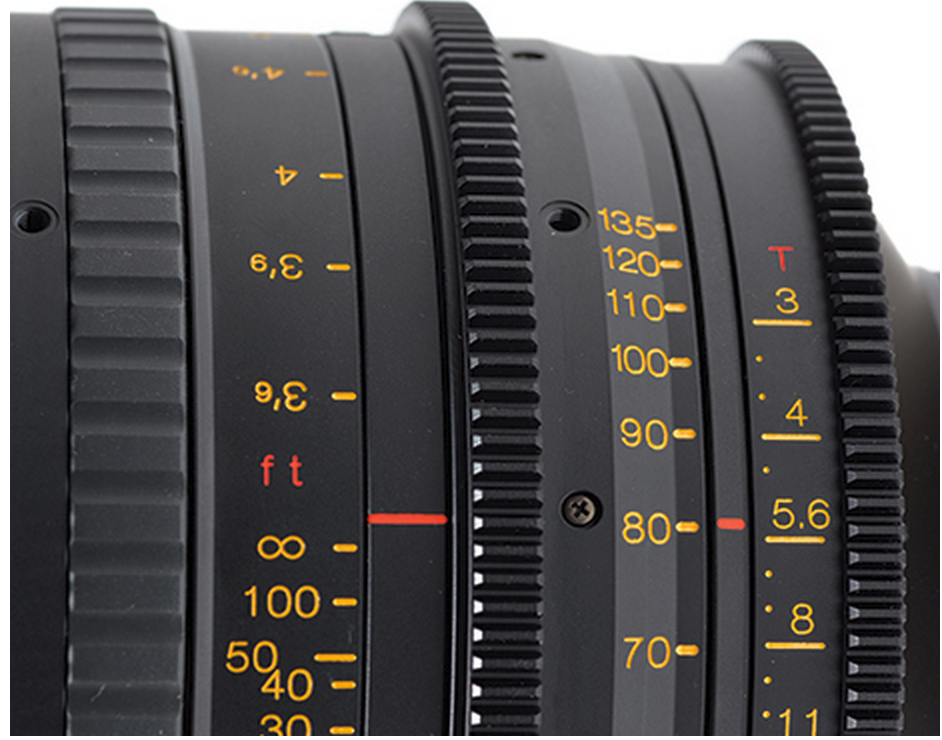 The Tokina Cinema 50-135mm T3.0 delivers a highly versatile zoom range in a compact design. Tokina engineers have created a lens that is Parfocal, has dramatically reduced breathing and image shift, and a de-clicked, 9-bladed, curved iris for beautiful bokeh and precise exposure control. With its 1M close-focus capability, the lens allows you the freedom to capture a tight close-ups while maintaining a comfortable distance from your subject.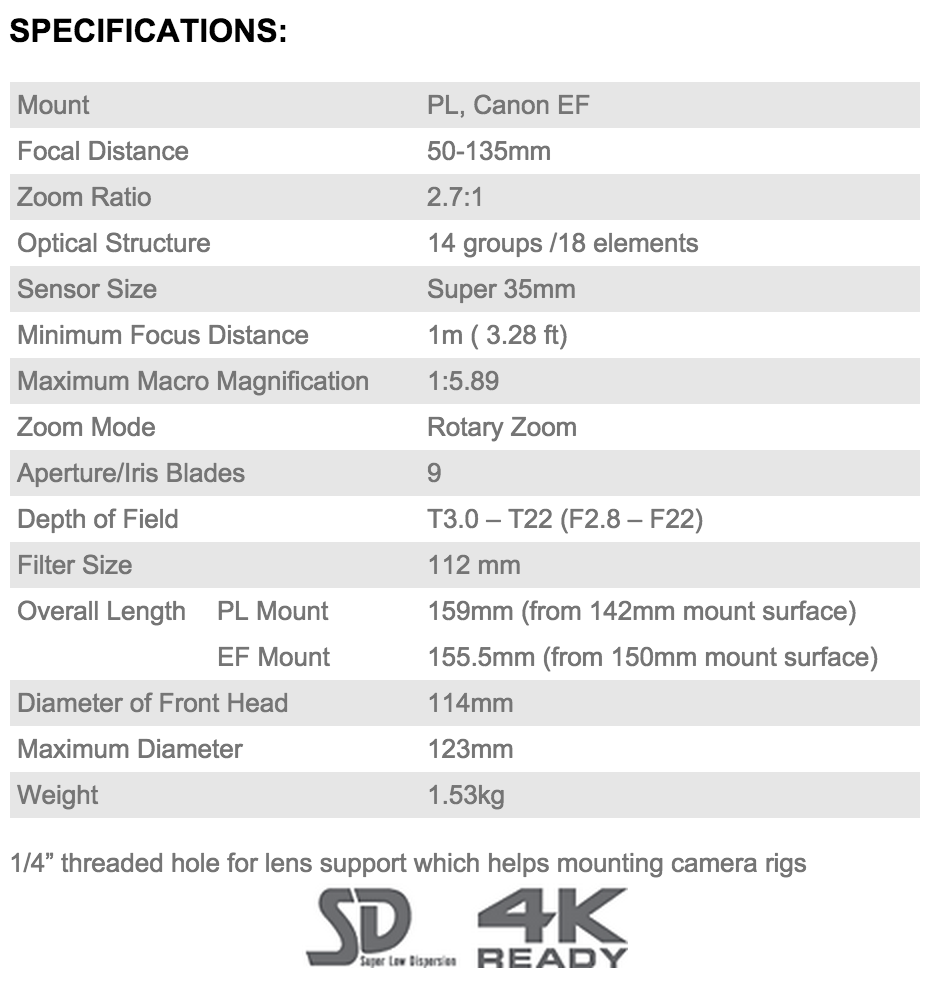 FEATURES:
Parfocal lens design allows you to maintain precise focus while using
the zoom control.


Constant T3.0 throughout the 50mm to 135mm zoom range

Reduced breathing so you can focus on the scene and not the lens

Smooth, de-clicked, 9-bladed, curved iris for beautiful
out-of-focus areas.

Virtually no image shift when using the zoom control during filming

Aspherical elements and Super-Low Dispersion glass reduce
distortion and increase optical performance

4K Image ready

Durable, all-metal cine-style housing with geared manual zoom,
focus, and aperture rings for use in follow-focus systems.

Common 114mm front diameter for use with a wide variety of
matte boxes and accessories.

Zoom, focus, and iris markings are on both sides of the lens for
easy viewing and more mounting/follow-focus options.

LDS (Lens Data System) support is possible


Available Mounts: PL and Canon EF
This new entry will match up well with the Tokina Cinema 16-28mm T3.0  and the Tokina Cinema 11-16mm T3.0 . Making a nice full set of cinema zooms.
Follow me on Twitter @eriknaso and check out my page on Facebook.
Thanks for coming by! Please help support my site by using the links on this page or bookmark these from my favorite retailers, B&H, Adorama, Zacuto, Amazon.com & Think Tank Photo. Using the links cost you nothing extra, but it helps offset the cost of running my blog. Thanks again for coming by eriknaso.com!
Filed in: C300 • Lens Talk • Lenses • New Release • PL Lens
Tagged with: Cinema 50-135mm • Tokina • Tokina Cinema 50-135mm
I'm a broadcast DP In San Diego. I enjoy sharing what I'm working on and testing new equipment. This blog is also part of giving back. I've learned so much from so many people.