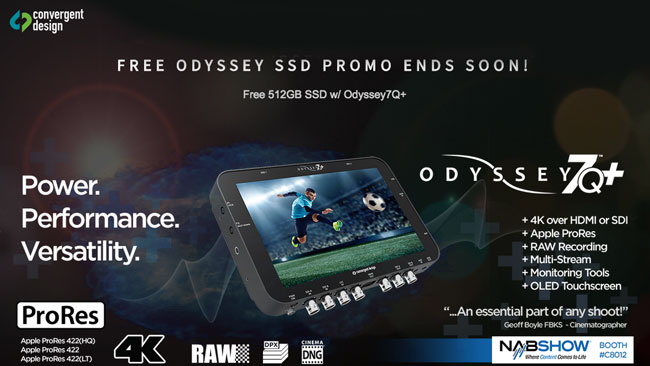 Today Convergent Design has released a new update for the 7Q+ that enables a few nice features including one I really wanted. More ProRes flavors! Apple ProRes 422 & Apple ProRes 422 (LT) to go along with Apple ProRes 422 (HQ). I like this a lot especially when shooting with a more baked in look.
Another new feature and something no one else has is the ability to now record a downconverted 4K signal from HDMI to 2K or even HD. The 7Q+ does a better job of converting 4K to HD than the GH4 and A7s do internally getting you a better image. Very interesting. More on new features in the press release.
Convergent Design is releasing a new Odyssey firmware update.  Highlights include:

– Odyssey7Q+ HDMI 4K->HD Supersampling

Little cameras such as the A7S and GH4 use fairly basic downconverters to output HD.  Some cameras such as the Samsung NX1 don't output HD at all.  A new option on the Odyssey7Q+ will take in 4K/UHD over HDMI and use a high quality supersampling to capture excellent 2K & HD video in Apple ProRes.  Improved MTF and color depth are apparent in the results.

– Additional Apple ProRes codecs

All three Odyssey monitor/recorders will add Apple ProRes 422 and Apple ProRes 422 (LT) to the Apple ProRes 422 (HQ) already available.  In 2K & HD, recordable frame rates go up to 60p.  In 4K & UHD (Odyssey7Q/Odyssey7Q+) recordable frame rates go up to 30p.

– Wired Remote Trigger

New accessory for all Odyssey models.

– F35 support

Now record 12-bit RGB DPX files from the Sony F35.

– FS700 100p/120p burst now recordable in 2K & HD ProRes

– For FS7 RAW material, a complete new post workflow with LUTs developed in partnership with Nick Shaw of Antler Post

– Prosoft Engineering now offers Picture Rescue 2 with recovery compatibility with all file types on Odyssey SSDs.  The program is just $20.

– WHITE PAPERS:

Why Record Options?

4K->HD Supersampling Explained, with sample footage
Here are some examples of the supersampling on the GH4, A7s and NX1.
Sample Comparisons

In the images below a resolution chart was photographed by each camera outputting HD using its own internal sampling and outputting a native 4K/UHD that is then supersampled to 2K/HD in the Odyssey7Q+ and recorded in Apple ProRes 422(HQ).

Cameras compared include the Panasonic GH4, the Sony a7S and the Samsung NX1. Please note that the NX1 does not offer a clean 1080p output, but it is included here for technical comparison.

Note that on the center target of the resolution chart, the wedge on the lower left marked 5 represents 500 line pairs per screen height. 500 line pairs is very close to 1080 lines of resolution, so this is very close to the theoretical limit for a high-resolving 1080p image.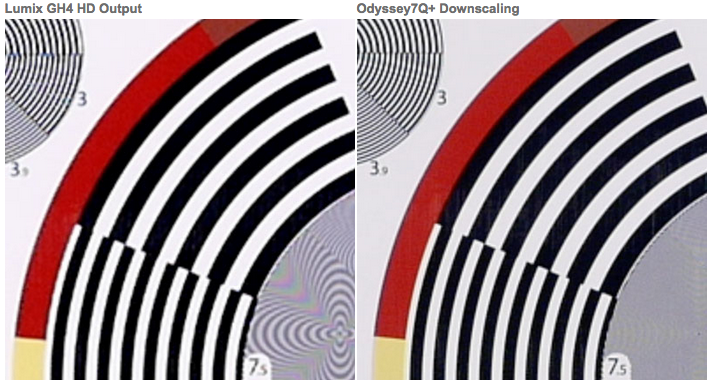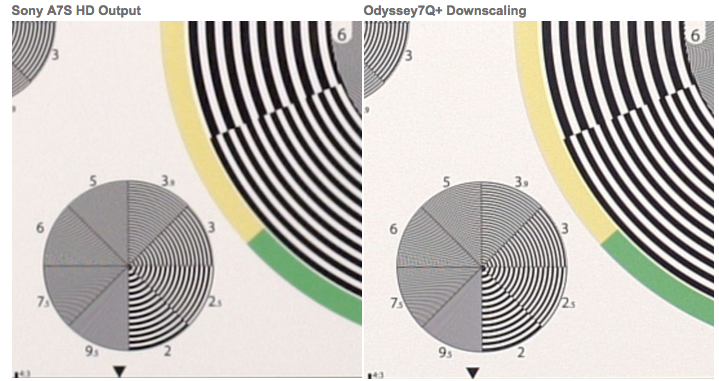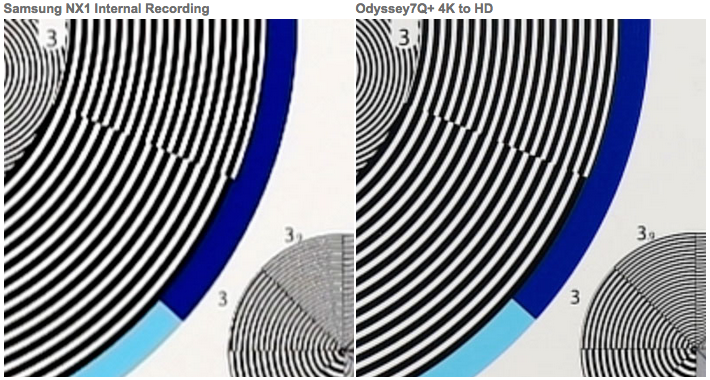 A lot more detail is pulled out of the image and some moire is also decreased. For more info visit Convergent Design. I also noticed that the free SSD drive offer is ending soon.
Follow me on Twitter @eriknaso and check out my page on Facebook.
Thanks for coming by! Please help support my site by using the links on this page or bookmark these from my favorite retailers, B&H, Adorama, Zacuto, Amazon.com & Think Tank Photo. Using the links cost you nothing extra, but it helps offset the cost of running my blog. Thanks again for coming by eriknaso.com!
Filed in: Atomos • Convergent Design • Featured Post • Production • Recorders
Tagged with: 4K • Convergent Design • ProRes
I'm a broadcast DP In San Diego. I enjoy sharing what I'm working on and testing new equipment. This blog is also part of giving back. I've learned so much from so many people.