Lots of good stuff coming to the Odyssey 7Q and 7Q+ in late May with a firmware update, but one that I think will be a highlight is the choice to be able to use off the shelf SSD media. In the past Convergent Design has taken a lot of heat from potential customers about the price of the proprietary media the recorders use. I get it. No one wants to pay a premium for media however until now Convergent Design had to get media made for them that would work flawless with all their recorders. This is an expensive thing to do since building SSD drives isn't what they do. At the time no off the shelf brands had the specifications that would support all what the 7Q and 7Q+ was capable of so they to have them manufactured and also added some safety features too.
In comes the Samsung 500GB 850 Evo. The 500GB model is now not supported. and 1TB SSD drives. These will work, but not today. The drives will be unlocked in the firmware update that is coming late May. All you will need is the top finger tab to be installed on top of the SSD drive so you can insert and remove the drive from the recorder. This should be an inexpensive piece of kit and installs with only two screws.
So whats the price difference?
Convergent Design 512GB Premium SSD $795
Samsung 500GB 850 Evo 2.5″ SATA III Solid State Drive $227.99
Thats a pretty substantial savings of over $550. You can basically buy two of the EVO drives for that same price as a Convergent Design SSD. One benefit of the Convergent Design SSD is they warranty the performance. With the EVO they cant since it's from a third party.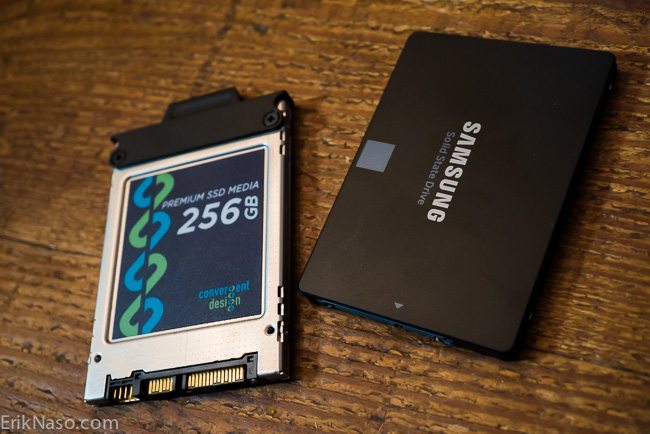 Convergent Design Press Release

(Colorado Springs, CO – April 13, 2015) Convergent Design today announces that Odyssey monitor/recorders will support the use of two models of Samsung SSDs. The Samsung 850 EVO 500GB and Samsung 850 EVO 1000GB SSDs will be allowed for use in the Odyssey7, Odyssey7Q, and Odyssey7Q+.

"Our own Odyssey SSDs offer levels of performance and reliability that were previously unavailable," said Mike Schell, President, Convergent Design. "We had to spec our own high performance media directly from the SSD manufacturers. Our extensive testing has shown that Samsung now has made two consumer SSDs that meet the performance standards we require for the Odyssey monitor/recorders. We are happy to open the option of this inexpensive media to our clients."

Odyssey SSDs offer a variety of qualities, detailed in the Convergent Design White Paper "Why to Trust Your Footage to Convergent Design Odyssey SSDs…", (http://www.convergent-design.com/product-resources/106-why-to-trust-your-footage-to-convergent-design-odyssey-ssds.html). Features such as fast & consistent read & write speeds, both across the entire memory and across the lifespan of the SSDs, exceptionally long-life usability of the media, built-in power-loss protection, low power draw and robust reliability of construction are the hallmarks of the Odyssey SSD design. Convergent Design's extensive testing of the two supported Samsung SSDs has found them to share in these qualities.

Access to the use of these two Samsung 850 EVO SSDs is expected to be made available with the May 2015 free Odyssey firmware update. Only the Samsung 850 EVO 500GB and EVO 1000GB SSDs, along with the Odyssey 256GB, 512GB, and 1TB SSDs, will function in the Odyssey monitor/recorders. SSDs load and mount into the Odyssey monitor/recorders with a latching handle. Odyssey SSD handles will be made available for purchase through the Convergent Design dealer network.

Certified v. Qualified

Odyssey SSDs are certified to work in Odyssey monitor/recorders. Convergent Design tests and sells these SSDs, so the company has oversight to warranty their performance. The Samsung 850 EVO 500GB and 1000GB SSDs are qualified to work in Odyssey monitor/recorders. While multiple samples have been extensively tested by Convergent Design, since we do not directly sell this media Convergent Design cannot warranty individual SSD performance. Convergent Design Customer Support is available to our clients 24/7, but we may not be able to successfully support 3rd party product to the same extent as our own products.
This is all great news. I really like how Convergent Design is constantly pushing the updates making the recorders better with more features.
Below is a entertaining video with Mitch (sort of) on the updates coming in the new release.
Okay maybe that didn't really cover much about the update so here is more info from Convergent Design.
Convergent Design engineers are always working to expand the capabilities of the Odyssey family of monitor/recorders. Today the company announces that Apple ProRes 4K/UHD will be possible up to 60p and 2K/HD will be possible up to 240p. The new capabilities will be available for all currently supported Apple ProRes formats, Apple ProRes 422 (HQ), Apple ProRes 422, and Apple ProRes 422 (LT).

"We are pleased to provide these capabilities at no cost to our clients," said John Schell, Hardware Design Manager, Convergent Design. "While designing the Odyssey Family of Products three years ago, Convergent Design had a vision of a comprehensive solution for monitoring and recording. This vision pushed us to design a multi-generational platform to support cameras and formats not yet developed. The capability built into the Odyssey platform from the beginning allows us to continue to unlock new cameras, formats, and features, giving our clients new tools to express their creativity. The addition of 4K60p and 2K240p Apple ProRes shows the continuing vision of the Odyssey platform.".

High frame rate material is useful both for creating slow motion material and more immersive content. Several networks and distributors are specifying 60p frame rates for UHD deliverables. Some cameras can only output higher frame rates in a RAW data format. RAW data at high frame rates consumes vast amounts of memory. Instead recording high frame rate material in Apple ProRes significantly reduces on set media needs, slashes offload times, dramatically simplifies post workflows, and shortens post schedules.

The first input format scheduled to be made available with the higher frame rates are the RAW data signals from the Sony FS7 and FS700 for clients utilizing the Sony FS Record Option on the Odyssey7Q and Odyssey7Q+. This will allow the recording of 4K RAW -> 4K/UHD/2K/HD Apple ProRes up to 60p, 2K RAW -> 2K/HD Apple ProRes up to 240p, and 4K RAW Burst -> 4K/UHD Apple ProRes up to 120p (available on the FS700). The new capabilities will be made available in a free future firmware update to all users who have purchased the FS700 record option.

Future support will include Canon C500 4K RAW, Canon C500 HD video (up to 120fps), Sony F5/F55 4K/UHD video, and others. All Apple ProRes frame rate expansions will be provided via free firmware updates. Current owners of Record Options will receive increased capabilities within their Record Options at no additional cost.
Follow me on Twitter @eriknaso and check out my page on Facebook.
Thanks for coming by! Please help support my site by using the links on this page or bookmark these from my favorite retailers, B&H, Adorama, Zacuto, Amazon.com & Think Tank Photo. Using the links cost you nothing extra, but it helps offset the cost of running my blog. Thanks again for coming by eriknaso.com!
Filed in: Convergent Design • Featured Post • Recorders • Support and Grip
Tagged with: 7Q+ • Odyssey • Odyssey 7Q and 7Q+ • Samsung 500GB 850 Evo • Samsung Evo
I'm a broadcast DP In San Diego. I enjoy sharing what I'm working on and testing new equipment. This blog is also part of giving back. I've learned so much from so many people.