I'm no colorist but I do enjoy grading and getting the most out of an image. I recently upgraded to the new Red Giant V.12 Magic Bullet Color Suite. Wow is this a nice upgrade!
I have all the tools I need in one place with the scopes to assist me too. Colorista is very powerful and super easy to use. It's my main tool for grading and correcting. In this little demo I walk you thru a basic off color or white balanced shot. The camera was set for full sun and this cute little girl was in full shade. With a few easy corrections the image is all fixed.
Using the new Memory Color scope gets the skin so close I almost feel like it's cheating. but it's so spot on. Once you get it close then use your eye to make it the way you want. It's not a hard rule to only use the scope info, it's just great to know you are so close. The same goes for shadows. On the table is a white napkin and the Memory Color scope is showing a lot of blue on it. All I need to do is go the opposite direct of the color thats off and that usually gets you half way their. Now tweak the whole image to your liking. So easy even I can do it!
Below is the final grade. I took a little more red out of the skin. Click the image to see it full size.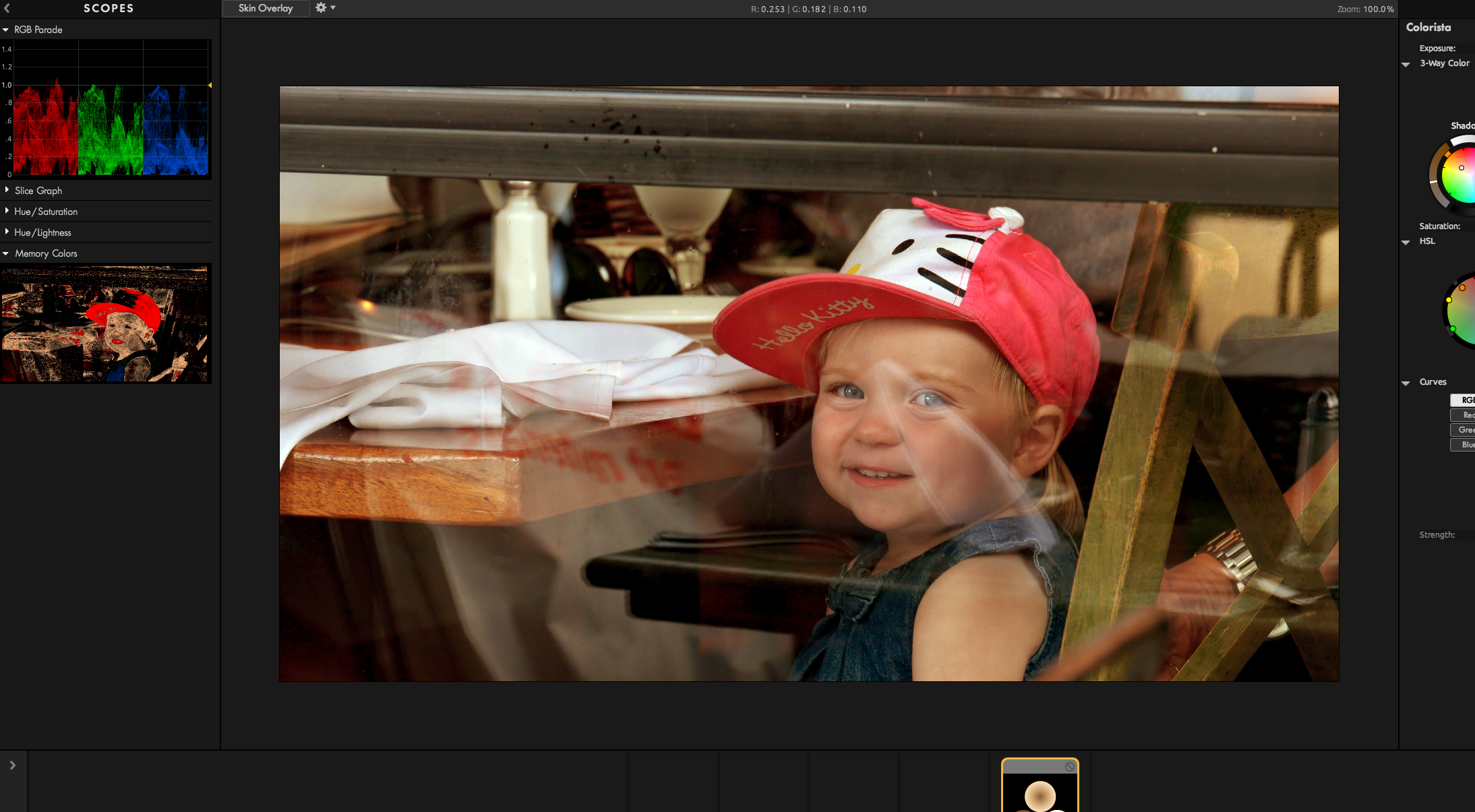 Follow me on Twitter @eriknaso and check out my page on Facebook.
Thanks for coming by! Please help support my site by using the links on this page or bookmark these from my favorite retailers, B&H, Adorama, Zacuto, Amazon.com & Think Tank Photo. Using the links cost you nothing extra, but it helps offset the cost of running my blog. Thanks again for coming by eriknaso.com!
Filed in: Adobe • Featured Post • Post Production • Premiere Pro • Tip Of The Day
Tagged with: Red Giant
I'm a broadcast DP In San Diego. I enjoy sharing what I'm working on and testing new equipment. This blog is also part of giving back. I've learned so much from so many people.