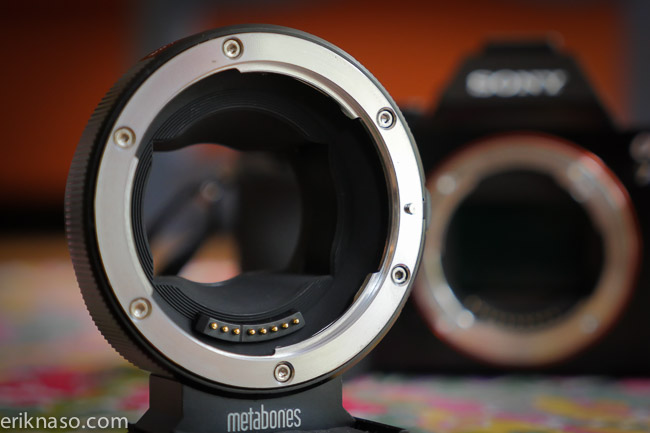 A little update for the Metabones EF-E Smart Adapter MARK IV fixes a few niggle things but doesn't add any new features. No the auto focus speed still is what it is. Below are the links and what the update consists of.
RELEVANT PRODUCTS

This information is for the following models:

ABOUT THIS DOWNLOAD

Name: Firmware update V0.41 for EF-E Smart AdapterTM MARK IV
Release date: 1 Jun 2015
Benefits and improvements:

User may choose between lens OIS and IBIS using the lens' IS switch (except for some Tamron lenses). If the lens' IS switch is ON, lens OIS is used and IBIS is turned off automatically. If lens' IS switch is OFF, IBIS is used instead. To turn off all IS, hold down the WO button on the adapter while switching the lens' IS to the OFF position.
IS is always turned on during magnified focus assist for ease of manual focusing
Added autofocus support for some legacy lenses on A7 series
Eliminated iris flicker when opening up the iris from a slower aperture to a faster aperture in Green mode on FS series, NEX-VG series and A7 series in movie mode.
Eliminated iris tick noise while zooming a variable aperture zoom lens in Green mode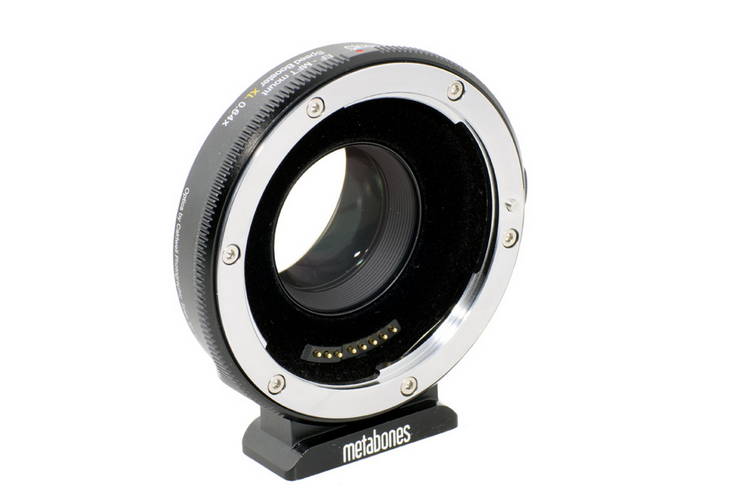 Metabones updated another adapter and this one is mind blowing. The new Canon EF Lens to Micro Four Thirds T Speed Booster XL 0.64x basically turns the GH4 into a APS-C or S35 camera. It reduces the full-frame crop factor of the Panasonic GH4 from 2.0x to 1.28x transforming these cameras into APS-H format. Crazy!
Canon EF Lens to Micro Four Thirds T Speed Booster XL 0.64x Key Features
Increase maximum aperture by 11/3 stops
Increase MTF.
Makes lens 0.64x wider.
Build-in electronics to control lens aperture.
The lens aperture is set by the controls on the camera body.
Powered by camera body. no external power source required.
High performance 32-bit processor and efficient switched-mode power supply.
The interior is painted with flocking coating to further reduce the internal reflection.
The tripod foot is detachable and compatible with Arca Swiss, Markins and Photo Clam ball heads.
Support Panasonic GH4, GH3, G3, G5, G6, G10, GF3, GF5, GF6, GX1, Olympus E-PL7, Blackmagic Cinema Camera with Micro Four Thirds mount**, Blackmagic Pocket Cinema Camera***
Optics designed by Caldwell Photographic in the USA (patent pending).
For now the Speed Booster XL 0.64x is only available direct from Metabones. I'm sure it will be in retail stores soon. It's a expensive little bugger at $649 US.
Detailed info can be found HERE
Follow me on Twitter @eriknaso and check out my page on Facebook.
Thanks for coming by! Please help support my site by using the links on this page or bookmark these from my favorite retailers, B&H, Adorama, Zacuto, Amazon.com & Think Tank Photo. Using the links cost you nothing extra, but it helps offset the cost of running my blog. Thanks again for coming by eriknaso.com!
Filed in: 35mm Lens • Featured Post • GH2 • GH3 • GH4 • Lens Talk • Lenses • Micro Four Third Lenses • Micro Four Thirds • Mirrorless • Panasonic
Tagged with: GH4 • Metabones • Speed Booster • Speed Booster XL 0.64x
I'm a broadcast DP In San Diego. I enjoy sharing what I'm working on and testing new equipment. This blog is also part of giving back. I've learned so much from so many people.