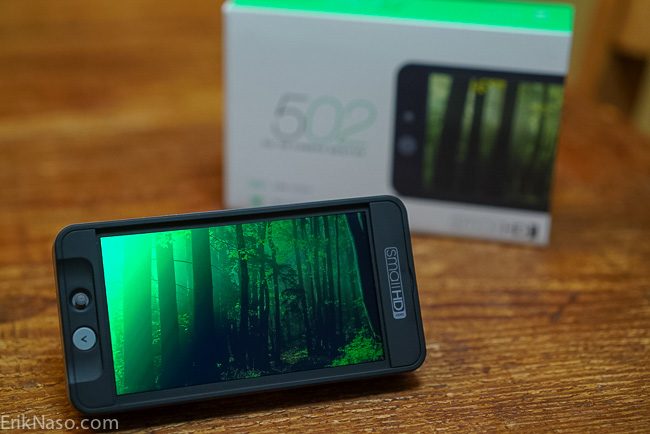 After seeing the SmallHD 502 and the add-on Sidefinder at NAB 2015 I felt it was a very nice product that I would like to buy. A small 5″ monitor with good resolution to help with focus and a convertible viewfinder idea is cool.  So I pulled the trigger and got the 502 with the plan to get a Sidefinder. Unfortunately the Sidefinder wont ship for a while. Scheduled for July?
UPDATE 8/5
Today new ver. 2.0 firmware update was released and fixes a few things like battery indicators and adds some nice features like HDMI/SDI crossconversion.
Features Added:
3D Luts Downstream
Feature Description:​Send your 3D Luts downstream to the next monitor or device in line so your client or director can see a finished product.
Notes:​There is now an "output preview" page. This page shows what is being sent downstream. Use it to apply a look to the output video. This page can also be hidden via the settings menu. (but not recommended)
Cross Conversion Added (502 model only)
Feature Description: Y​ou can now feed an HDMI signal into your monitor and output it via the SDI OUT, or feed an SDI signal to your monitor and output it through the HDMI OUT.
Notes: F​eature is activated in the monitor Settings menu under the Output option.
a. It is not possible to convert all HDMI formats to SDI. You should restrict HDMI formats to those supported by SDI.
RGB Parade
F e a t u r e D e s c r i p t i o n : T​h e R G B P a r a d e i s a h e l p f u l v i d e o s c o p e f o r s e p a r a t i n g o u t t h e 3 color channels of digital video: red, green and blue.
Notes:​Feature is activated by applying "Waveform" and choosing the "Parade" style.
SDI Metadata Display
Feature Description: V​iew timecode and record trigger that is being sent from your camera through the SDI output on your 500 monitor.
Notes: F​eature is activated through Add tool ­> Overlays ­> SDI Metadata
a. Shows a small box with the SDI timecode, and a full­screen border to indicate the Record Start / Stop bits. Each function can be disabled individually.
5. Brightness & Contrast Settings
Feature Description:​You can now customize your monitor's contrast and brightness. Notes:​Feature is activated through Settings­>System­>Calibration in your monitor.
a. Adjusts the panel's brightness and contrast. Last adjustment made to video data being sent to the panel.
6. Profile Saving To SD Card.
Feature Description:​Save your current monitor configuration to an SD card Notes: F​eature is activated through Settings­>User­>Profiles
a. Does not work without an SD Card.
Only one profile may be saved per card. Can be used to copy profiles between monitors.
The following are intentionally not stored in the saved profile: i. Wireless settings

ii. Remote settings
iii. Image Capture counter, Image Capture behavior. iv. Display Calibration.

v. Date & Time.
vi. User Registration.
Image Capture can now capture the image with the active LUT applied.

Settings­>Capture­>Image Capture
By default, it behaves the same as always, suppressing any active LUTs before

capturing the image.

Through the settings menu, users may now choose not to suppress the current

LUT before capturing an image, and that image will be stored with the LUT

applied.

This Settings menu item also allows resetting the monitor's auto­incrementing

counter used when naming captured image files.

Anamorphic 1.5x Option Added
Audio Meters Opacity Setting Added
Here is the full update in a nice video by SmallHD.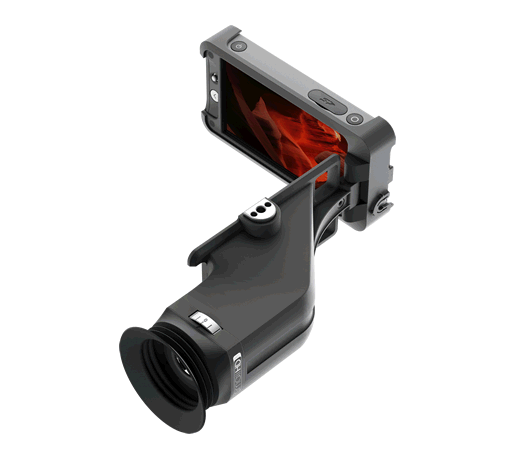 Okay back to the review.
On the subject of EVF or viewfinder. I have been wanting the Zacuto Gratical since the day it was announced and now Zacuto has a new option. The Gratical X. It's the same EVF only with features you pick.
I didn't pull the trigger because I just couldn't afford one. At $3K it was priced out of my range but at $1600 for the X version that might work. It's a amazing EVF no doubt and I'm still interested in the LT version when it's released this summer but the 502 might just be all I need.
Monitoring is so important these days with cameras that have very poor on board EVF or LCD screens. DSLR shooters are really challenged. No EVF at all. making an on board monitor or EVF a must have.
I got in on a group buy for the SmallHD 502 and saved a few bucks. One nice benefit of being a forum junkie. The SmallHD 502 arrived and I was impressed with the build. It's a nice solid monitor and very light. I didn't get to hold one at NAB. I only checked it out on display and it was bolted to a table with the Sidefinder attached. I wish I could have.
The layout is clean and the connectors seem well placed. I need to try it on a few cameras to see how it works. For now I'm using it with a A7s and also the GH4. Later I'll hook it up to a C300 via SDI. Oh yeah the 502 has both HDMI and SDI with pass through. The new 501 is only HDMI and it's a few hundred cheaper but for me having both is a must. It will work on all cameras.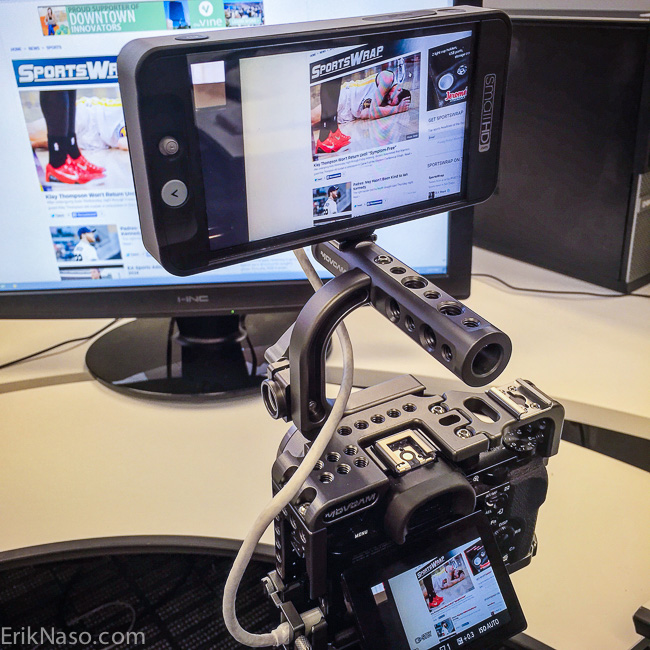 I haven't bought a new SmallHD monitor for a while now. I had a DP6 and a DP4 with the viewfinder attachment. Both served me well. I was surprised that I had to register the 502 before I could use it. Interesting. I have mixed feelings about that.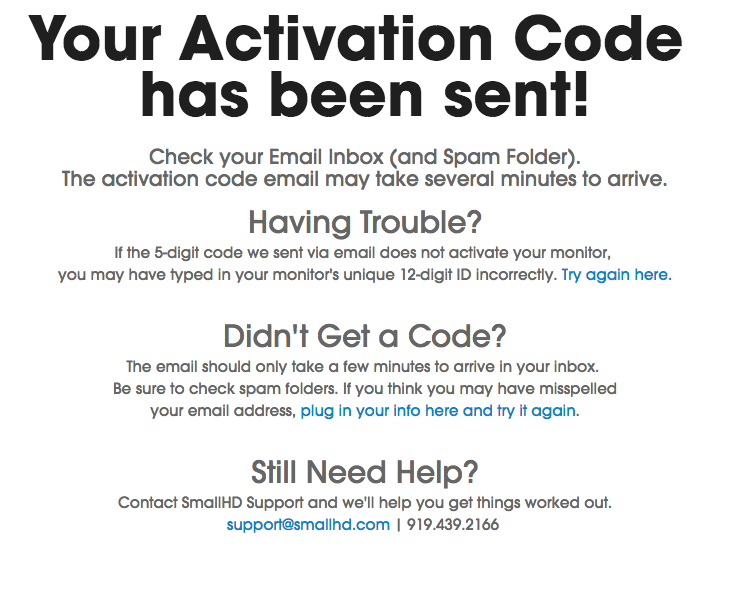 I also have mixed feelings about products shipping with lots of missing features with loose release dates. The list is pretty long on the 502 and I sure would've liked a complete product delivered. We are seeing this more and more and I really don't like this model much. The one feature I wish I had was waveform. It shipped with histogram but us filmmakers don't want histogram. Thats for stills guys. Ugh….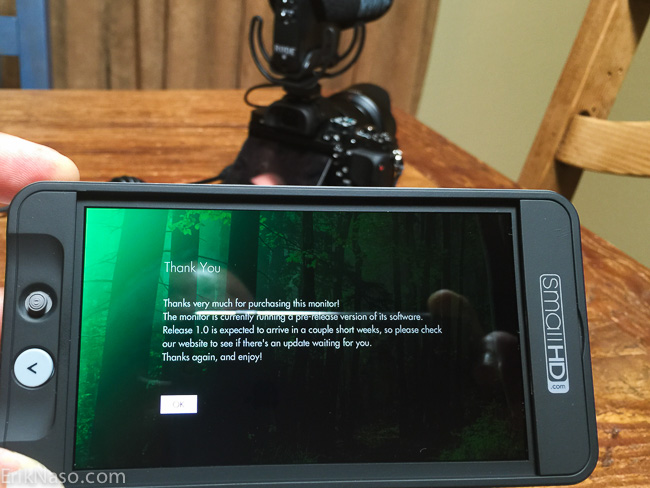 So the above statement was made before June 11th. On this day firmware V1.0 was released and added a lot of the features promised. Unfortunately the update came after I wrapped a new promo I was working on and really wish I had the new features. here is what was added on June 11th.
Newly added features include in V1.0 Firmware:
Image Capture (Capture Still Images up to 1080p from the live camera feed)
Image Overlay (Overlay jpg images over live video, including captured images)
HD Waveform (Monitor luminance levels or individual RGB levels in HD resolution)
On-Screen Audio Meters & Headphone Output
Canon DSLR Scale (Fill the whole screen with image from a Canon DSLR)
Auto Image Flip (Mount the monitor up-side-down)
Anamorphic De-squeeze (Monitor a non-squashed image when shooting with anamorphic lenses)
Custom Display Calibration LUT (Change the built-in color calibration of your monitor using your own 3D LUT file — this is very different from applying 3D LUTs to the live camera feed on multiple pages)
Here are some of the features that are not available yet.
Vectorscope
RGB Parade
LUT Downstream
Cross Conversion
The list of features is impressive. Waveform is a big one and image capture is just cool.
Good thing is 3D LUTS are ready and so is importable custom ones. I need to build some for the C300 and A7s.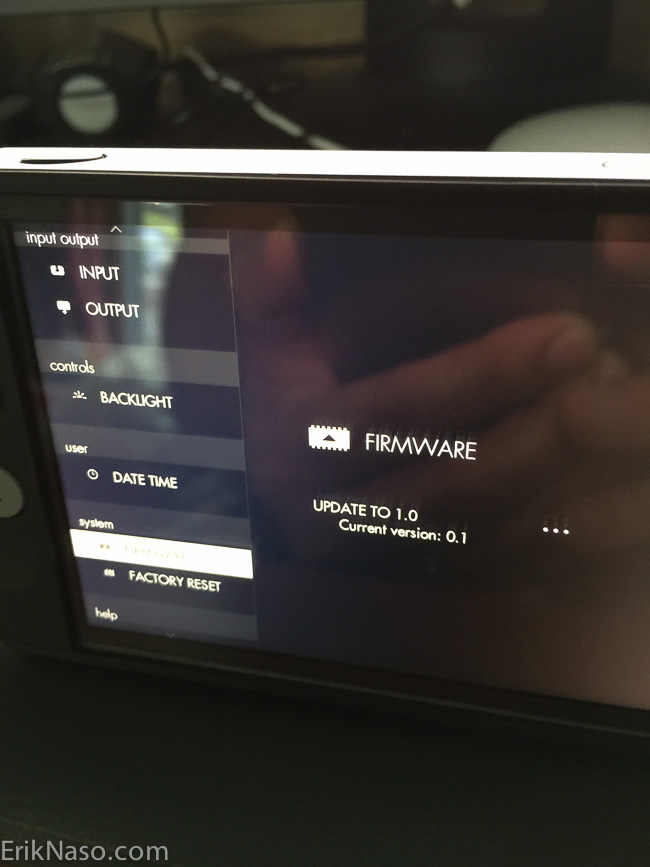 I had a little snafu while performing the update. I don't know what happened but during the update I stepped away from my desk and when I returned the screen was black. I don't know if the battery died during the update or it was a glitch in the Matrix. The 502 was bricked. So it was a good time to test customer service. I went to SmallHD website and put in a ticket. Early the next morning I got a response and we tried a few things first and they decided to send a advanced replacement out. How cool is that! SmallHD takes care of their customers. I have found this to be true since the first monitor I bought from them. The DP6 and DP4 after that. Great customer service.
The 502 uses a new interface and menu format. One I like. It didn't take much to figure out the Pages system and the joystick. I had some fun along the way too.
I just want you to know I won all three games. I'm pretty darn good at Pong by the way. 😀
Pages is a very cool idea. Once you get used to it it's a breeze. You can load up the each page with different tools that you like. Each page is fully customized. add as many as you like. I have no features on the first page then added histogram (would prefer waveform but at the time was not available yet) to the next with peaking. You get the idea. It's a really slick way to get the tools on the screen and in a way you want them. Punch in is great. I wish I knew was able to move the image around with the joystick. Not sure how that got by me. You can move around the image when zoomed in with the joystick by pressing up then click the joystick in and freely move around the image. Oh how I wish I knew this one two. This monitor is loaded!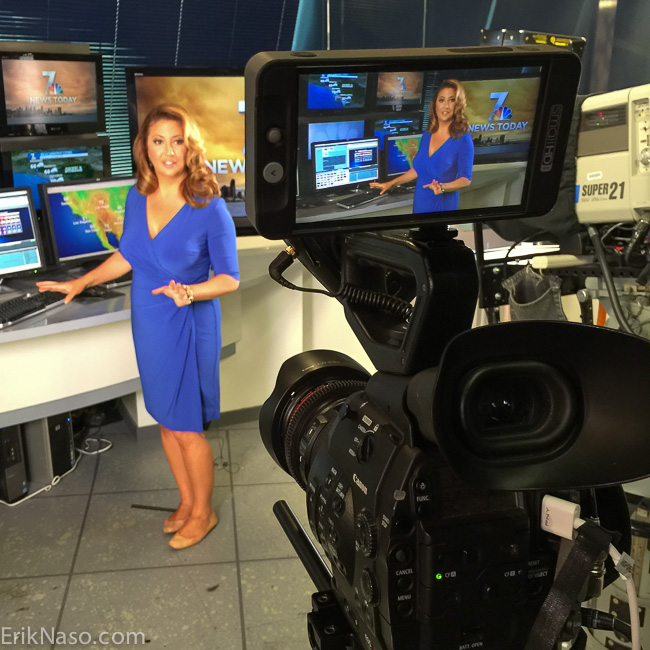 During my shoot everybody thought I had my iphone on the C300. It does look like it but it's a little bigger than the iPhone 6 at 5″ I'm still blown away by the overall size and weight 7.4oz (209.79g) of the 502.
A couple of times while the monitor was not being touched the 502 went into pages select mode without touching any buttons. This is when the home button is pressed and the view pulls back to see all the pages and the master settings on the first screen. That was strange. It happened a couple times. Might be a little buggy still. SmallHD told me that was fixed in V0.2. I was running V0.1.
We now have another option in the series. The 501. It's a little cheaper at $899 vs. $1199 for the 502 but doesn't have SDI. I think SDI is a must for future proofing and the extra cash is money well spent. I use anything I can attach a lens to and if the camera has SDI I will use it. It's a much better connection and having pass through as well is also huge. Being able to connect to the 502 via SDI and send out of the HDMI at the same time to another monitor or recorder is a feature thats worth the price of admission.
See those extra holes by the 1/4 20? I believe those are anti-twist guides for mounting hardware.
The screen is so dang sharp you practically don't need the focus assist or peaking tools. It's really great. I haven't seen a monitor this size that's so sharp. Not a bad sharp either. It's a high resolution image sharp. Very nice.
The battery last a long time and you have two slots for the Canon type LP-E6 type batteries. I got 1 hour 50 minutes from one STK 2600mAh battery.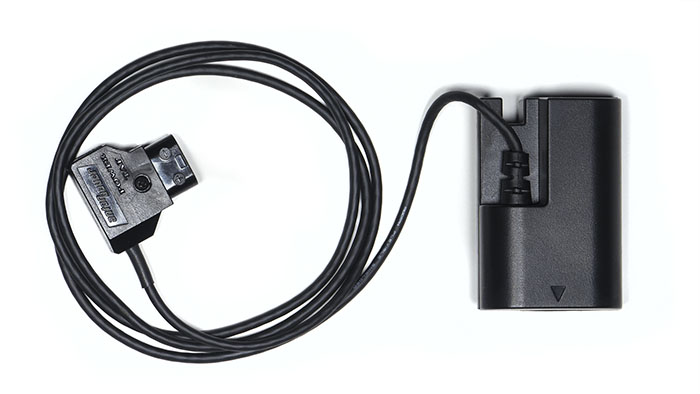 I do wish the 502 had a power tap on the monitor for powering from a D-Tap unfortunately if you want to do this a cable with a dummy battery is required. 502 D-Tap cable You need to be careful if you think about creating your own power solution because the voltage has to be 7.4v 2.5A DC. If you feed more it will burn up the 502.
The SmallHD 502 has a battery gauge but it needs to be activated in order for you to see it. I didnt know it was available so didn't have the function turned on so it just shut down with no warning at all. This was really annoying during takes and it always happens at the wrong time.
The SmallHD 502 runs warm. No it runs hot. After using it for only 30 minutes it was very toasty. I pulled a laser temperature reader out and got several different readings depending on where on the chassis I tested. The highest reading I got was 111 degrees and it was right around the joystick. Probably the most touched area of the monitor. SmallHD said this is normal in fact it should never exceed 120 degrees. Wow! that is hot! If you use it in a high heat environment I can see it going that high. I was in a cool living room when I did my laser test.
So is this a concern? Well it could be. Not so much as a on camera monitor because I used it as such and the heat never really affected me because I wasn't grabbing it in a way that felt uncomfortable. I definitely couldn't hold it for a long time without wanting to put it down. If the 502 was in EVF Sidefinder mode close to my face it could be a little toasty. We will have to see if the Sidefinder draws heat from the 502 making it warm.
The size and weight of the SmallHD 502 is incredible. It's just so light even with two batteries attached. Bigger isn't always better. This thing is a gimbal ops best friend. Especially if you have the DJI Ronin. 😀 It has an interesting overall feel too. The entire body is coated with some kind of rubber feeling stuff. (not a technical term) I like it. It doesn't feel like metal or plastic. Kind of soft without being slippery.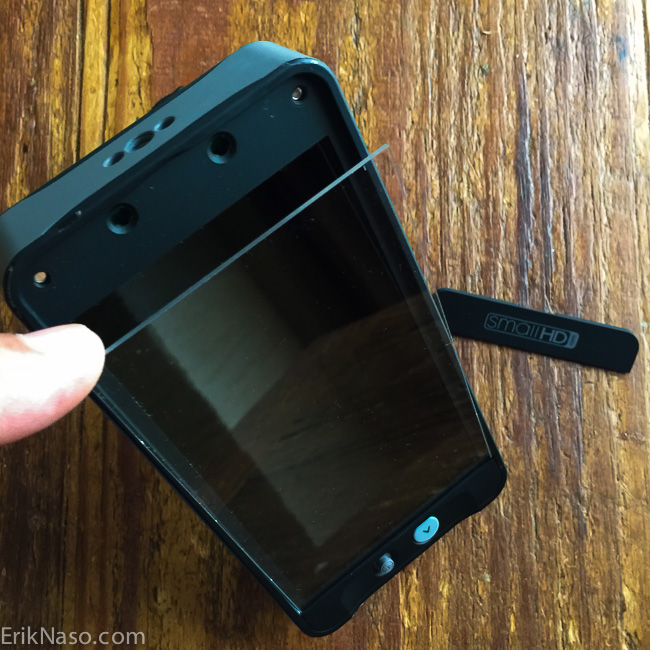 The way the screen protector is attached is also improved over the DP6. On the right front where the logo is printed is a large tab. The screen protector sits in a grove on the front left and locks in by snapping the tab back in place. Really easy to take off and clean without fumbling. It also is recessed a little so it the 502 is face down on a surface (god forbid) it will help prevent scratching. If you get one pick up an extra screen protector. It's good insurance for the lovely screen and it's also crystal clear. I like that it's a piece of clear plastic as opposed to the film type that over time gets bubbles and peels off.
Mounting the 502 is easy as most monitors are these days. You have a 1/4 20 on the back, bottom and right side. The mounts have a few extra holes I believe to accommodate the Sidefinder and EVF accessories to mount it.
Xtender has a new friction mount called the 2 Shot. I call it the ball head killer. It does what the ball head does only better. Small light and no fussing with knobs. It's a 3 axis friction mount. Set the tension on all 3 and your done. I can readjust the 502 in so many positions without loosening a knob. The 502 stays level at all times. This is a brilliant product for on camera use. Check out more great friction mounts at www.Thextender.com. I use several different models from Xtender including the mount for the Odyssey 7Q+
Now the tough part. Is it worth the price compared to other products and ones that are also recorders. The list is getting long now even with Blackmagic's new Video Assist entry, but here is how I look at the 502. It's small, light, last a long time with cheap batteries, has a boat load of tools and the image is really great. It will be invaluable for gimbal work and other handheld rigs. I don't always need or want a recorder and the 502 is just loaded and does one thing and it does it really well. One thing aside from the monitor IQ is getting the SD card out is really hard. It doesnt pop out far enough to get a grip on it. Might need to use some tweezers to grab it.
All in all the heat issue is the only negative experience I have had. Well bricking it wasn't cool but they sure took care of me. I know heat is electronics worst enemy. Okay maybe moisture is worse. Time will tell. SmallHD says it's not going to hurt the monitor and I trust them. Using the Sidefinder with the 502 might be a little toasty but we shall see. I've never used a monitor with such great resolution before and has a lot of features to help us get the shot in focus and exposed correctly. The 502 is going to be used on all my cameras going forward.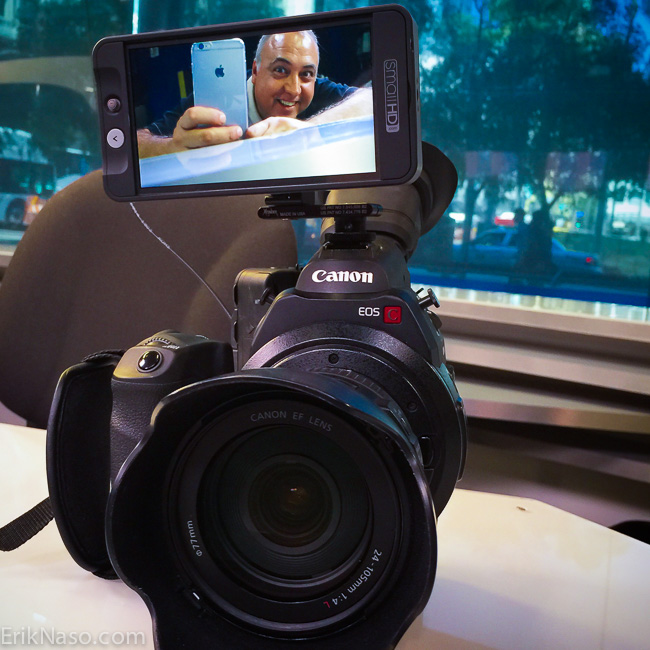 Follow me on Twitter @eriknaso and check out my page on Facebook.
Thanks for coming by! Please help support my site by using the links on this page or bookmark these from my favorite retailers, B&H, Adorama, Zacuto, Amazon.com & Think Tank Photo. Using the links cost you nothing extra, but it helps offset the cost of running my blog. Thanks again for coming by eriknaso.com!
Filed in: Equipment Reviews • Featured Post • New Release • Production • SmallHD
Tagged with: 2 Shot • 500 Series • 501 Series • 502 series • monitor • Sidefinder • SmallHD • Xtender
I'm a broadcast DP In San Diego. I enjoy sharing what I'm working on and testing new equipment. This blog is also part of giving back. I've learned so much from so many people.