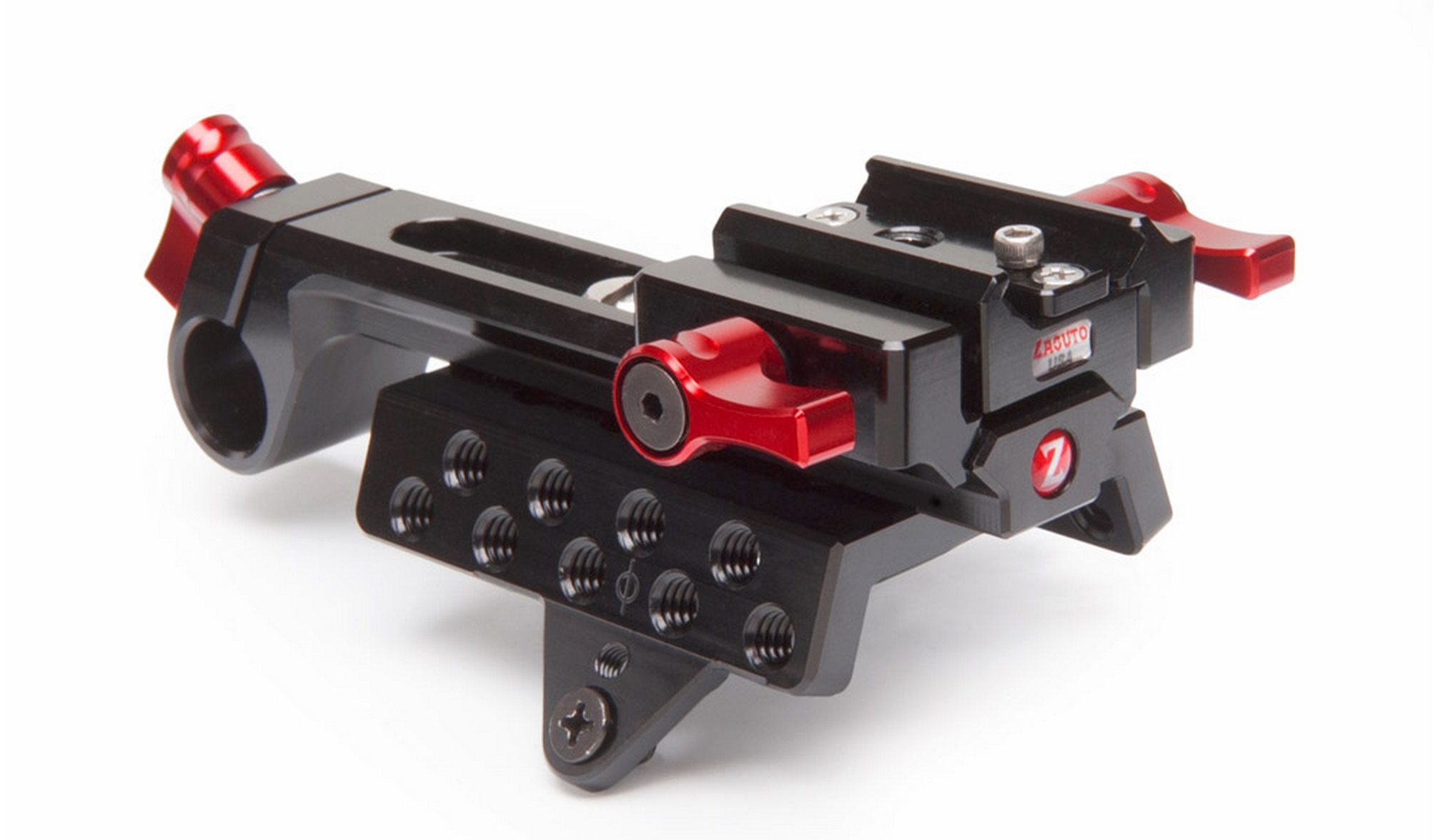 The design of the new Zacuto C100 MKII Helmet is clean and simple and puts the EVF in the right position for easy access while shooting handheld or on a tripod. It attaches to the top of the C100 MKII via one screw on top and one on the side, relocating the film plane screw on the left side of the camera. This prevents the helmet from twisting.
The C100 Mark II Helmet package includes the C100 Mark II Helmet, a 5" Z-rail with a 15mm rod lock at the end, and a double jawed Z-rail lock. With the front rod mount other non-Zacuto setups can also be used so this could be a nice base to build out from. With the bunch of 1/4 20 taps peppered all around the helmet you can bolt on a accesories galore. The round locking screw is now strengthened by adding a clamp to the side walls of the cold shoe itself. The mount and the rod lock each use a lever for quick release capability. Once installed adjusting the handle forward or back for balance or removal of the handle is just a half turn of the lever. That sure will make a much more solid and faster to remove handle.
Follow me on Twitter @eriknaso and check out my page on Facebook.
Thanks for coming by! Please help support my site by using the links on this page or bookmark these from my favorite retailers, B&H, Adorama, Zacuto, Amazon.com & Think Tank Photo. Using the links cost you nothing extra, but it helps offset the cost of running my blog. Thanks again for coming by eriknaso.com!
Filed in: Featured Post • New Release • Production • Support and Grip • Zacuto
Tagged with: C100 MKII • Canon C100 Mark II Helmet • Zacuto
I'm a broadcast DP In San Diego. I enjoy sharing what I'm working on and testing new equipment. This blog is also part of giving back. I've learned so much from so many people.