It's promo time again! This one is for our morning news and I had a few new tools to play with too.
RodeLink
I've been impressed with how well the RodeLink works. The range is very good and the audio is clean. I haven't had interference yet with it. On this shoot in a 21 story building in downtown San Diego with a ton of WiFi flying everywhere it didn't skip a beat. My style of shooting isn't like reality TV productions. I'm pretty close to my talent. No around the corner stuff. Pretty much line of sight and the RodeLink works really great for me. I thought the size would be an issue but it wasn't. Both receiver and transmitter are light in weight and was easy to attach to both camera and talent.
For this spot I decided to use the Sanken COS11 lav mic. I really like the sound of this lav a lot and it happens to have the small 3.5mm jack on it. I used it with a Sennheiser G3 that I sold off but I kept the mic. No way will I ever sell it! The good news here is the RodeLink works great with the Rode Lav or others qith 3.5mm plug making it more versatile. I know a lot of people have been using the G3 and are looking to upgrade. I think the RodeLink is an excellent choice. If you don't have a lav from your G3 the Rode Lav is also very good and comes with the RodeLink Filmmakers Kit. I've used it on several promo shoots with different cameras with excellent results.
The RodLink worked flawless on the C300. I took the LCD and audio attachment off and plugged the RodeLing directly into the C300. For another shoot I bought and added the Rode VXLR adapter. It too works great. More on that in a future post.
SmallHD 502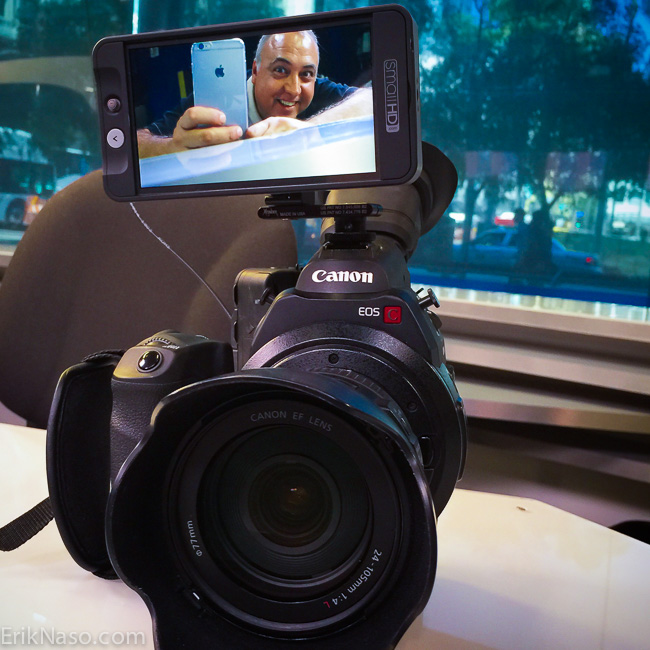 The SmallHD 502 arrived a few days before the shoot and I had the original firmware installed. It lacked a few features still but wow was I impressed with the detail and resolution of the 502. It really made getting critical focus easy. Just recently the Sidefinder started to ship. I sure wish I had it. The C300 EVF is good but on a tripod it's hard to get your up to it when shooting at eye level to talent.
I love the pages design on the 500 series. Once you get used to it it really makes accessing different tools fast and very customizable.
Check out my review of the SmallHD 502 here.
I mounted the 502 with a 2-Shot friction mount made by Xtender. I love this little thing! I call it the ball head killer because it's replaced them on my rigs. The Xtender mount articulates on three axis's and locks without a thumb screw. It's a friction mount so you adjust it with a supplied allen wrench to the tension that you like and it holds. Brillent!
Convergent Design 7Q+ for directors monitor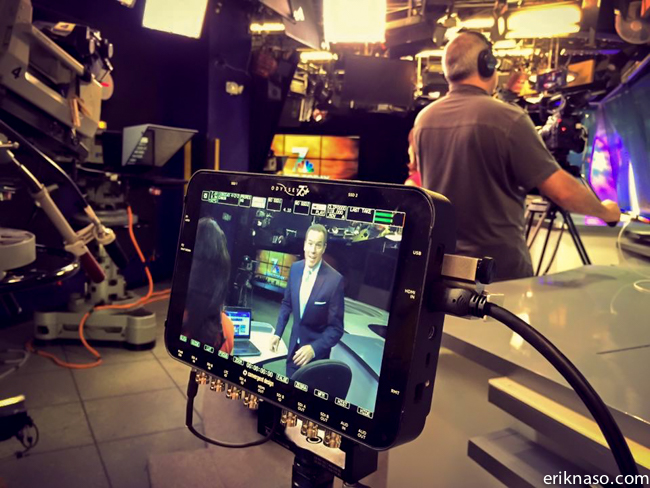 The Odyssey 7Q+ is a great recorder but it's also a fantastic monitor. I think I use as a directors monitor more often. It's not power hungry and is so portable when mounted on a light stand with another favorite Xtender friction mount. The Cinema 200 Series. The best part is I don't have a producer hovering over me to see the shot. We move faster from scene to scene without using power cords. Love that!
Lighting
For lighting I used Kino Flo Divas as key lights and Aputure Amaran AL-198 LED Light In the hall for side fill lighting and backlights on traffic anchor at desk. These are very bright little lights. The Divas are so soft and look great.
Last but not least the C300 with the Canon 24-105 was used and set to C Log. I know many dont like the 24-105 but it's one of the most used in my kit since the range is so good and I think the IQ is great.
I opted to use my Cinevate DUZI Slider since it's much lighter and smaller than the Kessler CineSlider we have. Again for me it's about being able to be more mobile and work faster. We always have a tight production schedule.
That about covers it. All the new gear worked great and I'm glad to have them in my kit. Happy shooting everyone!
Follow me on Twitter @eriknaso and check out my page on Facebook.
Thanks for coming by! Please help support my site by using the links on this page or bookmark these from my favorite retailers, B&H, Adorama, Zacuto, Amazon.com & Think Tank Photo. Using the links cost you nothing extra, but it helps offset the cost of running my blog. Thanks again for coming by eriknaso.com!
Filed in: Aputure • C300 • Canon • Canon Cinema EOS • Convergent Design • Featured Post • Rode • SmallHD
Tagged with: 7Q+ • Convergent Design • SmallHD
I'm a broadcast DP In San Diego. I enjoy sharing what I'm working on and testing new equipment. This blog is also part of giving back. I've learned so much from so many people.