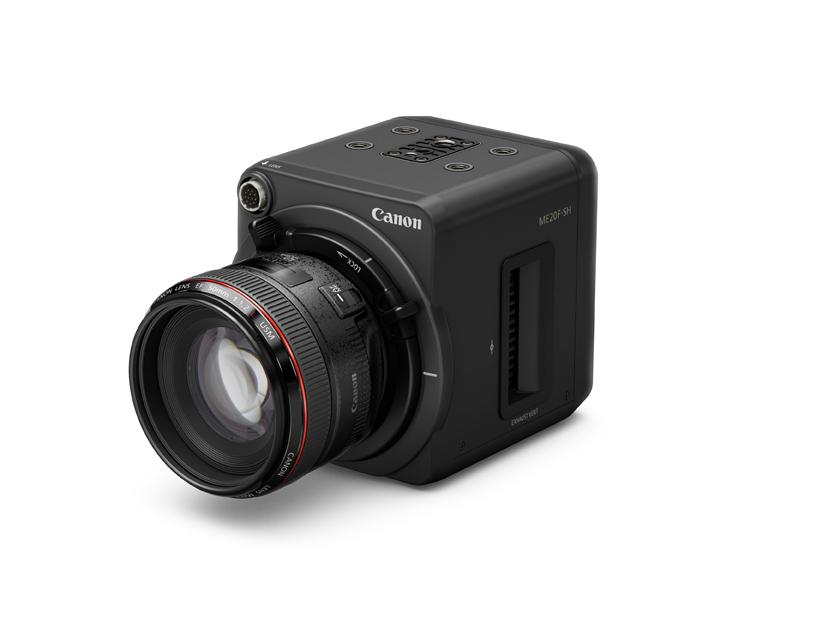 That's no typo! This 18.1 megapixel 35mm full-frame sensor camera can see in the dark with ISO equivalent of over 4,000,000 in Full HD video with a minimum subject illumination of less than 0.0005 lux1 (at maximum 75 dB gain setting,) Crazy stuff here. The ME20F-SH doesn't record video internally. It has both SDI and HDMI output. This will make putting the camera on a drone or in interesting locations a little more difficult. Some type of high quality HD wireless recording system would be needed. The camera is small. as you can see in the picture above it looks a little bigger than a lens attached. I'm sure it will find some interesting applications but not a cheap price. TheME20F-SH retails for $30,000. It also has the Canon EF mount (Cinema Lock type) I like this advanced mount for EF lenses I'm surprised the new C300 MKII doesn't have this locking EF mount since this is now the flagship Cinema EOS camera and will be used with large Canon zoom lenses. Canon also added Canon LOG and SideDR gamma. I'm very curious what the image looks like coming from this new era lowlight beast.
A while back We first heard of this sensor and now it's in full use.
Below is from Canon USA.
Nighttime surveillance and security, cinematic production, reality television, and nature/wildlife documentaries are just some of the ME20F-SH's many possible usage applications. With the ability to capture color video in extreme low-light conditions and its simplistic and versatile design, the ME-20F-SH Multi-purpose Camera can be easily incorporated into existing infrastructures and systems to provide high-quality video capture even where subjects might not be seen with the naked eye.
Canon's new multi-purpose camera employs an enhanced version of the 35mm full-frame CMOS sensor for Full HD video use that was originally developed by the Company in 20132. Its compact, modular body design allows easy custom configurations for diverse usage scenarios. While capturing video in extreme low-light conditions often requires the use of infrared illumination (a technique that only yields video in black and white), the ME20F-SH camera achieves impressive high-sensitivity performance enabling the capture of color Full HD video with reduced noise in low-light conditions without the need for infrared illumination.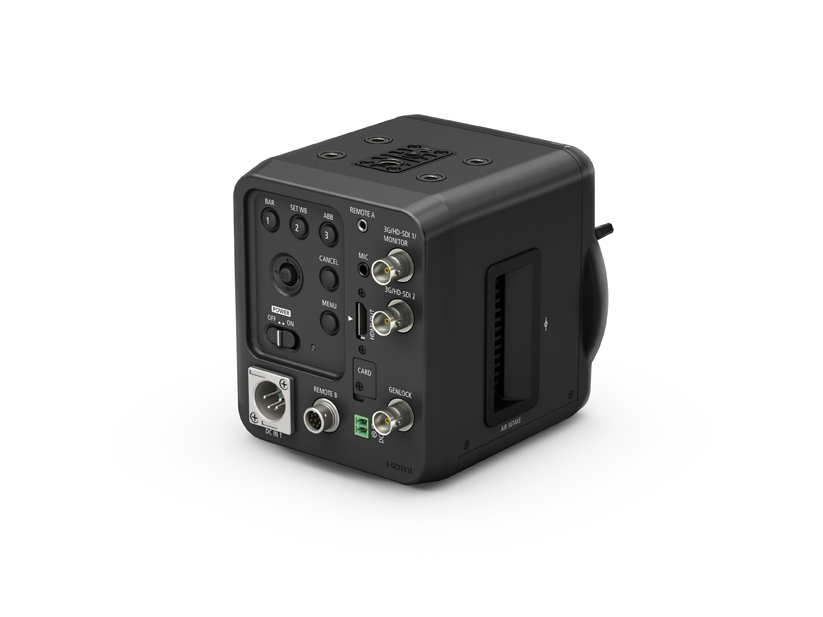 Ultra-High-Sensitivity CMOS Sensor Enables Color Video Capture in Extreme Low-Light Conditions
The ME20F-SH camera's CMOS sensor has pixels measuring 19 μm square3, which is more than 5.5 times the surface area of the pixels on the CMOS sensor featured in select top-of-the-line interchangeable lens cameras4. Furthermore, the sensor's pixels and readout circuitry make use of Canon proprietary technologies to achieve both reduced noise and exceptionally high sensitivity on subjects with a minimum illumination of less than 0.0005 lux. This multi-purpose camera allows users to discern subjects under even some of the dimmest lighting conditions, such as environments lit by artificial illumination or under a moonless night sky. Furthermore, similar to Canon's Cinema EOS System of professional digital cinematography cameras, the ME20F-SH camera includes Canon Log and Wide DR, which make possible a wide dynamic range, delivering high-image-quality video results across a range of illumination environments, from low- to brightly lit conditions.
Canon's Diverse Interchangeable EF Lens Lineup Enables Wide Range of Imaging Possibilities
The new ME20F-SH employs the same EF mount (Cinema Lock type) as Canon's SLR cameras and Cinema EOS System-series of professional digital cameras, allowing users to make use of the Company's extensive lineup of interchangeable EF lenses5. By letting users select the ideal lens based on their shooting or application requirements, taking into consideration such factors as angle of view and level of brightness, this multi-purpose camera facilitates a wide spectrum of imaging possibilities.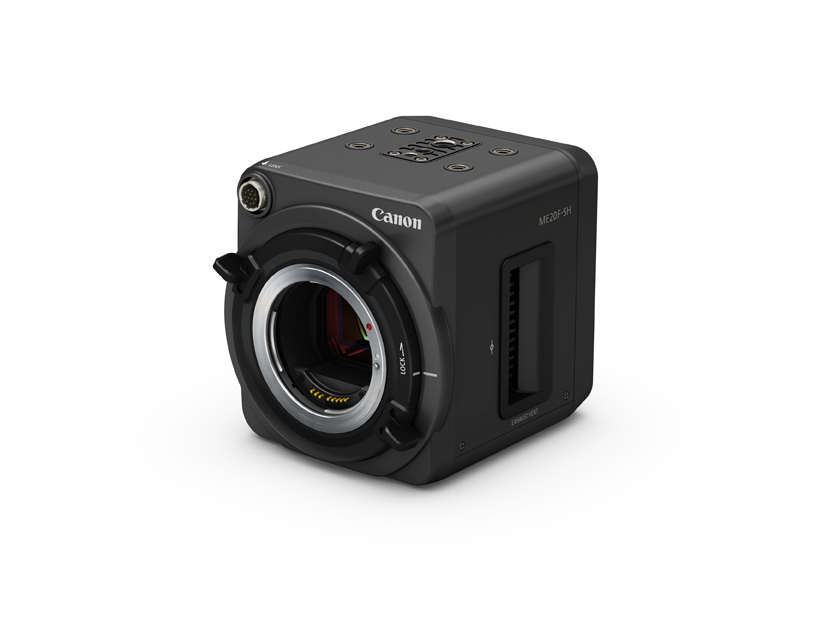 Supports various standard video-recording interfaces
Employing output-only 3G/HD-SDI and HDMI terminals, Canon's ME20F-SH camera enables users working on location to output video via a single cable to a variety of peripheral equipment, including external recorders and monitors. Equipped with a φ2.5mm stereo mini-jack and a round 8-pin jack for RS-422, the multipurpose camera is capable of connecting with Canon's RC-V100 Remote Controller (released in June 2014; sold separately)6. By allowing users to operate the camera or change settings from a remote location, the camera facilitates video capture from inaccessible locations as well as fixed-point surveillance. Furthermore, a φ3.5mm stereo mini-jack allows the camera to connect with an external microphone, enabling users working on location to output audio and video signals to connected peripheral equipment.
The Canon ME20F-SH is expected to be available in December 2015 at a suggested retail price of $30,000.
You have to wonder if Canon will deploy this insane tech in a production camera. It is full frame. In the picture you can see it has a pretty large exhaust fan. I think Canon has issues more than the other guys keeping the sensor cool. This was mentioned before about 4K in Canon DSLR's.
Product name
ME20F-SH Multi-purpose Camera
Image sensor
35mm full-frame CMOS sensor (single), effective pixel count: approx. 2.26 million pixels
Minimum subject illumination
Less than 0.0005 lux (at maximum 75 dB gain setting, equivalent to an ISO sensitivity of over four million)
Pixel Pitch
19 Microns
Lens mount
Canon EF mount (Cinema Lock type)
Optical filters
ND filter with two density levels (motorized manual / auto) IR cut filter (motorized manual)
Frame rates
59.94P / 59.94i / 50.00P / 50.00i / 29.97P / 25.00P / 23.98P
Gamma
Canon Log, Wide DR, etc.
Video output terminals
3G / HD-SDI
BNC jack (output only) Terminal count: 21080P / 1080i / 720P
HDMI
HDMI connector (output only)
Genlock terminal
BNC jack (input only)
Remote terminal
φ2.5mm stereo mini-mini-jack (Canon-proprietary protocol)Round 8-pin jack (for RS-422, Canon-proprietary protocol)
Microphone terminal
φ3.5mm stereo mini-jack
AF
One-shot AF
Auto-exposure
Combined interlocking (iris / gain / ND / shutter)
White balance
AWB, color-temperature setting (setting range: 2000 to 15000 degrees Kelvin), natural light, light bulb, Setting A, Setting B
Digital teleconverter
2x, 4x
Power input
4-pin XLR DC11-17VTerminal block 2-pin jack DC11-17V
Operating temperature
32 degrees F (0 degrees C) to 104 degrees F (40 degrees C)
Body dimensions
Approx. 4 inches (102mm) (w) x 4.5 inches (116mm) (h) x 4.4 inches (113mm) (d) (excluding protrusions)
Weight
Approx. 2.4 lbs (1.1 kg) (body only)
Follow me on Twitter @eriknaso and check out my page on Facebook.
Thanks for coming by! Please help support my site by using the links on this page or bookmark these from my favorite retailers, B&H, Adorama, Zacuto, Amazon.com & Think Tank Photo. Using the links cost you nothing extra, but it helps offset the cost of running my blog. Thanks again for coming by eriknaso.com!
Filed in: Camera News • Canon • Featured Post • New Release
Tagged with: Canon • High ISO • ME20F-SH
I'm a broadcast DP In San Diego. I enjoy sharing what I'm working on and testing new equipment. This blog is also part of giving back. I've learned so much from so many people.