The SmallHD 500 series are bright sharp 5″ monitors. I have the 502 and so far it's a must carry to all my shoots. It has a few quirks but nothing that won't get fixed in future firmware updates. Let's face it. Nothing is perfect but when a product helps make your job easier it sure is worth having. Check out my review on the 502 HERE. In this review I'm not going to cover the 502 monitor but focus on the Sidefinder and new accessories that were released around the same time. Namely the mounting hardware.
UPDATE 8/5
Today a new firmware 2.0 update was released and fixed a few issues one namely the battery indicator now seems to be fixed.plus add HDMI/SDI cross-convert.
The see the full update please click here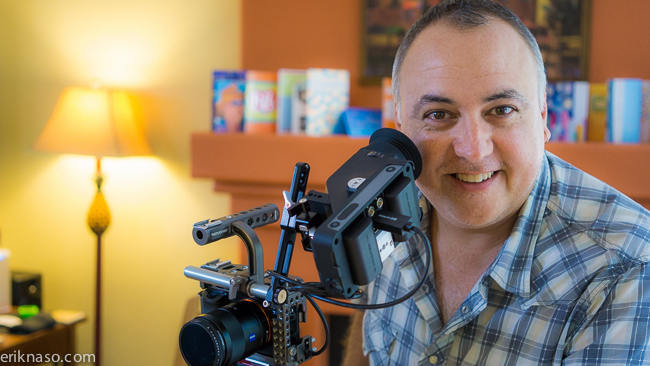 When the Sidefinder arrived I was surprised by how light it is with the included mounting base that is attached to the Sidefinder.
This mounting base gives you a bunch of options for mounting the Sidefinder to your camera or rig. It's very well thought out. Combined with the monitors 1/4 20 taps you can pretty much get it attached no problem.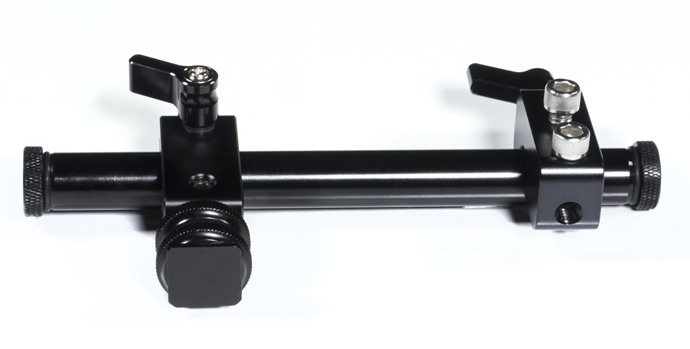 I purchased the SmallHD mounting hardware as well to see if I liked it and maybe make the Sidefinder more versatile with smaller cameras outside of rigs. It was a fairly inexpensive item at $99 and comes with a rod clamp, 15mm rod and cold shoe mounting hardware for a 15mm rail. It actually works pretty well. I didn't like the way the 15mm cold shoe locks down however if you keep it nice and tight it shouldn't cause any issues. A lot of weight is on the cold shoe so tugging hard might not be a good idea. You don't want to break the hot shoe on your camera. I opted for the Xtender 15mm rail clamp with male coldshoe and torque knob. It's on solid now. The clamp on the Sidefinder actually works very well for tilting the Sidefinder. It holds it in place no problem and you don't have to loosen the clamp. it just holds it. Cool design. Even when it's open and used as a monitor it holds. Impressive for such an inexpensive mounting solution.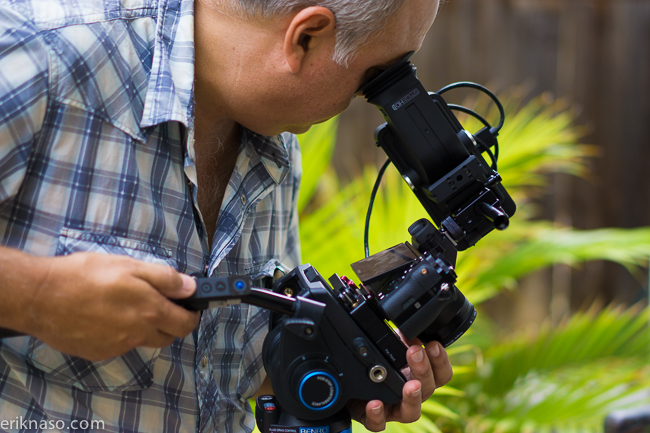 The Sidefinder comes with a cool little remote that pretty much does the same functions as the one that is on the monitor itself. I mounted it on my tripod handle so I could change screens when needed. Works great. You have to have it handy if you're in EVF mode since the Sidefinder covers the main controls on the 500 series monitor. It can also be used if you aren't using the Sidefinder too. I'm pretty sure SmallHD will offer it separate from the Sidefinder. It's a very handy remote to have. It can be a little touchy at times.
The EVF implementation is pretty clever and for the most part works very well. Putting a conventional loupe on a 5″ screen just wouldn't be as compact. Yes it's big but it's long and fairly thin and this allows the whole EVF to be mounted closer to the camera for handheld shooting on a rig.
I found making the image a little smaller was better for me. Less looking around. 31 was pretty comfortable. When you open the Sidefinder the image on screen goes back to full. Nice! Having the option to also have a very sharp 5″ monitor is a feature I like a lot and this configuration is much better than the DP4 and loupe. Worlds better. I did notice a strange ghosting on the left side of the screen. I think it's the image in the mirror reflecting back on the screen. I tried my best to shoot it but it's hard to get a lens into the viewfinder. Sample is in the video review.
With all the tools available on the 500 series you can get the shot but you have to be a little patient because flipping through screens isn't as fast as pressing one preset button. However if you have say three pages on the 502 set up with your favorite tools flipping back and forth is fast.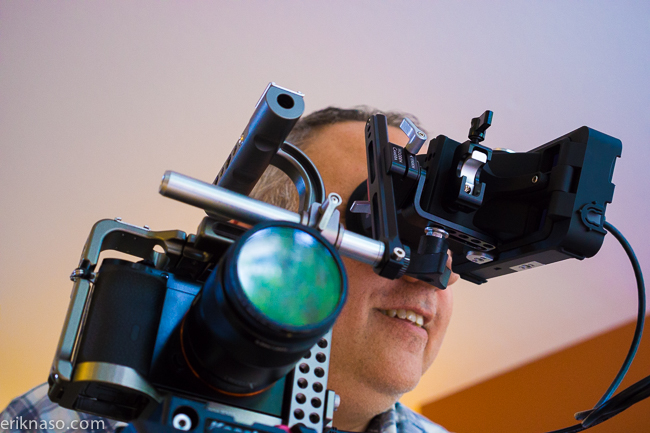 I have a Wooden Camera EVF mount and a Axis mini to test. Good news both work with the Sidefinder and this combo is really great if you have a 15mm rail connection on your rig that will get the EVF off to the side. If not you can always find a way with so many little hardware gadgets available. Plenty of options from Zacuto and Wooden Camera. Two of my favorite companies for all kinds of rigging needs.
Some Issues I have.
Mirror ghosting on the left side of the display. It looks like a reflection of the image. It's doesn't cover the screen but it's their and can be distracting. After some time I stopped noticing it and it's more visible when the image is reduced with black borders.
The Eyepiece coverage isn't wide enough for me and I can't wear my reading glasses when using it, also wish it was wider in general to prevent light leak. I had the same issues with the DP4 EVF.
The Sidefinder pulls off the magnates occasionally. It won't flop open but I think it needs to break in a little. The hinge is pretty tight.
Battery life indicator is inconsistent. Not sure why because my batteries have the Canon chip and work fine in Canon cameras.
I have a Wooden Camera EVF mount that I used with a Zacuto EVF Pro. Good news is it also works with the Sidefinder and this combo is really great if you have a 15mm rail connection on your rig that will get the EVF off to the side. If not you can always find ways. Plenty of options from Zacuto and Wooden Camera. Two of my favorite companies for all kinds of rigging needs.
Who should buy the Sidefinder?
If you already have a 500 series monitor then throwing $300 at a Sidefinder is a great idea. I like the versatility in having two products in one however, I'm in a catch because I really like the 502 monitor a little more than the Sidefinder. If I was more in the market for an EVF then I would say the Zacuto Gratical X is a better choice. It does one thing and does it extremely well but will cost you a few hundred more for the features. Tough call right?
Follow me on Twitter @eriknaso and check out my page on Facebook.
Thanks for coming by! Please help support my site by using the links on this page or bookmark these from my favorite retailers, B&H, Adorama, Zacuto, Amazon.com & Think Tank Photo. Using the links cost you nothing extra, but it helps offset the cost of running my blog. Thanks again for coming by eriknaso.com!
Filed in: Equipment Reviews • SmallHD
Tagged with: 500 Series • 502 • Axis Mini • EVF • Sidefinder • SmallHD • Viewfinder • wooden Camera • Xtender • Zacuto
I'm a broadcast DP In San Diego. I enjoy sharing what I'm working on and testing new equipment. This blog is also part of giving back. I've learned so much from so many people.