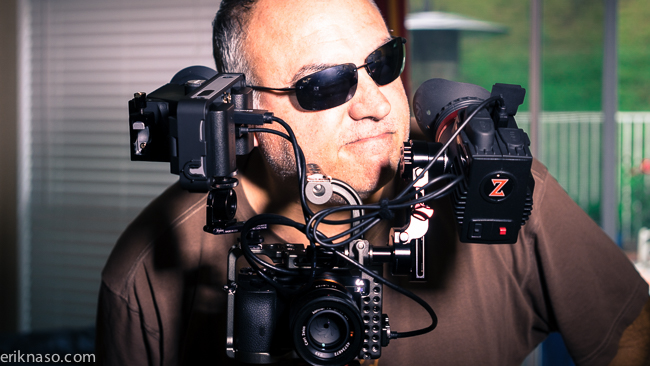 I don't usually if ever do a face-off of two products, but in this case I think it's interesting because both the Zacuto Gratical X and SmallHD Sidefinder have strengths that may or may not be what you need and I get asked a lot which one should I buy so this should help you decide. I hope. 😀
Here are a few of of the highlights for each EVF.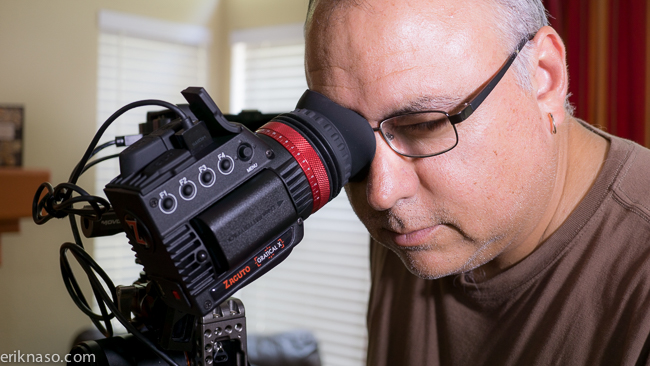 Gratical X Pros
Image Quality
It's a terrific viewfinder. The end. ha! Not really. The image inside the Gratical X is superb. It really is. The sharpness of the image is very good making focus a breeze even without the help of focus assist features.
Simple To Use
The Gratical is very easy to use and setup. Having the four presets on the side makes getting to the functions you like fast and easy.
Eyecup and Diopter
Both are very good. If you wear glasses you will love using the Gratical while wearing them.
Built to last
Solid feeling body that doesn't weigh much. Well balanced on the EVF mount.
Viewfinder Never Fogs Up
This thing is bullet proof to the dreaded viewfinder fog.
Sealed
No little dust bits get in. Stays clean since it doesn't open up like the Sidefinder.

Sidefinder 502 Pros
Versatility
The Sidefinder matched with the 502 monitor gives you both an EVF and on board 5″ monitor, and wow is the 502 excellent. It's the best I've used in it's class. Small, lightweight and packed with features and tools plus cross conversion with HDMI and SDI. It keeps getting better too with new free firmware updates. Check out my review here
Tools and Features
502 comes with a ton of features and SmallHD is continuing to add more and improve the product for free.
Battery Life.
Last longer with 2 batteries. You get around 4 hours.
The Image is Big
But can be scaled down too. Lots of viewing options and now with multiple scaleable tools and savable profiles. Now you can scale the image down and have tools around the smaller image. Pretty neat!
Fast start up time.
3 Second Boot Time. Blink and it's on.
Remote
It's not easy to pick! So this is how I see it.
If you really want the best EVF/viewfinder get the Gratical X or Gratical HD. It's the best viewfinder on the market. It's better than pretty much all on board and stock viewfinders available today. You cant go wrong. It has the tools you want and need but it will cost you. Most tools cost $95. LUT's are $200. Anamorphic $125. These add up so know what you want and try to stay under the cost of the HD or it's not worth it. Best to move to the Gratical HD model. I could live with the scopes and one or two focus assist features. Basically around $400 more.
If you need to get more for your money and need a monitor too then the SmallHD 502 with Sidefinder is an excellent choice. They work so well together. Mounting is very easy with mounting points on top and bottom and side but I have found the Sidefinder isn't as good as the 500 series monitor is on it's own. In other words I think the 502 is fricken awesome! I found some flaws with the Sidefinder. The lid pops off sometimes and it doesn't close easily.  The issue with a reflection from the mirror that gets on the left side of the screen does bothers me a little. The Sidefinder is better than the most on board EVF's so it gets the job done.
If you already have the 500 series then it's a no brainer for $300 to get the Sidefinder. You don't have to use it. It's very easy to take off and you have an option in your kit.
What you think? Are you on the fence on which one to buy? Have you decided? Here are my reviews on both the Gratical X and SmallHD Sidefinder.
Follow me on Twitter @eriknaso and check out my page on Facebook.
Thanks for coming by! Please help support my site by using the links on this page or bookmark these from my favorite retailers, B&H, Adorama, Zacuto, Amazon.com & Think Tank Photo. Using the links cost you nothing extra, but it helps offset the cost of running my blog. Thanks again for coming by eriknaso.com!
Filed in: Equipment Reviews • SmallHD • Zacuto
Tagged with: Gratical X • Sidefinder • SmallHD • Zacuto
I'm a broadcast DP In San Diego. I enjoy sharing what I'm working on and testing new equipment. This blog is also part of giving back. I've learned so much from so many people.