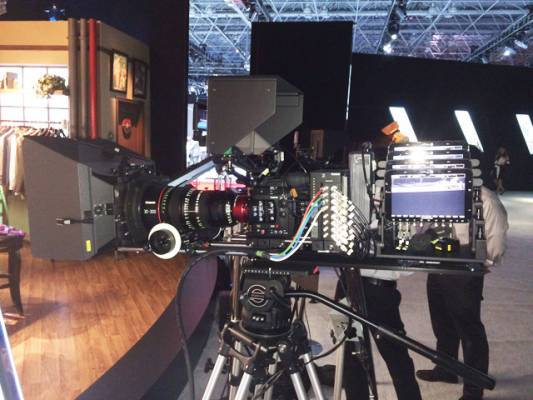 Yesterday Canon let the world know they are working on a 8K camera but today at the Canon EXPO in New York they have an actual working prototype on display outputting 8K to four Convergent Design Odyssey7Q monitor/recorders. WOW! Checkout how it's sending multiple streams to the recorders. I sure would have liked to see this!
From Convergent Design:
Today at the Canon EXPO 2015 in New York City, Canon unveiled a new prototype 8K Cinema EOS camera. Completing the camera system are four Convergent Design Odyssey7Q monitor/recorders, each capable of capturing Canon RAW or processing the data into video for recording in popular formats such as Apple ProRes. This proof of concept camera system illustrates the next generation for motion picture imaging and recording, and Convergent Design is proud to help lead the way with Canon.
Follow me on Twitter @eriknaso and check out my page on Facebook.
Thanks for coming by! Please help support my site by using the links on this page or bookmark these from my favorite retailers, B&H, Adorama, Zacuto, Amazon.com & Think Tank Photo. Using the links cost you nothing extra, but it helps offset the cost of running my blog. Thanks again for coming by eriknaso.com!
Filed in: 8K • Canon • Canon Cinema EOS • Convergent Design • Featured Post • New Release
Tagged with: 8K • Canon • Canon EXPO • Convergent Design • Odyssey7Q
I'm a broadcast DP In San Diego. I enjoy sharing what I'm working on and testing new equipment. This blog is also part of giving back. I've learned so much from so many people.