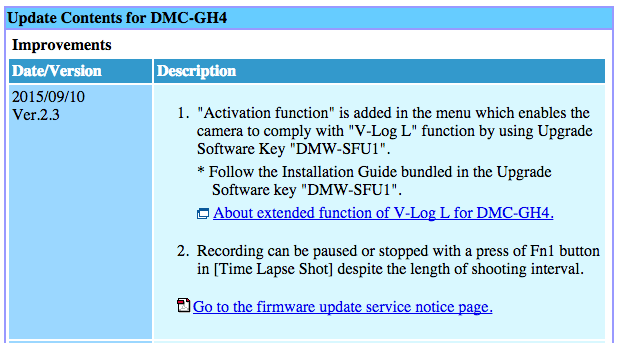 I decided to go ahead and purchase the V-Log L profile for my GH4 and give it test. The V2.3 firmware is already available to download and install. You can get it here.
I've used the GH4 for several broadcast promos and even did a three camera project with it. It has been a very good camera and even today after all the new Sony releases like the a7r II and a7s II the GH4 is still a bargain priced at $1395. It's half the price of those Sony cams. The only real issue I have with the GH4 is noise. For me it getting close to a deal breaker. The project I shot with them was part documentary style and lighting was an issue in some locations that I couldn't control or add large fixtures. Just no time for it unfortunately. ISO 800 and 1600 just don't look good. The noise dances a lot and it's not a grain I like to see. I'm not apposed to noise. It's actually part of the image but if it looks like digital garbage it bugs me. Enough said on that. Back to the V-Log L update.
So if I have issues with noise and the GH4 then why buy a Log profile for it? Because I have to see what's up with it of course 😀
After a lot of camera tweaking. Messing with profile settings and curves, Master Pedestal ect. I found that less is more and actually like the Natural profile the best now. No curves and crazy formulas anymore. It seems everything you tweak just adds noise and those curves destroy the image. Skin turns to smooth out plastic Yuck! Do yourself a favor and keep it simple with the GH4 and you will get great images under 800 ISO.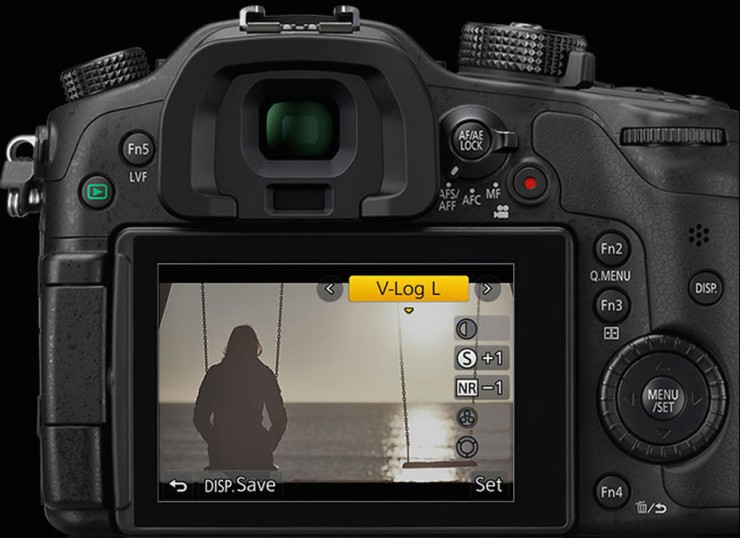 Hopefully V-Log L will give the camera new life. The base ISO is 400 when using V-Log L so hopefully it wont be to noisy, but I'm very interested in what ISO 800 and 1600 will look like.
I have seen some nice images so far and graded a few frame grabs too.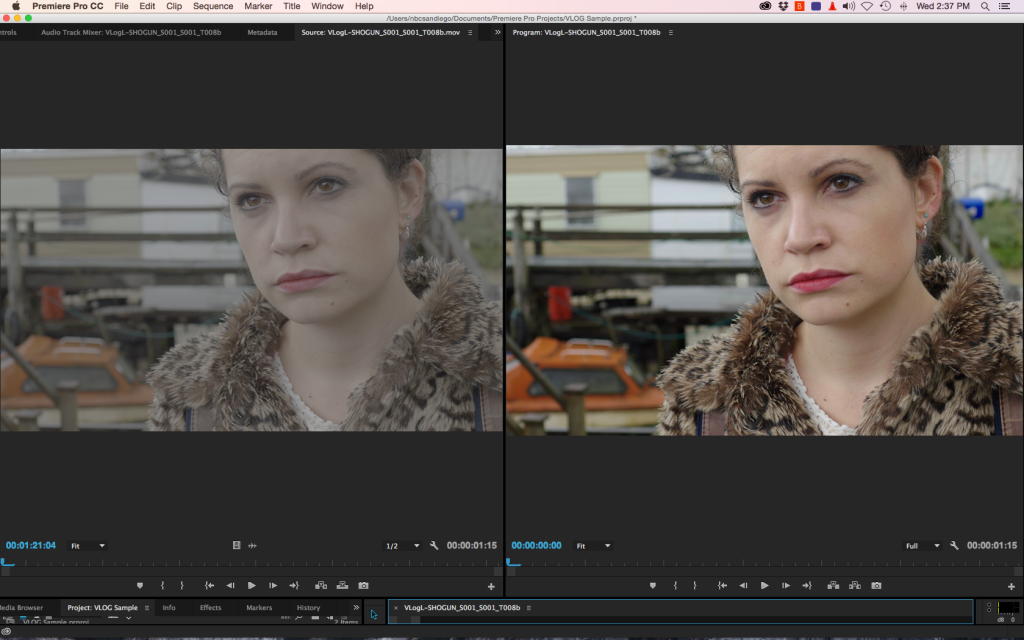 Panasonic recommends using the Varicam V-LOG V709 V35 LUT. This can be downloaded HERE. In Premiere Pro CC 2015 Lumertri Color Arri LUT works pretty well too.
Early reports of V Log L with the DVX200 have been mixed. The highlights apparently wont go over 100 IRE and this could give them a real sharp rolloff. A smooth rolloff is more filmic. I hate actually writing that but it's what we measure video to. How it will work with the GH4 will have to be seen but I think it's safe to say it will be similar.  As usual folks protect those highlights, and if you can use an EVF like the Zacuto Gratical or SmallHD 502 that has a waveform monitor.
A few things I'm looking for from V-Log L.
Better color
Lower noise
Higher dynamic range
Hopefully not noisier than Natural profile
Overall better image
V-Log L should arrive in the next week and the testing begins. It was a bold move on Panasonic's part to offer a paid update for $100 I think it's worth taking a small plunge.
Follow me on Twitter @eriknaso and check out my page on Facebook.
Thanks for coming by! Please help support my site by using the links on this page or bookmark these from my favorite retailers, B&H, Adorama, Zacuto, Amazon.com & Think Tank Photo. Using the links cost you nothing extra, but it helps offset the cost of running my blog. Thanks again for coming by eriknaso.com!
Filed in: 4K • Featured Post • GH4 • Micro Four Third Lenses • Micro Four Thirds • Mirrorless • New Release • Panasonic
Tagged with: Firmware Update • GH4 • LOG • Panasonic • V LOG L
I'm a broadcast DP In San Diego. I enjoy sharing what I'm working on and testing new equipment. This blog is also part of giving back. I've learned so much from so many people.