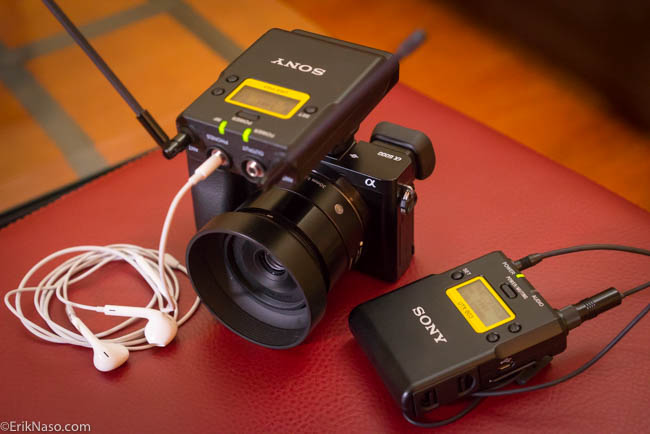 I love my Sony a6000! (now $500) It's been a great "take me everywhere" camera. It's really become my blogging camera too. I can fit it in a bag with my favorite Sigma 30mm f2.8 DN lens and i'm set for BTS shooting.
Yes it has it's faults but all cameras do right? With all the good news about the new Sony a6300  having an audio input (yes I want one!). I wanted to share a maybe less known feature of the original a6000.
I recently bought the Sony UWP-D Wireless system to go with my FS7 and a7s II. The kit also comes with a handheld brick for a stick mic or shotgun. What makes this system so great is how it interfaces with these cameras. With the SMAD-P3 Multi-Interface Shoe Adapter for an extra $50 you can attach the receiver wire free to the active hot shoe on all my Sony cameras. Yes even the a6000 has this active audio input built right in the hot shoe. The audio quality is very good and it works great!
On the FS7 I can assign it to say channel three and still have my main channels 1 and 2 open. On the a7sII I just slide it on the hot shoe and the audio is now going direct into the camera. I can control the levels in the menu. With the a6000 I don't have the same control as with the a7s II like no audio meters or a headphone jack but the receiver does have a headphone jack so I can check to make sure the signal is good and the levels going out are good. This makes the UWP-D wireless a fantastic tool in my kit.Another option is the XLR-K1M Adapter. It has a two XLR inputs as well as a shotgun mic. It connects the same way via the hot shoe of the camera. Unfortunately it doesn't have a headphone jack.
I like it when a product works with several devices and makes connectivity easier. A big win win!
Please signup for my newsletter! Follow me on Twitter @eriknaso and check out my page on Facebook.
Thanks for coming by! Please help support my site by using the links on this page or bookmark these from my favorite retailers, B&H, Adorama, Zacuto, Amazon.com & Think Tank Photo Using the links cost you nothing extra, but it helps offset the cost of running my blog. Thanks again for coming by eriknaso.com!
Interested in buying a new camera? Well I have a course on Lynda.com you should watch that will help you pick the right one for the job.

Filed in: a7RII • A7s • A7s II • Featured Post • FS5 • FS7 • FS7 • Mirrorless • Sony
Tagged with: A6000 • a6300 • a7s II • Sony UWP-D
I'm a broadcast DP In San Diego. I enjoy sharing what I'm working on and testing new equipment. This blog is also part of giving back. I've learned so much from so many people.