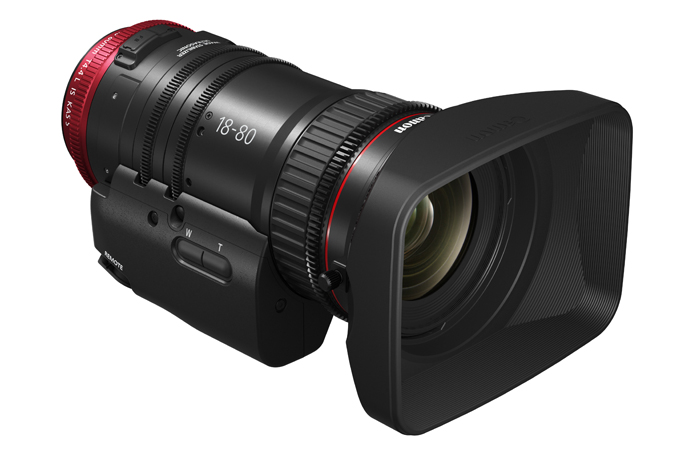 This is the lens I have wanted for a long time. The new Canon COMPACT-SERVO 18-80mm T4.4 EF-mount lens is basically like the 24-105 lens but in S35. That's a very good range for me. I use the 24-105 a lot with the C300 and the FS7 with an adapter. F4 or T4.4 hasn't been an issue at all. In fact it's a blessing since it keeps the weight of the lens down. The COMPACT-SERVO 18-80mm comes in at 2.7 lb. For comparison the Canon 70-200 f2.8 comes in at 3.28 lb.
Now Canon is getting into the compact Cine zoom game I can see more of these in the lineup. I'm not clear on pricing but it's supposed to be in the middle of "holy shit I can never afford it!" to "I might be able to get one if I sell my motorcycle." 😀
The retail price is set at $5225
A first in a cinema zoom is the addition of optical image stabilization. Yes! Thats a huge!
"Our first Cinema style lens that incorporates both an Image Stabilization function and Auto Focus function, the lens is also fully 4K-ready, with a high optical resolution and support for Super35mm large-format cameras. A 9-blade aperture diaphragm helps ensure an artistic and beautiful representation of out-of-focus areas (or "Bokeh"). The lens also features a 4.4x zoom magnification, a focal length range of 18mm to 80mm, and a 180º smooth rotating focus ring."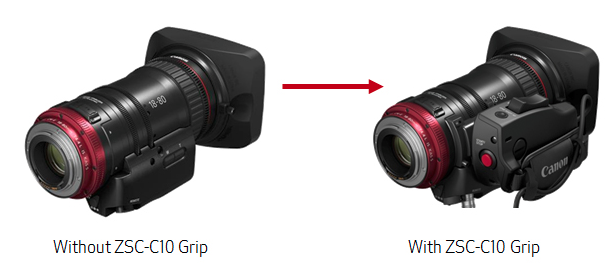 The COMPACT-SERVO 18-80mm T4.4 doesn't come with a zoom rocker so if you want to get the full capability of the optional ZSG-C10 grip is needed.
"Attaching the grip will allow the cinematographer to access a wide range of functions, including a button for one shot auto focus and to start/stop recording. An easily accessible rocker seesaw switch allows you to quickly zoom in or out on a subject. The grip can be also used even when detached from the lens, as long as the grip unit cable is attached to the lens drive unit. The new grip is sure to satisfy professionals with its high-level combination of functionality* and improved usability."
Broad Focal Length Coverage
Covering the commonly used focal length, 18mm to 80mm
Maintains focus throughout the zoom range
Performance that is stable across the entire zoom range
Brightness across the entire zoom range constant at T4.4 (equal to F4.0)
High Level 4K Optical Performance
Optical performance that is commensurate with 4K cameras with S35 format sensors
Same Color Characteristics as the existing Cinema Lens lines
Iris Mechanism for Motion Picture
Seamless Control Capability with iris ring
9-Blade Iris
Iris Closing
Auto Iris available*
Minimized Focus Breathing
Newly Developed Servo Drive Unit
Servo Control Capability for all zoom, focus and iris
Power provided via camera mount*
Compatible with broadcast style servo lens controllers
Optional ZSG-C10 Grip for shoulder mount applications
Compact (182.3mm in Length) and Lightweight (2.65 lbs.) for Increased Mobility and Versatility
Supports a Wide Range of Optional Accessories
Auto Focus Function*
Continuous AF
One-Shot AF
Focus Guide
Image Stabilization*
Other EF Functions*
Remote Control of Zoom, Focus and Iris via Camera
REC Start/Stop from ZSG-C10 Grip Unit
Peripheral Illumination Correction
Chromatic Aberration Correction
Lens Meta Data Record
T Number/F Number Display Select
Compatible with EF-mount Cameras only
*These functions are enabled with compatible EF-mount camera models only, including Canon's Cinema EOS C300 Mark II and EOS C100 Mark II.
The Canon 18-80mm out of the box is a proper workhouse zoom lens with the ability to give use a lot of the features we want in a cine lens and hopefully at a price that will make owning possible. I'm looking forward to check it out at NAB.
To learn more about the Canon Compact Servo Zoom 18-80 check out the website.
Please signup for my newsletter! Follow me on Twitter @eriknaso and check out my page on Facebook.
Thanks for coming by! Please help support my site by using the links on this page or bookmark these from my favorite retailers, B&H, Adorama, Zacuto, Amazon.com & Think Tank Photo. Using the links cost you nothing extra, but it helps offset the cost of running my blog. Thanks again for coming by eriknaso.com!
Filed in: C300 • Canon • Canon Cinema EOS • Featured Post
Tagged with: Canon • Cinema EOS • COMPACT-SERVO 18-80mm • S35
I'm a broadcast DP In San Diego. I enjoy sharing what I'm working on and testing new equipment. This blog is also part of giving back. I've learned so much from so many people.