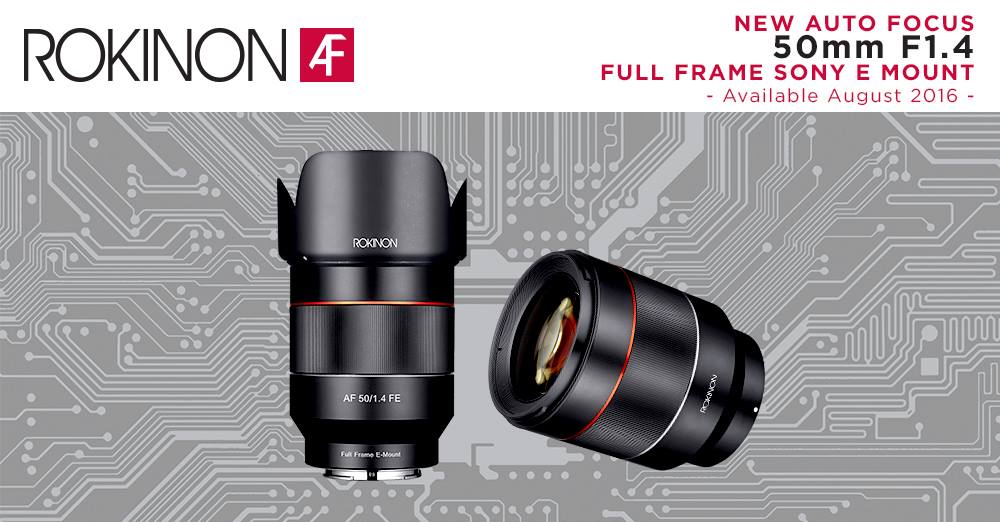 Just announced on Rokinon's Facebook page a new line of autofocus lenses in Sony E Mount. I think this is a great decision to go with the E Mount since we need more options. Well maybe not in the 50mm area. Almost to many in that focal length. Rokinon has really stepped up in the last year tackling cinema lenses and now moving into auto focus. This is hard tech to do for a third party lens company. Every camera has different protocols and making auto focus work isn't an easy thing to do. As for how the focus system will work? I'm not clear on that. Hopefully it won't be "focus by wire" and still have that manual focus feel when not in AF mode. Yes it's frustrating to shoot video with fully electronic lenses.
Very interested in trying out these new lenses. Pricing looks to be around $699.00.
The 50mm F1.4 will start shipping in August.
Please signup for my newsletter! Follow me on Twitter @eriknaso and Facebook and also check out my Youtube Channel.
Thanks for coming by! Please help support my site by using the links on this page or bookmark these from my favorite retailers, B&H, Adorama, Zacuto, Amazon.com & Think Tank Photo Using the links cost you nothing extra, but it helps offset the cost of running my blog. Thanks again for coming by eriknaso.com!
Filed in: 35mm Lens • a7RII • A7s • A7s II • Featured Post • Lenses • Mirrorless • New Release
Tagged with: E Mount • Rokinon • Sony
I'm a broadcast DP In San Diego. I enjoy sharing what I'm working on and testing new equipment. This blog is also part of giving back. I've learned so much from so many people.