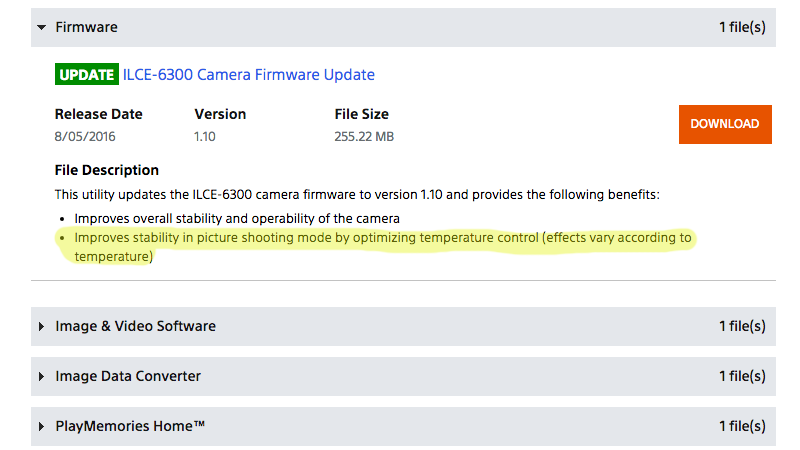 I had a feeling Sony would address the overheating issue with the a6300 and today looks to be the day. Firmware 1.10 is now available to download and install HERE.
Unfortunately I don't have my copy anymore. I just couldn't use the camera reliably for my type of work without having it overheat in UHD video mode. If you want to torture yourself you can read my insane attempts to fix the issue and all the testing I did HERE.
In this Vlog you can see my frustration, but also how great the camera is for gimbal use indoors. I just couldn't take the a6300 outside on a sunny day without it overheating and in the sun it would overheat just being on!
The 1.10 update states the following
This utility updates the ILCE-6300 camera firmware to version 1.10 and provides the following benefits:

Improves overall stability and operability of the camera
Improves stability in picture shooting mode by optimizing temperature control (effects vary according to temperature)
The second line states "Improves stability in picture shooting mode by optimizing temperature control" This does not address video overheating but I think the reason is Sony knows the camera will still overheat in certain conditions and it can't be 100% fixed but they could in stills mode. I didn't have overheating issues in HD mode.
Now wishful thinking has me hoping the overheating in UHD capture will be reduced to a point that makes the camera more consistent. I say consistent because I got some crazy inconsistent overheating issues. Sometimes it would run for hours without issues then in the same environment a day later it would overheat in 15 minutes. This type of inconsistent behaviour made it impossible to know when it was going to happen and how to avoid it from happening and that was really frustrating for me.
I wish I still had a a6300 to see if the 1.10 update helps with UHD video overheating but I'm going to have to rely on you folks for this one. If you had issues with overheating and updated please leave a comment on the results.
Please signup for my newsletter! Follow me on Twitter @eriknaso and Facebook and also check out my Youtube Channel.
Thanks for coming by! Please help support my site by using the links on this page or bookmark these from my favorite retailers, B&H, Adorama, Zacuto, Amazon.com & Think Tank Photo Using the links cost you nothing extra, but it helps offset the cost of running my blog. Thanks again for coming by eriknaso.com!
Filed in: a6300 • Camera News • Featured Post • Mirrorless • Sony
Tagged with: a6300 • ILCE-6300 • Mirrorless • overheating • Sony • UHD
I'm a broadcast DP In San Diego. I enjoy sharing what I'm working on and testing new equipment. This blog is also part of giving back. I've learned so much from so many people.