After a week long shoot at Lynda.com for my new video camera course I arrived back home to a surprise package from Aputure. The new VS-5 PRO 7″ SDI HDMI monitor.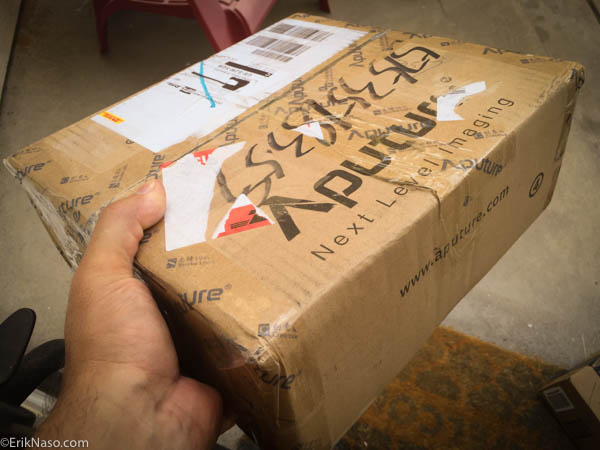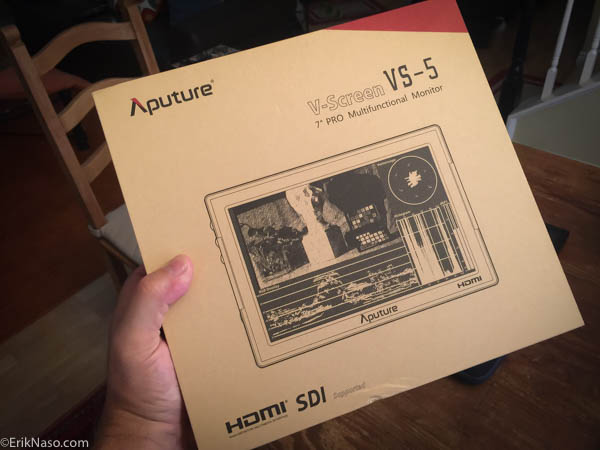 Now, I told myself I would take a few days off before I would jump back into the blog thing, but I just couldn't resist opening up the box! Oh I'm so weak when it comes to new toys! Okay I'll just open the box and have a look inside. You know see what it comes with. Oh smack! This thing is loaded. Okay. I'm doomed.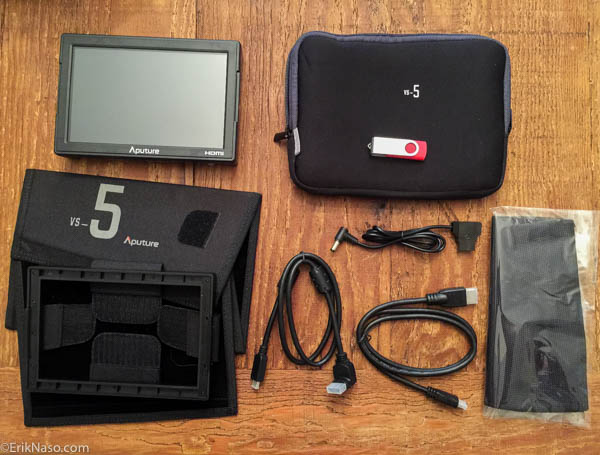 Let's take a look at this kit. Oh heck! the mini ball head is missing from the pic. oops! This won't be a full review for now, but a little preview and first impressions. I have to get it out in the field and use it to form my opinion, so hang on and let's check out what comes in the box and what I think so far.
First and foremost if you're not familiar with Aputure then let me fill you in on them. Aputure is a company that breaks the walls down on accessibility. They are the budget filmmakers best friend. I have tested a lot of Aputure products over the last couple of years and I use them in the field. My favorite is the Light Storm LS 1S. So great. Check out my review below.
Plus a great soft box solution too.
Aputure has so many products in a lot of different categories. All priced to help you the indie or low budget filmmaker get quality gear at a very affordable price.
The kit is loaded with cables. Even comes with a D-Tap cable option. The VS-5 Pro includes a ball head, but I think it's to small and doesn't hold the monitor very securely especially if the sun hood is attached. I prefer my Xtender 2-Shot to mount it to the hot shoe or a Manfrotto 492LCD micro ball head.
The long and hefty sun hood Velcro's to a frame that has two spring loaded clips so the hood just clicks on the monitor. This is a seriously long sun shade and works well in bright outdoor situations but it's so long two people can't use it at the same time comfortably. I'll take this option since I don't have a bright daylight monitor yet and this sun hood is about the best I've seen that comes packaged with a monitor.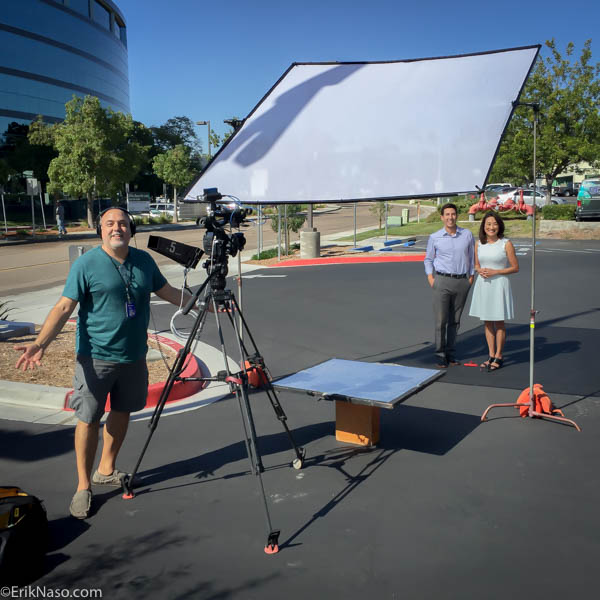 I had a shoot on a really bright 9am shoot and the sun was behind me. This sun hood worked so well I was thrilled! Now if I was moving the camera a lot I might slap some gaffer tape around the frame to make sure it doesn't fall off if bumped hard. Hey I love gaffer tape!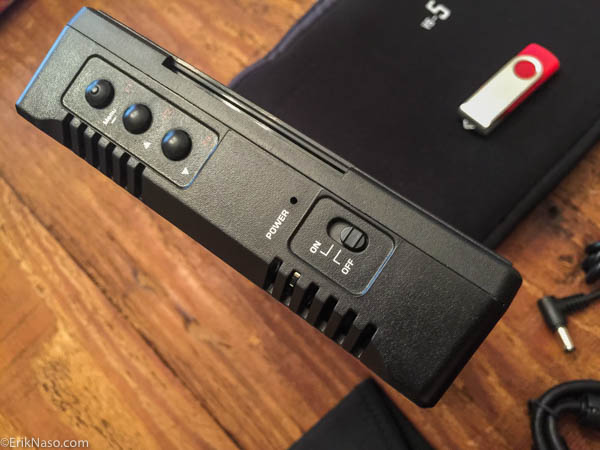 The controls are on the left side instead of the front like the VS-3. I found navigating the menu to be easy. You have several great options on the 3 available shortcuts and you can have 3 tools open at the same time if you really need to see what the image looks like. This is a nice option.
Below is the nitty gritty facts on the VS-5 Pro. 😀
HDMI and SDI Input
The VS-5 resolution is 1920 x 1200
Brightness of 450cd/m2.
Contrast is 1200:1
Viewing Angle 160/160 (H/V)
Pixel Pitch 0.07875(mm)X 0.078(mm)
Headphone Jack
Batteries used are the Sony NP-F Series (not included)
Firmware Updatable.
Feature rich too. Here are the tools available on the VS-5 Pro.
Full Info Mode
Waveform – Overlay or RGB Parade
Vectorscope – 1X and 2X
Co-Zebra
Peaking
False Color
RGB Histogram
Monochrome
Volume Bar
Safe Area – 2.35:1 / 1.33:1 / 1.66:1 / 1/85:1 / 70% / 80% / 90%
Flip
Color Temp – 6500k, 9300k and user custom.
Low Battery Alert
Three Assignable Shortcut Buttons
Waveform is available in RGB parade as well as overlay.
A nice added feature is a Vectorscope in 1X and 2X. Very cool.
The image is pretty good. I used the custom color setting to dial it in but the 6500k preset is good. I like to get the skin tone as close as possible so a little tweaking was in order. One thing I will say about the image is it's not a punchy contrasty image. I made some adjustment to the contrast and brightness but it doesn't change this. Reminds me of my Panasonic field monitor. The image is easy to focus with and the great included sun hood works very well outside. 
That's it for now. I'll have a full video review soon in the next 2 weeks as I use it more, but I can say I had a great experience with the VS-5 today outside and that is a big deal because I don't have a good solution for outside monitoring but that awesome sunshade wins the golden medal this morning.
Please signup for my newsletter! Follow me on Twitter @eriknaso and Facebook and also check out my Youtube Channel.
Thanks for coming by! Please help support my site by using the links on this page or bookmark these from my favorite retailers, B&H, Adorama, Zacuto, Amazon.com & Think Tank Photo Using the links cost you nothing extra, but it helps offset the cost of running my blog. Thanks again for coming by eriknaso.com!
Filed in: Aputure • Equipment Reviews • Featured Post
Tagged with: Aputure • Aputure VS-5 • Field Monitor • HDMI • ILED • ILED softbox • Light Storm • Light Storm LS 1S • LightStorm LS 1S • LS 1S • monitor • SDI • SmallHD • Softbox • VS-5 • VS-5 Pro 7"
I'm a broadcast DP In San Diego. I enjoy sharing what I'm working on and testing new equipment. This blog is also part of giving back. I've learned so much from so many people.