I'm a huge fan of Rode microphones. Great quality products at a very reasonable price. I just finished a little project this weekend. A Rode Mini Boompole with NTG4. I also added a K-tek coiled XLR cable inside the boompole. This is mainly for use on a stand for interviews as opposed to run & gun stuff.  I know many audio recordist don't like the cable inside the pole due to potential cable noise if it's knocking around but I have used this setup before with no issues and I believe since I'm not walking or moving the boom Pole around quickly this should be fine. I'm pretty pleased with my new compact setup and it didn't break the bank. If you prefer to have the cable wrapped around the pole Rode makes some clips for the pole to keep it from making noise. Either way also wear headphones when recording audio.
Rode Mini Boompole $129
Rode SM3 Shock Mount $49
NEW Rode  Rycote Lyre SM3-R Shock Mount $49
Rode NTG4 PLUS $369
K-Tek Coiled XLR Cable. 1.5′ Extends to 9′ $47.50
Then the SM3-R showed up and I had to give it a try. So nice! The SM3-R is the version for attaching to a hot shoe, but Rode being Rode made it with a 3/8 threaded receiver on the bottom so you can attach it to the end of a boompole. Very nice! The VideoMicPro also has this 3/8 threaded tap.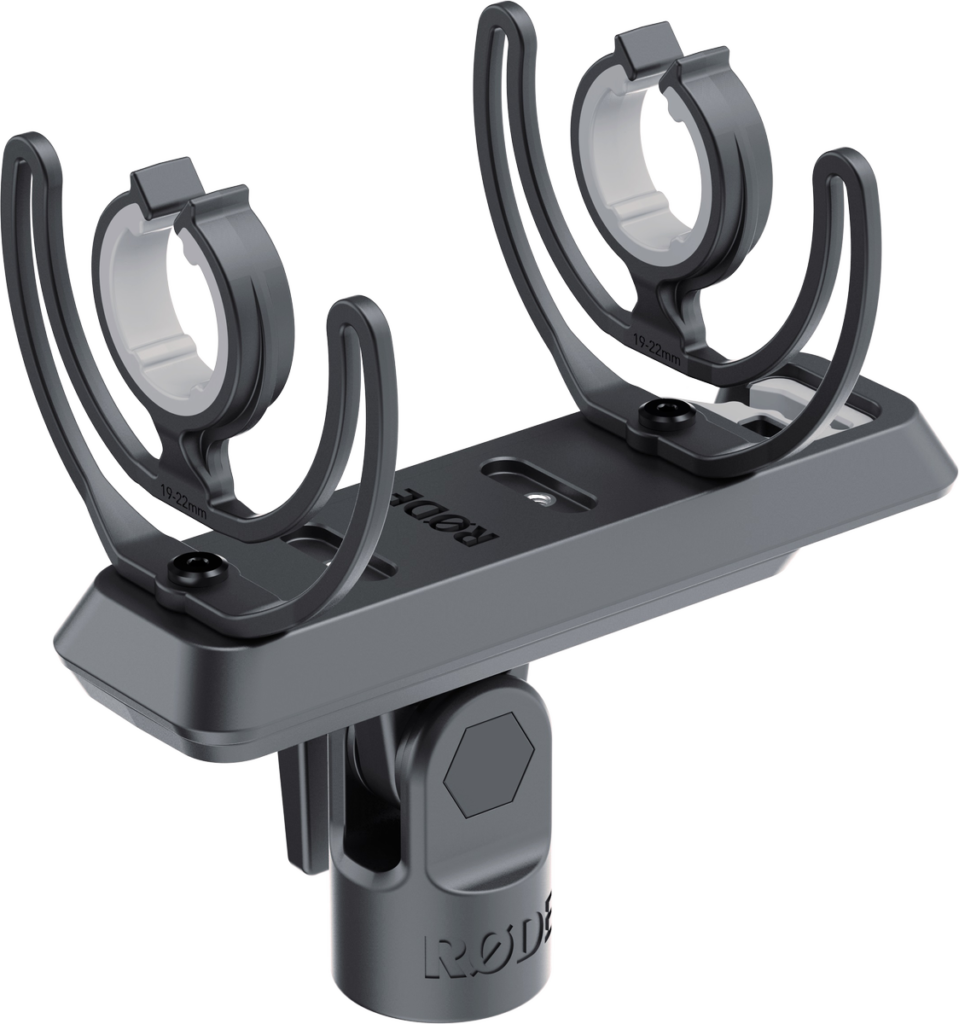 The SM4-R has a angle adjustable stand mount and can be locked into position to for sturdy and reliable mic positioning. I think I'm going to pick one of these up to put on the my Mini Boompole. Nice to be able to adjust the direction if needed.
The Rycote® Lyre® suspension systems are now available in these new models. The SM3-R, SM4-R, PG2-R Pistol Grip.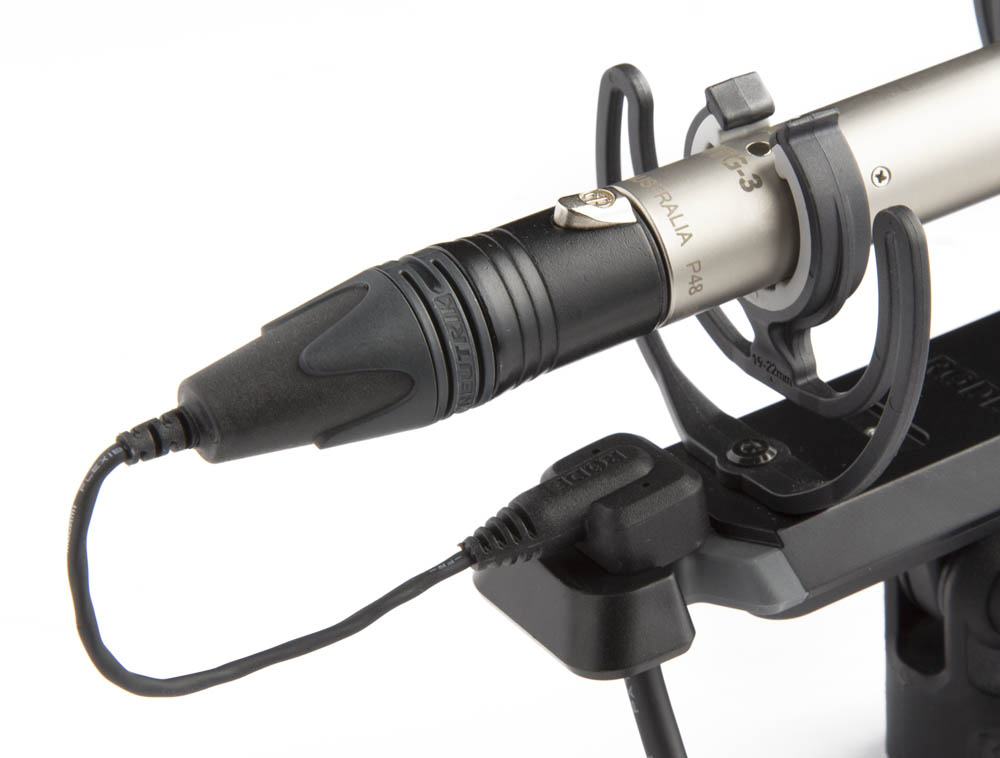 A cool add on is the PG2-R Pro Cable. This takes the strain off the cable connector by mounting and locking the cable into place. When this cable ships I think it's a good add-on to have for my Boompole setup.
RØDE Stereo VideoMic Pro now features the newe Rycote® Lyre® suspension system, which isolates the Stereo VideoMic Pro capsules and electronics from mechanical vibration and handling noise, preventing unwanted rumble and vibrations in recorded audio.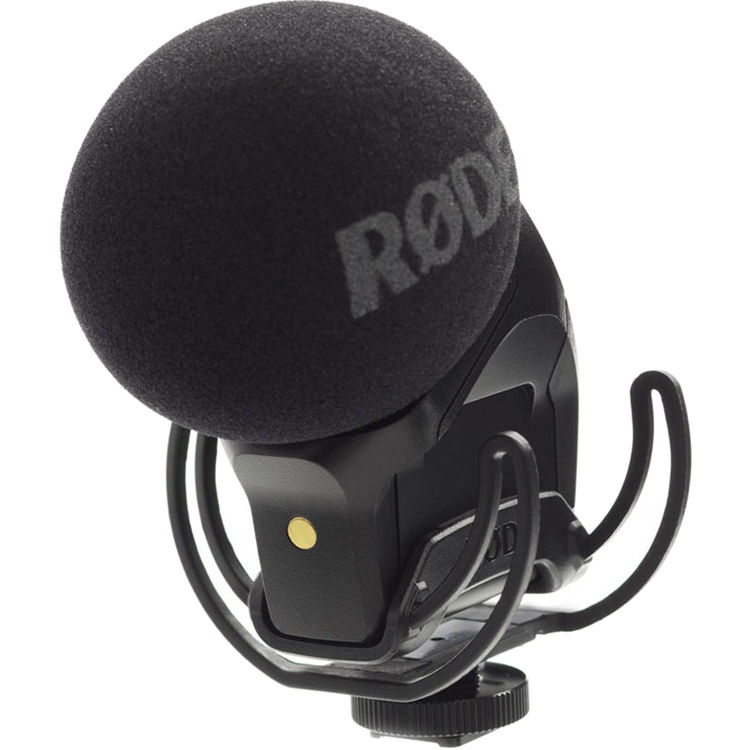 Completing the upgrade is an all-new matched pair of condenser capsules with an improved foam windshield, giving the new Stereo VideoMic Pro even higher sensitivity and lower self-noise. Also a thicker, Kevlar-reinforced braided cable has been introduced. These improvements allow the Stereo VideoMic Pro to be used in conjunction with the RØDELink Wireless System, or Wi-Fi heavy locations without fear of RF interference ruining critical audio takes.
Some really nice new shock mounts and the Stereo VideoMic Pro upgrades look great too. I'll have to pick one up to test it out soon.
Please signup for my newsletter! Follow me on Twitter @eriknaso and Facebook and also check out my Youtube Channel.
Thanks for coming by! Please help support my site by using the links on this page or bookmark these from my favorite retailers, B&H, Adorama, Zacuto, Amazon.com & Think Tank Photo Using the links cost you nothing extra, but it helps offset the cost of running my blog. Thanks again for coming by eriknaso.com!
Filed in: Audio • Featured Post • Rode
Tagged with: K-Tek Coiled XLR Cable • mic • Mini Boompole • NTG4 • PG2-R • PG2-R Pro Cable • Rode • Rode Mini Boompole $129 • Rode NTG4 PLUS • RØDE Stereo VideoMic Pro • RØDELink Wireless System • Shotgun Mic • SM3-R • SM4-R • VideoMicPro
I'm a broadcast DP In San Diego. I enjoy sharing what I'm working on and testing new equipment. This blog is also part of giving back. I've learned so much from so many people.