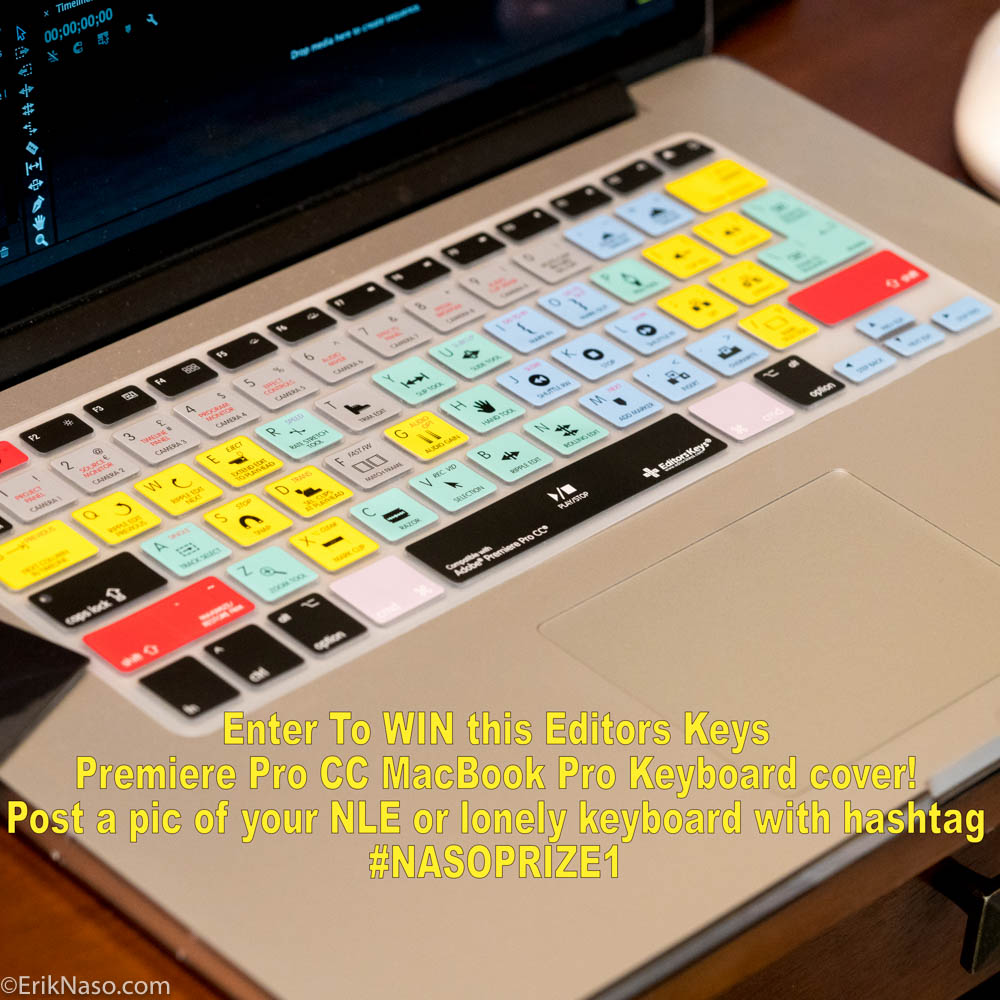 I've been using these wonderful Editors Keys keyboards covers for a few weeks and they are really nice. If you want to learn the Premiere Pro CC shortcuts fast these are a great way to do just that plus they keep your keyboard nice and clean and safe too. The silicon covers fit nice and snug and have a smooth feel to them. You do have to get used to having the covers on but after using them them for a bit they grip the keys.
The nice folks at Editors Keys sent me a few samples and well why not give them away! You like this idea? Want me to do a few more? Leave a comment below and let me know. I love giving stuff away!
Let's start out with a MacBook Pro model. retails for $29.85. And I'll pay the shipping!
To make it easy and a little fun I'm doing the giveaway on Instagram. Here's how to enter.
Follow me on Instagram. Done! But wait…. Double your odds by taking a picture of your NLE system or that lonely naked uncovered keyboard. Yikes! Or a fun shot of you in the edit bay! I don't care just have some fun and show me your an editor in need of a Editors Keys cover.
Use the hashtag #NASOPRIZE1 to enter. You can also tag me if you want. Might even give you an edge 😀 and don't forget to follow me on Instagram too!
That's it! I'll pick a winner Saturday Sept 10th at 5pm PST. So get those camera out and snap a pic and don't forget to use the hashtag #NASOPRIZE1 to enter. Good luck and see you on Instagram.
Please signup for my newsletter! Follow me on Twitter @eriknaso and Facebook and also check out my Youtube Channel.
Thanks for coming by! Please help support my site by using the links on this page or bookmark these from my favorite retailers, B&H, Adorama, Zacuto, Amazon.com & Think Tank Photo Using the links cost you nothing extra, but it helps offset the cost of running my blog. Thanks again for coming by eriknaso.com!
Filed in: Featured Post • Post Production • Premiere Pro
Tagged with: Editors Keys • Give Away • GIVEAWAY
I'm a broadcast DP In San Diego. I enjoy sharing what I'm working on and testing new equipment. This blog is also part of giving back. I've learned so much from so many people.