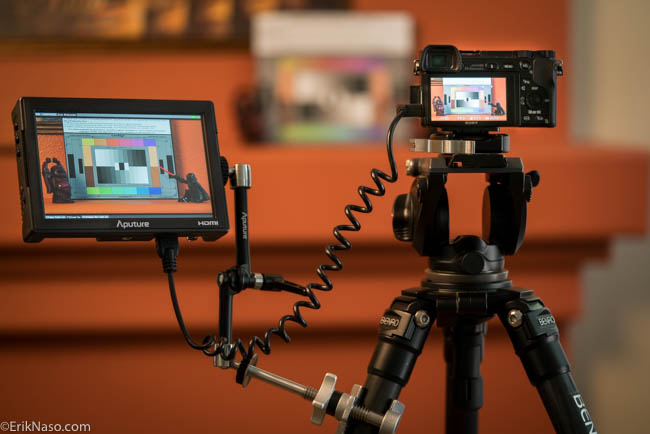 I've had the VS-5 Pro for a couple of weeks now and worked with it inside and outside with the Canon C300, Sony FS7, a6000, a6300  and Sony a7rii. All these cameras work without issues. The feature rich bargain priced 7″ VS-5 monitor delivers a lot for the price and the accessories are also impressive including a sun hood that is the best I've seen that comes included in a kit.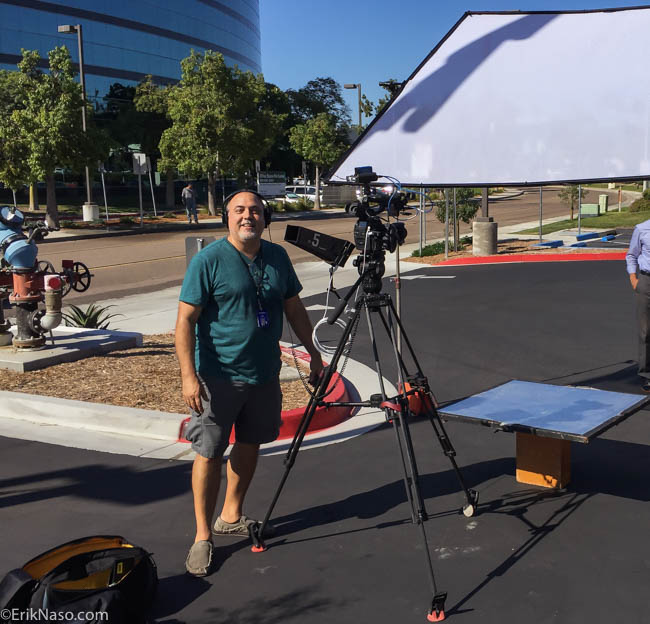 This was one of a few outdoor shoots I had and the sunshade really saved me. It's long at 10″and covers the monitor very well. I think it's made of plastic with a fabric cover. The hood has velcro tabs that fasten to a plastic frame. The frame clips on the monitor very easily with two spring loaded clips. Works really well but if you're moving quickly or bump it hard the hood can fall off. I've been using a Aputure A10 Magic Arm on a Mini Cardellini Clamp (MC) with 1/4 20″ tap on the end so I can attach the A10 Magic Arm. I added a large washer to the end to give the A10 mode surface to tighten down on. This worked very well as it hasn't come loose on me yet.  This gives me a great option on how I mount the monitor. On tripod legs or quickly clamp to a lightstand. It I can clamp it it will mount.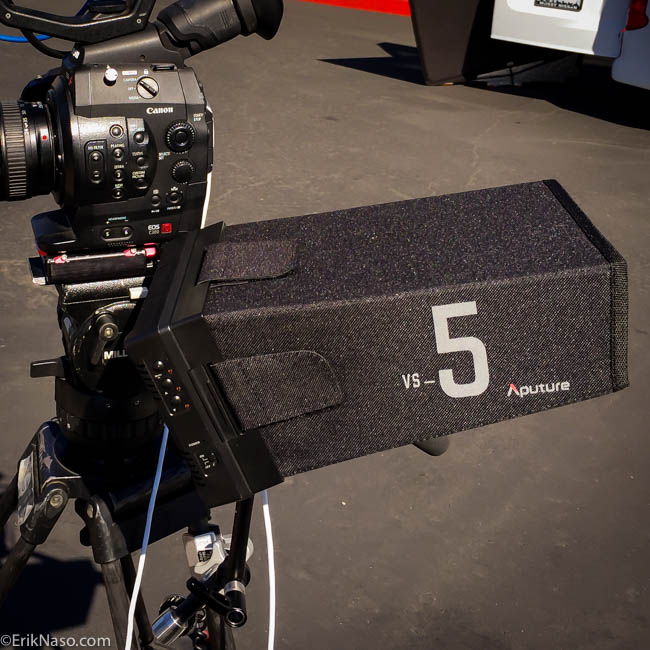 Having all the VS-5 menu function buttons on the left side makes accessing them while the sunshade is on easy.
The Monitor Body
The body is all plastic and that's fine really. I think I need to get over the fact that all things are not metal and that it's an issue. I'm not hard on gear and I don't break stuff. Yes milled aluminum is really nice and extremely strong but if you don't plan on driving your car over the VS-5 Pro I think the plastic body will hold up fine. The monitor is nice and light coming it at only 1.04 lb.
The monitor has a lot of vents to keep it cool. I never noticed it getting hot, but warm to the touch. No fans inside.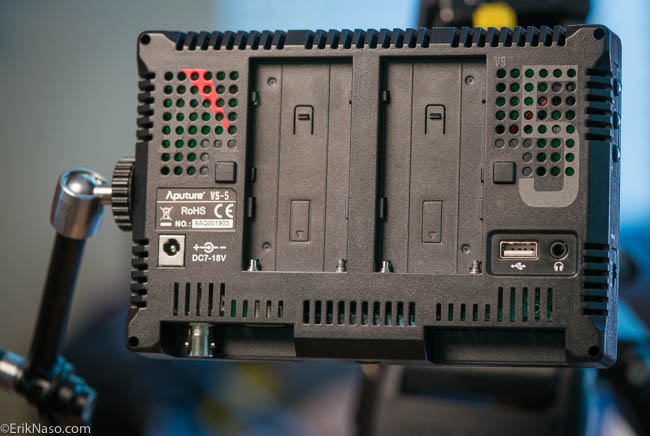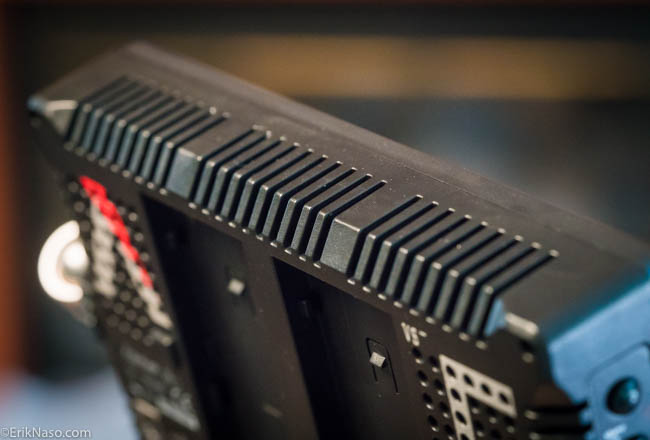 Battery and Powering
A very nice upgrade from former models is the battery docks. They have a spring loaded locking system. Press the button and the battery releases nice and smooth. Much better than the push in style that seems to not hold very well. I like this so much better.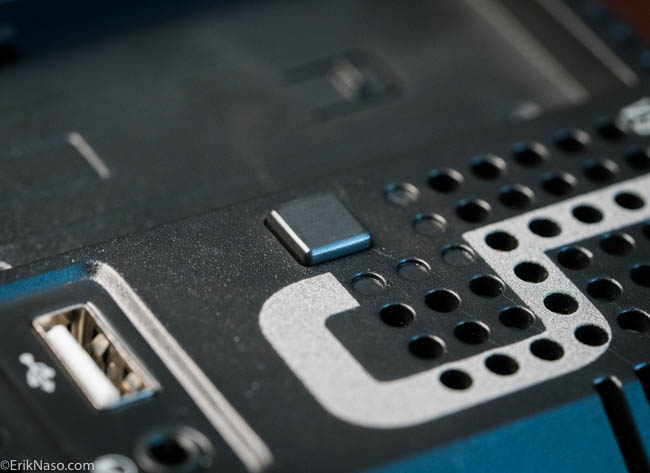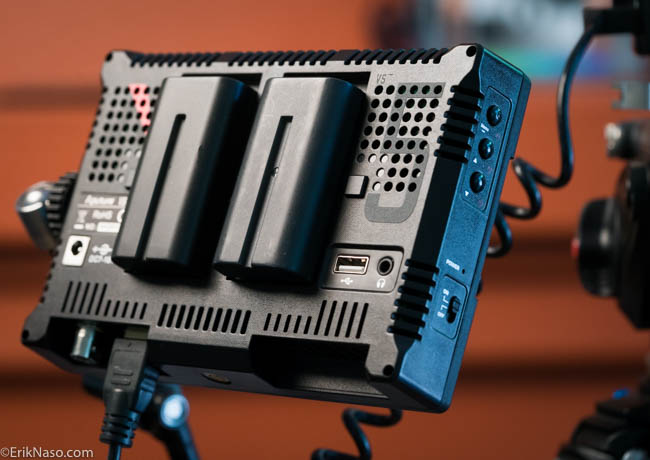 The VS-5 has two battery slots. It uses the Sony NP-F/FM/QM Series type batteries. I have several for other devices so luckily I didn't need to get more. I tested several different brands and they all work. I've had battery compatability issues with other Aputure products but the VS-5 doesn't have this problem.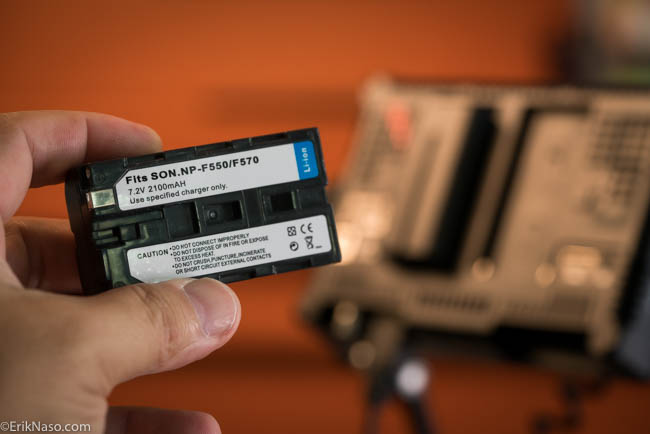 The VS-5 doesn't come with batteries so you need to get at least four and a charger for longer shoots. The Sony NP-F/FM/QM Series type come in different sizes and are available from Amazon and B&H. I got approximately one hour run time from one Kastar 7.4V 2900mAh 21.5Wh battery 
Since we're on the back of the VS-5 let's go over some of the other inputs.
Inputs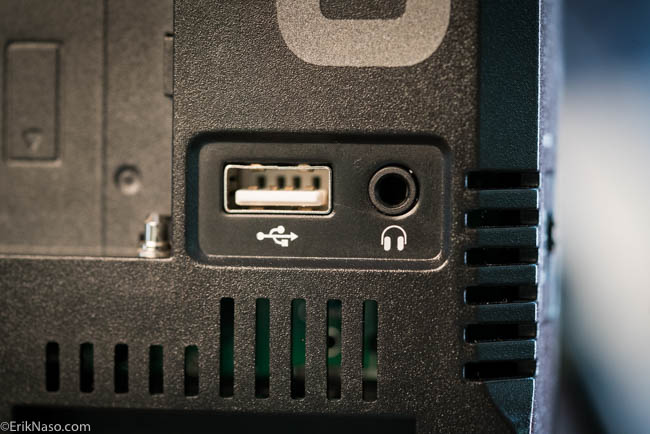 The monitor has a USB input for future firmware updates and a headphone jack.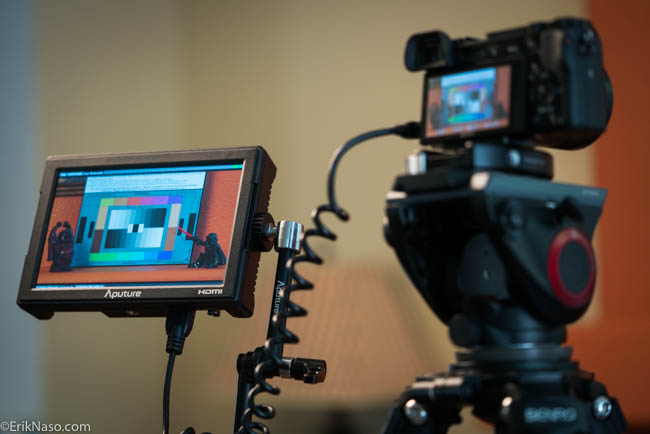 The headphone jack can come in handy when using cameras that don't have one like the Sony a6300.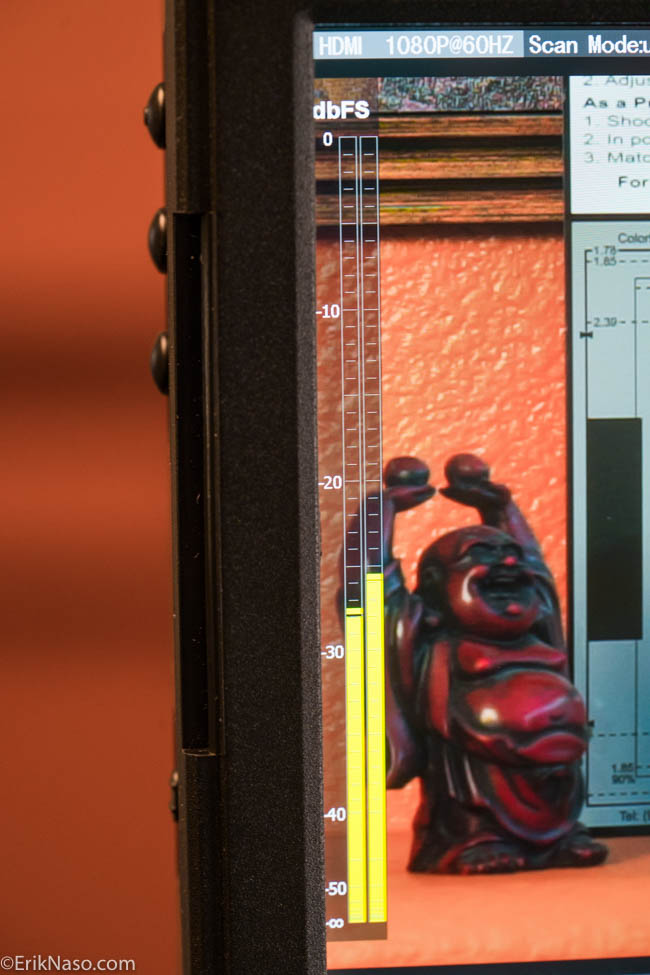 Another great way to monitor your audio is with the Volume Levels function so you can see as well as hear the levels. The Levels can be assigned to one of three shortcuts.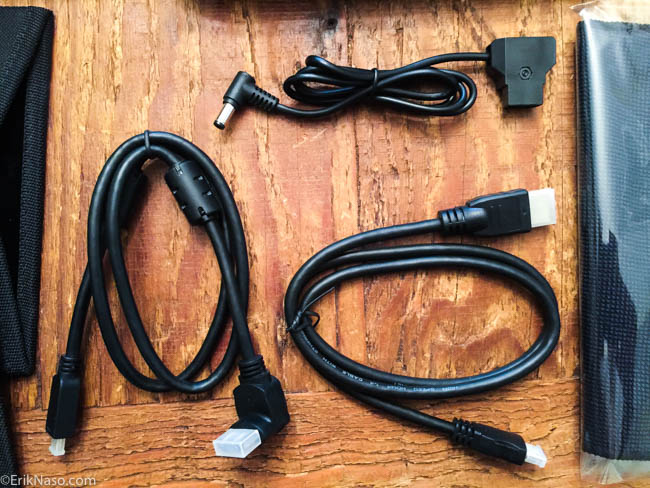 If you want to use a D-Tap on a large battery you have a supplied cable that plugs into the DC 7-18v input. No AC power supply is included. It does come with 2 HDMI cables as well.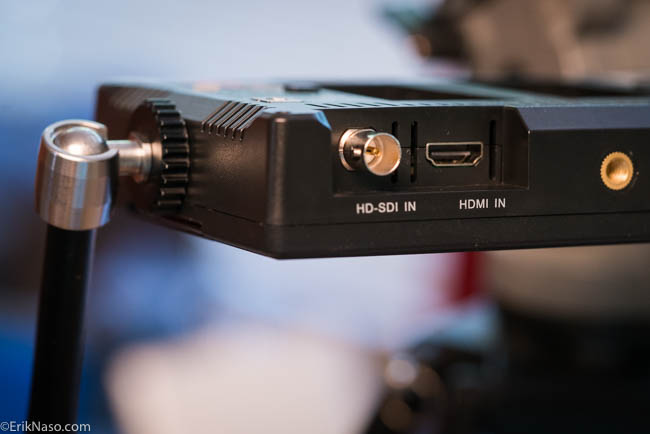 The VS-5 has two 1/4 20 taps. One on the bottom and one on the side. The HD-SDI and HDMI video inputs are on the bottom of the monitor. I like this because it doesn't add any strain to the connector like it could if it's on the back.
One feature that has been removed from the prototype is the two way input/output from SDI and HDMI. For example if you are using SDI in you can't output the signal with the HDMI. This would have been a really great feature to have with my FS7 and C300 to daisy chain to another monitor.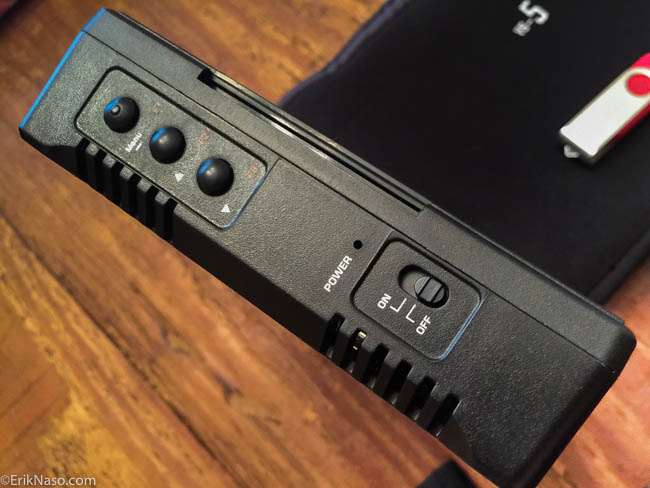 Menus System and Presets
On the left side you have the power button and three menu buttons that are also customizable Feature Buttons. Menu F1, F2, F3.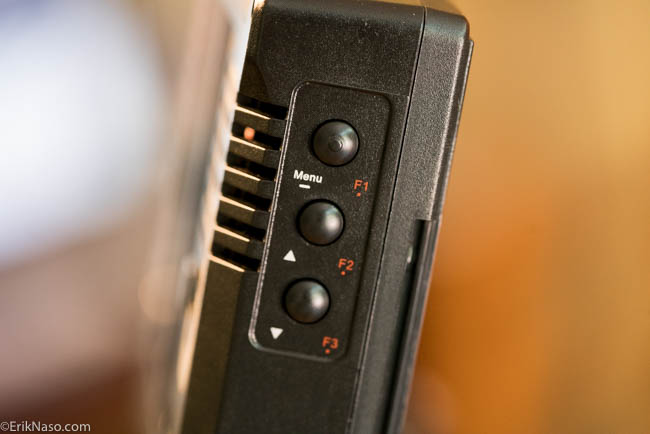 To access the main menu you hold the Menu button down for a couple seconds and then navigate the menu with the buttons F2 and F3 then select by hitting F1 again. I hate most menus and this one is easy. When open you have a lot of options with sub menus.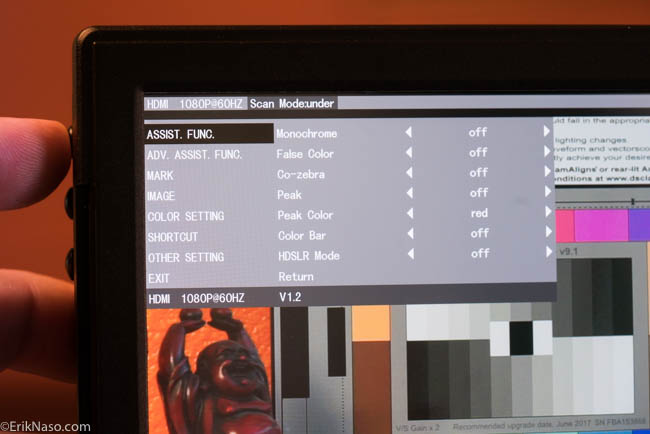 The F1 and F2 two are up and down controls when navigating the menu. When you find a function you want to change you press the Menu or F1 button to select then use the up and down to make setting changes. It takes a little getting used to but it's very easy to navigate and setup your monitor and tools to the three preset F1, F2 and F3 buttons. The VS-5 is loaded with pro video assist tools.
VS-5 Pro Features
Full Info Mode
Zoom In 2x, 3x, 5x
Waveform – Overlay or RGB Parade
Vectorscope – 1X and 2X
Co-Zebra
Peaking
False Color
RGB Histogram
Monochrome
Volume Bar
Safe Area – 2.35:1 / 1.33:1 / 1.66:1 / 1/85:1 / 70% / 80% / 90%
Flip
Color Temp – 6500k, 9300k and user custom.
Low Battery Alert
Three Assignable Shortcut Buttons
Video Assist Tools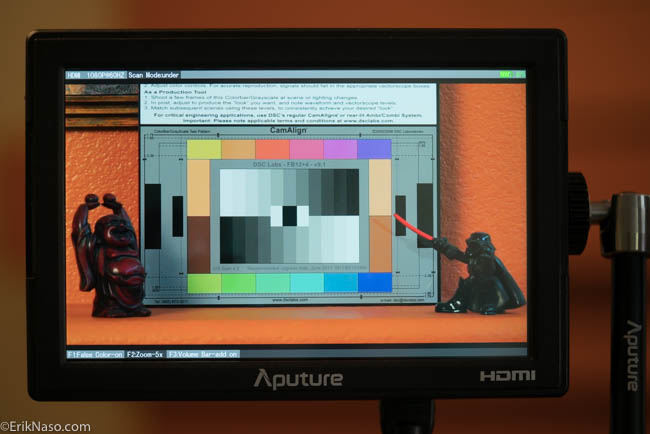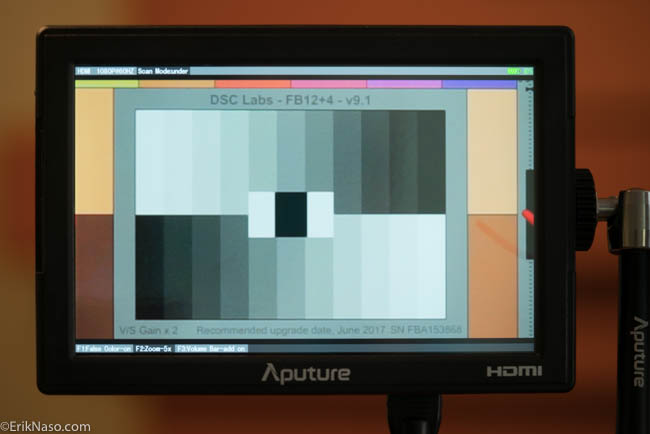 Certain tools that have multi functions like the Zoom in rate, or Co-Zebra that has three IRE levels. 70, 80 and 90%. You can assign two of the three but not all three. Waveform has 2 options. RGB Parade and Overlay. Focus Zoom has three levels of zoom. 2x, 3x and 5x. I like mine just set at 5X only. The image does get a tad soft when zoomed in but it's very usable for critical focusing.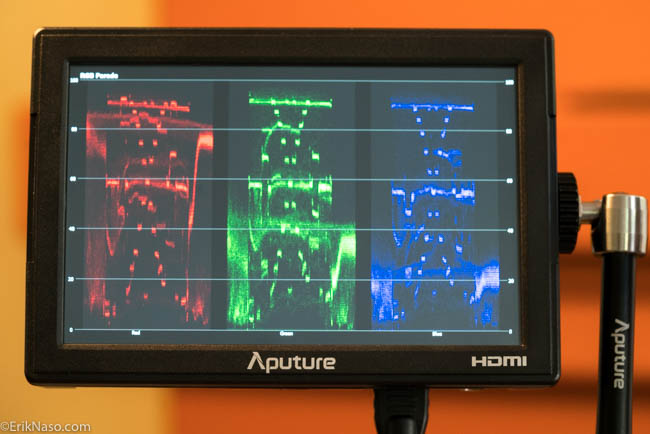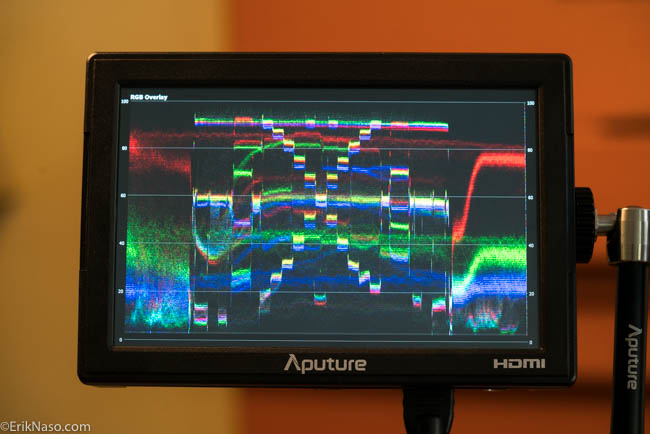 A favorite tool is the Waveform monitor available in RGB parade as well as overlay in on preset by pressing twice. NICE! Or just have one for faster on off action. I do wish I could have the option to see the Waveform in the corner as well as full screen. As of now the Vectorscope and Waveform both go full screen only.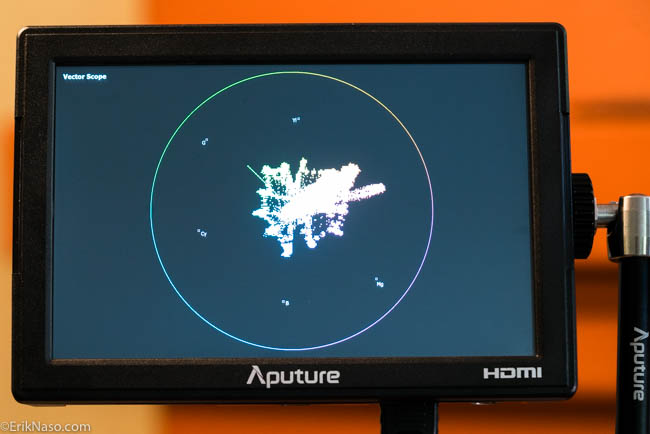 A nice added pro feature is a Vectorscope in 1X and 2X. Yes you can use one preset for both views. Very cool.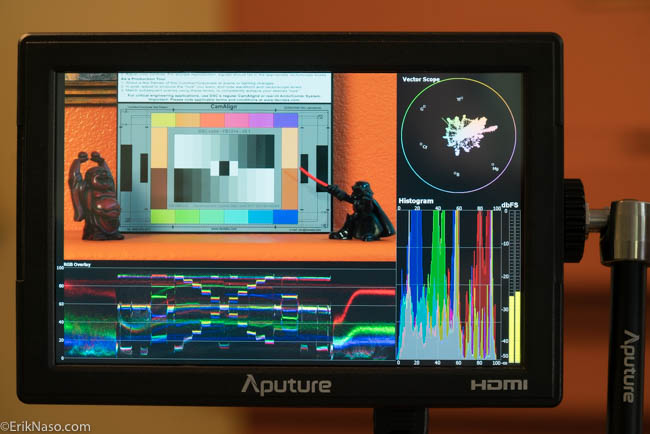 This one is cool. Multi-View. It has several tools on but still has the full image only resized around all four of them. Multi-View can't be changed. The layout is fixed with Vectorscope, Waveform RGB Overlay, Histogram and Audio Levels.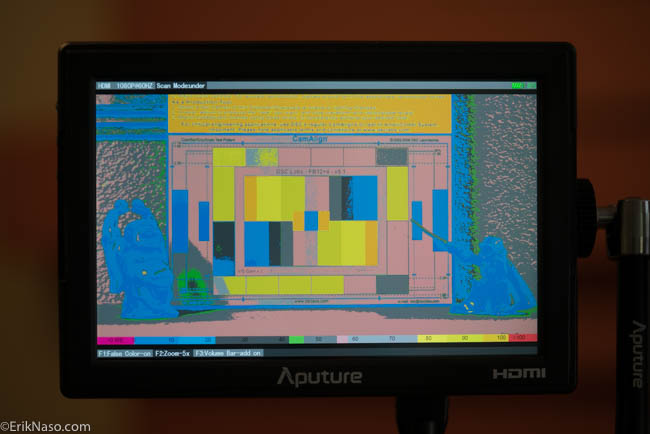 False color is great. I've been using it more lately and it 's very handy plus it freaks out the producers on set. Hey! We have to have our fun too right? The color scale for IRE is easy to see and the colors are really popping!
As you can see the VS-5 Pro 7″ is loaded with pro tools to help you get the shot in focus and exposed right. This is really great to see in a sub $500 monitor. A true pro tool for the indi or no budget filmmaker, or heck a guy that just needs an extra monitor on set or to put on a Movi or other camera support.
Now let's take a look at all the goodies the VS-5 is packed with.
In The Box
Aputure VS-5 V-Screen 7″ PRO Multifunctional Monitor
HDMI Cable (A to C Type)
HDMI Cable (A to D Type)
D-Tap Cable
USB Flash Drive
Shoe Mount
Sun Hood
Sun Hood Adapter
Cleaning Cloth
Flexible Carrying Bag
Limited 1-Year Warranty
The VS-5 Specifications
IPS Panel 1920 x 1200
HDMI and SDI Input
Brightness of 450cd/m2.
Contrast is 1200:1
Viewing Angle 160/160 (H/V)
Pixel Pitch 0.07875(mm)X 0.078(mm)
Headphone Jack
Batteries used are the Sony NP-F Series (not included)
Firmware Updatable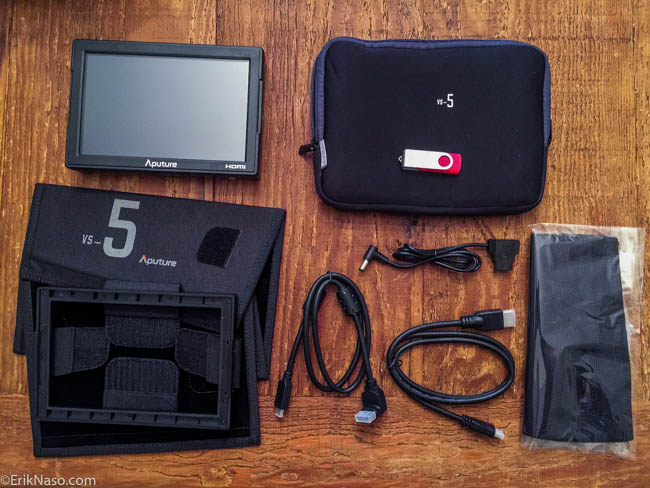 The VS-5 has a so many pro tools available for a monitor that cost $499 it really is great. Plus being able to save three of the ones you like the most as presets is fantastic. As I mentioned you have F1, F2 and F3 on the side to save to.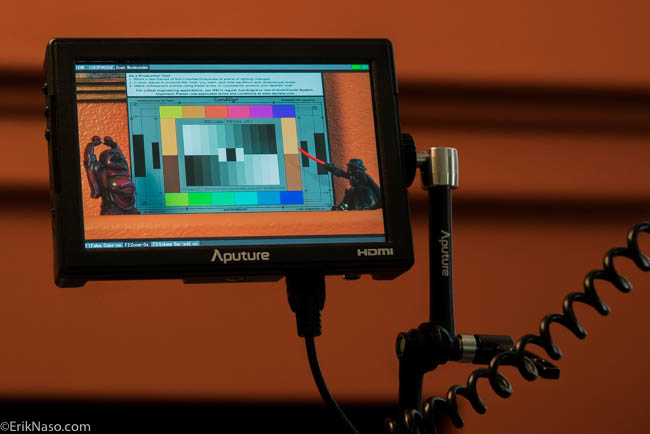 Screen
The image isn't punchy, and I tried to see if I could make it more so, but it's not possible. It's not a bad thing just different than other monitors I have used. The image is sharp with the 1920 x 1200 resolution and 0.07875 x 0.07875 mm pixel pitch. The Zoom function works well. With most monitors that are not super bright models the VS-5 isn't super bright for outdoors at 450 cd/m2  with 1200:1 Contrast Ratio. It works great for all indoors shooting and remember that Sunhood?
The VS-5 screen has a glossy front cover. I would like to get a screen protector for it but Aperture does not offer one and the VS-5 doesn't have a way to install a solid clear plastic type to the front. The self adhering generic version could work if you cut it just right.
Using the VS-5 is easy. I had no issues with it. Just plug in your camera and go. With the smaller batteries I got about an hour of run time so two would give you a couple of hours of solid monitoring. The viewing angle is good so you don't have to be square to it to see. The monitor can't take a 4K signal so you need to change the output settings on your camera to HD in order to use the monitor. Most cameras have this function and is an easy setup.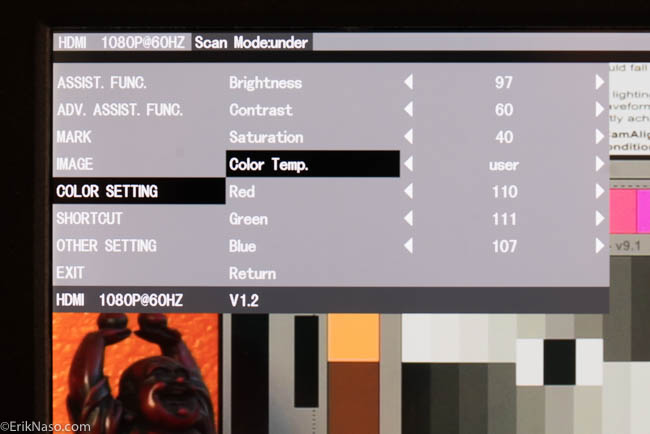 Color
Out of the box I found the presets to be okay. The 6500K option is better but still I had to do some adjustments to get it close to what my other monitors look like and the good news is it can be done. Under Color Temp I used the "USER" Function and dialed in what I think was more accurate. In fact I was able to pretty much match my FS7, a7rii, SmallHD 502, 702 and Odyssey 7Q+. Not bad! Some monitors are just not able to calibrate very well but the VS-5 Pro can be adjusted. I do think we will see improvements with firmware updates to get the two presets more accurate. It helps if you understand how to make these type of adjustments or you will just make yourself crazy trying. Best to have a color chip chart of some kind to help.
The VS-5 also handles blown out highlights much better than previous models. The areas that are well over 100 IRE don't bleed as much so detail is better around the blown out areas.
One bummer…. Delay is an issue.
The only issues I have with the VS-5 is the playback has a delay and it's pretty hard to get used to when you have talent doing on camera dialogue and the lips are way off as you are watching. It's very distracting plus my producer was annoyed with it to the point that she didn't want look at the monitor and used the FS7 LCD. Oops. I hope this can be fixed in a firmware update of some kind.
UPDATE
New V1.4 firmware was released that decreases the latency by about half. It helps a lot but is still present. I found that when shooting b-roll you don't notice the lag anymore however with interviews or people talking to camera it's still noticeable. Aputure stated they are still working on improving the latency. Updating the firmware is very easy using the supplied USB flash drive and downloading the update.
Firmware Updating:
Download the desired firmware and decompress file to the USB stick accompanied with VS-5 monitor.

Insert USB disk to the monitor's USB port first, then connect the power monitor (7.2V lithium battery or 12V power adapter is available.)

Turn on VS-5 monitor, the power switch indicator flashes green, about 45S after the light turns green steady, indicating that the upgrade is complete.

Turn the power switch to OFF , unplug the USB disk and then slide the power switch to ON , after about 6S monitor boot into the menu to view the current software version number (Vx.x).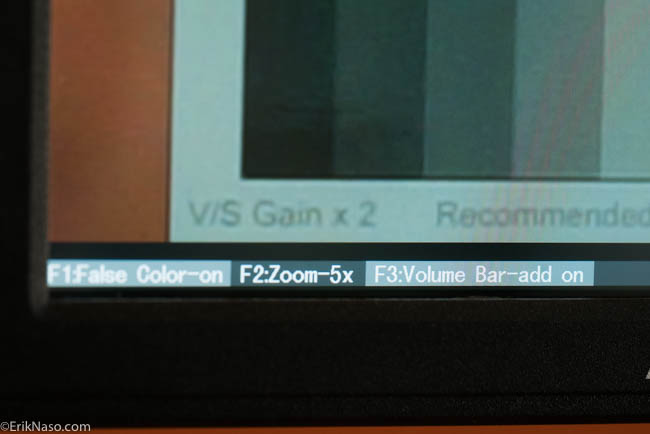 Another little quirk is the menu overlay bars on top and bottom will disappear and reappear every few minutes. I think it's a bug and could be fixed with an update. The image on the screen isn't affected.
The Aputure VS-5 Pro 7″ monitor is an insanely good deal at $499 with all the powerful pro tools onboard plus it has an SDI input! Rare for a monitor in this price class. Add in the supplied cables, and oh… did I mention that awesome sun shade? 😀
The monitor is really easy to calibrate to get a great representation of the scene and match other cameras LCD screens for continuity. Having 2 battery slots that have secure locking options are very cool and gives you long run times. It would've been nice to have an AC power supply with the kit and a better mini ball head that I won't use.
All in all I think the VS-5 Pro monitor is the best one Aputure has released to date. Nicely done!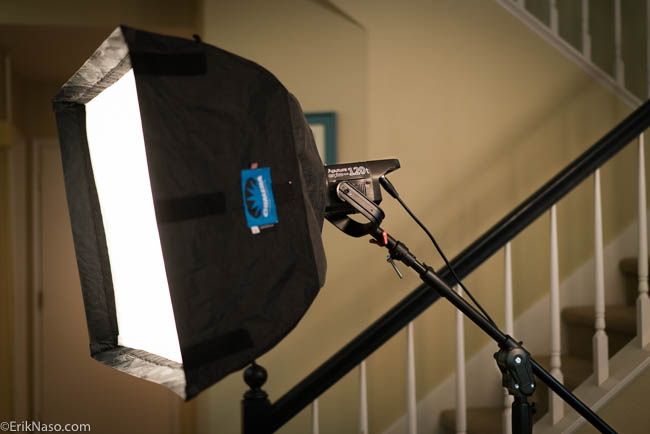 On a side note. I used the Aputure COB 120t with a Chimera Soft Box attached to a Bowens Mount speedring for all the still pictures. Really nice soft light. Yes I know I'm late on the review but I promise I'll get it done! 😀
Interested in picking one up please help support my site by useing these links.
B&H
Amazon.com
Please signup for my newsletter! Follow me on Twitter @eriknaso and Facebook and also check out my Youtube Channel.
Thanks for coming by! Please help support my site by using the links on this page or bookmark these from my favorite retailers, B&H, Adorama, Zacuto, Amazon.com & Think Tank Photo Using the links cost you nothing extra, but it helps offset the cost of running my blog. Thanks again for coming by eriknaso.com!
Filed in: Aputure • Equipment Reviews • Featured Post • Production
Tagged with: Aputure VS-5 Pro • monitor • Production monitor • VS-5 Pro • VS-5 Pro 7"
I'm a broadcast DP In San Diego. I enjoy sharing what I'm working on and testing new equipment. This blog is also part of giving back. I've learned so much from so many people.