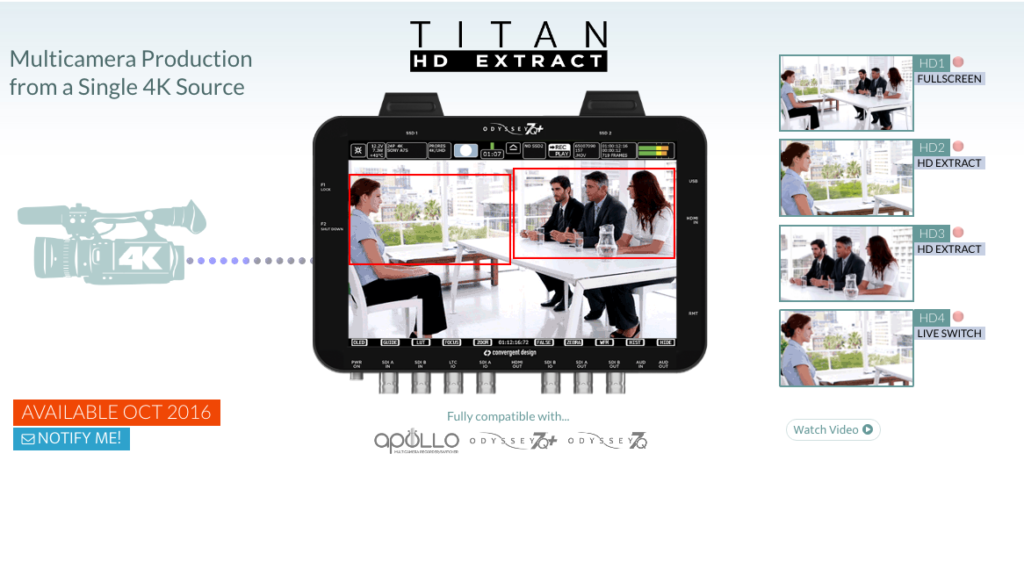 I shoot in 4K a lot but I edit and deliver in HD. I like to reframe interviews or shots in post. It's nice to be able to do this. Well now you can do the same thing only live to the Odyssey and Apollo monitor/recorders! So cool. Here's how it works. Titan uses one 4K camera to create three HD video signals.  One frame is a SuperSample of the full image area and two are windows selected from within the original input.  These windows can be panned smoothly through the 4K field and the three angles can be Live-Switched.  All four HD signals can be recorded simultaneously in Apple ProRes with matching timecode and file names.
Shoot a two-subject interview using one camera and Titan and record a Live-Switch of a two-shot plus separate close-ups. 
Record a panel presentation with a wide master plus a single on the moderator and another of the panel, all from one camera. 
Cover a House of Worship service with a shot of the clergyman, another of the chorus, and a wide view of them all – done with the modest investment of one camera and Titan.
With Titan and a single installed camera capture an entire football field from the 50 yard line, plus follow a player as he runs the course of the field.
Eliminate the render time of reframing in post.  Deliver edited content as well as the complete separate angles to your client at the end of the shoot.  Shoot a multi-cam job with a kit you can fit in a single backpack.
Titan accepts 4K video signals over HDMI and SDI (original Odyssey7Q limited to 3G-SDI).  Titan also accepts 4K RAW data from the Sony FS5, FS7 & FS700 cameras. Live-Switching is available as cuts and dissolves, and an Edit Decision List is generated as an .EDL file for conforming an edit in post.
Titan is an option for the Odyssey7Q+, Odyssey7Q and Apollo monitor/recorders.  Other options (Odyssey RAW Bundle or Apollo) are not required for Titan.
Titan list price is $1295, but Convergent Design will offer Titan for a limited time at an introductory price of just $995. Titan is expected to be available around the beginning of October.
How cool is that! If you do a lot of talking heads Titan will be a great option. Having the punch in already framed up and ready to edit in ProRes is fantastic and a real time saver. For me I can see shooting my video reviews with Titan. Frame myself up loose and have 2 extra shots that are framed up and ready. I like that you can pan the shot and reframe it the way you want. Not just a punch in. This is very powerful.
It's really remarkable how much power was built into the Odyssey recorders. Convergent Design keeps coming up with very useful and unique upgrades that breathes new life into that recorder/monitor you bought a couple years ago. This speaks to the engineering that was put into it from day one.
To learn more go to Titan page at Convergent Design. 
Please signup for my newsletter! Follow me on Twitter @eriknaso and Facebook and also check out my Youtube Channel.
Thanks for coming by! Please help support my site by using the links on this page or bookmark these from my favorite retailers, B&H, Adorama, Zacuto, Amazon.com & Think Tank Photo Using the links cost you nothing extra, but it helps offset the cost of running my blog. Thanks again for coming by eriknaso.com!
Filed in: 4K • Convergent Design • Featured Post
Tagged with: 4K • 4K to HD • Convergent Design • Field Monitor • HD • Live-Switch • monitor/recorder • Titan • Video Recorder
I'm a broadcast DP In San Diego. I enjoy sharing what I'm working on and testing new equipment. This blog is also part of giving back. I've learned so much from so many people.