Panasonic GH5 Highlights
4K 10 bit 4:2:2 at 30p, 25p, 24p, 23.98p Internal Recording
4K 60p/50p 8 bit 4:2:0 Internal Recording
New 18MP Sensor
6K Photo (Not 6K Video)
I did a Facebook Live this morning covering my thoughts and interacting with people that watched. Check it out!
The new Panasonic GH5 is one loaded little beast! First hybrid camera to have 4K 10 bit 4:2:2 internal recording is a HUGE deal. Having this will make grading so much better. No word at presser this morning on internal V-Log but it would make a lot of sense to offer it preinstalled since the color space has been upgraded. I'll update if it's not added but I'm going with it does.
First GH5 footage released by Panasonic today.
Features Not Yet Known
Video codec. Lets hope for the best here. 10bit and 4:2:2 are great but need good compression
Media type. Could be Micro P2 but feel it will be SD cards.
Auto Focus in video. I hope for improvements at least as goof as a6300.
V-Log could be a paid upgrade like the GH4. I hope not because I paid and it wasn't very good.
To be clear the Panasonic GH5 DOESN'T shoot 6K video.
Professional, versatile 4K videography with freedom and ease 
The LUMIX DMC-GH4 has received much critical acclaim since its launch in 2014 and was the first camera to realise 4K 30p/25p video recording[5]. Building on its predecessor's success, the LUMIX GH5 will offer a new world first: 4K 60p/50p and 4K 30p with 4:2:2 10-bit.

Exceptional 4K video recording will be packed into a compact, lightweight design created for videographers to take the camera anywhere and shoot in any location. With the unprecedented video recording performance of the LUMIX GH5, Panasonic aims to elevate its status in the film production industry.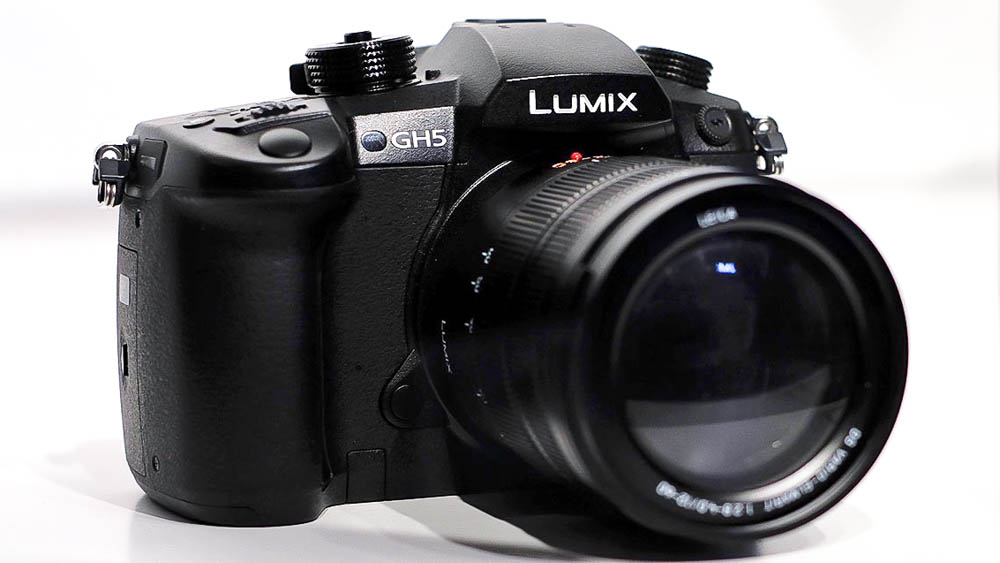 Missing is In Body Stabilization. I would have liked to see this. Very useful feature when shooting with non IS lenses. The GH cameras are so adapter and lens friendly that having IS in body would have really pushed it over the top.

This is a great idea! An XLR module that attaches to the GH5 hot shoe. Looks to be a prototype still but the idea is a good one. I don't think it's like the Sony that has an active digital audio input inside the hot shoe for direct audio input. This feature on Sony cameras is really great and I use it on both my FS7 and a7rii.
6K Photo
6K PHOTO' offering – an approximately 18-megapixel-equivalent still image extraction from an ultra-high quality video with approximately 9x higher resolution than Full HD. Furthermore, an approximately 8-megapixel equivalent '4K PHOTO' can be extracted from a video shot at 60 fps.
A new feature that I just don't get is 4K and 6K photo. It's kind of a gimmick to me but I have to try it and see if it works. The problem with pulling still frames from video is the 180 degree shutter rule will make your images with movement blurry. if yo shoot 24p then your shutter will be set to 1/50 or 1/60 of a second. Thats pretty slow and if people are moving motion blur will kick in and make the subject blurry. Not ideal. I suppose if you crank up the shutter than you would get better results but the video will be then be edge and look bad. Shooting at a high shutter isn't very pleasing at the cost of a few stills. Maybe event shooters will love this. Higher frame rates means higher shutter speeds too. 4K Photo at 60p would give you a shutter speed of 1/120 and thats a very doable shutter speed for low motion blur at the price of hyper real looking video.
New LEICA DG VARIO-ELMARIT F2.8-4.0 lens series has also been announced. More coming on this new line of lenses.
Panasonic also announces the new LEICA DG VARIO-ELMARIT F2.8-4.0 lens series. These announcements demonstrate Panasonic's dedication to continually deliver outstanding customer value and new culture in photography and film production by developing premium, new-era products and functions.
As more information becomes available I'll update this post. I think it's a very exciting camera release and I'm really happy to see Panasonic get aggressive with quality 10 bit 4:2:2 internal recording on a hybrid camera. The most important thing about a camera for me is image quality. I'll take clean video over resolution any day of the week and the gH4 was a camera I struggled with. I felt I couldn't use it in lowlight situations that required ISO over 800. The noise was to much and cleaning it was a real pain in post. Especially in UHD. Lets hope the new 18 MP sensor and updated processor gets the ISO cleaner. From what I;ve seen so far the camera looks good. Very good.
The GH5 will ship mid year in 2017 so it's a ways away still. Price has not been released.
Please signup for my newsletter! Follow me on Twitter @eriknaso and Facebook and also check out my Youtube Channel.
Thanks for coming by! Please help support my site by using the links on this page or bookmark these from my favorite retailers, B&H, Adorama, Zacuto, Amazon.com & Think Tank Photo Using the links cost you nothing extra, but it helps offset the cost of running my blog. Thanks again for coming by eriknaso.com!
Filed in: Featured Post • Micro Four Third Lenses • Micro Four Thirds • Mirrorless • New Release • Panasonic
Tagged with: 4K • 6K Photo • GH5 • Panasonic
I'm a broadcast DP In San Diego. I enjoy sharing what I'm working on and testing new equipment. This blog is also part of giving back. I've learned so much from so many people.