One question I get asked a lot is. Hey Erik. What video camera should I buy? Well, that's a tough one to answer because we all shoot diffrent stuff and have diffrent needs but, in my new course on Lynda.com I will help you find the right camera and much more.

Video cameras have come a long way. They're smaller, lighter, and shoot in higher resolutions—4K and beyond. Now more than ever, we have to make the right choice on what camera to buy or rent for the type of productions we shoot. The lighting, the locations, the size of your team, and even the computer you use for video editing can all impact the decision.
Evaluating your production workflow and the camera options out there can save you time, money, and maybe even your sanity. Camera enthusiast Erik Naso is here to help. He'll teach you how to ask the right questions and pick the right camera—balancing "the camera I should buy" with "the camera I want to buy," so you end up happy with your purchase over the long run. Learn how to figure out your budget and needs; understand the different file formats, sensors, and lenses available; and choose the right accessories for any shooting situation.
Topics include:

Understanding the camera components: sensor, lens, etc.
Evaluating audio inputs
Taking your type of production into account
Deciding on a budget
Choosing accessories such as tripods and gimbals
Camera codecs and media cost
Lots of great info in a course that only takes 50 minutes to complete!
Now I wish this course was free, however it's relatively inexpensive. For only $19.99 you can watch "What Video Camera Should I Buy" for up to 30 days, and if you like the course and want to explore more of what Lynda.com has to offer then signup for full subscription plan. I think they are a fantastic education resource.
I've been a Lynda.com member for many years. I took courses on how to edit on Final Cut Pro 7! Yeah that's a long time and since have taken several dozen courses in so many diverse categories. Lynda.com has a huge library of courses ranging from business and Marketing to 3D Animation and Filmmaking courses. Check out the library and see what you find!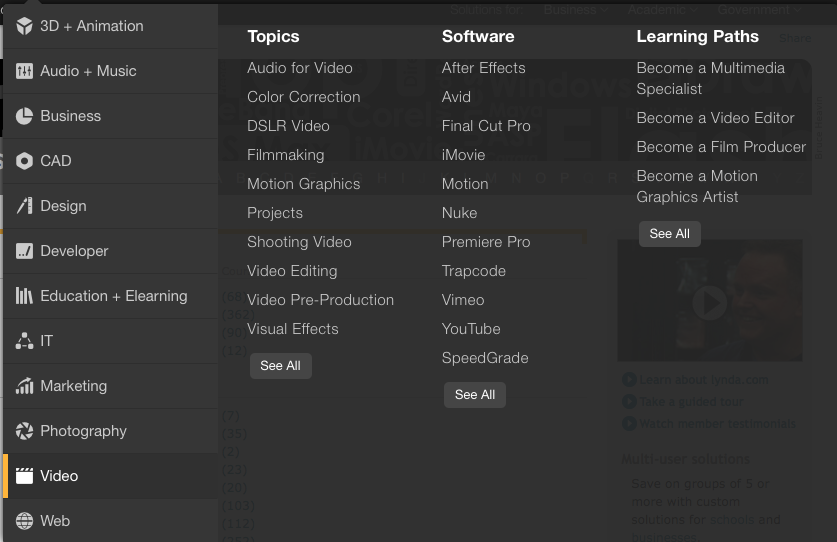 Signup today and take my course on "What Video Camera Should I Buy?"
Please signup for my newsletter! Follow me on Twitter @eriknaso and Facebook and also check out my Youtube Channel.
Thanks for coming by! Please help support my site by using the links on this page or bookmark these from my favorite retailers, B&H, Adorama, Zacuto, Amazon.com & Think Tank Photo Using the links cost you nothing extra, but it helps offset the cost of running my blog. Thanks again for coming by eriknaso.com!
Filed in: Camera News • Featured Post
Tagged with: 4K • Lens • Lynda.com • Sensor
I'm a broadcast DP In San Diego. I enjoy sharing what I'm working on and testing new equipment. This blog is also part of giving back. I've learned so much from so many people.