Here it is! My hands on review! I cover a lot in the video review but below are a few key parts of the review I wanted to share. Please watch the video review for all the details.
The Aputure COB 120d is very nice light with great color and output. The Bowens mount is versatile. I love being able to use my small Chimera box again with a Bowens speedring. Fits like a glove plus you wont need gloves when you remove it because the COB 120d runs so cool.
Okay. Just how bright is the COB 120d? This is the test we've been waiting for! I ran two test with the supplied modifier attached. I took a reading at with the 120d output set to 100% from 10 feet with my Sekonic light meter. Here is the results.
COB 120d at

10 feet = 58 FC
Now to put these readings into perspective I also tested a ARRI 650 at the same distances. Here are readings from this test.
Arri 650 at 10 feet= 91 FC
The difference is 33 foot candles. Another handy comparison is with the popular Lowell Omni 500watt.
Lowell Omni 500 watt at 10 feet = 75 FC
The difference between a 500 watt tungsten is only 17 FC. Next time I get asked how bright is the 120d? The answer is. About as bright as a open face 500 watt tungsten fixture.  You might be thinking the output isn't that great but remember this is with the bare but and trust me it's bright enough to get great results when using a small Chimera or shooting through diffusion. I wish the Fresnel was available because I believe this will increase the output alot and also narrow the beam and make it cut really nice. 
A few things to think about. The 120d color is daylight so If you used color correction gels like full CTB on a tungsten light then the output would decrease by about half.
One specification I didn't put in the video review is how the output compares to the COB 120t Tungsten model. To my surprise they aren't the same.
The DAYLIGHT 120d
10 feet = 58 FC
7 feet = 115 FC
The TUNGSTEN 120t
10 feet = 36 FC
7 feet = 79 FC
Just for fun here is the the foot candles for the Apututre Light Storm Ls 1s
Aputure Light Storm Ls1s (25˚)
7 feet = 383 FC
10 feet = 190 FC
The COB 120d can be powered by a V Mount or Gold Mount battery. When ordering make sure you pick the right model. If you decided to switch mounts just contact Aputure to get the new version. It's really easy to swap out. I did just that.
A word of warning on the Amp requirements for the COB 120 line when using Li-Ion batteries. You need to use a battery with at least 11Ah. If you use an underrated battery the fixture will run for a few minutes and then shut off. My Rolux RL-95A are 95Wh with 6.6Ah so they are not suitable, but the Rolux RL-160A is 160Wh and is 11Ah. It works perfectly.  I got 1 hour and 10 minutes with this 160 watt hour battery. Not bad.
The COB 120d is now shipping as of January  11th. for $649 for the kit with travel case. The Fresnel is also available and retails for $69. The Fresnel makes the COB 120d the most versitle light I have ever owned.
UPDATE 1-2-2017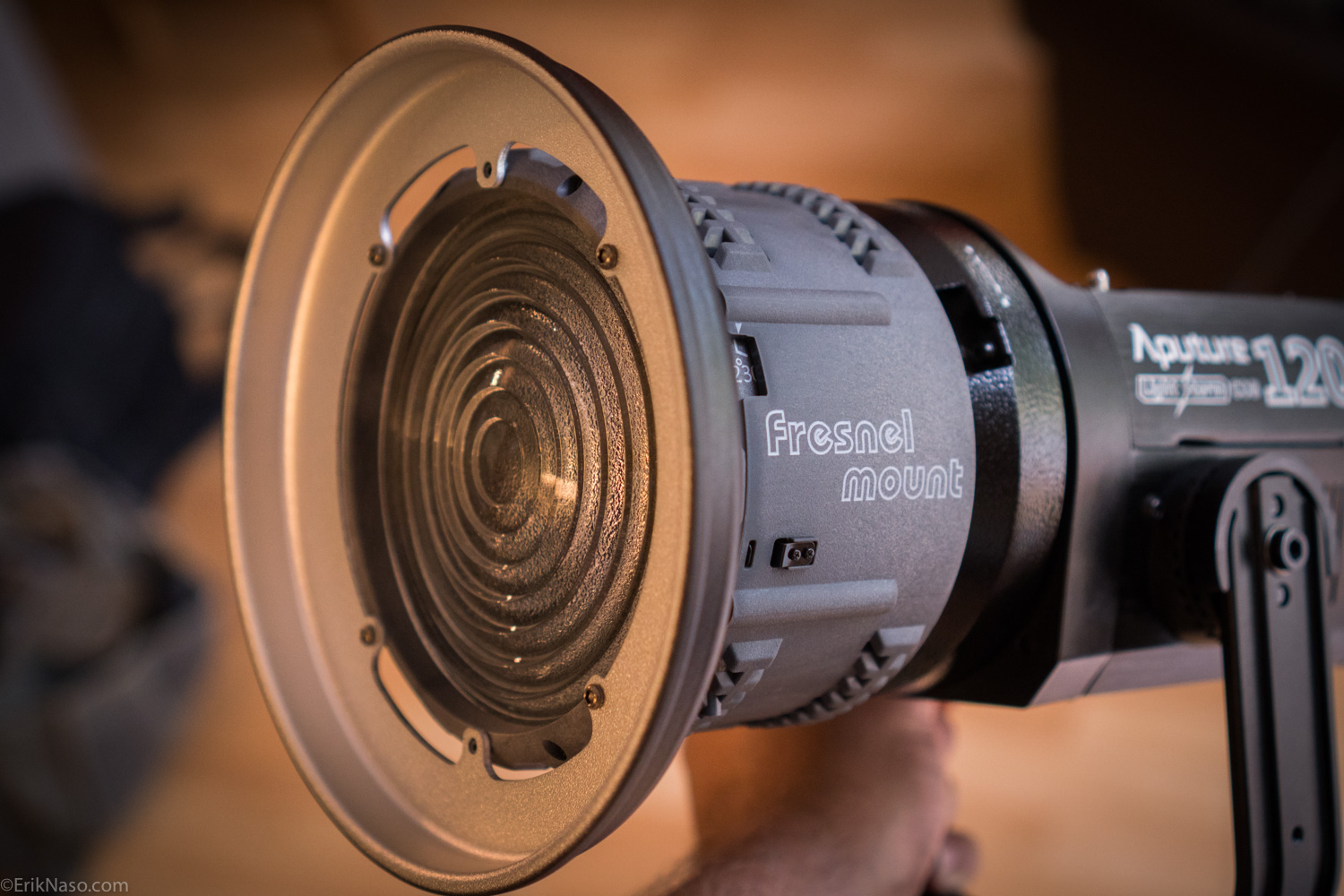 The long anticipated Aputure COB 120 Fresnel mount is here! First impressions is good and yes the output increased by a lot!
I just tested the output at 10 feet with the fresnel attached and set to 42˚.
Aputure COB 120d With Fresnel set at 42˚
10 feet = 158 FC
Here is what I got from an ARRI 650 set at 54˚
Arri 650 at 10 feet = 91 FC
As you can see the fresnel increased the output by 100 foot candles. Not bad at all.
It's made of Reinforced Solid Nylon. Very strong. I couldn't flex it by squeezing the body. It's a dark grey color and I do find this odd but don't care really. This is a Pre-production model but I don't believe any changes will be made. By using Reinforced Solid Nylon It make it very light.
The lens is also plastic. At first I thought it was glass but it's not. This also doesn't matter. So long as lens does what it's designed to do. Plus plastic should be more durable and also lighter. The 120d holds the fresnel with no issues. No slipping at all.
You have multiple focus settings from 12˚ to 42˚. The fresnel body is vented and doesn't get overly hot at all. More as I test it but i'm pretty happy with it so far.
I'll have more on performance as soon as I do more testing. Fortunately I have a Fotodiox Universal Barndoor that works!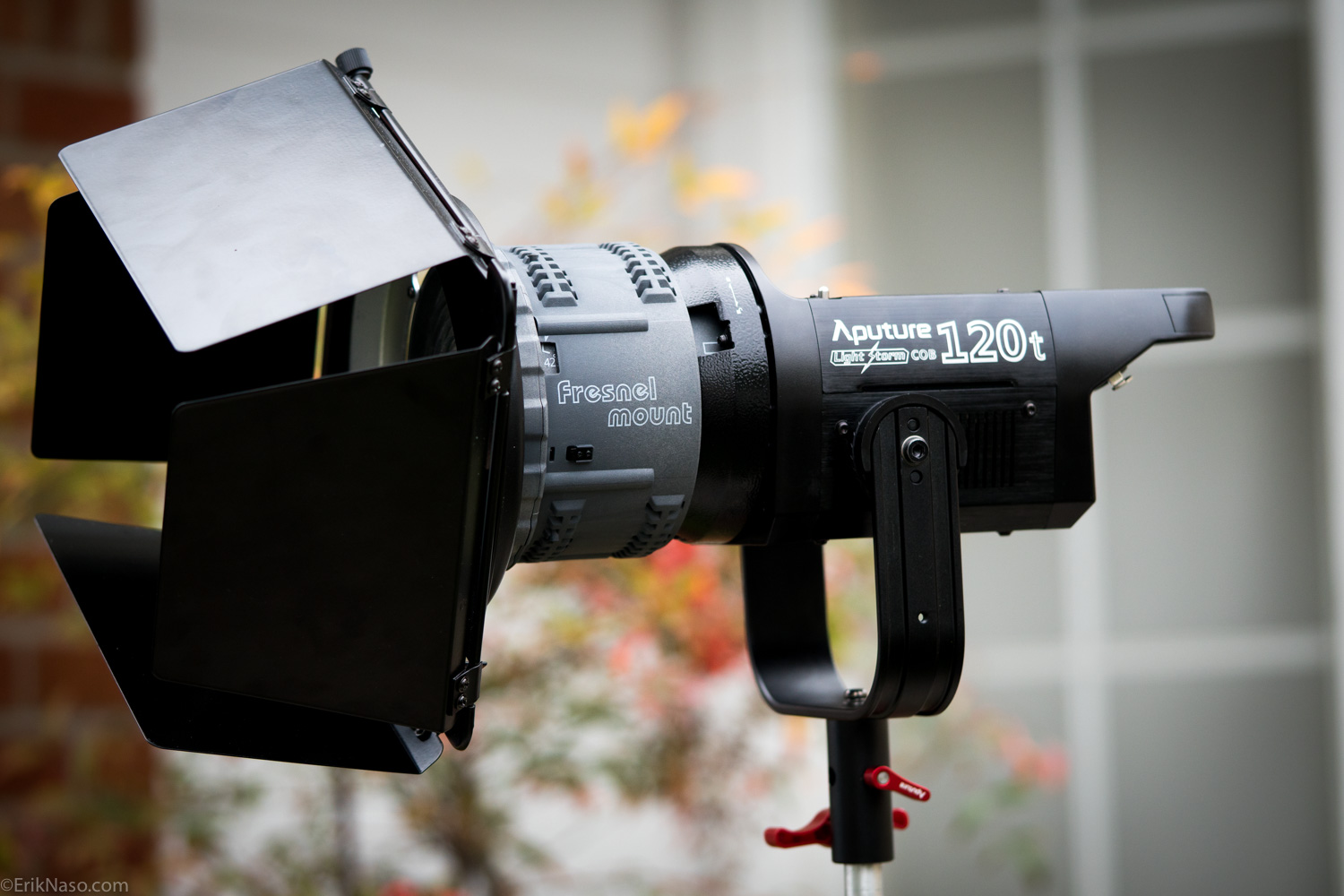 Aputure says the fresnel and the daylight version of the COB 120 will start shipping to retialers January 10th and will be available by the 20th for purchasing. The retail price is $69 USD. Thats a very good deal!  More coming soon!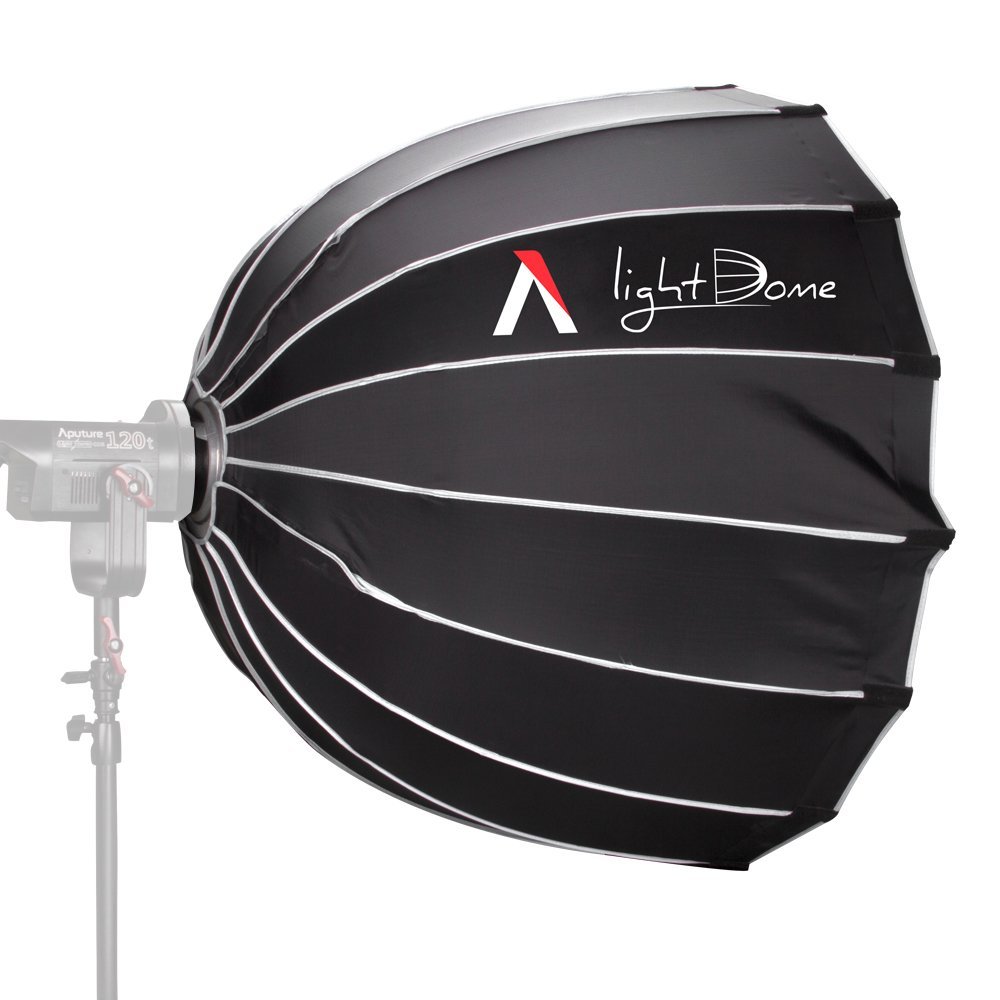 When it comes to modifiers the Bowens mount is one of the most versatile. Aputure has a very affordable $149 35″ Light Dome Softbox that will give you a very nice parabolic style soft source. Comparable models cost around $500 so this is a very good deal.
35.4″/90cm wide and 24.4″/62cm Deep Box Design, produces a large size light source to create an extremely voluminous soft wrap around light.

16 rod Hexadecagon structure creates a precise circular round light as well as an appealing catch light in the eyes of on camera talent.

With a highly reflective fabric, the body of the Light Dome will stand up to being tossed, grabbed and thrown around for years to come.

Double Diffusers produce very soft light and wrap around the subject while the inner diffuser eliminates any unattractive cross lines that are often created by fabric-based diffusion.

Compatible with other Bowen-S mount lighting systems from some "hot lights", strobes to continuous lights and even other LEDs accepting Bowen-S speed rings.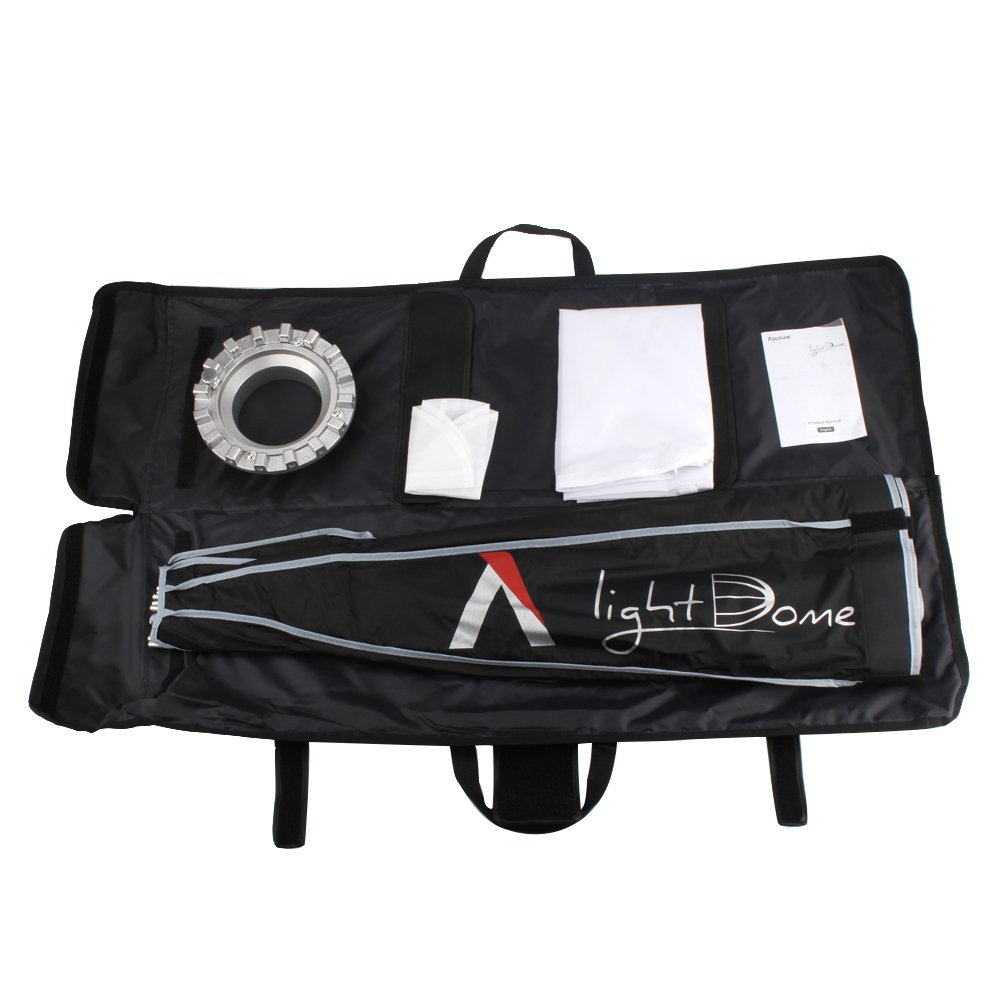 It comes in a nice kit with the adapter and a soft case. These are very large and do require some setup time. Unlike the Chimera softbox that uses only 4 rods the Aputure Dome uses 16.
Aputure COB 120D from B&H $645
Aputure COB 120D from Amazon $645
Please signup for my newsletter! Follow me on Twitter @eriknaso and Facebook and also check out my Youtube Channel.
Thanks for coming by! Please help support my site by using the links on this page or bookmark these from my favorite retailers, B&H, Adorama, Zacuto, Amazon.com & Think Tank Photo Using the links cost you nothing extra, but it helps offset the cost of running my blog. Thanks again for coming by eriknaso.com!
Interested in buying a new camera? Well I have a course on Lynda.com you should watch that will help you pick the right one for the job.

Filed in: Aputure • Equipment Reviews • Featured Post • Lighting • New Release • Production
Tagged with: Aputure • Aputure Fresnel • COB 120 Fresnel • COB 120d • COB 120t • Fresnel • Lighting • videoproduction
I'm a broadcast DP In San Diego. I enjoy sharing what I'm working on and testing new equipment. This blog is also part of giving back. I've learned so much from so many people.