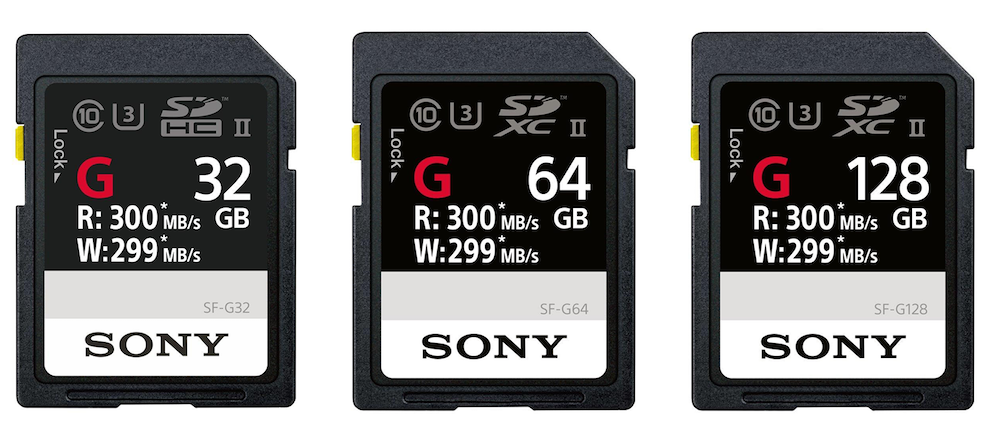 If the fastest SD cards are your game then look no further than the new fastest SD Cards available by Sony. These SF-G Series as of this moment the fasts on the planet. Yes the write speed of 300 MB/s is faster than any stills camera can utilize but us video folks can grow into this type of speed as cameras in the hybrid and dedicated large sensor video camera space are offering up more resolution and color depth.
For me the READ speed of 299 MB/s is the real winner. With a high speed Thunderbolt or USB 3 card reader you will transfer those precious memories or your latest indie-film with incredible speed. The first time I used a really fast SD card and moved the data to my computer it was a real treat! What? Done already? Cool!
The SF-G Series is planned to be available in Spring 2017. Prices have not been announced yet.
Sony Press Release.
As new cameras offer up internal 4K 4:2:2 and 10 bit color having fast and large cards are going to be a must, but today these write speeds are more of an accomplishment than usable. But hey you never know what camera these fast cards will end up in next month.

Sony is increasing the speed and efficiency of their SD card lineup with the new SF-G Series.  As performance demands and file sizes continue to increase, the SF-G Series of SD cards offer enhanced features optimized for professional photographers, DSLR and mirrorless camera users and videographers.

With a write speed of up to 299 MB/s, enabled by Sony's unique firmware, the SF-G Series will be the world's fastest SD cards.  The quick write speed supports maximum performance of digital imaging devices, contributing to longer continuous shooting of high-resolution images with UHS-II supporting cameras.   It also contributes to a shorter buffer clearing time so users never miss a critical moment.

Using Sony's algorithm, the cards prevent the decrease of data-writing speeds and contributes to the camera's ability of successive high speed shooting.

The cards also feature a read speed of up to 300MB/s.  Paired with a memory card reader, the cards can transfer large volumes and file sizes to a computer very quickly, contributing to a more efficient workflow for professionals.

"Available in 32GB, 64GB and 128GB capacities, the SF-G Series offers options that ensure high-performance, high speed  and reliable shooting," said Viviano Cantu, Vice President, Product Marketing, Sony Americas Media and Energy Group.   "As the continuous shooting of higher-resolution images and adoption of 4K video with DSLR and mirrorless cameras increases, the inherent need for larger, faster and more dependable cards becomes apparent.  A longtime leader at the forefront of professional media, Sony has met these growing demands with the debut of the SF-G Series, which offers industry leading performance."

Sony's SD cards are extremely reliable and durable, with water proof and anti-static capabilities to keep your precious content safe. Additionally, Sony's free downloadable File Rescue software allows for the recovery of photos and videos, including RAW images and 4K XAVC-S video files, that may have been accidentally damaged or deleted.

Also in Spring 2017, a high speed SD memory card reader, MRW-S1 supporting UHS-II, will be available to for use with the SF-G series, enabling the fast and convenient transfer of data to a PC with a USB3.1 Gen1 Interface.
Thanks for coming by! Please help support my site by using the links on this page or bookmark these from my favorite retailers, B&H, Adorama, Zacuto, Amazon.com & Think Tank Photo Using the links cost you nothing extra, but it helps offset the cost of running my blog. Thanks again for coming by eriknaso.com!
Interested in buying a new camera? Well I have a course on Lynda.com you should watch that will help you pick the right one for the job.

Filed in: Featured Post • Sony
Tagged with: Fast SD Card • Media • Media Card • SD Card • SF-G Series
I'm a broadcast DP In San Diego. I enjoy sharing what I'm working on and testing new equipment. This blog is also part of giving back. I've learned so much from so many people.