I've been wanting to buy a drone for a couple years now. Seems everyone has been playing with them and I was the last of the droneless DP's in America. I decided to stick with DJI since they really know how to design and build these flying shooting marvels. It didn't hurt that B&H had a sale with $100 off the standard kit. No extras, but I figured the price was good at $399 I'm officially in! But not so fast…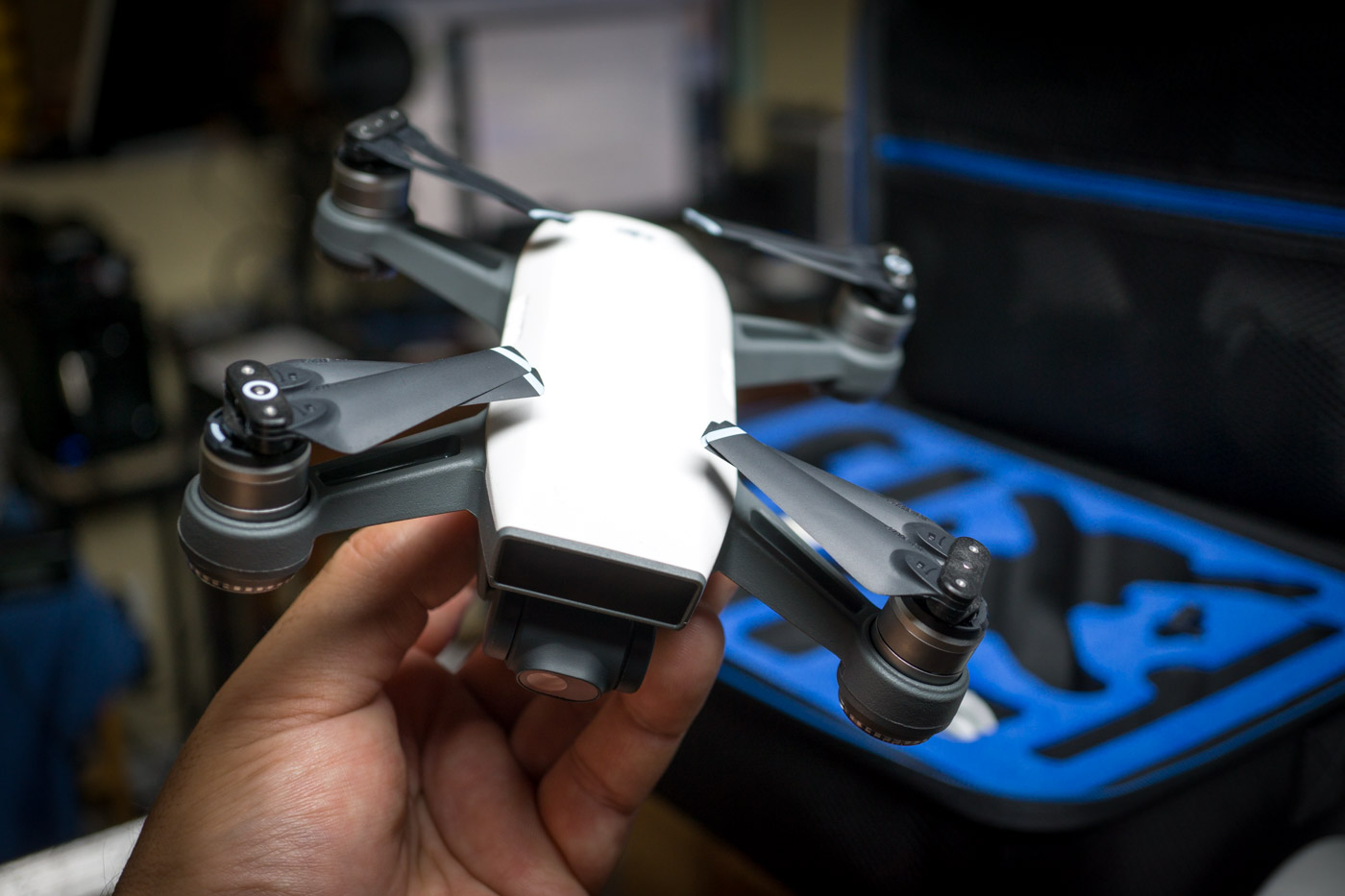 After learning how short the fly time is. Around 10 to 15 minutes.  I would need a few extra batteries too. Oh boy, here we go! So this is the kit I put together.
From B&H I purchased:
DJI Spark $499. (I got a$100 off on B&H Deal Zone so $399)
DJI Remote Controller for Spark Quadcopter $109. I wasn't sure if the remote was a must have but I figured it's not that expensive and learning to fly with the remote in the long run is probably a good idea.
DJI Intelligent Flight Battery for Spark Quadcopter $47.95. As I mentioned the Spark has limited fly time due to its size. I probably will get another battery for a total of 4. That should give me approximately 30 minutes of flight time.
This seemed like a good deal and a good start, but I figured I might as well add another battery and be done with it. Oh and a case. Have to have a case.
From Amazon I purchased:
DOUBI DJI Spark Case $36.99 This case is great! I don't need a hard and heavy plastic case. I really like the way the Spark and accessories fit so perfectly in the dense foam cutouts. I made sure it could carry all my extras and so far it looks like I made a good choice. The lid has enough room for other goodies as well, like the ND filters.
DJI Intelligent Flight Battery for Spark Quadcopter $47.95 (This makes 3 total including the one that came with the Spark)
DJI Genuine 4730s quick release folding propellers for Spark Drone, 2 Pairs $17.99. I probably didn't need to buy these since I didn't realize the Spark came with a pair of extras already. Oh well. at least I'm ready for…. Don't say it!
DJI Spark Battery Charging Hub $68.00. I looked at a few other cheaper options but the DJI model looks like it's worth the extra expense, plus it fits in the case since it has a cutout for it.
PolarPro DJI Spark Filters-Cinema Series-Shutter Collection $79.99 I learned with a GoPro how valuable ND filters are to get the shutter down on bright sunny days. Nothing screams video when the shutter is choppy. Since it's usually pretty bright here in San Diego I felt I needed to have a set.
Well, as you can see saving $100 ended up costing me a whole lot more! I'm such a gearhead! I sort of did this on a whim since the sale was only for a day. I didn't research enough so let's see if I made the right decision in not looking into the kit. Could I have saved some cash? Hmmm Okay, let's do the math. Or should I?
All this came to $806.87, Woof!, but hey it's under $1K right?
If I bought the Fly More kit it costs $640 Oh No! Now. I have a better case ($39.99), but the DJI Fly More also comes with a soft case ($59 value). I think the one I bought is better for me and would end up buying it anyway. It's nice to see everything laid out in the foam instead of buried in a bag. The kit also came with rotor protectors and I didn't want those.
I purchased 1 more battery ($47.95) and the kit only had two. I also got a set of PolarPro ND filters ($79.99). This comes to $767.94. If I add the case then it's $804.93. The deal was okay.  I ended up paying $39 more à la carte. The case pushed it over. All good. I came out okay!
I'm very excited about learning to fly the Spark. It looks like a perfect fit for me right now. I would have loved to get the Mavic Pro Fly More kit but at $1149, that would have added over $300 more. Probably more than that with extras. Always buying the extras. It would be great to have 4K and a better gimbal but I'm cool with my little Spark for now.
Okay, time to charge up these batteries and take my baby Spark drone out for a spin! This is my first drone. I haven't even flown one before so wish me luck! I already have a shoot planned that I think will be an excellent use for the Spark.
Thanks for coming by! Please help support my site by using the links on this page or bookmark these from my favorite retailers, B&H, Adorama, Zacuto, Amazon.com & Think Tank Photo Using the links cost you nothing extra, but it helps offset the cost of running my blog. Thanks again for coming by eriknaso.com!
Interested in buying a new camera? Well I have a course on Lynda.com you should watch that will help you pick the right one for the job.

Filed in: DJI • Featured Post • Spark
Tagged with: DJI • Drone • Spark
I'm a broadcast DP In San Diego. I enjoy sharing what I'm working on and testing new equipment. This blog is also part of giving back. I've learned so much from so many people.