Red Pro Zoom 17-50mm. The perfect fit zoom for the AF-100? For now. Yes!
 Red Pro Zoom 17-50mm.
Shooting with a digital cinema camera is a true joy; great depth of field, real audio inputs, variable frame rates – All great!  However, you knew this was coming…. zoom lenses.  Yes, zoom lenses in the MFT world can be a challenge.  Still camera or DSLR zooms just don't work like proper video lenses.  The big challenge is holding focus while zooming, or more so, being able to shoot at several focal lengths without re-focusing, needed for event shooting.  Still lenses aren't designed for this.  Some can hold focus, however using the zoom is another story. With very short throw and possible lens wobble, for instance, it makes it hard to do a push or a pull manually.  It does surprise me that third party manufactures haven't tackled this one yet. Sure the amount of digital cinema cameras are far outweighed by DSLR's, but those same DSLR's also shoot you guessed it – HD video!  Its time we had some better options for proper zoom lenses, but as of writing this I haven't seen a good one yet.  The Panasonic 14-140mm f/4.0-5.8 OIS is probably the closest thing to a video zoom lens.  I don't own it, but the reviews are mixed.  For me, its to slow at f4-5.8.  I would probably only use it outdoors and that's to limiting for me. So in order to have this zooming option we need to look at cinema lenses or broadcast lenses, more on that later.  I know most people won't consider this an option either since these babies are big and pretty heavy.  All manual and did I say big?  However, they are super sharp high quality fast lenses.   At least the Red Pro Zoom 17-50mm is.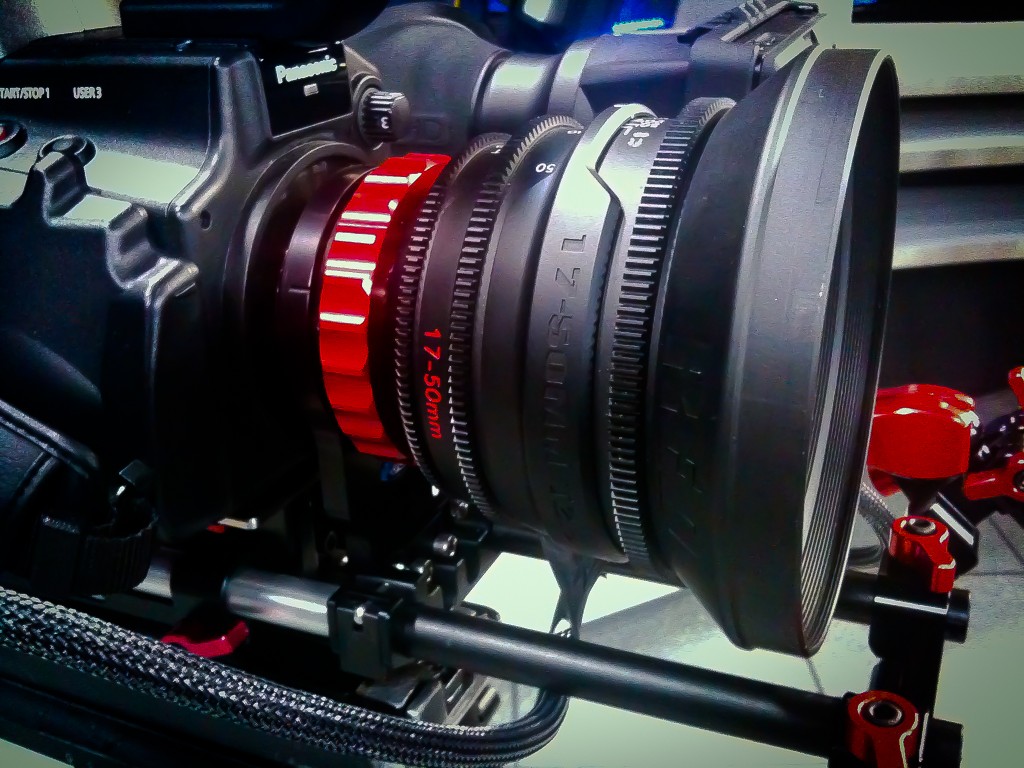 Tonight I used a Red Pro Zoom 17-50mm lens for the first time.  It was a great experience. Having a field of view equal to 24mm-100mm on the AF-100 I was able to get many quick shots by just changing the focal length.  For this shoot it filled the bill perfectly.  I got various focal lengths quickly without moving around too much.  I was also directing, so the less I had to do while I was shooting the better, like changing lenses.
At 50mm wide open I got nice shallow DOF and sharp focus for the singles.  I do like the faster Zeiss 85mm CP.2 wide open as well, gets nice separation from the backgrounds, but for not changing lenses I can trade a stop.  At 17mm on a Kessler Crane CineSlider it was perfect. Filled the frame as I was almost out of room behind me, so thankfully it was wide enough.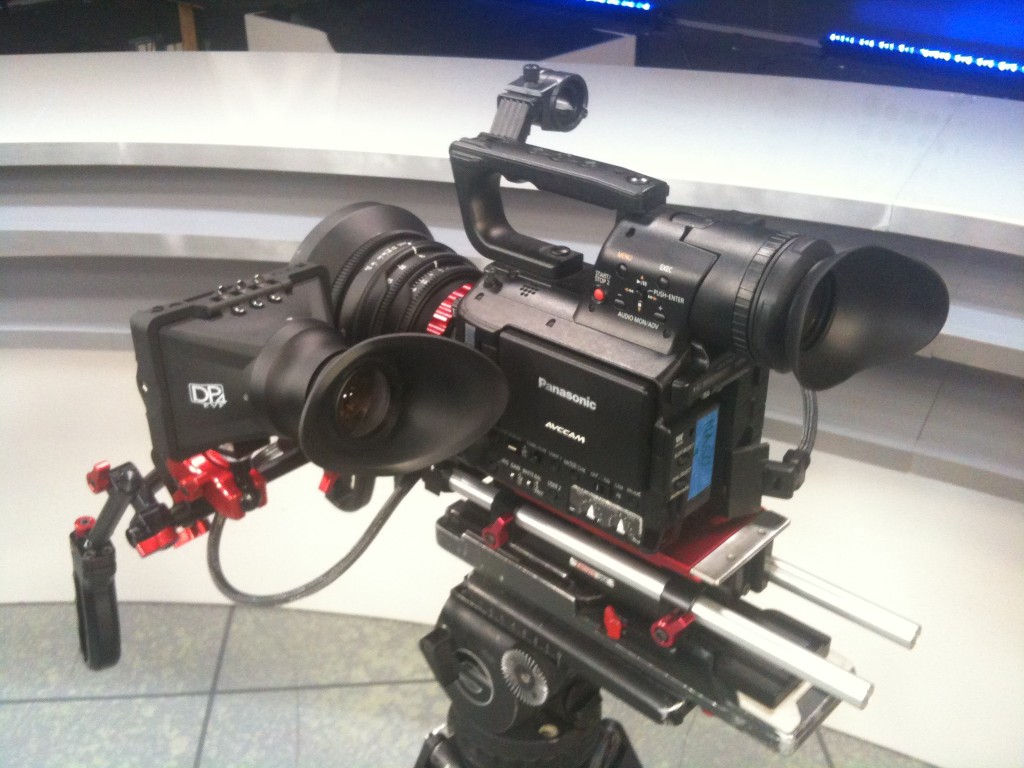 I also used my shoulder rig for all the handheld shots.  I didn't use a shoulder pad under the base plate, just had the Zacuto base plate sitting on my shoulder and it was fine.  I think I'm going to run with it without a pad.  It didn't feel uncomfortable for the period of time I shot off the shoulder and the camera sat nice and low.  I still need to get the camera farther back, but for now it worked great.
Unfortunately, the SmallHD DP4 eyecup was really bugging me.  It kept falling off!  I hope they get a new model out soon.  It's driving me crazy. I do like the EVF a lot.  I would like zebra stripes as an option.  Zebra stripes work great, and I've been using them forever with ENG cameras.  Hopefully that option will come via a firmware update someday. Hint, Hint – SmallHD.
This shoot started at 8pm and wrapped at 8:30.  That included a couple of slider shots.  The Red Pro Zoom has a nice build. Its a little on the heavy side at 3.2 lb., but for a cine lens that is light.  I mounted it on a Vocus PL adapter with the supplied lens support.  This is a very nice setup.  The Vocus is so well made it just fits like a glove and secures to the 15mm rods with two flip up clamp releases.  Faster than screws to secure.
This was my first shoot with the Red Pro Zoom, so I had to get use to finding my way around the lens by feel.  At first it was awkward, but easy enough to adapt to.
This lens is sharp, at least sharp enough for me.  I have read that RED makes very sharp primes almost to a fault.  That's hard to believe, but I guess people can find fault – even in a lens that is to sharp.  I shot mostly wide open and had no issues at all with the lens.  I had a matte box ready in case I was getting flares and didn't have any issues.  The studio lighting is all florescence and some of the back lights are fresnel.  I was surrounded – All good.  I was shooting pretty much gorilla without any blocking, just trying to capture some natural moments of the talent on the anchor desk.  It's hard to ask people that talk into the camera all day to sit at the anchor chair, and just smile and not have any lip flap.  They did a great job.  I'm lucky to work with good people.
So, in the end I really enjoyed everything about this zoom lens.  Nice contrast and very sharp with pretty good mechanics.  The only thing I can say was iffy was the zoom had a little more play than I liked.  The Red Pro Zoom saved me time by not switching out lenses, and also gave me the opportunity to shoot a little looser by not having to plan all the; wide, medium, and tight angles out first.  I didn't test the lens focus markings on this shoot, and when I do that I will update this post. This beauty will be with me for many years. I don believe a better lens is available at this price point in a PL mount.
As for using a broadcast lens or ENG 2/3 zoom on a AF-100 it turns into a real Frankencam. Check this blog post out from AbleCine Tech.  It blows me away, but maybe this is what you need.
*** UPDATE ***
I recently had the hood upgrade performed by Red for $250. This made the front of the lens smaller and more in-line with standard PL cine lenses at 114mm. It also helps with vignetting with Epic at 5K. Not an issue for me since I don't shoot with a Red Epic. I wish I did!
Thanks for stopping by and happy shooting!
Please help support my blog by using this link for Amazon.com. It cost you nothing extra but helps support my blog. Thanks!