Welcome! About Me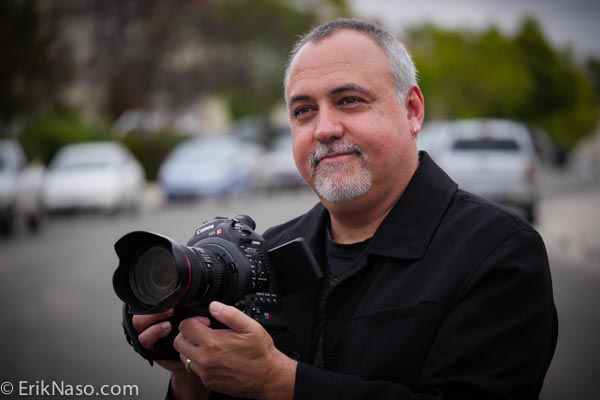 I have a broadcast television background. I started in the business over 20 years ago. Photojournalism was my start. Working in local newsrooms in several different markets from Bakersfield, CA to Washington, DC. Fast paced news gathering has had a big impact on me as a photographer. I make quick decisions on site and I'm always looking for the next shot to capture. Don't get me wrong, I like slowing down and getting into the moment as well.
In the last 10 years I've moved over to the commercial production world. It's great to use the toys that production demands. Bring out the dolly and the jib for this shot! I've been lucky to be honored with eighteen Emmy awards and three Telly's for my work in broadcast.  My passion is telling visual stories even if it's just a camera test. With this blog I hope to share my 20 years of experiences and techniques. Hopefully you will pick up a few tips along the way. I've recently joined forces with Newsshooter.com as their US Corespondent. This has been a fantastic opportunity that has aloud me to travel to trade shows all over the world and see first hand all the new gear and interview and post about them.
Please visit my Vimeo site and Youtube Channel
Want to reach me by email? CONTACT ME. If you have a question about gear and it relates to an article please leave a comment on the post page and I will do my best to answer it. I prefer this because the answers can also help others too. Thanks!
Gear I use.
I now shoot primarily with the Canon C300, plus a few mirrorless cameras like the Panasonic GH5. These cameras are amazing! The AF-100 was the camera that really changed the way I shoot.  I didn't get into the DSLR rage a few years ago because it required so many work-arounds to get them to work like a proper video camera.  The results from using DSLR cameras are really good, and people have made wonderful videos with them.  I have used them for b-roll only and like the results.
The AF-100 is the first camera to crossover and merge large CMOS sensor cameras for video use and it gets great shallow DOF that I like a lot.  I've spent so many years shooting with 2/3 chip CCD cameras that struggle with shallow DOF, now with fast SLR lenses I'm achieving the look of a filmmaker.  So sweet! Recently I now have the C300 to use and it's a great camera. Technology is moving so fast these days it's hard to keep up. I'm trying my hardest to do just that and loving every minute of it!
I wanted to start a blog so I can share my experiences as a DP and Editor and a gear head. Poke around and hopefully you will get something out of the content. In order to keep this blog going I have added a few affiliates. B&H, Adorama, Zacuto,  Amazon and Think Tank Photo are great companies that sell the tools that I use, and if you use these links on my site I get a little love back from them. It's not much but every little bit helps offset the expense and time I spend on this site. I want to up my game and get more reviews out and grow this site, so thank you for helping me bring more content to share. I also want you to know that I don't get paid for doing reviews.  The reviews I have done are for products that I have either bought and use or provided were provided by vendors whether it be direct or from the distributor. If I get the opportunity to review a piece of equipment that was sent to me by a manufacturer I will let you know upfront, but my opinion will always be mine about the product. In other words I won't be paid to give a favorable review. That would defeat the purpose of this blog as a resource for gear. I also feel you should always do your research before you buy and that includes reading other blogs and form an educated opinion if a piece of gear is right for you. We all have different needs and no one piece of gear is perfect for everyone.
Thanks for stopping by!
Erik Naso