I recently finished up shooting and editing two news image spots for the May sweep. I now use a Canon C300 for my broadcast work and I'm really liking the images coming out of the camera. Below is the first full C300 spot I have done. I shot this in Canon Log gamma and used the internal Canon XF codec. My main lenses where the Canon 24-105 f4L and the Canon 35mm f1.4L
Time. Morning News Image. Canon C300 from Erik Naso on Vimeo.
Here is the plan. I'm working on breaking down this and one more spot from shooting to editing them. The second spot was also shot in Canon log but I used the Canon C100 as well. I didn't have the Canon C300 yet and rented the C100 for a week to try it out when it was first available to rent.
Shooting with log gamma is different since you want to expose the image a stop or two down in order to get the most from the dynamic range. Both cameras have an assist in making the image brighter and more natural in the viewfinder and LCD screen while shooting. Very helpful feature and works well.
For the TIME spot I used two Kino Flo Divas for lighting all the scenes and on camera lines. I love my Kino's! Soft light and powerful. The Manfrotto FigRig was used for almost all the shots. The camera was moving all the time and I wanted that look. Kind of a documentary fast paced look.
My workflow in post goes like this. Edit the piece then start grading with Magic Bullet Colorista II. I'm really comfortable with Colorista II and like to use it for a couple of reasons. The main being I don't have to conform and send out to another program to grade. It all happens inside my NLE. This is so much easier for me. I don't need several nodes and Colorista has three rooms I can use. Master Secondary and Primary. I work backwards or from the bottom up.
I start with Master and get the look I want. Add a curve and color balance the shot. These were pretty easy since the color balance was spot on and I didnt want to create a "look". I then added more saturation then used the HSL to adjust skin tone and maybe enhance or decrease saturation of certain colors. See how I pulled the orange or skin tone HSL down to unsaturate a little.
In Secondary you have lots of great tools. The main one I like is the Secondary Power Mask and Keyer. A nice trick to soften the skin is to use negative values on POP. Instant skin smoothing.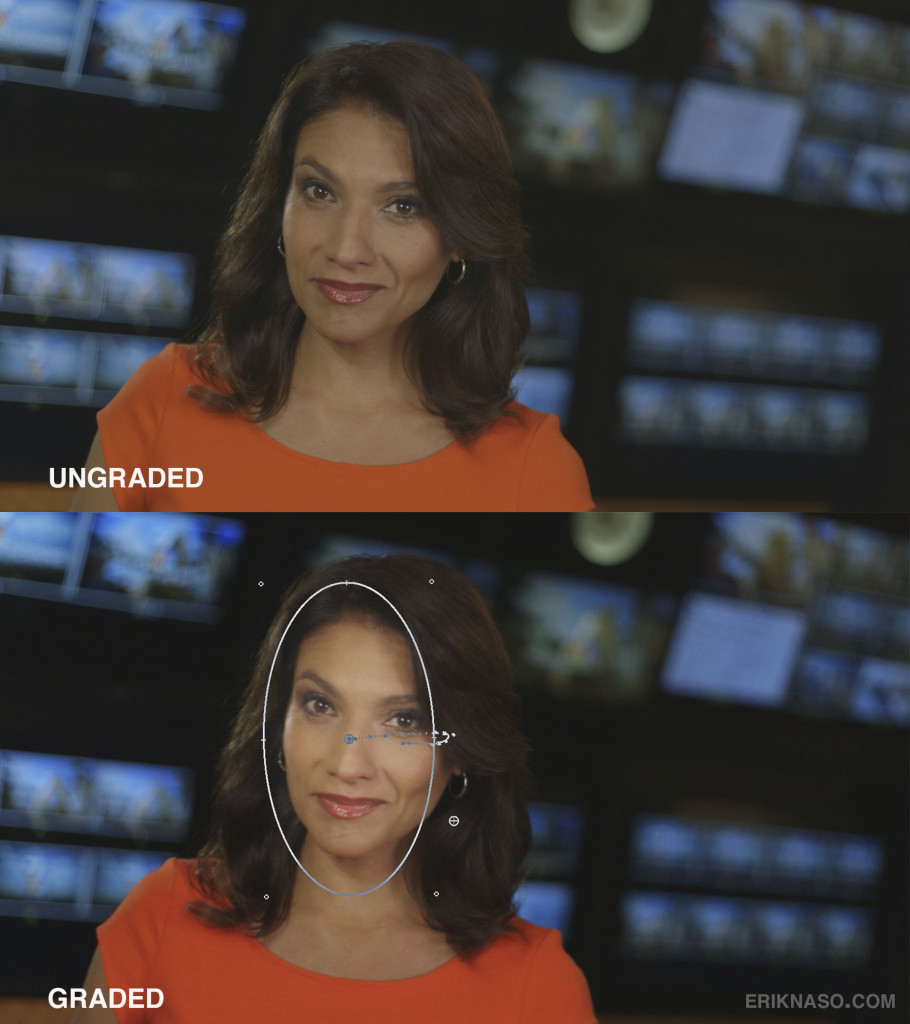 I use the secondary mask a lot. You can keyframe the mask as well if the shot is moving so the mask is in the right place. You can see the line and dots where the keyframes have been added on the sample above.
The secondary key is a very powerful tool but doesn't work very well in Premiere Pro right now. I'm not sure why. Native codec editing seems to have the issue. If I transcode to ProRes then the key will work but so far not with native codecs.
In Secondary I created an ellipse mask that I put over the face to brighten it up a little. If I find a shot that really needs more work I will add another Colorista effect to the clip and create another Secondary mask where its needed
The spot below was shot with both the C300 and C100. This is a updated version. I shot the original a few months ago and reshot the main talent with the C300. All the Expert reporters were shot with the canon C100 with Canon Log gamma.I used a Kessler CineSlider for the dolly shots.
Experts. Canon C300 And C100 from Erik Naso on Vimeo.
Here are some frame grabs from the Experts spot.
This is a good C100 sample. Since I had to expose the shot for the sun that is back lighting her. I want the sun in the shot and the reflector was doing the best it could. Here the AVCHD codec was giving me some issues. It's not perfect but it works. As a still image you see more artifacts but when it's playing it looks pretty darn good. I got a nice little flare going as well.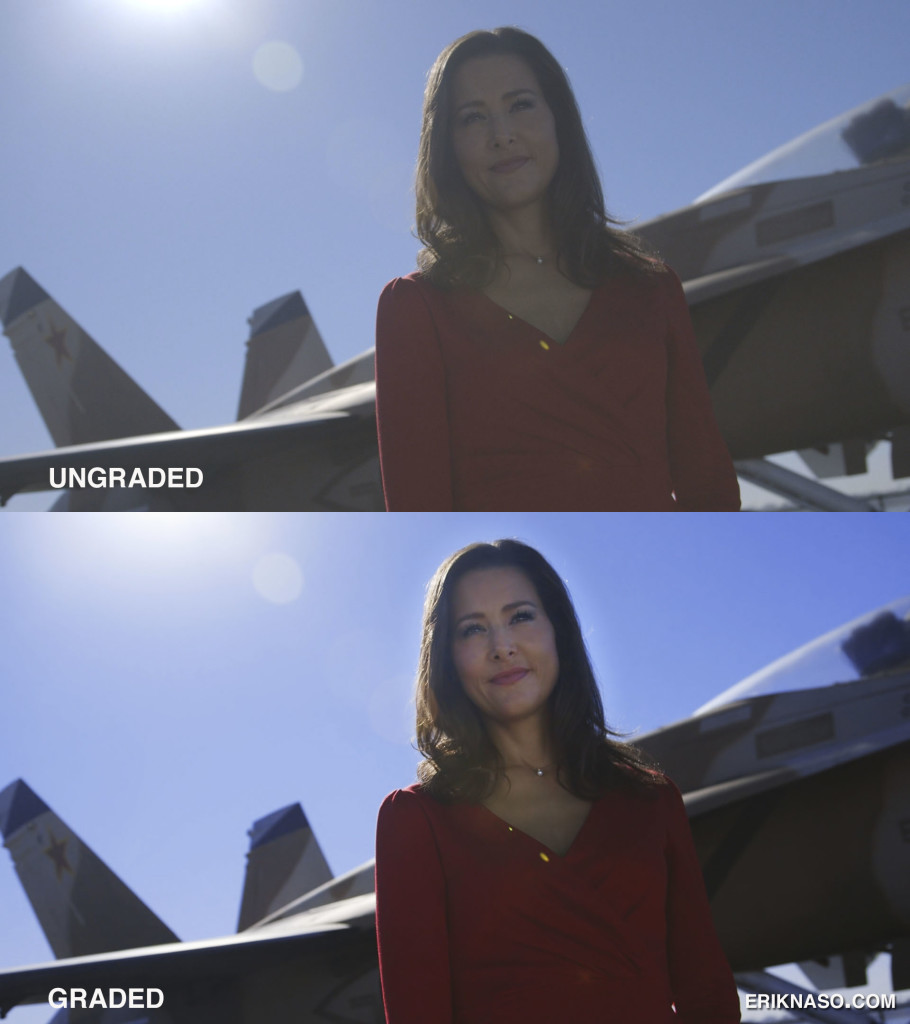 Colorista II and a little Denoiser.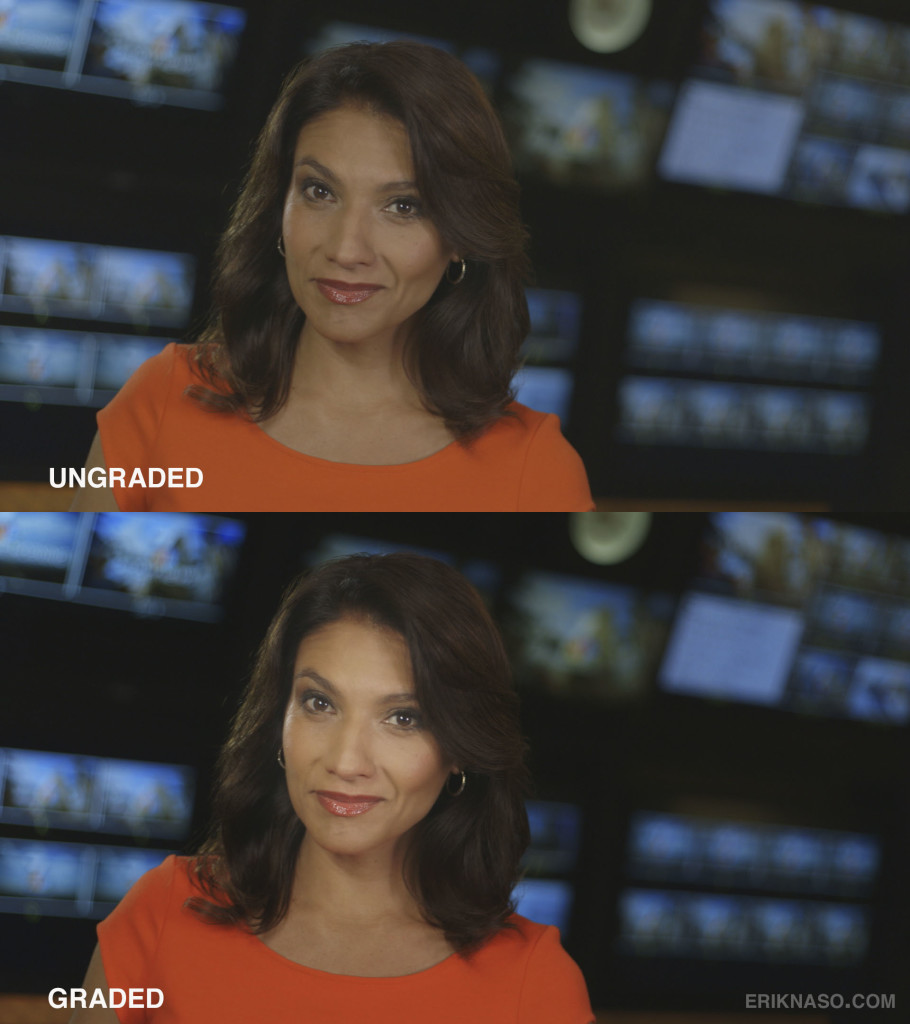 This is the final grade with two corrections. The first is an overall and second is a with a mask only on her face. Shooting Canon log is pretty easy and gives you the power to grade your image just how you want it to look and with Colorista II it makes it even easier.
Here is a great tutorial on Magic Bullet Colorista II with Director Stu Maschwitz. I must have watched this video 20 times. Its that good 🙂
I will add more samples to this post as I go through and get more screen grabs.
See ya soon!
Thanks for coming by! Please help support my site by using the links on this page or bookmark these from my favorite retailers, B&H, Adorama, Zacuto & Amazon.com . Using the links cost you nothing extra, but helps offset the cost of running my blog. Thanks again for coming by eriknaso.com!
Filed in: C300 • Canon • Canon Cinema EOS • Featured Post • Post Production • Video Editing
Tagged with: C100 • C300 • Canon • Canon log • Canon XF • Color Correction • Colorista II • Grading • Magic Bullet
I'm a broadcast DP In San Diego. I enjoy sharing what I'm working on and testing new equipment. This blog is also part of giving back. I've learned so much from so many people.