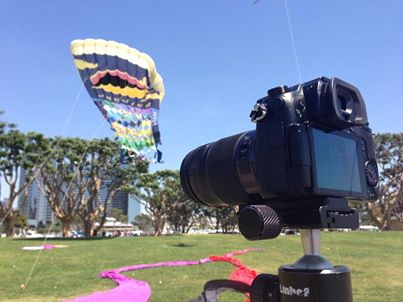 I decided to get out of my edit bay this afternoon and shoot a little test footage from the GH4 in 96fps. I like high speed shooting and I don't get a lot of chances to since my C100 only does 60fps at 720p Yuck!!! Also check out these two new posts. My Panasonic GH4 Has Arrived. My First Impressions. and Which Lenses Should I Buy For My GH4 or GH3? 
It was a beautiful windy day and I was hoping the kite guy at the Embarcadero would be out. It's Tuesday so I didn't think he would be. I'm in luck! I grabbed the GH4 and a stills tripod with three of my favorite lenses. Lumix 7-14, 12-35 and the 35-100. Great set of glass. Why use a stills tripod? Because I had shoulder surgery and I'm still on the mend. I cant carry anything heavy and shooting isn't easy but the GH4 is so small and light I found it easy to work with. Keeping the setup small made it possible for me to shoot this test.
I set the camera to 1080p at 96fps. 100Mbps. Thats all I can get. The minimum shutter setting is 100. I pushed it to 200 and 400. I had my variable ND filter on but decided to take it off because at that speed I didn't really need it.
I'm a little disappointed that the image is a little soft. Not a deal breaker, but also not that great. I didn't do any post grading at all so what you see is what I shot. I think I can add a little sharpening to it and that might help. If I get some time I will do a grade and upload another version. I dont know what causes the softness and how the other frame rates look other than 96fps. Dialing it down a little might help. Lots of testing to do. On the GH3 60fps looked great! Hopefully we can get a little more than that on the GH4.
I used CINELIKE D profile and left all the other settings at default. Good starting point. I'm reading that taking the sharpening level all the way down helps but I decided to not try this yet.
More coming but I have to get to an event tonight. It's Emmy session! Wish me luck for a nomination. Wow you did a great job wishing me luck because I received four Emmy nominations! Cool. Okay back to this little GH4 thing. Below is a graded and sharpend version. Lets break it down.
That 8 bit codec can be a problem. I could see banding in the original footage mainly in the blues. That channel seems to get it more than any other. The sky was falling! Okay it really isn't that bad.
Here is the guy shooting the kites. Hey just like me! No vertical video dude! As you can see it's pretty flat and the lighting sucks at least for this shoot. It's high noon. Worst time of day to shoot.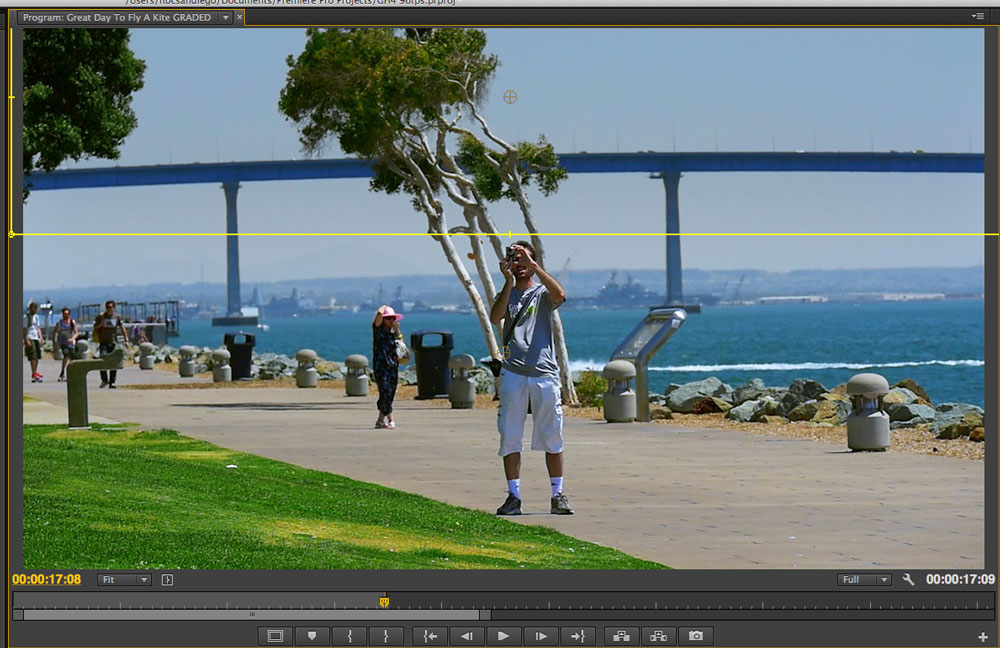 I decided to bring the sky down a little to help the Coronado bridge pop. The yellow rectangle is a secondary mask in Colorista II. This lets me change only that portion of the image. Very powerful and easy. I like that combo.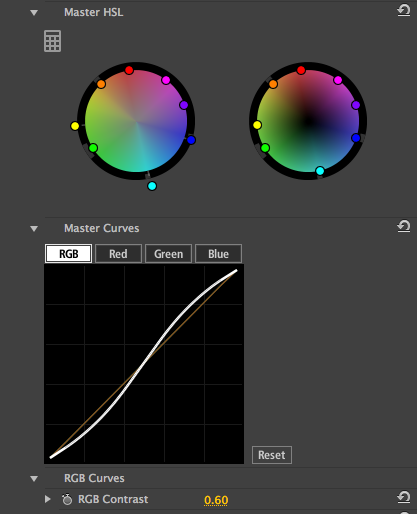 Notice how nice and green the grass is now? In the image above you can see the Master HSL wheels. I took the yellow channel and pushed it toward the green changing the color of the grass. Much better. It also warms that shot up with better saturation. I like the blue and green balance. Pulling away from the outer wheel saturates the color. I also did this with the light blue and dark blue to saturate them a little more. A slight S-curve was also added.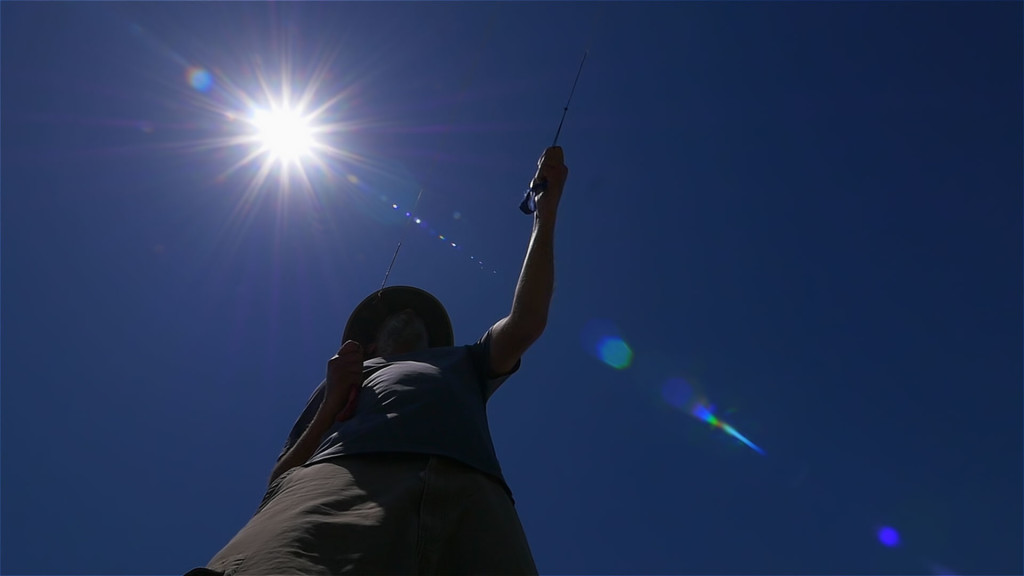 I like this shot. I was kind of flying blind when I was shooing it. I had the LCD open and peaking on. No way to knell down and shoot this plus my bum shoulder wouldn't allow it. Shooting at a high frame rate made this pan up nice and smooth. I just tried to keep him in frame.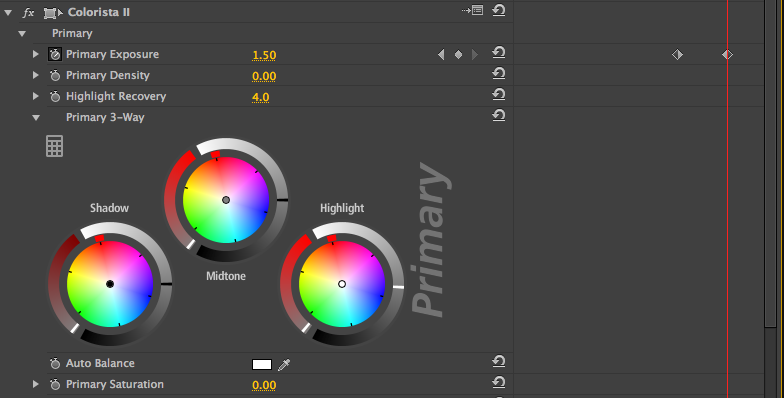 I decided to add a exposure ramp to bring the kite guy in better after the sun goes out of frame. Super easy. I moved to primary and used two keyframes to bring the exposure up to 1.5. Looks natural in the edit and brightens him up a little.
After I finished grading it I noticed more noise so I dropped Denoiser II on a few clips and it helped clean them up. The image needed a little sharpening so in Premiere Pro CC I added some around 20 to 30 max level.  I did try unsharp mask but it just didn't look as good. Sharpening can ruin an image as fast as save it so be gentle.
Not bad but of course I wish it was sharper and a higher resolution during aquasition. The blue sky does show some banding even before I started to grade it so I knew I wouldn't be able to push it to hard. Still not a deal breaker and I think I can get some use out of 96fps. I hope you found this helpful.
This video is from my original GH3 review. I did several test shots at 60fps and I think the GH3 did very well. Nice fluid and sharp image. I still need to test 60fps on the GH4. I'm hoping it's at least as good.
Follow me on Twitter @eriknaso and check out my page on Facebook.
Thanks for coming by! Please help support my site by using the links on this page or bookmark these from my favorite retailers, B&H, Adorama, Zacuto, Amazon.com & Think Tank Photo. Using the links cost you nothing extra, but it helps offset the cost of running my blog. Thanks again for coming by eriknaso.com!
Filed in: Featured Post • GH4 • Micro Four Thirds • Post Production • Premiere Pro • Video Editing
Tagged with: GH3 • GH4 96fps • Lumix • MFT • Micro 4/3 • Panasonic
I'm a broadcast DP In San Diego. I enjoy sharing what I'm working on and testing new equipment. This blog is also part of giving back. I've learned so much from so many people.